Today's recipe title is a long one but it sure is a good one! These individual gluten-free cinnamon raisin baked french toast casseroles are perfect for special weekend or holiday brunches. If you love gluten-free breakfast casseroles, this is one you've got to add to your must-make list! This new gluten-free recipe is sponsored by Udi's Gluten Free.
These are so easy and so yummy! My boys ate these right up on the day I made them as an after school "snack" and didn't add anything to them. My hubby forgot to eat his, so he had his two days later, and found adding a little butter and maple syrup made it perfect!
I found these super cute little square ceramic dishes at my local Marshall's store that were perfect for individual servings. Feel free to use any oven safe individual serving dish that you have on hand. If using smaller ramekins, you will probably want to divide this into 6 servings instead of 4 so that they don't overflow!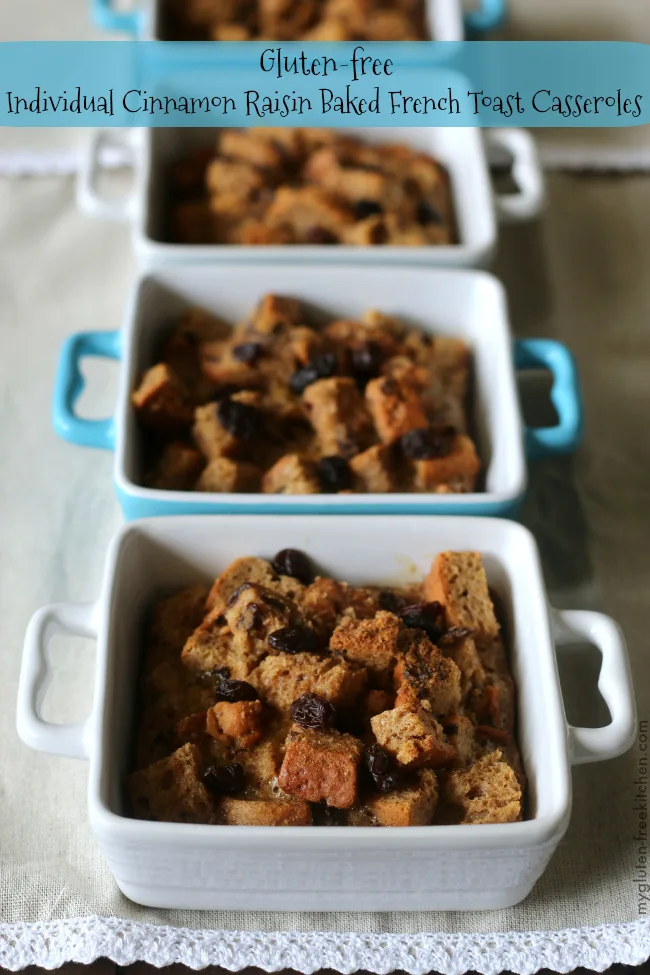 For the holidays, I usually make this gluten-free overnight breakfast casserole that is made with ham, cheese, and lots of eggs. My family loves that one!
I've been really wanting to do a few sweet gluten-free breakfast casseroles to go alongside that savory one. This is the first of hopefully a few sweet casserole recipes I'll bring your way.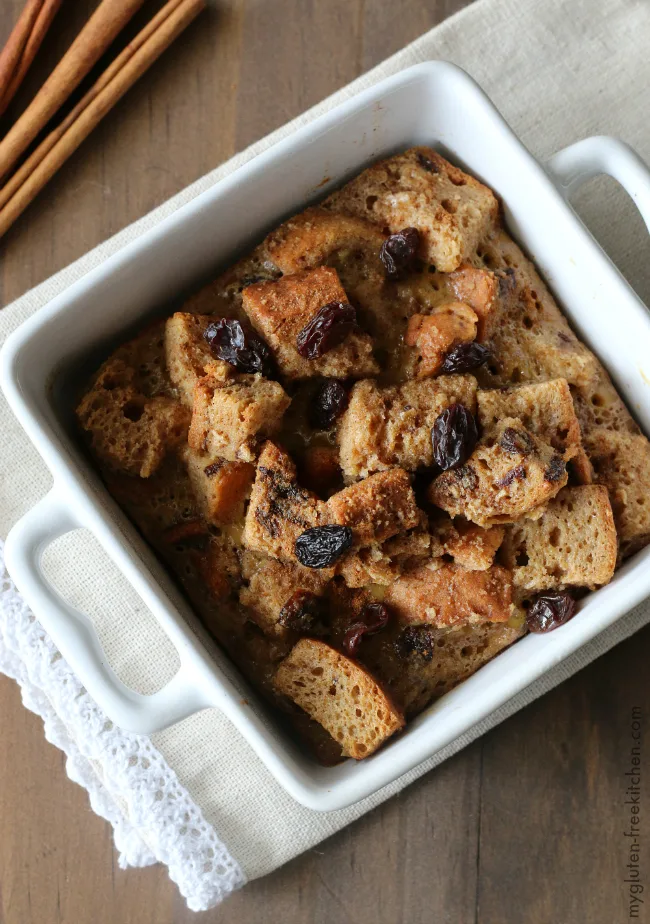 My local stores have always carried this Udi's Cinnamon Raisin bread. I've picked it up before for us to use for toast in the morning. (By the way- have you ever spread a thin layer of peanut butter on toasted cinnamon raisin bread? DO IT!)
Anyway, I was looking at a cinnamon raisin bread loaf one day and thought it would be perfect for some sort of baked french toast casserole. I found this blueberry lemon baked french toast recipe from my friend Mary and used it as my starting point to develop this new gluten-free breakfast casserole.
Of course I went a whole different direction with flavors with this cinnamon raisin variety.
Udi's Gluten Free Cinnamon Raisin bread can be found in your local store's gluten-free section or frozen gluten-free section. My local Fred Meyer has it on a rack, while my local Rosauers keeps it in the freezer section.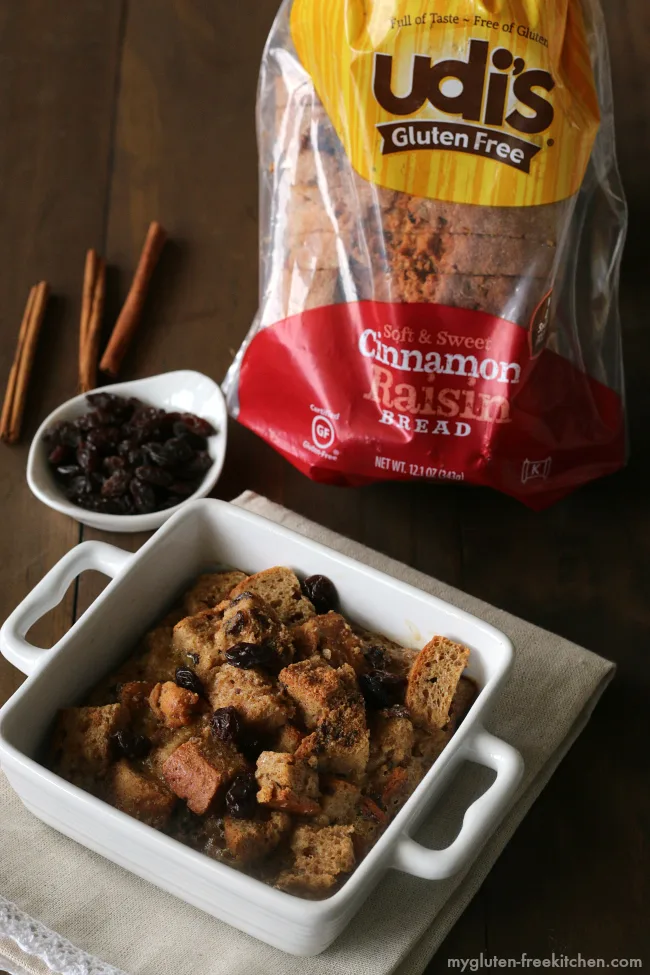 I added additional cinnamon to my recipe. It adds so much flavor and sweetness without adding additional sugar and calories! It's one of my favorite ingredients to use in baking!
I didn't add additional raisins in the casserole itself, but sprinkled with a few right before serving to top it off.
This yummy casserole is sweetened with some brown sugar, pure maple syrup and raisins in the gluten-free cinnamon raisin bread all providing sweetness.
With that, I didn't feel like it needed any additional sweetener at all when I ate it, though I think providing a side of pure maple syrup is a good idea so that your family and friends can add just a bit when eating. I also served with a small bowl of additional raisins for those that really love them!
If you'd like to serve with a savory breakfast item too, you could make this vegan breakfast hash. Or you could make this sweet potato breakfast skillet. I'm also wanting to make this hashbrown breakfast casserole soon! And I love the idea of these paleo egg muffins! These recipes all look so good!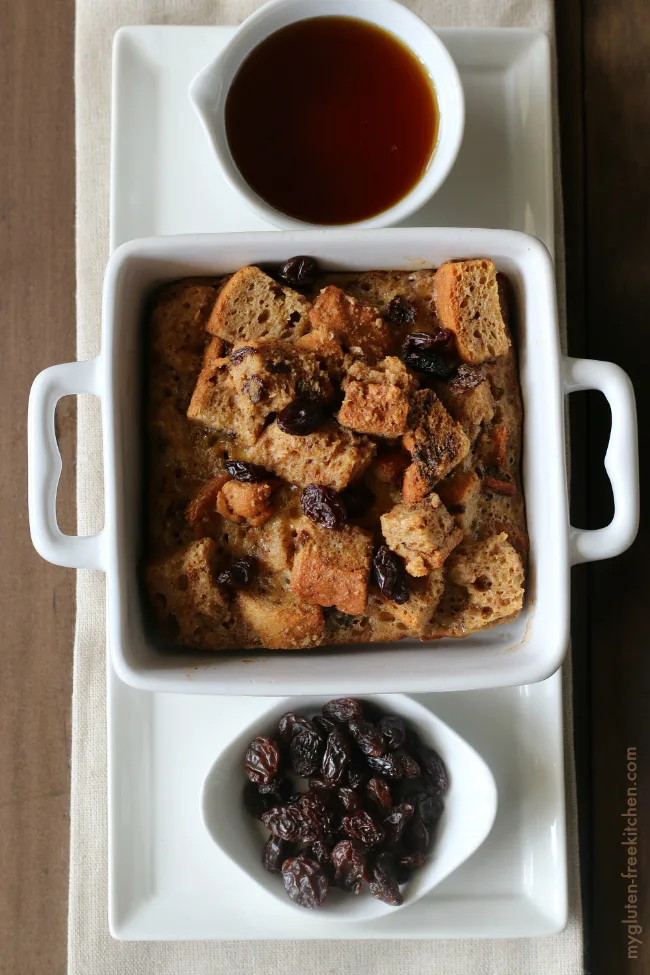 Isn't this a pretty way of serving this? Perfect for special occasions like Easter, Mother's Day or Father's Day or even a birthday. Served with a hot cup of coffee or cold glass of OJ, you're bound to make your loved ones feel spoiled!
If you find yourself having some other leftover bread lying around or in your freezer, you can use it to make this gluten-free bread pudding recipe.
And now for the recipe! Hope you make this soon and enjoy!
Gluten-free Cinnamon Raisin Baked French Toast Casseroles Recipe:
Yield: 4-6
Individual Gluten Free Cinnamon Raisin Baked French Toast Casseroles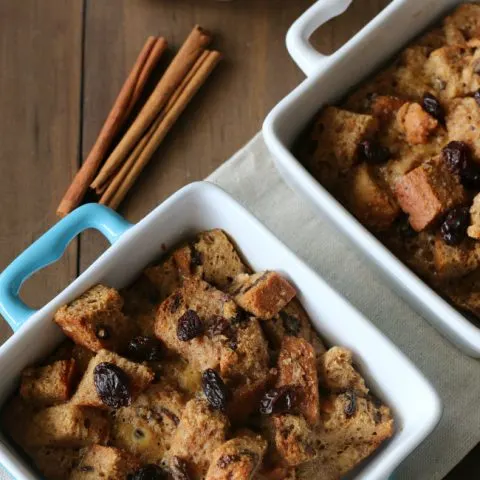 When you aren't looking to feed a whole crowd, these individual gluten-free cinnamon raisin baked casseroles are perfect for single servings for 4 people instead!

Prep Time 15 minutes

Cook Time 30 minutes

Additional Time 5 minutes

Total Time 50 minutes
Ingredients
4 eggs
1/2 cup milk*
1/2 cup heavy cream*
1 Tbsp. real maple syrup
1 tsp. pure vanilla extract
1/4 cup brown sugar
1 1/2 tsp. ground cinnamon
1/4 tsp ground nutmeg
1/4 tsp. salt
6 cups cubed Udi's Gluten-free Cinnamon Raisin bread
Instructions
Preheat oven to 350˚. Spray four individual baking dishes or six ramekins with cooking spray. My individual dishes were 5" by 5" so anything comparable should work.
In a large mixing bowl, whisk together eggs, milk, heavy cream, maple syrup, and pure vanilla extract.
Gently stir in the 6 cups of cubed gluten-free cinnamon raisin bread. Stir to coat, then let sit for 5 minutes, allowing the bread cubes to soak up some of the liquids.
Add the brown sugar, ground cinnamon, ground nutmeg and salt.
Stir again, then let sit again for 5 more minutes.
Using a large spoon (I used a wooden spoon), scoop the bread cubes into the 4 or 6 dishes as equally as you can. Spoon or pour the remaining liquid equally over the bread cubes in the dishes. You are just eyeballing it, and it'll be fine!
Cover each dish with aluminum foil. Bake in the preheated oven, at 350˚, covered, for 20 minutes. Uncover and bake for an additional 5-10 minutes or until the casserole appears set and cubes are just a bit browned.
Let cool 5 minutes before serving.
Notes
* In place of milk + whipping cream, you can use 1 cup total of half and half.

** I didn't use the ends of the loaf of cinnamon raisin bread, and also didn't use 2 slices of it. Just keep cubing slices in 1" cubes until you have enough. Enjoy the remaining slices for toast!

If you only have ramekins, use 6 ramekins instead of the 4 baking dishes like I used.
Recommended Products
As an Amazon Associate and member of other affiliate programs, I earn from qualifying purchases.


This sponsored post was created through my partnership with Udi's Gluten Free. As always, all opinions are my own. Collaborating with brands I love allows me to keep bringing you new and varied recipes and tell you about new products that are safe for us celiacs! Thanks for your support!