Perfect for an easy weeknight dinner, these gluten-free bacon ranch quesadillas were a hit all around! They would make a fun appetizer for a party as well!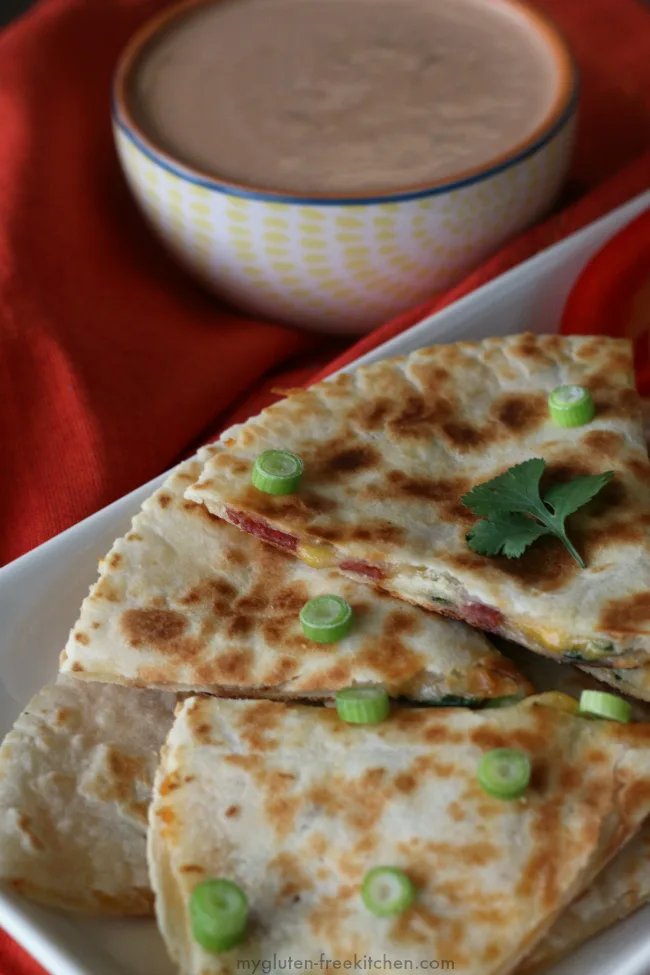 I'm always looking for easy weeknight gluten-free meals for my family. If it can be made in 30 minutes or less and is a hit with the family, then I'm all smiles!
These gluten-free bacon ranch quesadillas were a huge hit! I loved that I could sneak some veggies in these too without any complaint from one kid and minimal complaint from my other one! As a Honeysuckle White ambassador, they've sponsored today's recipe! As I mentioned in my gluten-free baked taquitos recipe, they're an awesome company that works with independent family farmers and I'm proud to partner with them!
Let's talk about the ingredients for these quesadillas:
Bacon: I chose turkey bacon. My stomach is not a fan of fatty bacon, so turkey bacon is a great choice for me. I used Honeysuckle White smoked turkey bacon. If you live on the east coast, look for their sister brand, Shady Brook Farms! Cooked until crispy, this bacon added just the right crunch to these quesadillas without adding a bunch of fat! The amount of bacon in each quesadilla amounts to only 1.5 grams of saturate fat – far lower than typical bacon from pork!
Tortillas: I opted for gluten-free flour tortillas, since we like those for quesadillas, but you could use corn tortillas too! I always buy Mission gluten-free tortillas.
Cheese: I used a shredded blend of Monterey Jack and Cheddar, but to kick things up, feel free to use Pepper Jack cheese too!
Spinach: Use fresh spinach for these. You'll want to remove the stems and then just lightly chop or tear the spinach into smaller pieces to toss in the quesadillas. It's a great way to add some veggies in these!
Green Onions: I chose to sprinkle these on top since not everyone in my family can have them, but feel free to include them inside your quesadillas!
Ranch: The ranch dressing is key here! A bit is added to the quesadillas and gives them great flavor! I just used our favorite refrigerated bottled ranch dressing that's gluten-free (Ken's).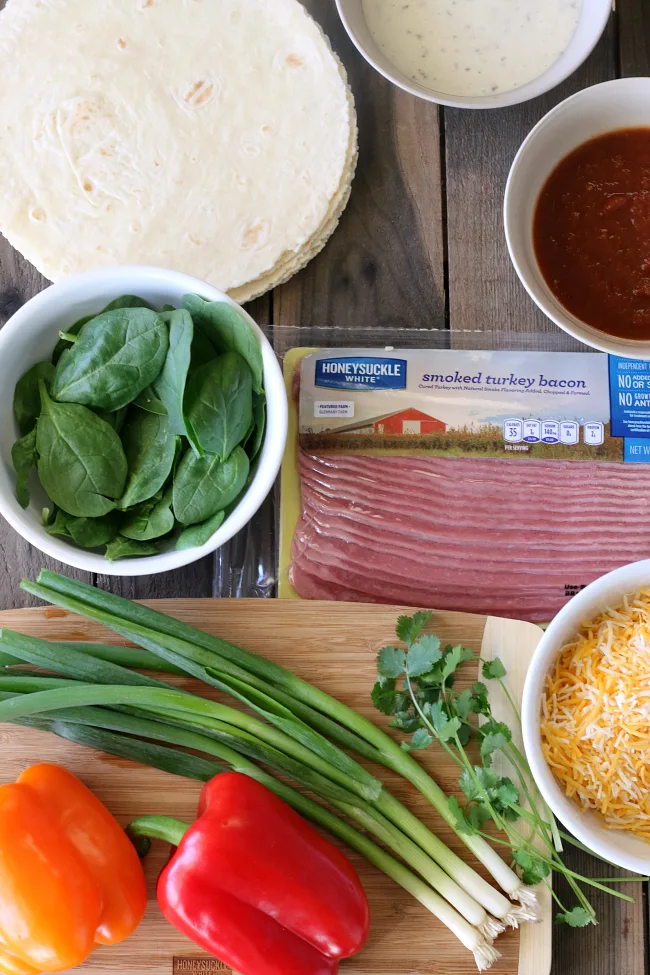 We enjoy dipping our regular cheese quesadillas in homemade gluten-free guacamole usually. But for these ranch quesadillas, I wanted to come up with a new dip. The answer: a dip that's equal parts salsa and ranch dressing! This ranch salsa dip was so good with the quesadilla wedges as well as the pepper slices and chips!
For the adults, I served these on a platter like this, and would serve it this way if I was making them for a party. Trust me, these will be making an appearance at parties in the future too!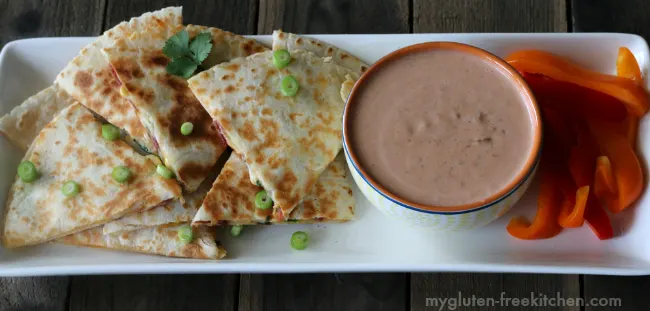 Since I like my recipes and ideas to be easy and approachable, I thought I'd also include a photo of how I served this to my kids. I served them on my favorite kid-friendly divided plates. My oldest LOVED the ranch salsa dip and happily dipped the quesadillas, pepper strips and blue corn chips in it and asked for more! My anti-veggie younger child skipped the pepper strips and ranch salsa, but at least I got the spinach in him in the quesadilla!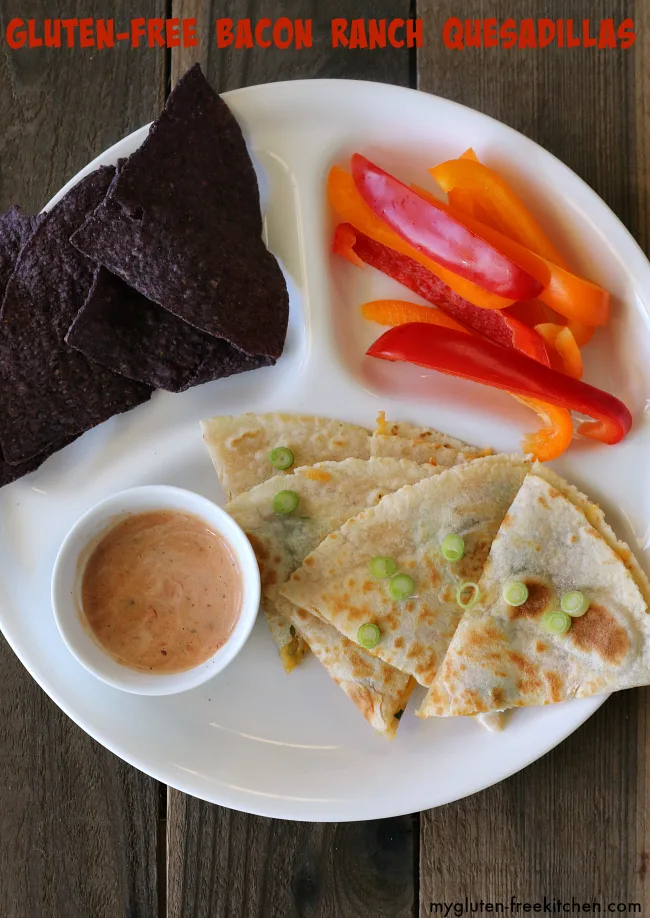 These are so easy that we'll be having them again and again! Next time my oldest gets a bigger bowl of the ranch salsa dip!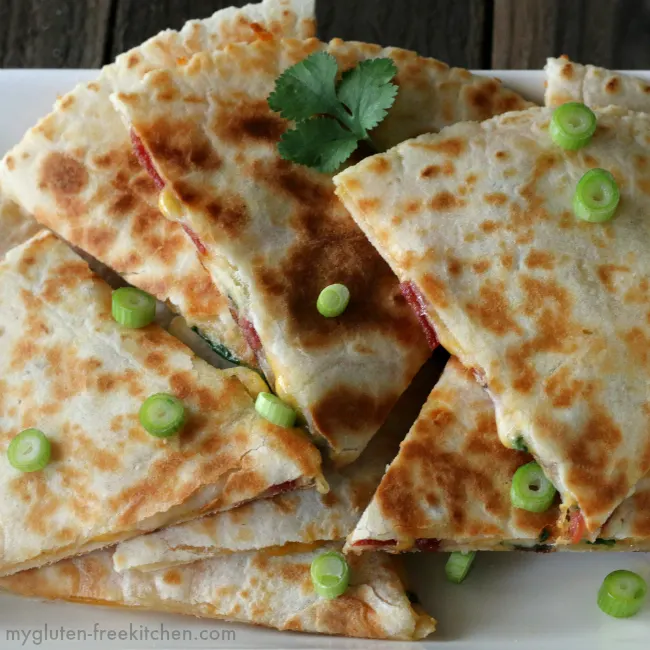 Yield: 4 servings
Gluten-free Bacon Ranch Quesadillas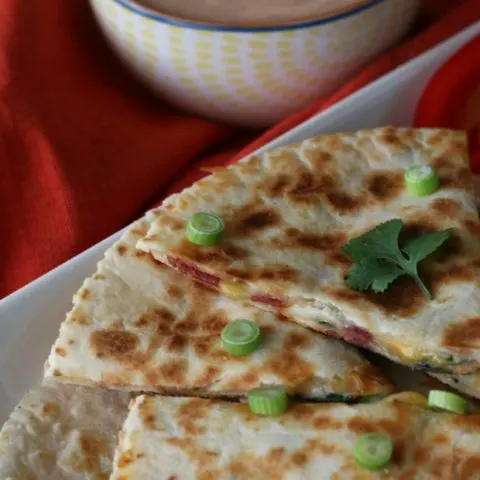 This recipe makes 4 gluten-free Bacon Ranch Quesadillas - perfect for a busy weeknight dinner. Feel free to double for larger families! These are great served with bell peppers and corn chips for sides.
Ingredients
Quesadillas:
6 slices bacon
8 gluten-free flour tortillas or corn tortillas
2 cups shredded cheese (Monterey Jack & Cheddar or Pepper Jack)
1 cup chopped fresh spinach, stems removed
4 tsp. ranch dressing
Optional: sliced green onions and cilantro
Ranch Salsa Dip:
1/2 cup mild or medium salsa
1/2 cup refrigerated ranch dressing
Instructions
Cook turkey bacon in skillet until crispy. Set aside on paper towels to cool. Break apart once cooled.
Spray a large skillet with cooking spray. Place one tortilla in the pan. Cover completely with a layer of shredded cheese (about 1/3-1/2 cup). Sprinkle with 1 1/2 slices of crumbled bacon and about 1/4 cup of the chopped spinach.
Top with another tortilla.
Turn stove onto medium heat. Cook quesadilla over medium heat for 3 minutes or until bottom is lightly brown. Carefully flip and cook other side for about 2 minutes or until lightly brown. (If you like your's crisper, feel free to cook longer!)
Remove to cutting board and use a pizza cutter to easily slice into 6 wedges. Repeat process for remaining 3 quesadillas.
While a quesadilla is cooking, prepare salsa ranch.
In a bowl, stir together 1/2 cup mild or medium salsa and 1/2 cup refrigerated ranch dressing.
Serve in large bowl or pour into individual bowls for dipping.
Notes
If you like your food with a little more heat, feel free to use Pepper Jack cheese and use a Salsa with a higher heat level!
I've made these with turkey bacon here, but have also used regular bacon other times. Feel free to use either.
This sponsored post was created through my partnership with Honeysuckle White as an ambassador for 2017. As always, all opinions are my own. Collaborating with brands I love allows me to keep bringing you new and varied recipes! Thanks for your support!
Pin this to your Gluten-free Dinner Board: