Gluten-free Lemon Brownies aka gluten-free lemonies, are even better than gluten-free lemon bars in my opinion! I hope you like them too!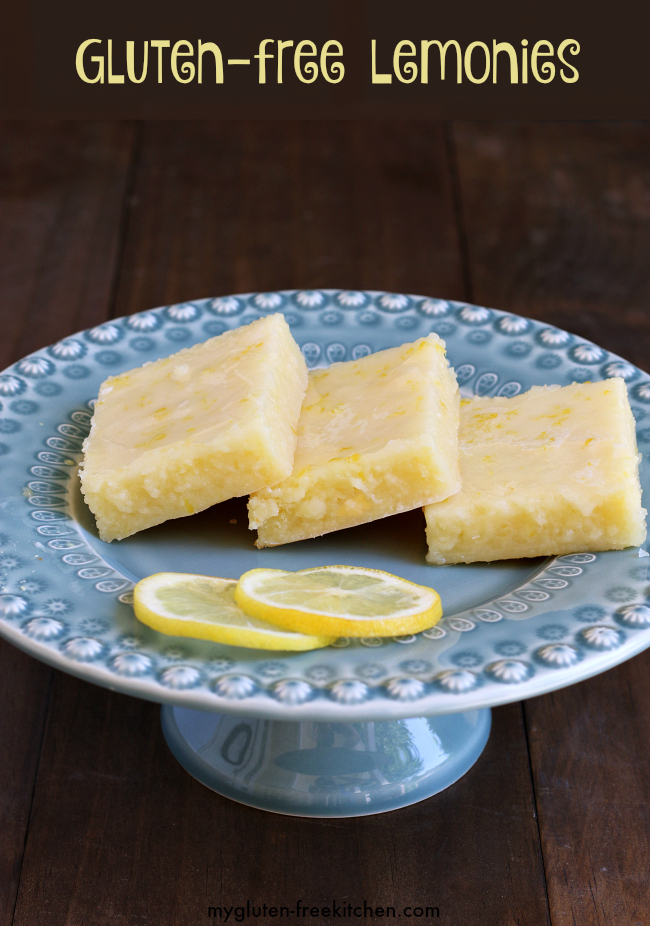 Lemonies is the name my family came up with to call these yummy gluten-free treats that are full of lemon flavor and are the texture of brownies. Lemon + Brownies = Lemonies! My boys helped name the recipe, can't you tell?! Some people call these lemon brownies, but I just couldn't call them that. When I think brownies, I think ultra chocolatey treats, and couldn't imagine them as lemon!
You can't tell though that these are gluten-free!! They are so moist and yummy! No weird textures or anything here!
I take these often to group gatherings, parties, and potlucks and all the gluten eaters are asking me for the recipe! They've been very popular at our Neighborhood Watch party the past few years!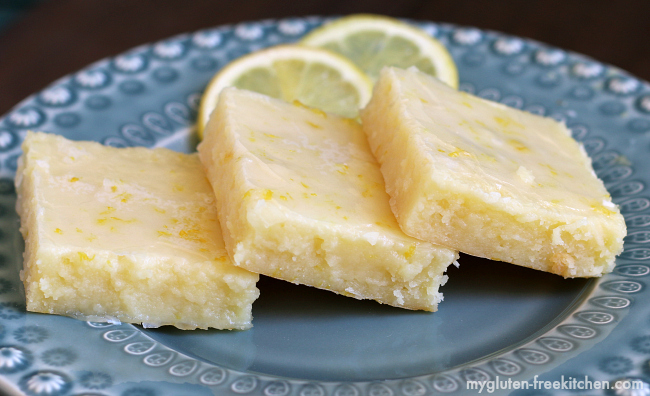 After posting this, I'm expecting to get comments from people telling me that I shouldn't have kept this amazing recipe from you all for so long! I've been making these for several years, and photographed them a year ago, but completely forgot to post them! This past weekend, my niece graduated from college, and she requested I make these for her trip home. She was all smiles as I sent her off with a box of these for her 10 hour drive back home.
As always, I only recommend baking with a good quality all-purpose gluten-free flour blend. All flour blends are not created equal! I recommend avoiding flour blends that contain any bean flours or that are primarily rice flour, as you'll get a more gritty result. This recipe, like pretty much all of my recipes, has been tested with successful results with both gfJules gluten-free flour and Gluten Free Mama's Almond Flour Blend and I recommend either one. Two other flour blends that I've been testing some (but not this recipe yet) with good results are Cup4Cup and Pamela's.
If the gluten-free flour blend you use already has xanthan gum or guar gum in it, then omit the xanthan gum called for in this recipe.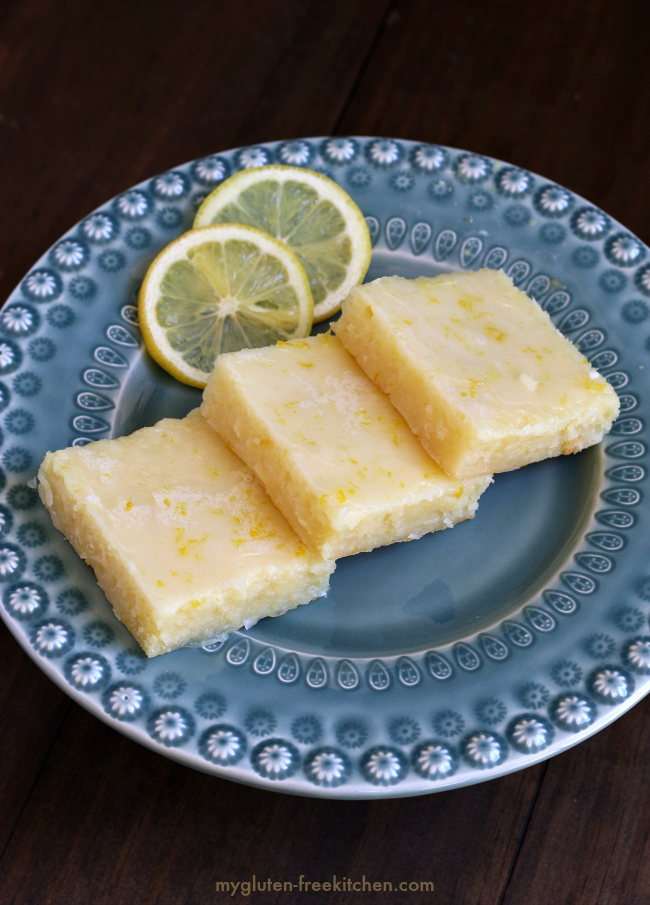 Have more lemons to use up? Check out these other recipes for baking with lemons:
Gluten-free, Dairy-free Lemon Bars
Gluten-free Lemon Buttermilk Cupcakes
Gluten-free, Dairy-free Lemon Coconut Cake
or my Pinterest board full of gluten-free lemon recipes!
If you make these and love them, please come back and give this recipe a 5 star rating in the recipe card! Feel free to comment with tips or to share any successful substitutions you made.
Gluten-free Lemonies Recipe:
Yield: 24 servings
Gluten-free Lemonies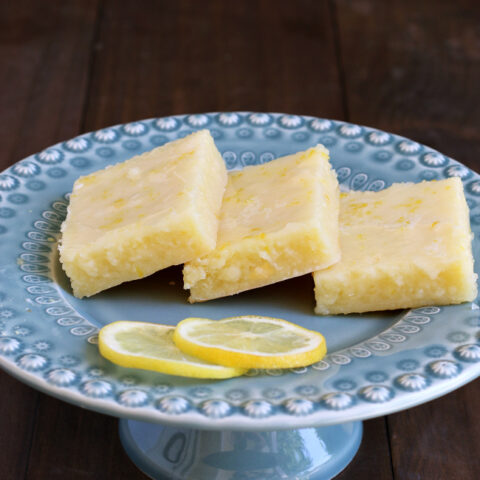 These gluten-free lemonies bars have the texture of brownies, but with the perfect lemon flavor! You'll want to buy 1 large lemon or 2 small lemons in order to have enough lemon juice and zest for this recipe with icing.

Prep Time 20 minutes

Cook Time 25 minutes

Additional Time 2 hours 10 minutes

Total Time 2 hours 55 minutes
Ingredients
1 1/2 cups good quality gluten-free flour blend*
3/4 teaspoon xanthan gum (**see note)
1 1/2 cups sugar
1/2 teaspoon salt
10 tablespoons butter, melted & slightly cooled
3 large eggs
1 can (14 oz.) sweetened condensed milk
1/2 teaspoon pure vanilla extract
2 Tablespoons fresh squeezed lemon juice
1 teaspoon packed lemon zest (from 1 small lemon)
Glaze:
1 cup powdered sugar
3 Tbsp. fresh squeezed lemon juice
1 teaspoon packed lemon zest
Instructions
Preheat the oven to 350ºF. Line a 9×13″ baking dish with parchment paper. This is important so that the bars are easy to get out of the pan.
In a large bowl, whisk together the gluten-free flour, sugar & salt.
In a separate bowl, whisk together the melted butter, sweetened condensed milk, eggs, vanilla, lemon juice & zest until combined.
Mix the butter mixture into the flour mixture until well combined.
Spread the batter into the prepared baking dish and bake for 25-35 minutes until set and just golden brown. A toothpick inserted in the center should come out mostly clean.
Let the bars cool slightly in the pan before glazing.
Glaze:
In a small bowl, whisk together powdered sugar, fresh-squeezed lemon juice, and packed lemon zest until smooth.
Pour glaze over the lemon brownies, using a pastry brush to spread to the edges. Let sit at least 2 hours before serving. If you'd like the topping to set more so that it doesn't run when cutting them, you can place in fridge or let sit longer.
Notes
*In my opinion, a good quality all-purpose flour blend does not contain bean flours and is not primarily rice flour. I tested this with gfJules and also Gluten Free Mama's Almond blend. Cup4Cup, and Pamela's are also good blends. See blog post for links to each of these.

**If the gluten-free flour blend you use already has xanthan gum or guar gum in it, then omit the xanthan gum called for in this recipe.
Recommended Products
As an Amazon Associate and member of other affiliate programs, I earn from qualifying purchases.

My recipe is adapted from one I found and printed off in 2012 from a blog called Becky Bakes, which is no longer online.
Pin this to your gluten-free desserts board on Pinterest: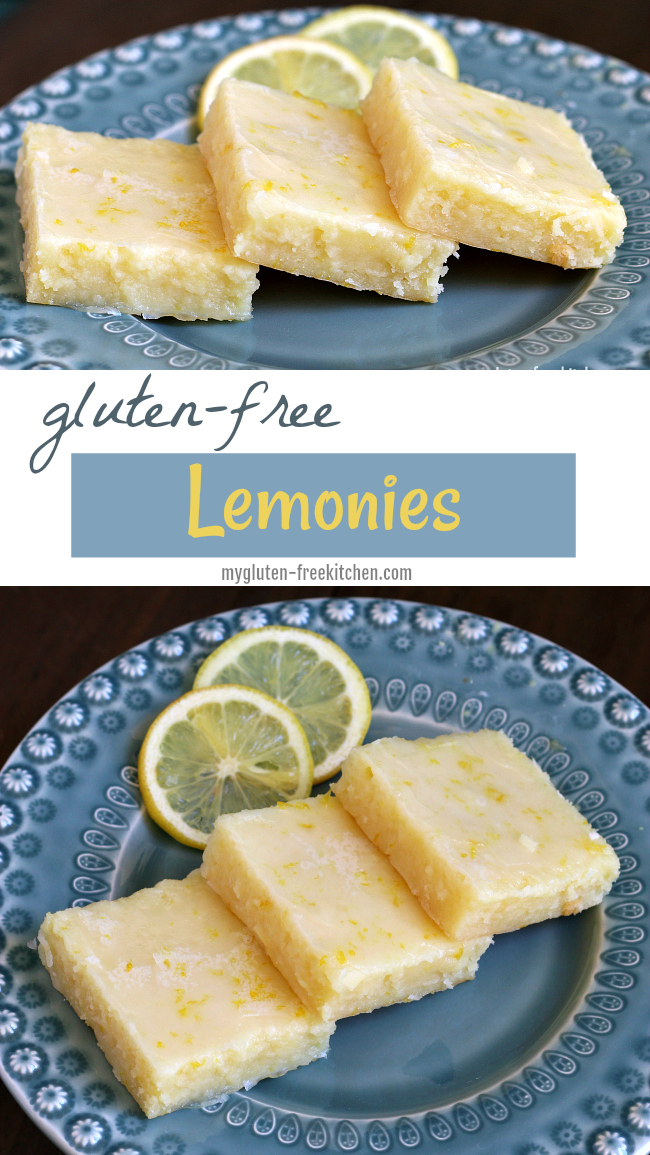 I hope you and your family/friends enjoy my version of gf lemon bars!
Thursday 13th of January 2022
[…] you can have dairy, make sure you make these gluten-free lemon brownies. And try my gluten-free lemon cupcakes. These gluten-free lemon no-bake pies look delish […]
[…] Gluten-free lemonies because who wouldn't want a lemon brownie? […]
Thursday 30th of July 2020
Do you need the Xantham gum if it's in your flour blend?
Wednesday 29th of April 2020