Looking for special, decadent, over the top gluten-free mint brownies? You've come to the right place! I make these whenever the chocolate + mint craving hits me!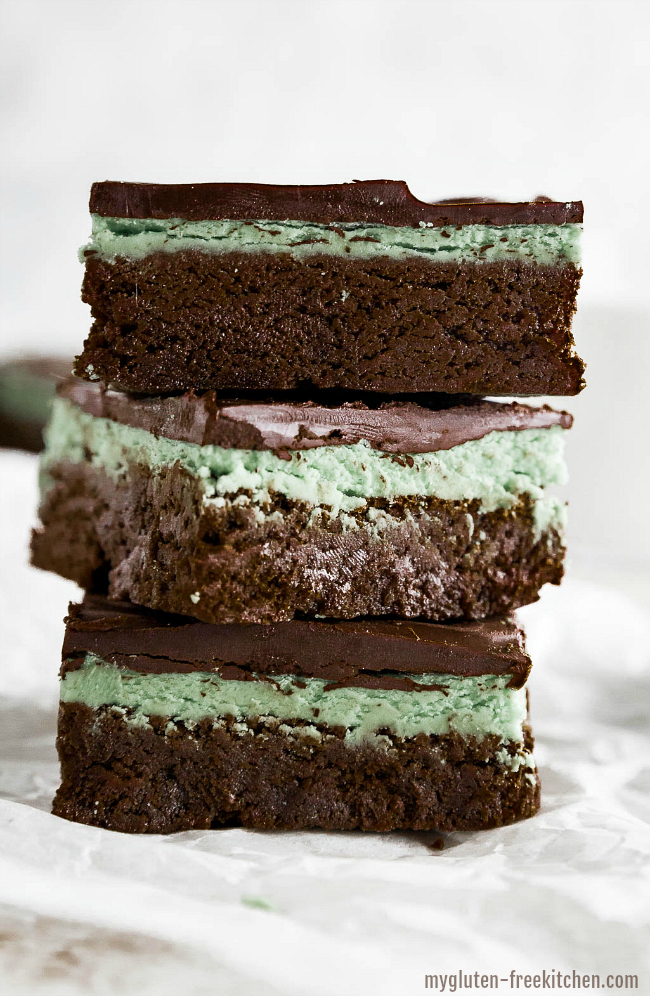 A fudgy gluten-free brownie topped with a layer of mint icing and topped with a smooth layer of dark chocolate… um, yes please. I'm lamenting the fact that this entire pan of gluten-free mint brownies has been devoured. They were enjoyed by everyone that I shared them with!
Years ago, when I could still eat gluten, a little bakery opened up downtown. I stopped in, as I LOVE bakeries, and discovered this incredible treat. The brownies were cut in huge squares and kept chilled. I would buy one and savor every little bite, usually saving half of it to enjoy the next day since they were so big. I would crave these brownies every few weeks.
Sadly, the bakery ended up closing. My craving for these brownies only intensified once I could no longer buy them. Finally I set to work on figuring out my own recipe for them.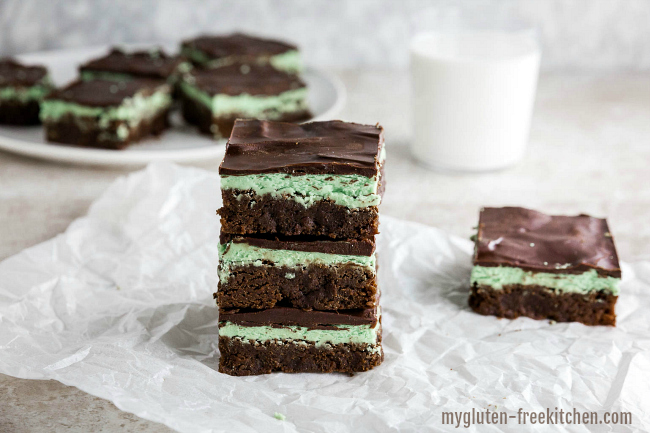 I tried many recipes with less than desirable results like a brownie layer that was too cakey or not chocolatey enough, a mint layer that tasted like toothpaste, and a chocolate layer that wouldn't look smooth and glossy.
After many tests and tweaks, and some tips from a friend, I had this recipe perfected.
And then I had to give up gluten. Back to square one. Or maybe not! What if I could take my perfected recipe and just use a good quality gluten-free flour blend in it? Would it turn out the same?
Prior to last week, I had yet to try making them with either of my favorite gluten-free flours (gfJules and Gluten Free Mama). I was confident, though, because they haven't failed me yet. I can definitely say that these tasted just the same as the gluten-full version I used to make. I've now tested it with each of those flour blends with great success!
Thumbs up came from those that have to eat gluten-free and those that don't!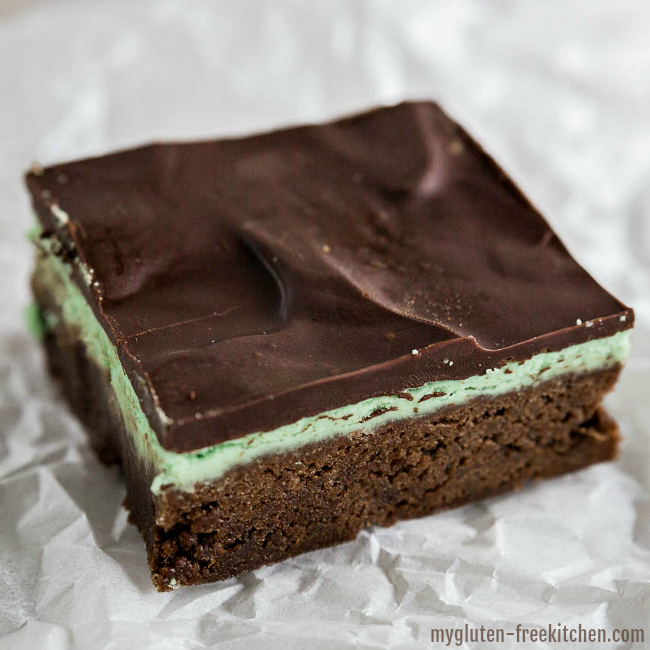 A few recipe notes: Since this recipe has multiple layers and they need to cool, feel free to make this over a span of two days.
I baked the gluten-free brownies one day, then did the mint layer & chocolate layer the next day.
You'll definitely want to make sure to wait until they are well-chilled before cutting, and you'll want to keep them chilled when not being served.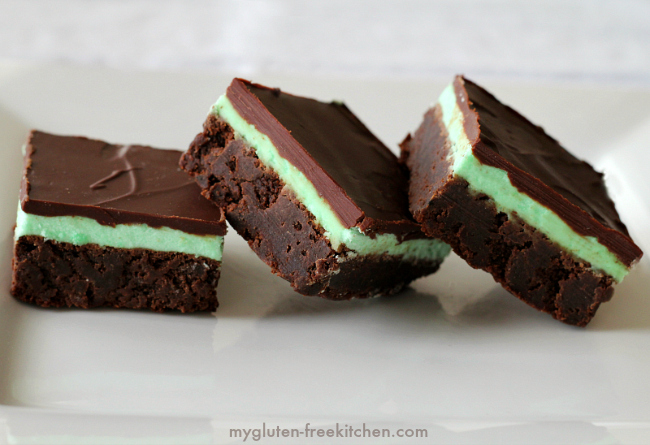 Notes on ingredients and substitutions for these gluten-free mint brownies:
Use a good quality flour blend. Like I said above, I've tested with both gfJules and Gluten Free Mama's Almond Blend and both worked very well. Other good quality blends like Cup4Cup and King Arthur Measure for Measure should work well too. Just avoid flour blends made of bean flours or only rice flour. I do not recommend using only almond flour or only coconut flour to make these. Those are not a successful straight substitution.
Unsweetened chocolate squares: I use Baker's Unsweetened Chocolate Squares, which are available at all of my local stores or online from Amazon.
Mint: I tried a number of mint options and I found the best success in using this mint extract from McCormick which you hopefully can find at your local store, or you can buy on Amazon. I like this one because it is spearmint and peppermint together and gave a better flavor than when I used one or the other alone.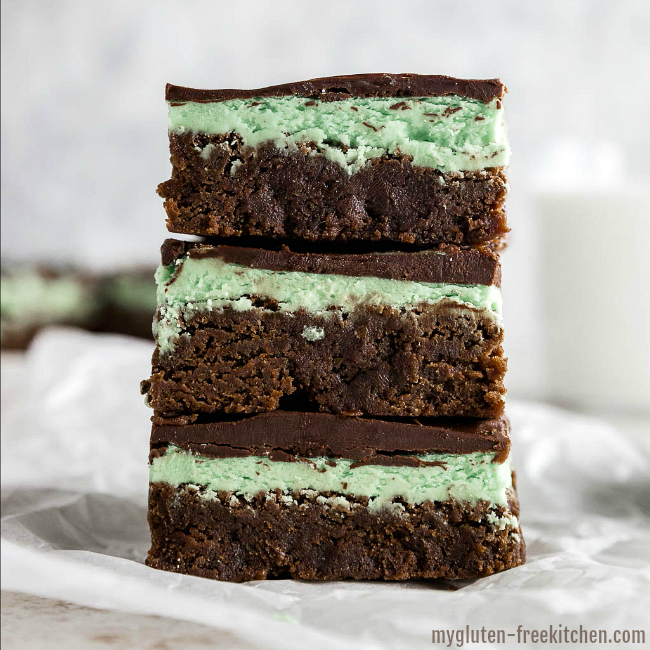 Kept chilled, these stayed nice and moist and tasty for 4 days with no change in quality or flavor. I hope you enjoy them as much as I do!
If you love this chocolate and mint combo, you've got to try my other favorite: gluten-free mint chocolate bundt cakes! I make these for holiday parties every December and they're always a hit!
Looking for more decadent gluten-free brownie recipes? Make sure to try my gluten-free buckeye brownies too! Also, I have a Pinterest board FULL of them! Check it out here: Gluten-free Brownies on Pinterest.
And now for the recipe!
Gluten-free Mint Brownies Recipe:
Yield: 42 brownies
Gluten-free Mint Chocolate Brownies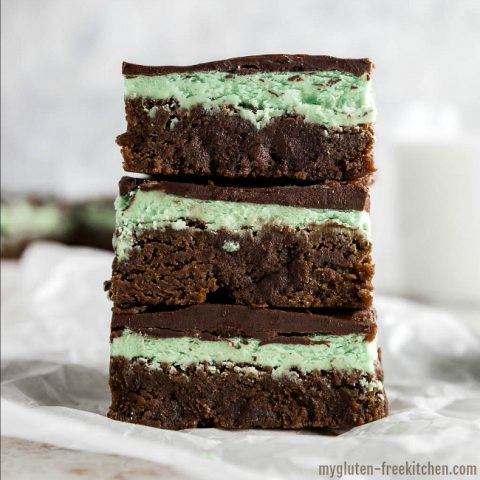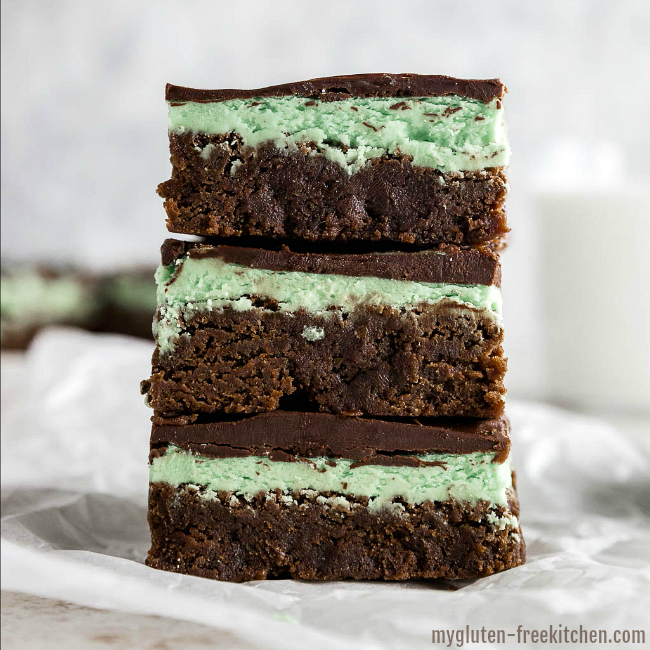 Looking for special, decadent, over the top gluten-free mint brownies? You've come to the right place! I make these whenever the chocolate + mint craving hits me!

Prep Time 30 minutes

Cook Time 30 minutes

Additional Time 1 hour 30 minutes

Total Time 2 hours 30 minutes
Ingredients
Brownies:
4 oz. unsweetened chocolate squares
1 cup butter
4 large eggs
2 cups sugar
1/2 tsp. salt
1 tsp. pure vanilla extract
1 cup good gluten-free all-purpose flour *
1/2 tsp. xanthan gum
Mint Layer:
½ cup butter, softened
2 2/3 cup powdered sugar
2 T. water
1 tsp. mint extract
green food coloring (I used about 5-6 drops)
Chocolate Icing:
6 Tbsp. butter
1 cup semi-sweet or dark chocolate chips
Instructions
Brownie Layer:
Melt the unsweetened chocolate and butter in microwave or in saucepan over low heat. Let cool.
In a mixing bowl, beat the 4 eggs until light and frothy, add the sugar and salt; beat well. Fold the chocolate & butter into the egg mixture. Stir in the vanilla, flour, and xanthan gum (if needed). Pour into greased 9x13" pan.
Bake at 350° for 25-30 minutes.
Mint Layer:
Use a hand mixer or standing mixer to beat all ingredients except food coloring together like frosting.
Add drops of green food coloring and mix until you reach the desired color you prefer.
Spread over the cooled brownies.
Place in fridge to set a bit while you prepare chocolate icing.
Chocolate Icing:
Melt the butter and chocolate chips together in a saucepan or in a glass bowl in the microwave, stirring frequently so as not so burn.
Spread over the mint layer.
Chill completely, then cut into squares. These can be cut small as they are rich and flavorful.
Notes
*I've tested this with Gluten Free Mama's Almond Flour Blend and gfJules flour. They both work amazingly well.

If using a flour blend that already includes xanthan or guar gum, then omit the xanthan called for in the recipe.

As always, be sure to double-check all of your ingredients to ensure they are gluten-free. You can double this recipe for 11x15" jelly roll size pan.
Recommended Products
As an Amazon Associate and member of other affiliate programs, I earn from qualifying purchases.

Make sure to pin these on Pinterest so you can find them later!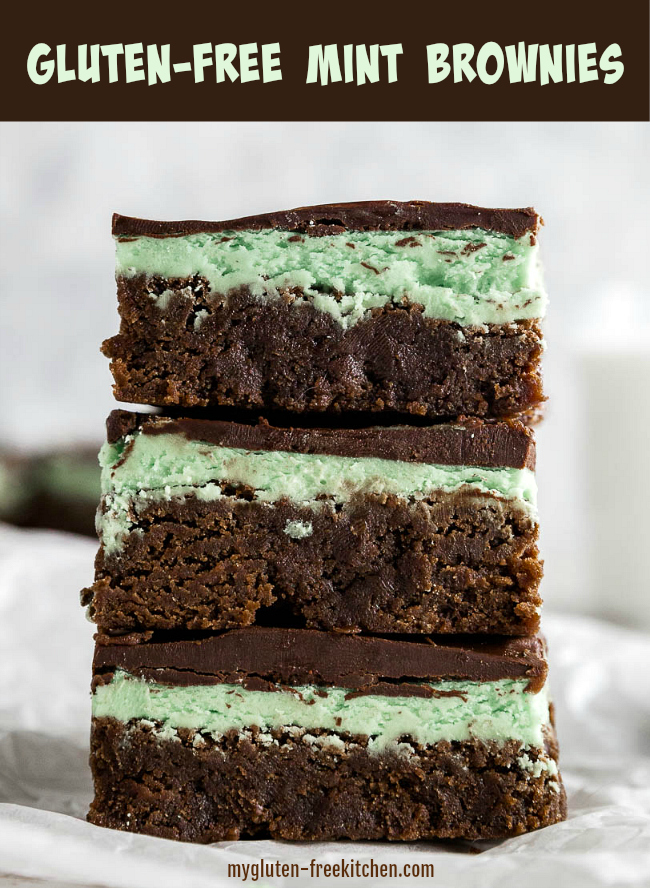 Photos and text updated March 2019.
Previous photo: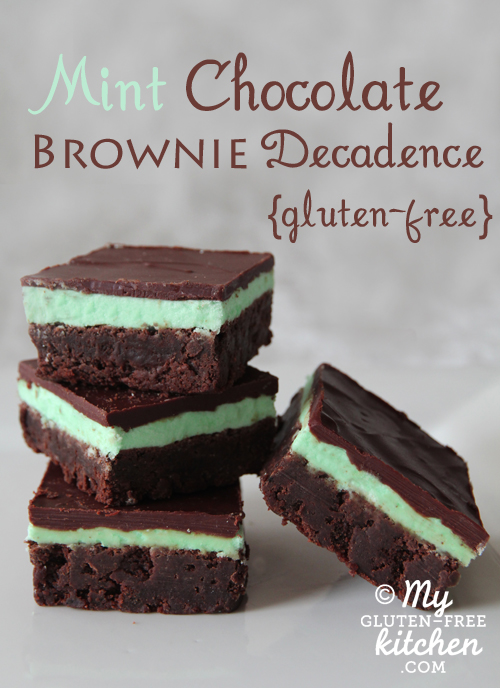 I hope you and your family and friends enjoy these gf mint brownies as much as we do!