One flavor combo that I really enjoy is chocolate and mint together. These mini gluten-free chocolate bundt cakes combine deep, dark chocolate cakes with a perfectly minty frosting for a delicious after-dinner treat.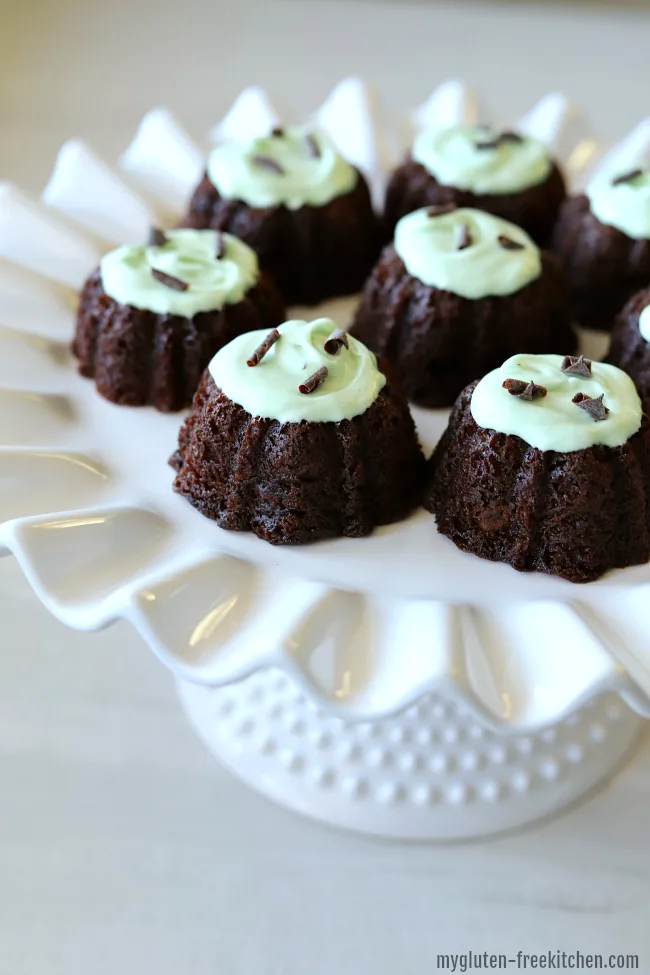 While these gluten-free chocolate mint cakes can be enjoyed year-round, I especially like serving them around Christmas and St. Patrick's Day for a festive dessert.
A while back, I bought this Nordic Ware Pro Cast Bundt Brownie Pan
from Amazon. I've always loved bundt cakes and thought making mini bundt cakes would be fun. The mini bundt cakes that you make with this pan are cute individual servings and help with portion control too! I feel like the presentation of these individual cakes is so much prettier than slices of a big cake.
For the chocolate cake, I used the same gluten-free cake recipe as I did in my gluten-free chocolate cupcakes with raspberry frosting. The dark color comes from adding a bit of Hershey's dark cocoa in addition to the melted unsweetened chocolate.
I used just slightly less batter for each bundt than I do for a cupcake, so the yield is about 30 or so of these mini bundt cakes. When I needed more for a party, I scooped a little less in each so I could get a full 3 dozen cakes.
After they cool in the pan for a few minutes, then are turned out onto a wire rack to cool. Then I hand place them onto a rimmed pan like this for frosting them.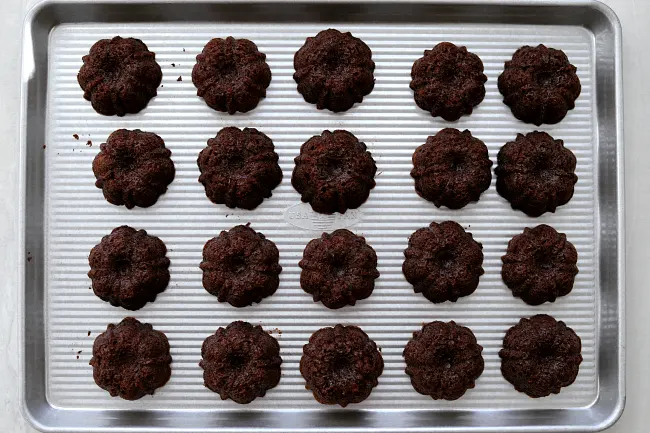 The mint frosting came about from adapting the Mint Chocolate Chip Frosting from Sally's Baking Addiction. I adapted her frosting to be more glaze-like so it would be smooth and drip down the sides of the cakes.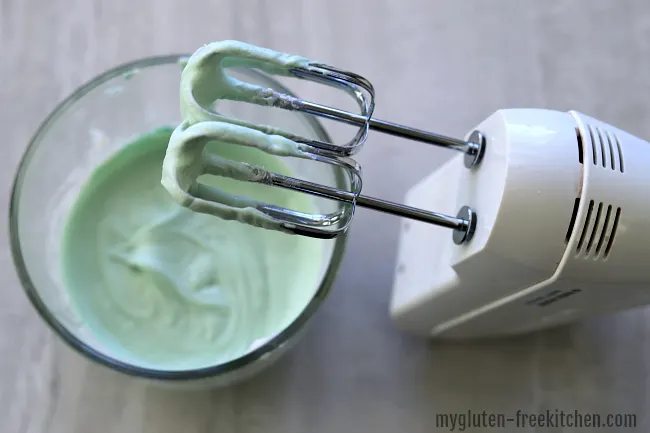 The mint frosting is super easy to make – just 5 ingredients. I make mine in a glass mixing bowl using my hand mixer.
Use green food coloring or green food gel to get the green color you want. I liked mine with just a hint of green -but you can go darker!
The pure mint extract is perfect here! It gives just the perfect amount of mint flavor.
After making the frosting, I use a long teaspoon to spoon the frosting onto each cake, allowing to drip down sides a bit and giving a little swirl on top. I frost four at a time and then add the topping.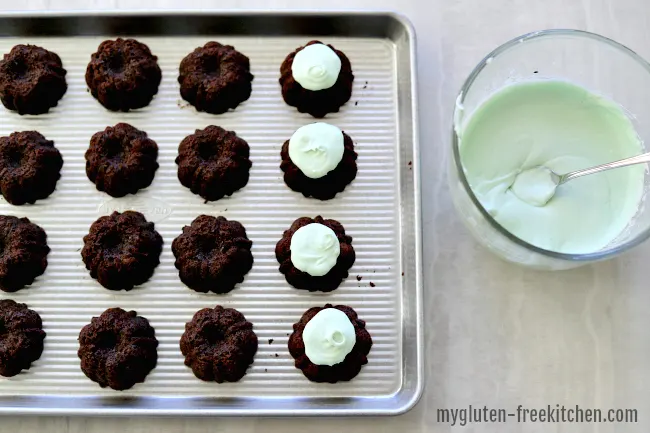 Topping ideas:
I topped these with some dark chocolate curls that I bought on a trip, but you could also make your own chocolate curls using your favorite chocolate bar and a peeler. I also topped some with some chocolate sprinkles. These chocolate sprinkles here and also these chocolate sprinkles here are clearly labeled gluten-free.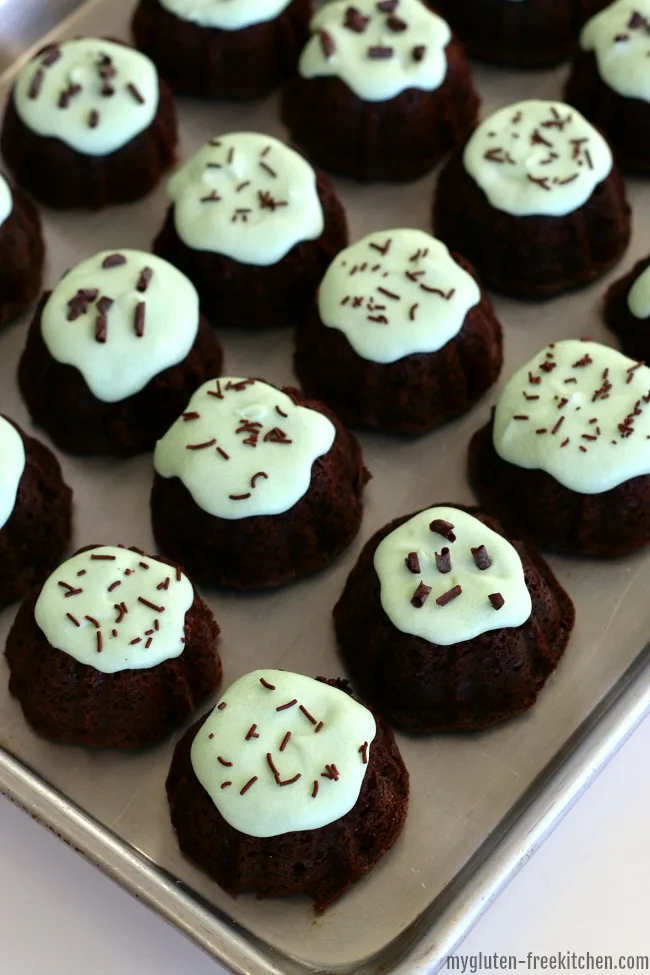 If you like the combination of chocolate and mint together, make sure you check out my gluten-free Mint Chocolate Brownies.
I think no matter what gluten-free dinner you eat, you'll enjoy cleansing your palate with the minty flavor of these little cakes! They're the perfect way to end a night!
If you make these and love them, please come back and give this recipe a 5 star rating in the recipe card! Feel free to comment with tips or to share any successful substitutions you made.
Gluten-free Chocolate Cakes with Mint Frosting Recipe:
Yield: 30 mini cakes
Gluten-free Chocolate Bundt Cakes with Mint Frosting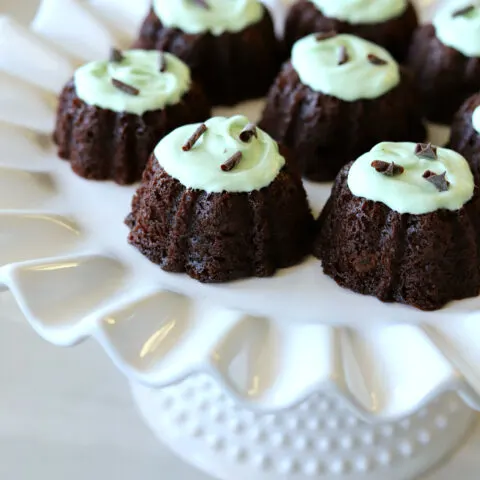 These mini gluten-free chocolate bundt cakes combine dark chocolate cakes with a perfectly minty frosting for a delicious after-dinner treat.
Additional Time
30 minutes
Total Time
1 hour
15 minutes
Ingredients
Cakes:
4 oz. unsweetened chocolate, chopped (I used Baker's)
1 cup boiling water
2 cups sugar
1½ cups good gluten-free all-purpose flour blend*
¾ tsp. xanthan gum *see note
¾ tsp. baking soda
½ tsp. salt
1 Tbsp. Hershey's dark cocoa powder
1/2 cup (1 stick) unsalted butter, melted
2 large eggs
2 tsp. pure vanilla extract
½ cup sour cream (recommend using Daisy or other natural sour cream)
Mint Frosting:
1 stick (1/2 cup or 8 Tbsp.) salted butter, melted
3 cups powdered sugar
3 Tbsp. milk
1/4 tsp. pure mint extract
green food coloring (use drops or gel as needed to tint to desired color)
Instructions
Cakes:
Preheat oven to 350°. Spray the cavities of the mini-bundt pan well with non-stick cooking spray.
Place the chopped unsweetened chocolate in a large mixing bowl and pour the boiling water over it. Let stand for 2 minutes while you prepare the dry ingredients.
Meanwhile, in a medium bowl, whisk together the sugar, gluten-free flour blend, xanthan gum (*if needed), baking soda, salt, and cocoa powder. Set aside.
The chocolate in the large mixing bowl should be melted by now. Whisk until chocolate is smooth. Whisk in the butter, then the eggs, until smooth. Whisk in the vanilla and sour cream until well mixed.
Whisk in the dry ingredients mixture in 3 separate additions, whisking until smooth after each addition.
Using a scoop, fill each well-greased mini-bundt cavity about 3/4 full.
Bake at 350° for 15 minutes until well risen and feel firm when pressed in the center. You can also test with a toothpick, which should come out with moist crumbs attached but no wet batter, when inserted into the center of baked cupcake.
When cupcakes test done, remove pan to a wire rack to cool for about 5 minutes. Gently remove from pan. If you only have one mini-bundt pan, before reusing pan, make sure to coat well again with non-stick cooking spray. Repeat baking and cooling steps until you've used up all of your batter.
Allow to cool completely before frosting.
Mint Frosting:
Use your stand mixer or a small bowl with a hand mixer. Add melted butter to mixing bowl. Add 1 cup powdered sugar and 1 Tbsp. milk and beat together. Repeat with next cup of powdered sugar and milk. Once well mixed, repeat with final cup of powdered sugar and milk. Add the peppermint extract and food coloring and beat until well mixed. Check your consistency now and if it doesn't seem just right to pour on the cakes and have it drip down gently, add additional powdered sugar or milk as needed to get it to a glaze consistency.
Using a spoon, gently pour about 2 tablespoons of frosting on each cake, spreading it gently as needed to cover the top. If your frosting starts to stiffen up as you are working from cake to cake, just put the (microwave-safe) bowl in the microwave for a few seconds and it will get to the right consistency again.
When you are finished spreading on the glaze, sprinkle with chocolate curls, chocolate sprinkles or jimmies if desired.
I recommended putting the finished cakes in the refrigerator until about 30-60 minutes before serving, so that the glaze frosting stays.
Notes
*This recipe has been tested successfully with each of these flours: King Arthur Measure for Measure Flour, Gluten-free Mama's Almond Blend All-purpose flour and gfJules gluten-free flour.
*If the gluten-free flour blend you use already has xanthan gum or guar gum in it, then omit the xanthan gum called for in this recipe.
Recommended Products
As an Amazon Associate and member of other affiliate programs, I earn from qualifying purchases.
Pin this to your gluten-free cakes board on Pinterest: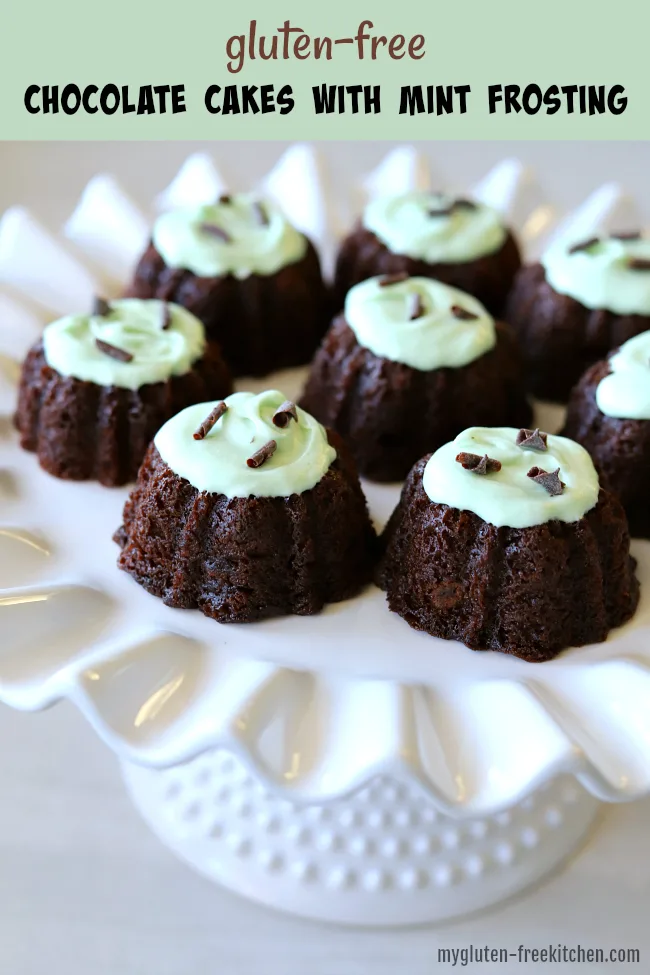 I hope you and your family and friends enjoy these gluten-free chocolate mint cakes!
Originally published in March 2014. Updated March 2020. Photo from 2014: