Rich and decadent, this chilled pie combines two of my favorites- peanut butter and chocolate- for an amazing gluten-free dessert! I think this gluten-free peanut butter pie will be a hit at your house!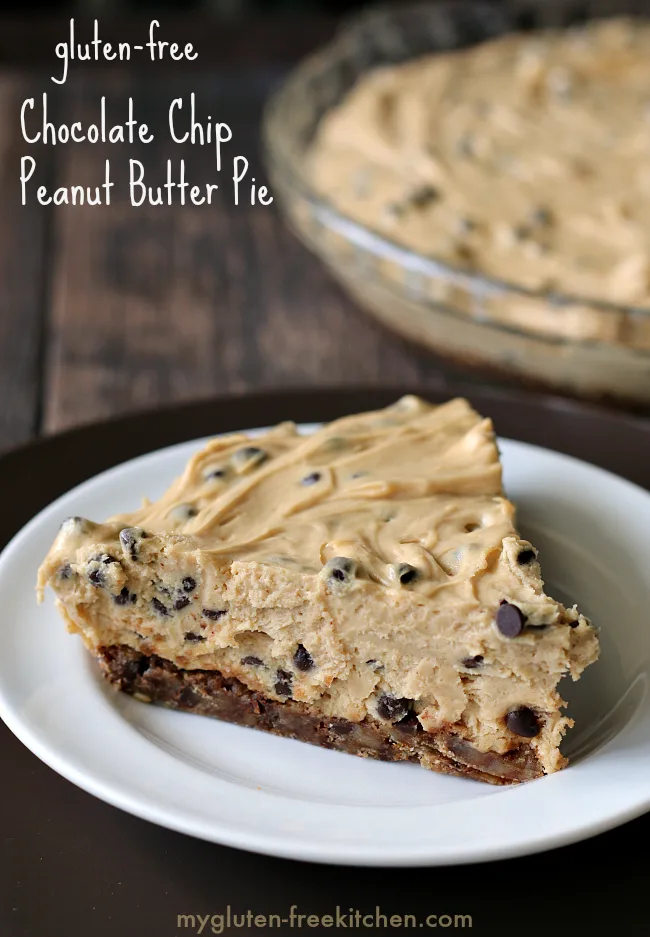 I'm always combining peanut butter and chocolate together in favorite recipes. I make my gluten-free peanut butter brownies every few weeks! My son's favorite brownies are these gluten-free buckeye brownies that have a yummy peanut butter layer!
I've been drooling over peanut butter recipes forever. I have more recipes pinned and printed off that have peanut butter and chocolate in them than any other. I could make 2 new peanut butter recipes per day for the rest of my life and still not make it through all the peanut butter recipes I want to try! One on my list is these peanut butter protein balls that combine peanut butter and chocolate in a snack that's not dessert.
While brainstorming a new recipe to create, I started thinking about how to incorporate gluten-free chocolate chip cookies in a yummy dessert. I had a number of ideas, but kept coming back to this idea of a chocolate chip cookie crust. Then I started thinking about peanut butter pie and I thought those would go amazing together.
I looked at several recipes for peanut butter pie filling, and finally opted to use this peanut butter chocolate chip pie from Bake or Break as my starting point to adapt from. The crust idea worked just like I had imagined, and with just a little change to her filling recipe, it was just what I wanted. Together, I was thrilled to see the dessert that was in my head was so successful and yummy!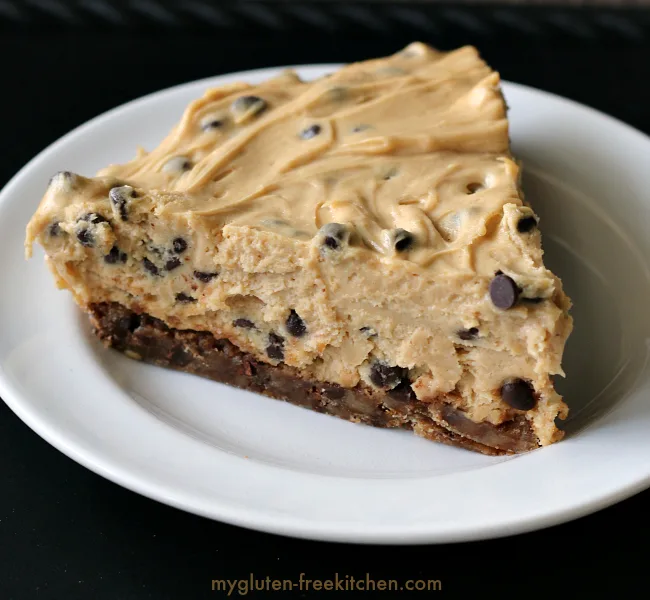 Notes on ingredients and substitutions for this gluten-free peanut butter chocolate chip pie:
Cookies: For the crust, I Udi's Gluten Free Soft & Chewy Chocolate Chip Cookies. These worked perfectly to make a chewy cookie crust with barely any effort. The recipe uses one whole container of them, so if you'd like additional cookies to crumble on top or to munch on while cooking, make sure to buy a second package! I'm not able to find these in my town any more, or online, so if you're in the same situation, I recommend using the equivalent amount of Enjoy Life gluten-free chocolate chip cookie or of homemade gluten-free chocolate chip cookies.
Cream Cheese: This is a very decadent, rich dessert. I did opt to cut the fat down a bit by using Neufchâtel instead of regular cream cheese and it worked well. Feel free to use either one. Note that you are not using an 8 oz. block. I found 6 ounces to be the perfect amount for this pie. You can save the extra 2 ounces for when you make these gluten-free chewy chocolate chip cookies, since that recipe calls for 2 ounces of cream cheese!
Peanut Butter: This recipe assumes the use of a peanut butter that has salt in it. If using a homemade peanut butter or store-bought natural peanut butter that doesn't have salt, add a pinch of salt in Step 1 of making the filling.
Chocolate Chips: I used mini semi-sweet chocolate chips from Enjoy Life and recommend them.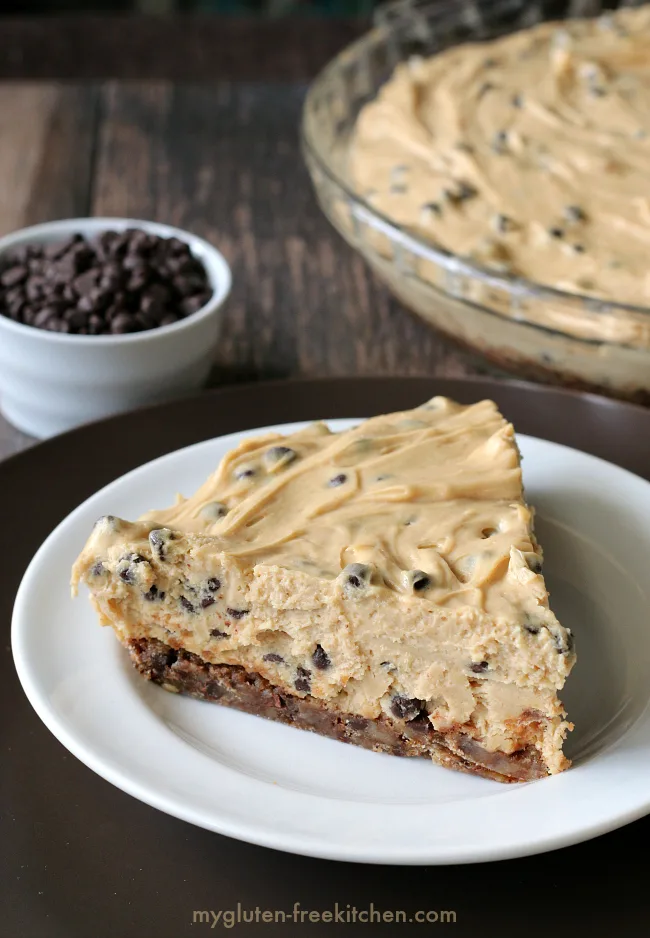 I thought I'd include a few pics from making this so you know what to expect. I used this little food chopper, so I divided the cookies into two batches. If you are using a large food processor, you could do it all in one batch. I just didn't feel like washing my big food processor! You will want to pulse them until you get to the consistency you see in the bottom photo here: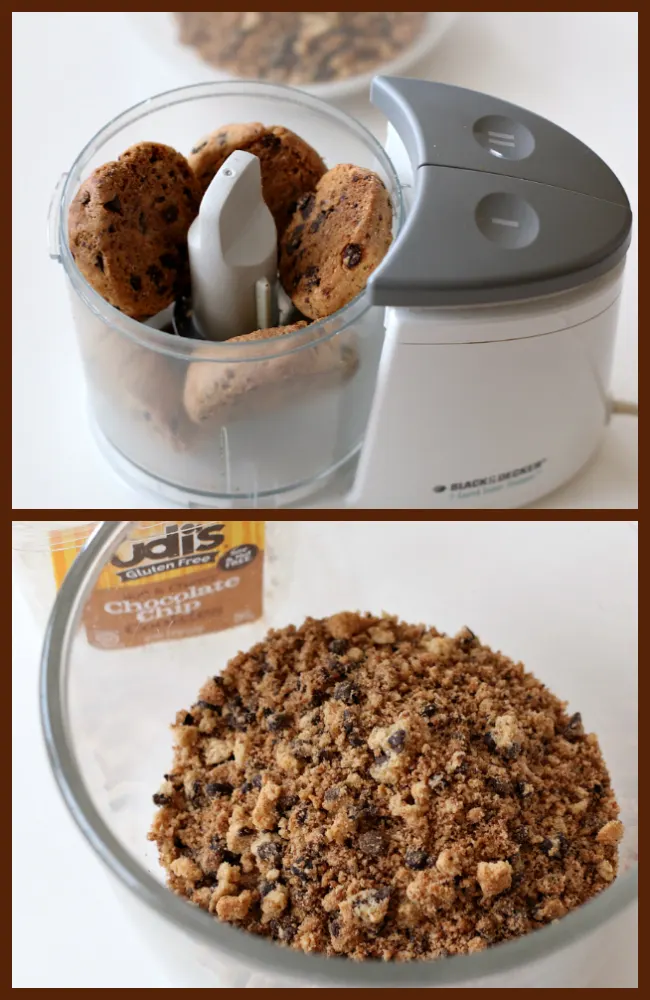 After you do pulse all of the cookies until you have course crumbs with some cookie chunks in them, you'll add brown sugar and melted butter and mix together. Simply press into a greased pie plate and bake in the oven for nine minutes.
The filling is very easy to prepare with your electric mixer. It took only about 7 minutes for me to mix up the filling, including whipping cream for it. After you've assembled the pie, place in fridge to chill for at least four hours, or overnight (which I did) and then you can enjoy! I meant to whip up some additional whipped cream to dollop on top, so feel free to do that if you'd like some!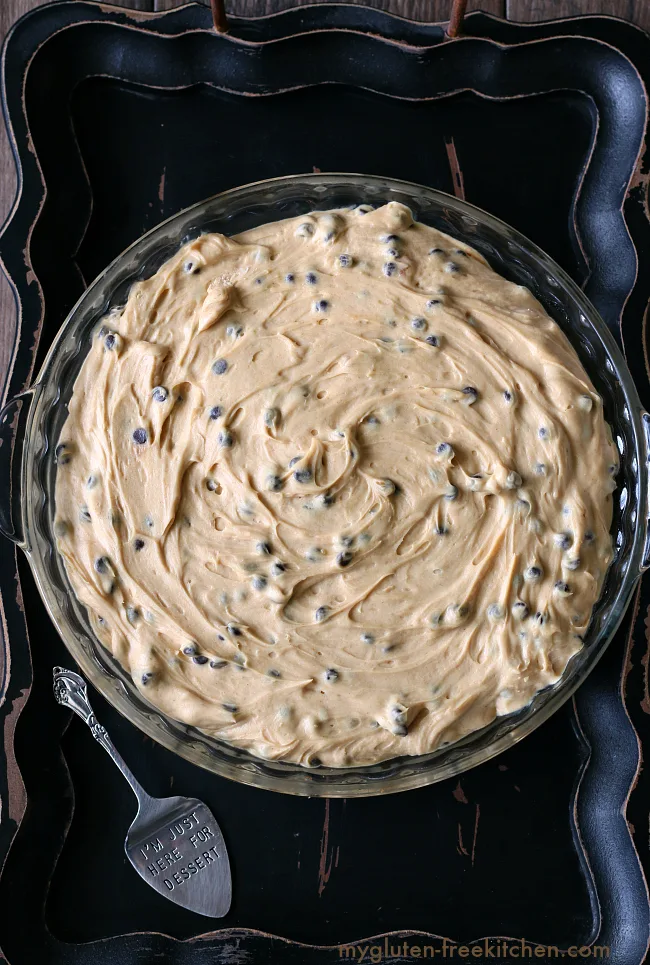 P.S. For those that love the cute server in the photo, this is the newer version: Just Here For Dessert Server.
If you want another easy, semi home-made pie making use of store-bought gluten-free cookies, check out my Snickerdoodle Streusel gluten-free Apple Pie. It's soooo good too!
I hope you enjoy this gluten-free peanut butter pie too!
Gluten-free Chocolate Chip Peanut Butter Pie Recipe:
Yield: 12 slices
Gluten-free Chocolate Chip Peanut Butter Pie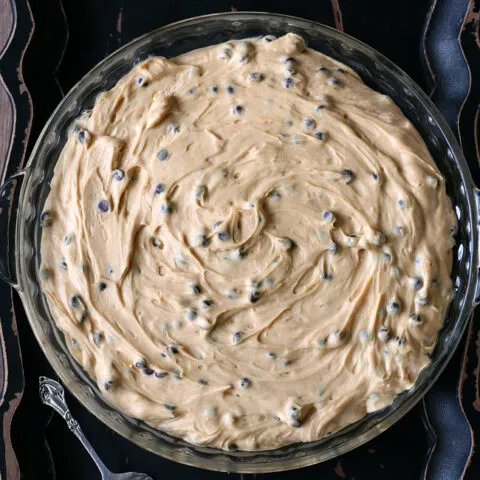 If you or your loved ones love peanut butter and chocolate, this gluten-free chocolate chip peanut butter pie is sure to be a hit! You'll probably want to cut smaller slices than I did though! It's very rich and decadent!
Ingredients
Crust:
1 (7.9 oz.) container Udi's Gluten-free Soft & Chewy Chocolate Chip Cookies or equivalent of homemade or other brands
2 Tbsp. brown sugar
1/3 cup unsalted butter, melted
Filling:
6 oz. cream cheese or Neufchâtel, room temperature
1 cup creamy peanut butter (salted)
1 cup powdered sugar
1 1/2 teaspoons pure vanilla extract
1 1/2 cups heavy whipping cream
3/4 cup mini chocolate chips
Instructions
Crust:
Spray pie plate with non-stick spray. Preheat oven to 375°.
Using a food processor or food chopper, pulse the chocolate chip cookies until mixture is course crumbs with some larger chunks. (see photo in blog post).
Transfer cookie crumbs to a medium size bowl. Add brown sugar and whisk.
Pour melted butter over cookie mixture and whisk until well blended.
Transfer cookie mixture into greased pie plate. Use a spatula or your fingers to press the cookie crumbs firmly across bottom of the pie plate.
Bake in preheated oven at 375° for 9 minutes.
Remove from oven and set aside to cool while you make the filling.
Filling and assembly:
In the bowl of your electric mixer, beat the cream cheese, peanut butter, powdered sugar, and vanilla extract on medium speed until combined. Mixture look like a peanut butter cookie dough.
In a separate bowl, use an electric mixer to whip the heavy whipping cream until soft peaks form.
Scoop 1 heaping cup of the whipped cream and add to the peanut butter mixture. Beat on low speed until mixed thoroughly.
Scoop remaining whipped cream into the peanut butter mixture and use a spatula to gently fold the whipped cream until mixed in.
Gently stir in the mini chocolate chips.
Scoop the filling into the cooled crust. Place in refrigerator for 4 hours or overnight.
This is very rich so you'll want to slice this thinly -not like the slice in the photo!
Keep leftovers refrigerated.
Notes
This recipe assumes the use of a peanut butter that has salt in it. If using a natural peanut butter without salt, add a pinch of salt in Step 1 of making the filling.

If you're unable to find the Udi's cookies I used, feel free to replace with homemade or other brand of gluten-free cookies - just weigh them out to close to the 8 oz. I used.
Recommended Products
As an Amazon Associate and member of other affiliate programs, I earn from qualifying purchases.

Pin this to your gluten-free pies board on Pinterest: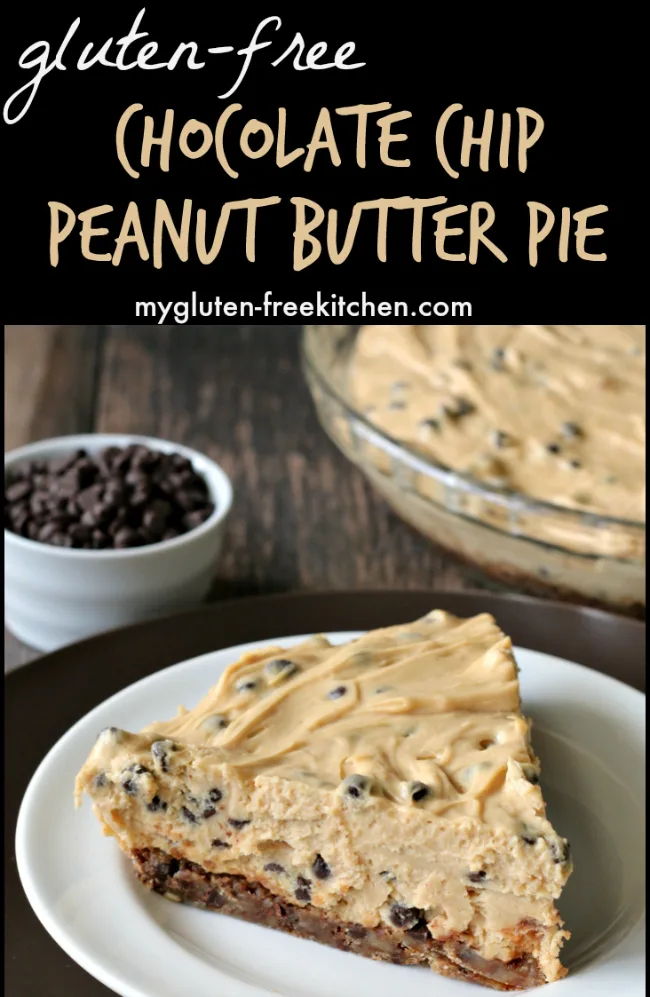 Looking for more gluten-free pies? Check out my Pinterest board full of gluten-free pie recipes here!
Enjoy!!