Gluten-free Chewy Sugar Cookies have a chewy center, crisp edges, and are rolled in sugar to make them sweet and sparkly. They're perfect to enjoy year-round!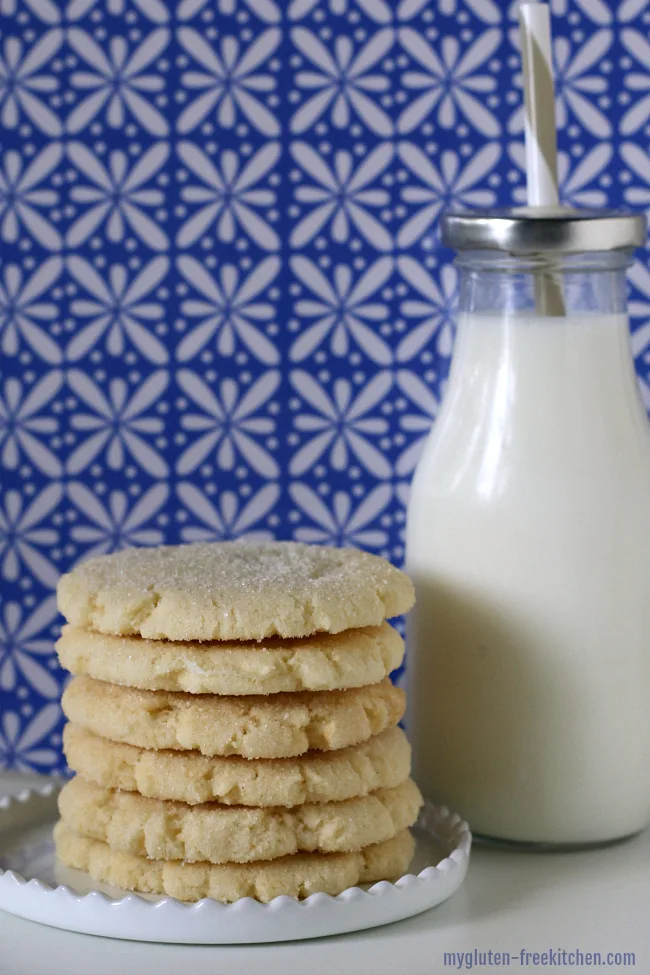 If you've been searching for a yummy gluten-free sugar cookie that is chewy in the center and crisp at the edges, then today's recipe is for you! This yummy gluten-free sugar cookie dough is scooped into balls that are rolled in sugar just before baking, leaving you with a perfectly sweet, buttery gluten-free cookie that won't last long in the cookie jar! My husband says these are the best gluten-free sugar cookies ever!
One of the best parts about making this gluten-free sugar cookie recipe: you don't even need a mixer! Just grab three bowls, a whisk, and a spatula and you are ready to mix!
The recipe I adapted from for chewy sugar cookies is from America's Test Kitchen. I'm a huge fan of America's Test Kitchen. I DVR their programs (America's Test Kitchen and Cook's Country) from PBS, and watch them while I walk on the treadmill. I love how they spend many, many hours of research and many attempts to perfect a recipe. I usually have very little that I need to tweak in recipes I get from them. I really only adapted this for gluten-free by switching to a good gluten-free flour blend and adding xanthan gum.

Notes on Ingredients for these gluten-free chewy sugar cookies:
Like most of my recipes, it has been tested with several of my favorite quality gluten-free all-purpose flour blends, gfJules, King Arthur Measure for Measure, and Gluten Free Mama's Almond Blend. If you use gfJules or this King Arthur blend, remember that those have xanthan gum in them already, so you won't need to add the additional xanthan gum listed in the recipe. If your flour blend has xanthan gum or guar gum in it already, skip the xanthan gum listed in the recipe.
If you'd like to make these dairy-free, just use melted coconut oil or another oil in place of the butter, and use a non-dairy milk alternative in place of the milk called for in the recipe. There are dairy-free alternatives to cream cheese that you can use as well (I like Kite Hill). These changes will change the texture and how they spread or not a bit, but are still enjoyable!
The gluten-free flour, butter, and the temperature of ingredients will change how these turn out. They might come out thicker like the ones above, or thinner and more rounded on the edges like the red ones below. Either way – so yummy!
How to make these gluten-free sugar cookies:
First whisk together the dry ingredients in a bowl and set aside.
In your large bowl, you'll pour the melted butter over the cream cheese and whisk to combine. Then you'll add the egg, milk, and vanilla extract and whisk until smooth.
Grab a spatula and start stirring the flour mixture in. Once you've got a soft, smooth dough, cover the bowl with plastic wrap and place in the refrigerator for 15-30 minutes. You can leave in for longer too, if needed. This gluten-free sugar cookie dough just needs a little time to chill so it's easy to roll.
After the gf sugar cookie dough chills, I just use my medium cookie scoop to scoop a rounded ball of dough, roll it in my hands, roll in the bowl of sugar, and place on my parchment paper lined cookie sheet.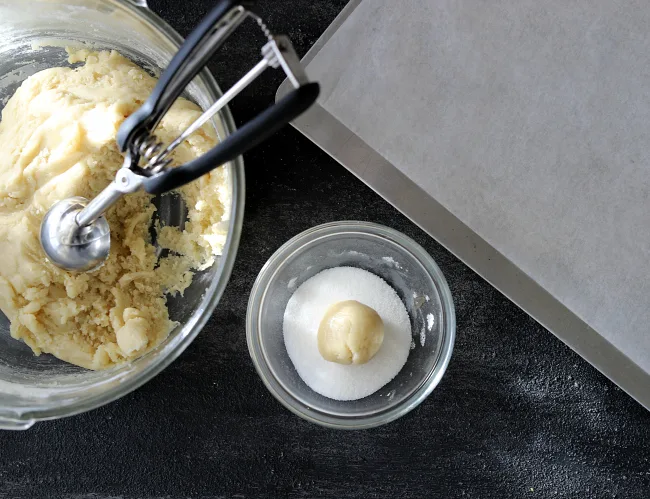 You can use colored sugar in this step! Just pick your favorite colored sugar or colored sprinkles and roll the dough balls in it. This week I wanted to make gluten-free Christmas cookies, so I grabbed some red sanding sugar and rolled the dough balls in that. Worked out very well!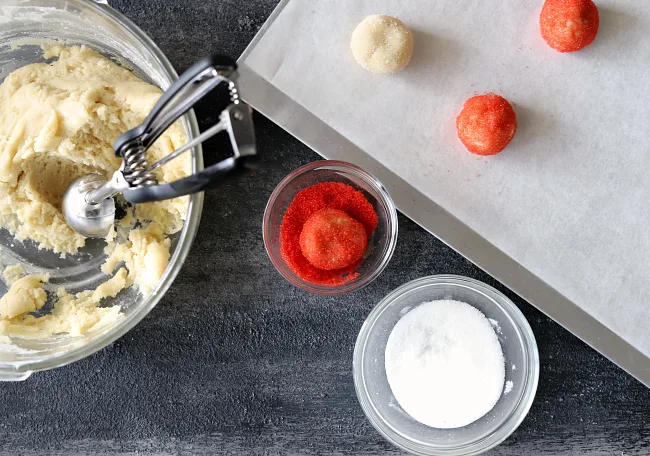 Then once the dough balls are on the cookie sheet, grab a glass that has about a 2 and a half inch base (2.5″) and use that to flatten the dough balls, like you see in this photo: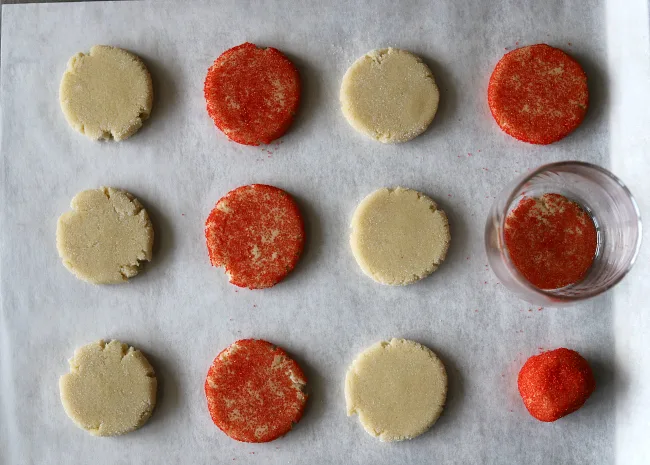 Now you're ready to bake them.
Here's a look at a red and white batch I made just after pulling out of the oven after baking about 11 minutes: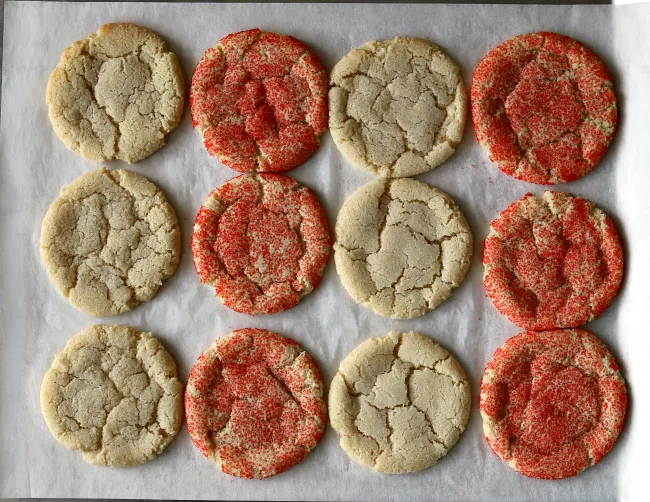 Plates of these delicious gluten-free chewy sugar cookies have vanished very quickly around here, so I can't tell you how many days they stay great for. The longest we've had any left to consume was 2 days, and they were still perfect!
I brought this plate of red gluten-free Christmas sugar cookies to a Christmas dinner party last week: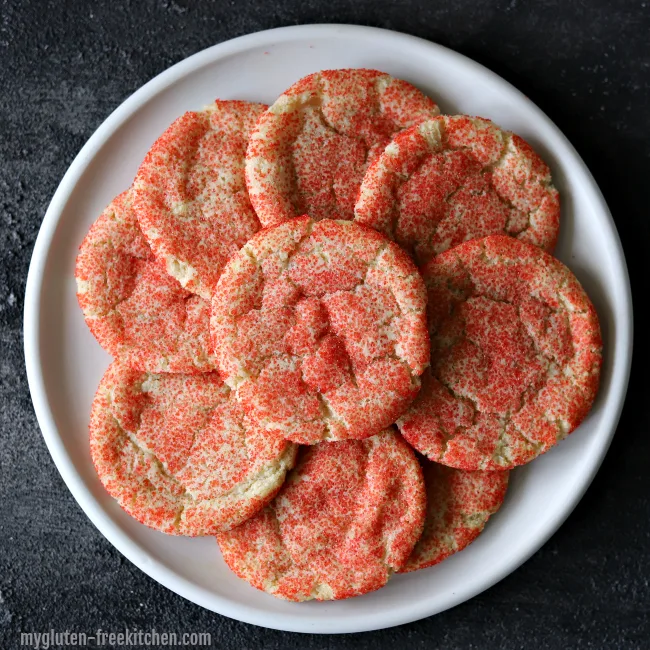 These are so much easier than gluten-free cut out sugar cookies too! No rolling out the dough for these. If you're looking for a dough that you roll out and use cookie cutters to cut shapes out, then I recommend you make these gluten-free dairy-free cut-out cookies instead.
Looking for some more gluten-free cookie recipes? You can't miss these flourless chocolate mudslide cookies that are a new favorite! And my friend Megan has these gluten-free peppermint chocolate cookies that look amazing! And it wouldn't be Christmas at my house unless I made these gluten-free gingersnaps that are dipped in white chocolate!
Ok, now for the recipe you've been waiting for!
If you make these and love them, please come back and give this recipe a 5 star rating in the recipe card! Feel free to comment with tips or to share any successful substitutions you made.
Gluten-free Sugar Cookie Recipe:
Yield: 24 cookies
Gluten-free Chewy Sugar Cookies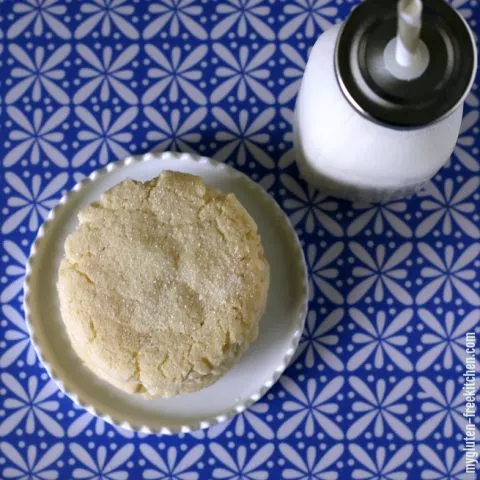 You don't even need a mixer to make these gluten-free chewy sugar cookies with crisp edges! For holidays or birthdays, roll in colored sugar!

Prep Time 25 minutes

Cook Time 11 minutes

Total Time 36 minutes
Ingredients
2 1/4 cups (11 1/4oz.) good gluten-free all-purpose flour blend *
1 tsp. xanthan gum*
1/2 tsp. baking soda
1 tsp. baking powder
1/2 tsp. salt
1 1/2 cups (10 1/2 oz) sugar
2 oz. cream cheese, cut into 8 pieces
6 Tbsp. (3/4 stick) unsalted butter, melted and still warm
1/3 cup vegetable oil or corn oil
1 large egg
1 Tbsp. milk
2 tsp. pure vanilla extract
additional 1/3 cup regular or colored sugar for rolling
Instructions
Preheat oven to 350°. Line 2 large cookie sheets with parchment paper or silicone baking mats.
Whisk flour, xanthan gum, baking soda, baking powder, and salt together in medium bowl. Set aside.
Place 1 1/2 cups sugar and cream cheese in large bowl. Melt butter in microwave, then pour over sugar and cream cheese and whisk to combine. Whisk until there are no large lumps of cream cheese left. Whisk in the oil until well blended. Add the egg, milk, and vanilla; continue to whisk until smooth.
Using a rubber spatula, stir in the flour mixture until a soft, homogeneous dough forms.
At this point, I find it helpful to put the dough in the refrigerator for 15-30 minutes, so it isn't quite so soft to work with.
Measure 1/3 cup sugar into a small bowl. You can use a colored sugar if you'd like.
Use a medium cookie scoop to scoop balls of dough that are approximately 2 Tablespoons in size.
Roll the dough balls in the bowl of sugar.
Place dough balls on lined cookie sheets, leaving adequate space between dough balls. I ended up with 12 cookie dough balls per sheet, and 2 sheets worth of dough balls, totaling 24 cookies.
Using bottom of a drinking glass, flatten the dough balls until 2 to 2 1/2 inches in diameter. If you choose to skip or if you forget this step, the cookies will stay domed, and will still be chewy, but softer.
Sprinkle tops with additional sugar that is left over from the small dish of rolling sugar, if there are spots without sugar.
Bake 1 baking sheet at a time in a 350° oven for 11-13 minutes, or until the edges are set.
Cool cookies on the cookie sheets for a few minutes, then gently transfer the cookies to a cooling rack. These really do taste best when they've had a chance to cool completely to room temperature so you can enjoy the crisp edges and chewy centers.
Notes
*If your good quality gluten-free all-purpose flour blend contains xanthan or guar gum already, then omit the xanthan called for in the recipe. For example, when I bake this with gfJules flour, it has xanthan gum in it so I do not add additional xanthan gum.

I've also tested this with King Arthur Measure for Measure Flour and it worked well too.

Use red colored sugar for rolling the dough balls to make them for Valentine's Day or Christmas.
Recommended Products
As an Amazon Associate and member of other affiliate programs, I earn from qualifying purchases.


Pin these gluten-free sugar cookies to your gluten-free cookies board on Pinterest: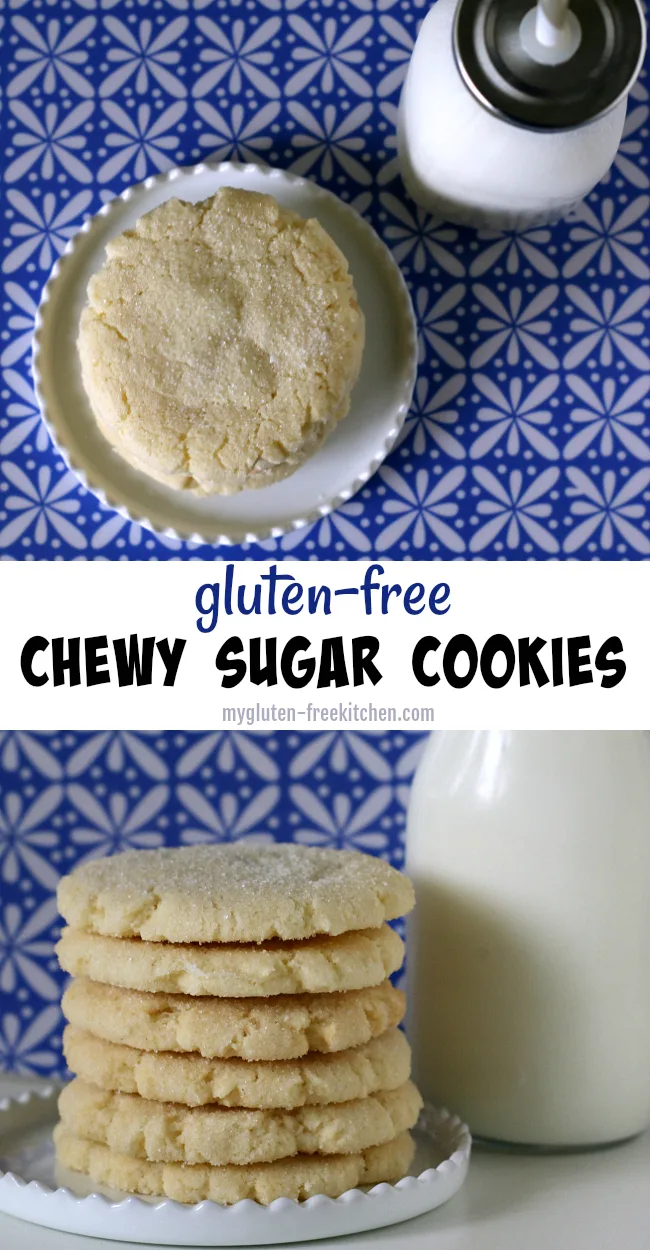 or pin these gluten-free Christmas cookies to your Christmas board on Pinterest: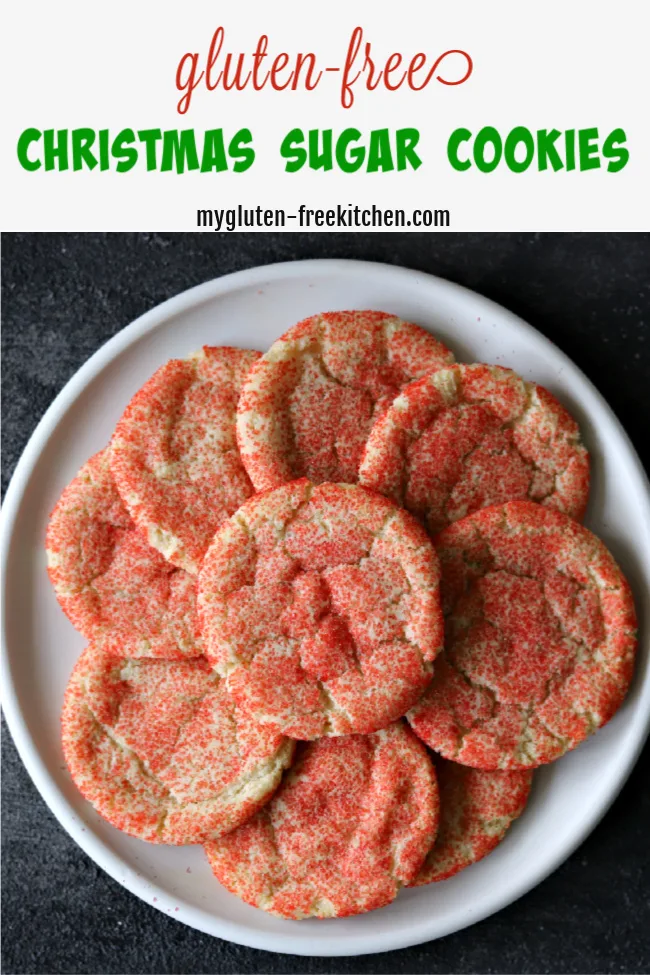 Recipe notes and photos updated December 2019.
Original photo: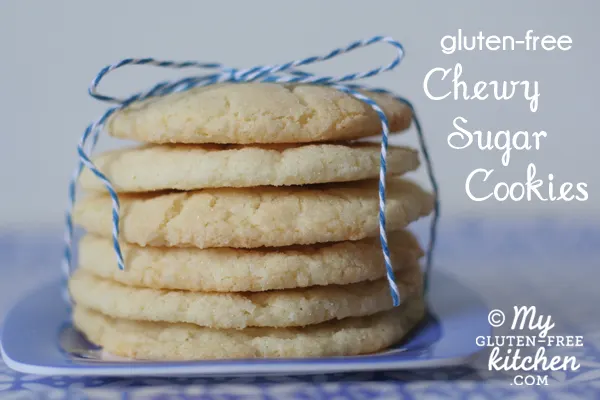 I hope you think this is the best gluten-free sugar cookie recipe too after you make them! Please do come back and rate and review them once you do!