Scotcharoos or Scotcheroos – no one quite knows how to spell these delicious gluten-free no bake treats, but they're so delicious! I love that I can stir up a batch of these gluten-free Scotcharoos in minutes! They're a family favorite treat!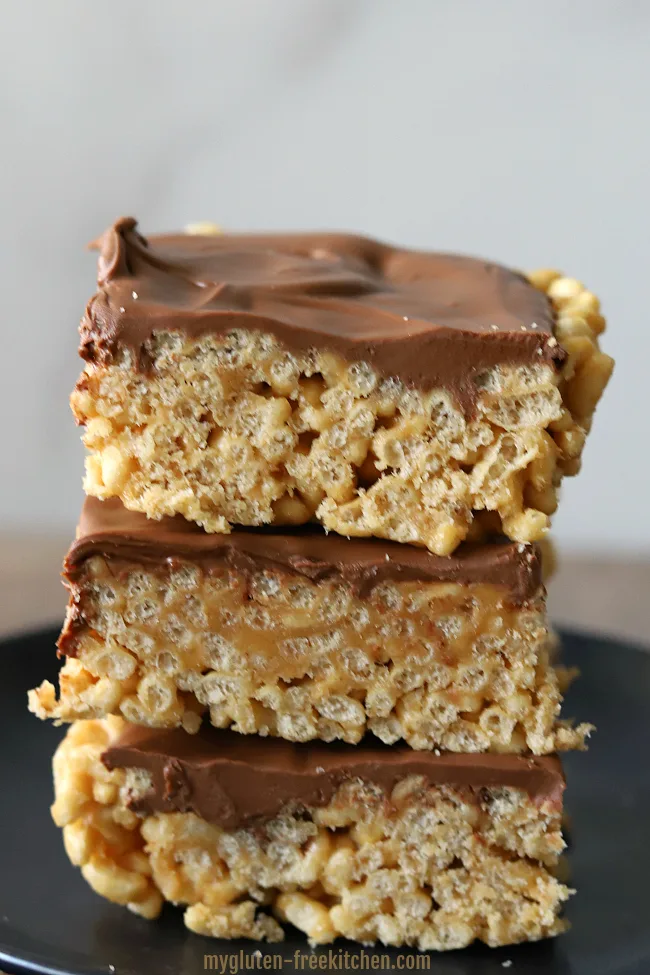 What do you get when you combine the yummy flavors of peanut butter, chocolate and butterscotch with gluten-free rice cereal? Scotcharoos! They're sweet and chewy and so addictive!
I've been making these easy no-bake scotcharoo bars for years and they are one of my most-requested treats! These are like chocolate peanut butter butterscotch rice krispie treats! So unique and so good!
Gluten-free scotcheroos couldn't be easier to make, and are perfect to bring to potlucks and family gatherings! There are never any left to bring home!
Are Scotcharoos gluten-free?
No! They usually aren't! They are usually made with Kellogg's Rice Krispies cereal which contains barley malt, which is a gluten ingredient. You must use an alternative rice cereal that is clearly labeled gluten-free and the label lists no wheat, barley or malt ingredients. (Sometimes the ingredients just say malt, which is always barley malt. Avoid!)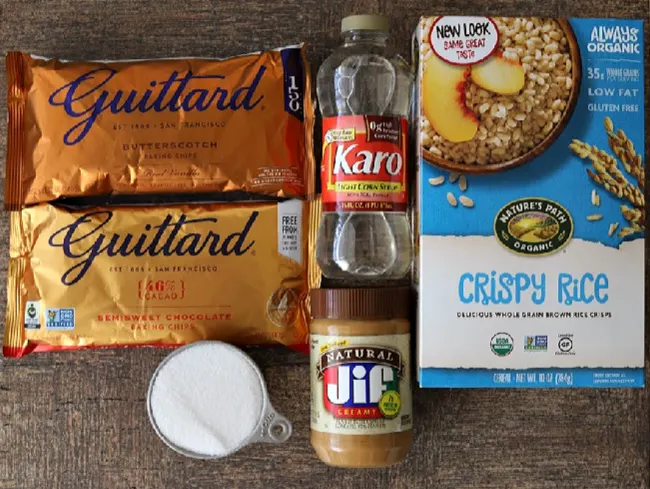 Notes on ingredients for these gluten-free Scotcharoos:
Don't use regular "Rice Krispies" or generic crispy rice cereal as those aren't gluten-free due to the malt (barley) in them. You want to make sure to buy a gluten-free crispy rice cereal. I always buy Nature's Path Organic Crispy Rice cereal which is easy for me to find locally or buy a 6 pk here on Amazon.. There are some other brands that make gluten-free rice cereals but I haven't personally liked any of the ones I've found to try yet. Kellogg's used to make a gluten-free Rice Krispies cereal too, but it was discontinued here in the US.
Peanut Butter: I've had success with pretty much every kind of peanut butter in this – natural, regular, different brands. If you want to add some crunch, you can even use crunchy peanut butter.
Butterscotch chips: Check and then double-check your butterscotch chips for gluten as well. Some popular brands like Nestle previously had barley added to their butterscotch chips (they recently changed this but there might still be bags of previous formula in circulation). The gluten-free butterscotch chips I use the most are Guittard butterscotch baking chips. Hershey's butterscotch chips are also clearly labeled gluten-free.
Chocolate Chips: You can use your favorite chocolate chips here. If you love milk chocolate, then use milk chocolate chips. If you love semi-sweet like I do, then use those. I used Guittard semisweet chocolate baking chips.
Yes, these bars are basically sugar + sugar + sugar + sugar + peanut butter + rice cereal. I know that. These aren't a health food, they are a very yummy treat. I'm not advocating eating them for every meal, okay?!
How to make Scotcharoo bars:
In a saucepan, heat the sugar and corn syrup until boiling.
Remove from heat and stir in peanut butter.
Stir in gluten-free rice crispy cereal.
Spread the cereal mixture into pan.
In a microwave safe bowl or I use a 2 cup glass measuring cup, heat the chocolate and butterscotch chips until melted, stopping and stirring every 30 seconds.
Spread onto the bars: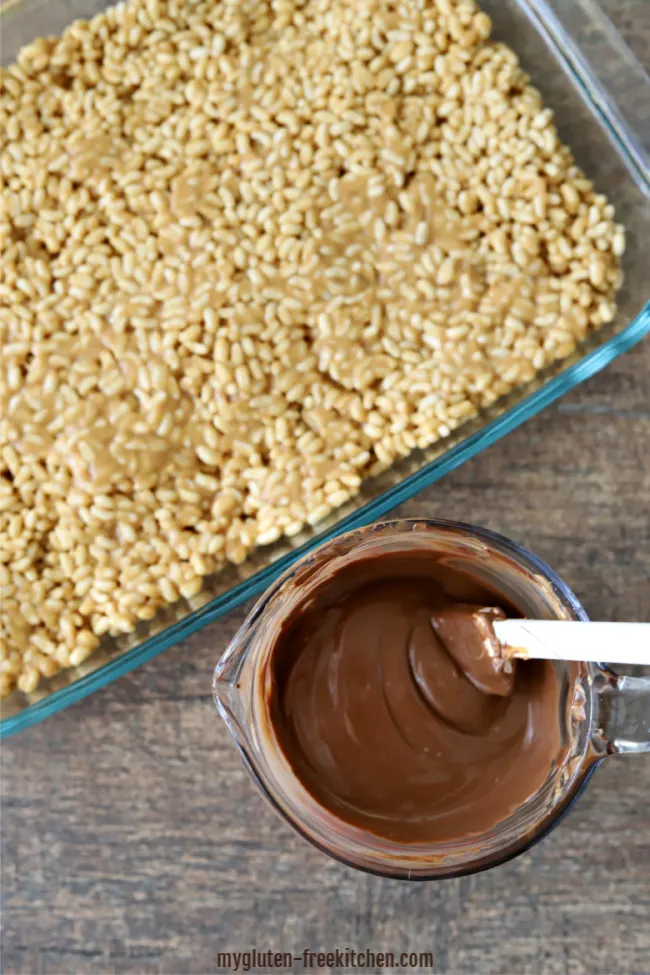 You'll want to set these aside to set. Once they've cooled, it is easy to slice and serve the bars without them being messy! Here's a look at them while the topping is still warm and shiny. If I'm in a hurry, I will place these scotcheroo bars in the refrigerator for a few minutes – but don't forget them in there or they'll get overly hard!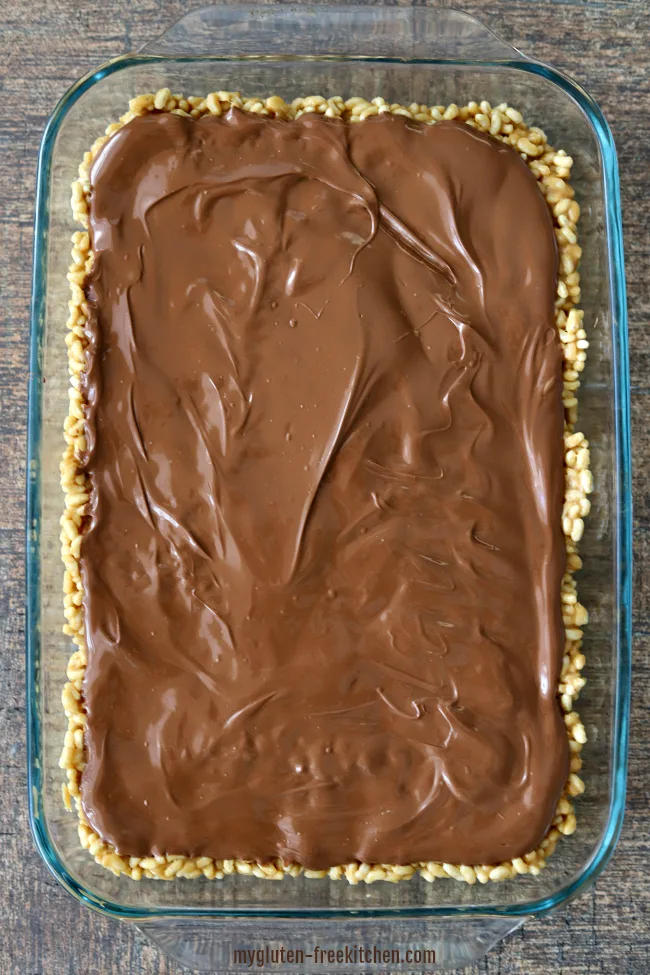 I enjoy making these when I'm visiting/staying with others as well. With just 6 ingredients that I can find easily at many stores, I can mix these up very quickly at anyone's house. With a clean saucepan and baking pan as well as new, unopened products, I can even make this safe gluten-free treat in a gluten-full kitchen!
People love when I make a pan of these to bring and share!
Interested in some other no-bake gluten-free desserts? Have you tried my no-bake gluten-free raspberry cream pie? Or for a no-bake allergy friendly treat, try my no-bake S'mores cookies. My friend Brianna has a recipe for gluten-free no bake peanut butter cookies that look yummy!
This scotcheroos recipe is one shared with me from my college roommate, Steph, the same one that blessed us all with her amazing chocolate fudge icing. Thanks Steph for sharing these recipes with me all those years ago!
Gluten-free Scotcharoos Recipe:
Yield: 24 bars
Gluten-free Scotcharoos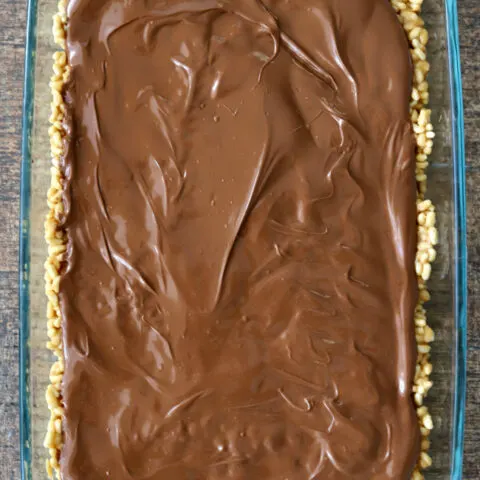 Easy, no bake gluten-free treats called Scotcharoos due to the butterscotch in them. I always bring home an empty pan when I bring these addictive treats to potlucks!
Ingredients
1 cup sugar
3/4 cup corn syrup
1 cup creamy peanut butter
6 cups gluten-free crispy rice cereal
1 cup semi-sweet chocolate chips
1 cup butterscotch chips
Instructions
Spray a 9x13 pan with nonstick cooking spray. Set aside.
In a large saucepan, over medium heat, whisk sugar and corn syrup. Continue whisking while cooking until sugar is dissolved and the mixture starts to boil. Remove pan from heat.
Stir in the peanut butter until well mixed.
Stir in gluten-free crispy rice cereal until all of the cereal is well coated.
Scoop mixture into greased pan and press evenly. Set aside.
In a small saucepan, over low heat, melt butterscotch and chocolate chips, stirring constantly. (This step can be done in a microwave safe bowl, microwaving in short increments, stirring frequently.)
Spread butterscotch/chocolate mixture over cereal mixture in pan. Let cool until firm, then cut into bars. I often put in the refrigerator for about a half hour to help the topping set more quickly.
Notes
Double check all ingredients for gluten. Crisp rice cereal commonly contains malt (barley) so you need to buy a brand specifically labeled gluten-free.
I recommend Guittard or Hershey's butterscotch chips. Some other brands contain malt (barley).
Recommended Products
As an Amazon Associate and member of other affiliate programs, I earn from qualifying purchases.
Pin one of these to your gluten-free desserts board on Pinterest: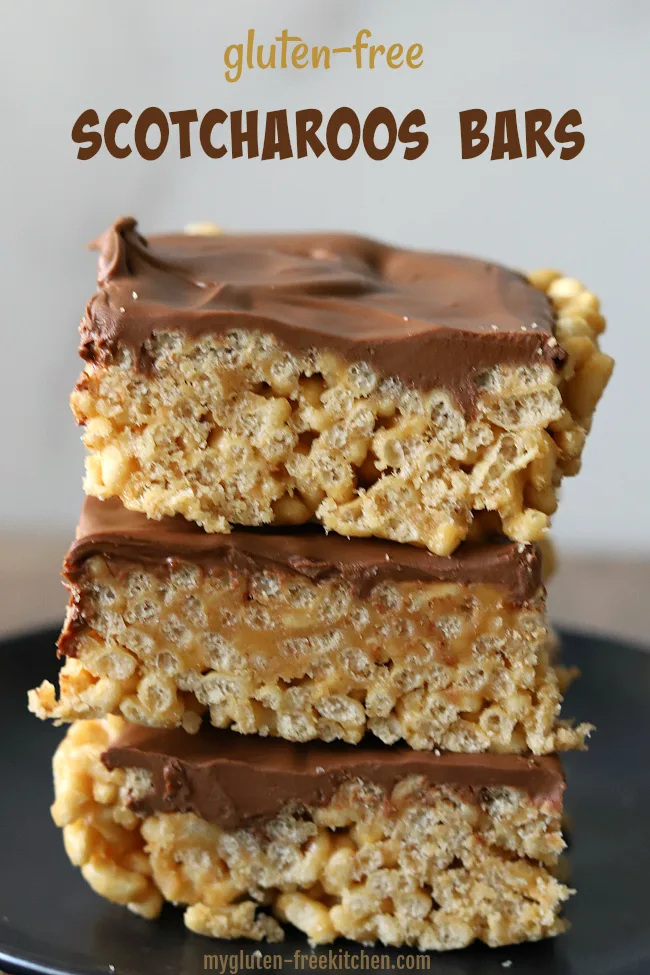 or this one: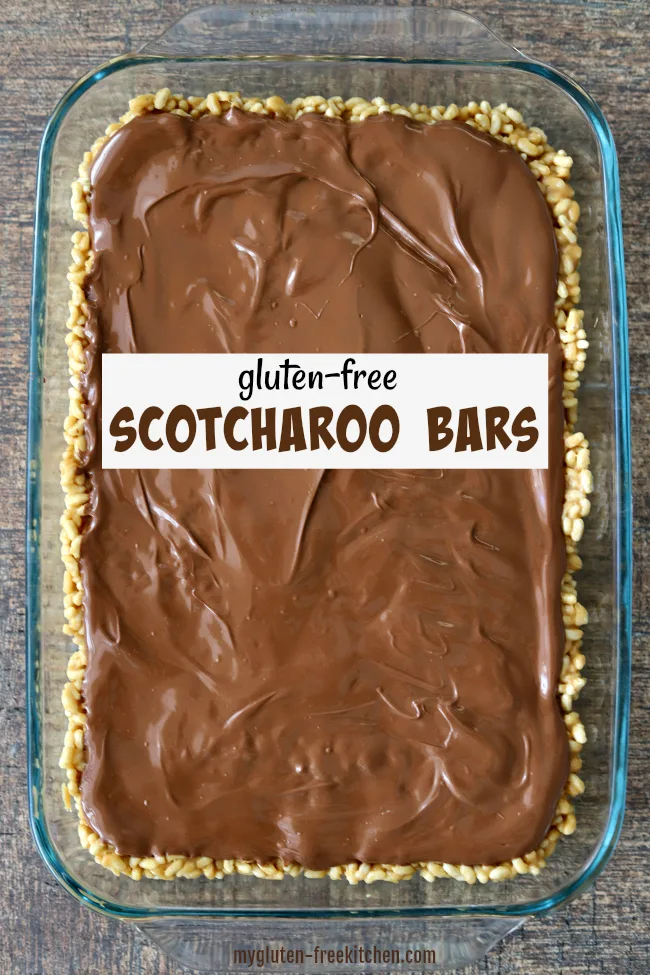 I hope you and your family enjoy these scotch a roos as much as we have!
Old pic: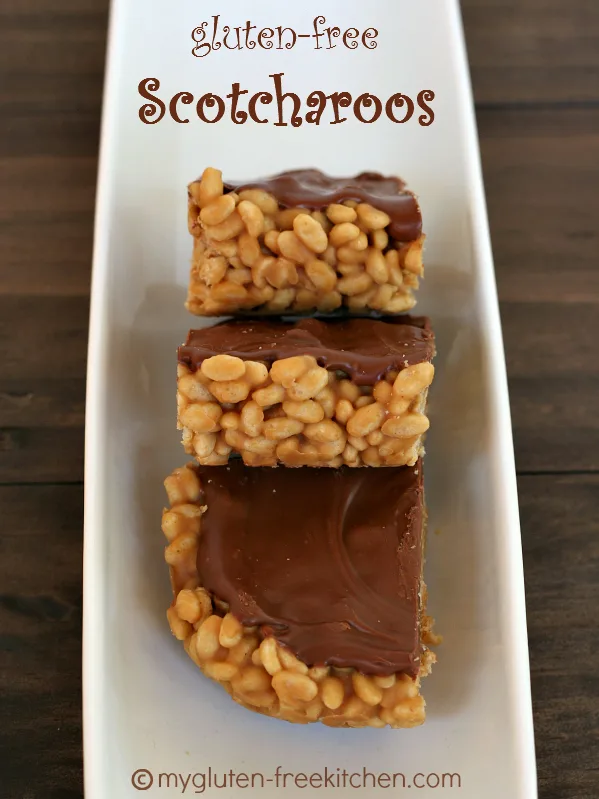 If you make these and enjoy them, please come back and leave a 5 star rating on the recipe card!