Sweet strawberries and tart rhubarb come together in this gluten-free strawberry rhubarb crisp. It's a great choice for spring and summer entertaining or to bring to potlucks!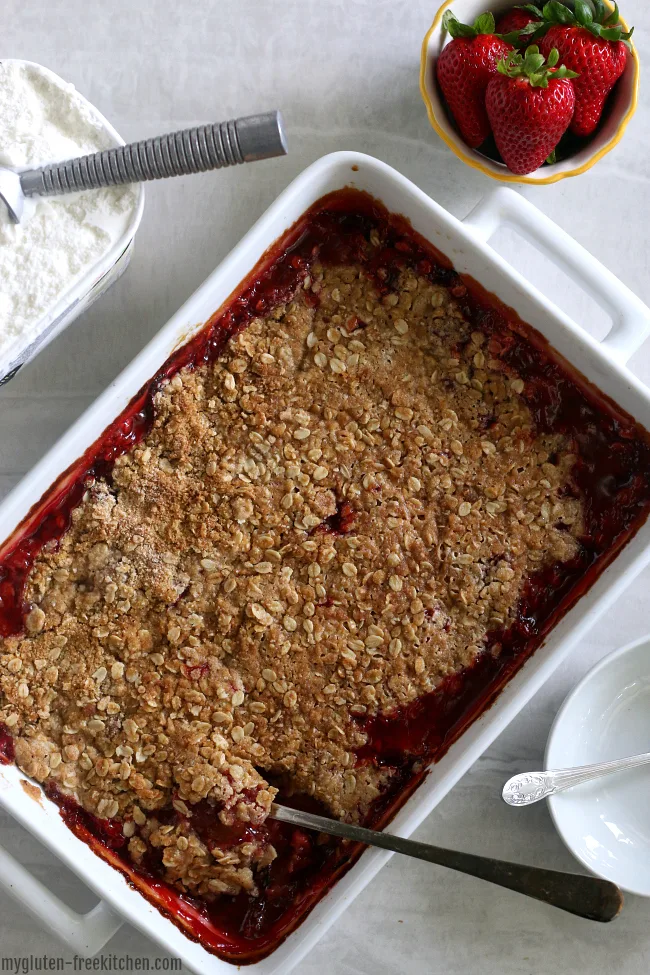 Rhubarb is a fairly new ingredient for me to work with – using it only in the past 6 years. I've quickly realized just how great it goes with strawberries! This gluten-free Strawberry Rhubarb Crisp marries the sweetness of strawberries with the tart of rhubarb and tops it all off with a yummy brown sugar and oats streusel topping.
Many of the same ingredients are in these as in my my
gluten-free strawberry rhubarb hand pies
but this gluten-free strawberry rhubarb crisp is so much easier!
I made this last weekend to take to a church potluck (always a great place to test out new recipes and get feedback) and it was well-loved! Several gluten-eaters and gluten-free friends stopped me to tell me they enjoyed it or posted on my Facebook page later to tell me it was yummy. I feel confident passing it on to you and telling you that your friends will love it too, even the ones that can have gluten.
Rhubarb is such an interesting ingredient. It looks like celery in size and texture, and has such a tartness and bitterness to it if you try eating some raw. It is amazing how it cooks down to create a lovely tangy sauce that goes so well with the sweet strawberries.
Notes on ingredients and substitutions for this gluten-free strawberry rhubarb crisp recipe:
Use fresh rhubarb. If you don't have enough for 4 cups worth, then make up the rest of the 4 cups with additional fresh strawberries. You can also include raspberries for part if you'd like.
Corn starch is used here as a thickener. I preferred using this over flour even before I needed to bake gluten-free! I use Argo corn starch which you can get here on Amazon if needed.
Fresh lemon zest was my own addition to this recipe. I tried it on a whim and am glad I did. My hubby said he could taste that bit of lemon and it really added to the overall flavor. How I wish I could grow a lemon tree here in Idaho! I just love using fresh lemon zest! This is the zester I have that I bought from Amazon.
Gluten-free flour blend: Most any good gluten-free flour blend will work here. I used gfJules which has xanthan gum already in it. I think you'd be fine with one that doesn't also. I just love Jules so her flour is my go-to! I buy it directly from gfJules website and sometimes get gfJules on Amazon too.
Oats: Be sure to use certified gluten-free oats in this recipe. While a different brand is pictured above, I now use Bakery on Main oats as they are certified gluten-free and also made following the purity protocol.
If you want this to be dairy-free, you're in luck! This recipe is easily made dairy-free. Just swap out the butter for your favorite butter alternative like Melt Sticks, Organic Shortening, or Earth Balance. Then serve with a non-dairy ice cream or whipped coconut cream.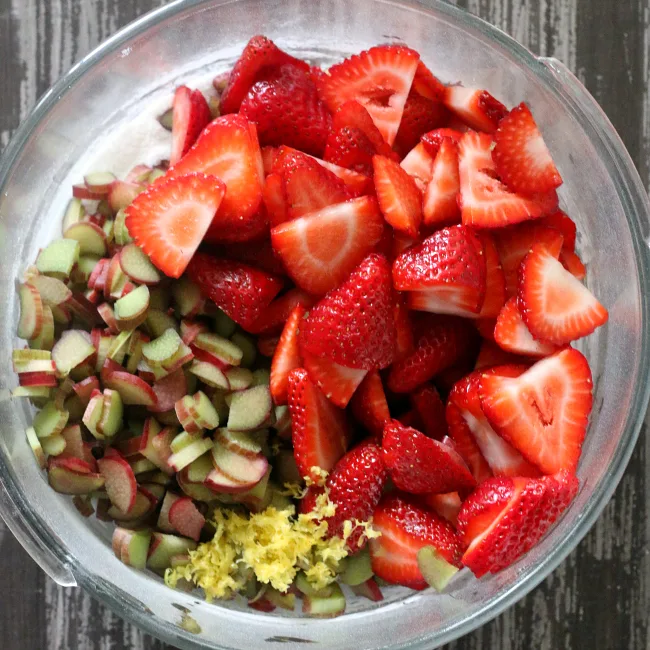 Some people like to cut their rhubarb into pretty good sized chunks which retain some of their shape through baking. I prefer to cut the rhubarb very thin so that it mostly turns to sauce. I sliced it as thin as I do apples for an apple crisp, about 1/8″ or smaller in thickness. And then I cut the larger slices in half as well.
I'd recommend you get your hands on some good, fresh rhubarb. In the years before I started growing it myself, I asked some friends and neighbors and soon had several offers of free, fresh-picked rhubarb. Hopefully you can ask around and find some fresh and free rhubarb so you can make this soon!
Can you freeze rhubarb to use later?
Yes! If you have more rhubarb than you need now, go ahead and wash it up and slice it up and freeze 4 cups in a bag for making this later! When ready to use, let it thaw just slightly and add to bowl with strawberries and proceed as directed.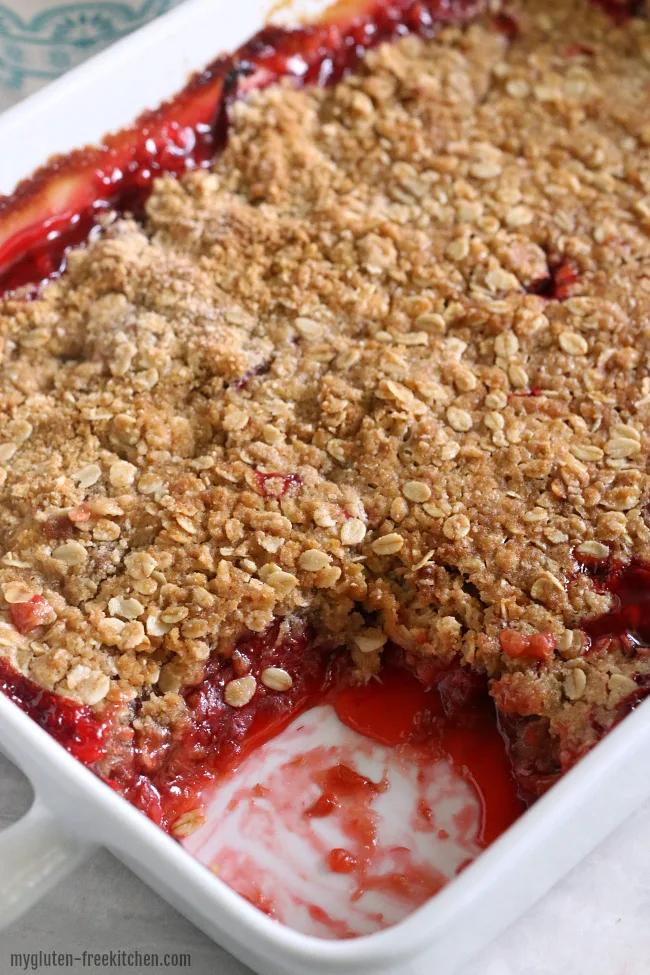 What else can you make with rhubarb if you have a lot to use up? Besides the hand pies that I link to above, I also recommend you make this no-churn rhubarb ice cream which would also go great on this crisp! I want to make this vanilla rhubarb syrup to add to my lemonade! And say hello to these gluten-free raspberry rhubarb donuts – wow!
I recommend serving this gluten-free rhubarb strawberry crisp with vanilla ice cream or homemade whipped cream.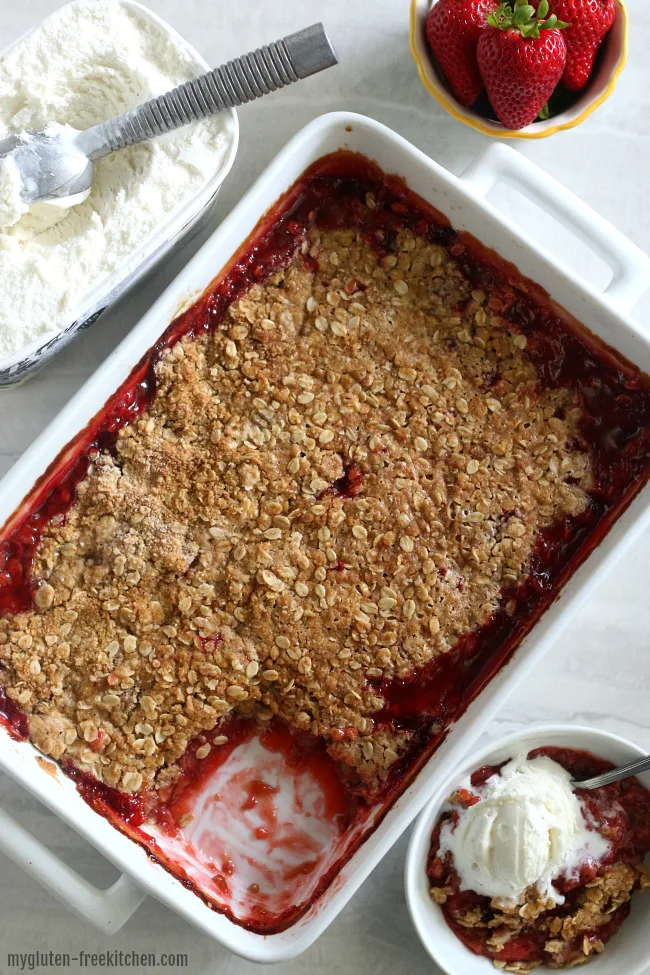 When I'm bringing this to a potluck, I bring along a couple cans of that Reddi-Whip whipped cream instead since that's much easier.
If you make this crisp and love it, please come back and give this recipe a 5 star rating in the recipe card! Feel free to comment with tips or to share any successful substitutions you made.
Gluten-free Strawberry Rhubarb Crisp Recipe:
Yield: 18 servings
Gluten-free Strawberry Rhubarb Crisp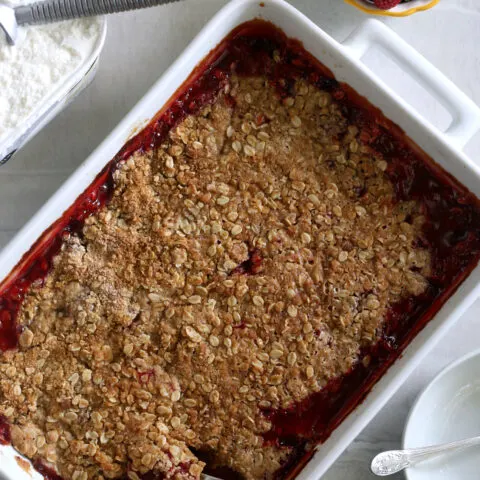 This gluten-free Strawberry Rhubarb Crisp marries the sweetness of strawberries with the tart of rhubarb and tops it all off with a yummy brown sugar and oats topping.
Total Time
1 hour
15 minutes
Ingredients
1 cup sugar
3 Tbsp. cornstarch
1 tsp. fresh grated lemon zest
4 cups thinly sliced & diced rhubarb
3 cups sliced fresh strawberries
Topping:
1 cup good gluten-free flour (I used Jules)
1 cup packed brown sugar
3/4 cup gluten-free rolled oats
1/2 cup salted butter
Instructions
Preheat oven to 375°. Spray a glass or ceramic 9x13 baking dish with cooking spray or coat lightly with butter.
In a large bowl, whisk together the sugar and cornstarch.
Add the lemon zest, sliced strawberries and rhubarb and stir together with a spatula until fruit is all coated with sugar mixture.
Spread the fruit mixture into the 9x13 baking dish.
Measure the gluten-free flour, brown sugar, butter and oats into a medium sized bowl. Use a pastry blender to mix together until butter pieces are pea-sized. (You can also do this step in a food processor: pulse together the flour, brown sugar and butter until butter is in pea-sized pieces, then add the oats and pulse until just mixed.)
Crumble oat mixture on top of the fruit mixture.
Bake 45-50 minutes in a 375° oven, or until lightly browned and crisp.
Notes
Dairy-free: Just use your favorite butter alternative in the topping and enjoy this dessert dairy-free!
If you don't have enough rhubarb for the full 4 cups, just use substitute the remaining amount with more sliced strawberries.
Recommended Products
As an Amazon Associate and member of other affiliate programs, I earn from qualifying purchases.
Pin this to your gluten-free desserts board on Pinterest: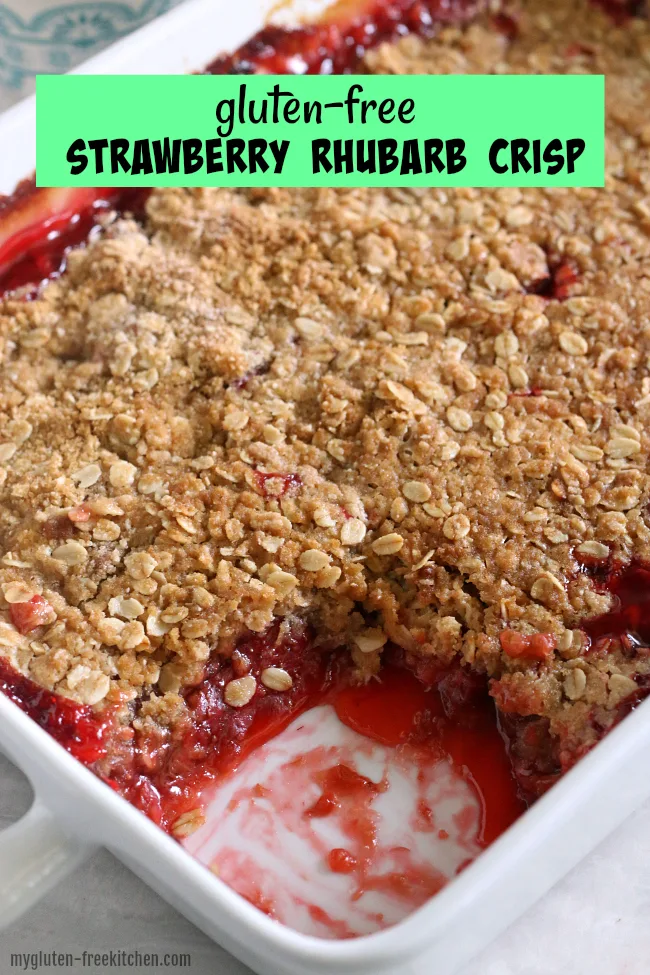 Photos and blog text updated May 2019. Originally published June 2013.
Old photo:
I hope you and your family enjoy this gf crisp!