These gluten-free strawberry rhubarb hand pies will be a hit at your next summer potluck or party. They're so much easier to serve than slices of pie. Everyone can easily grab one to add to their plate of gluten-free food!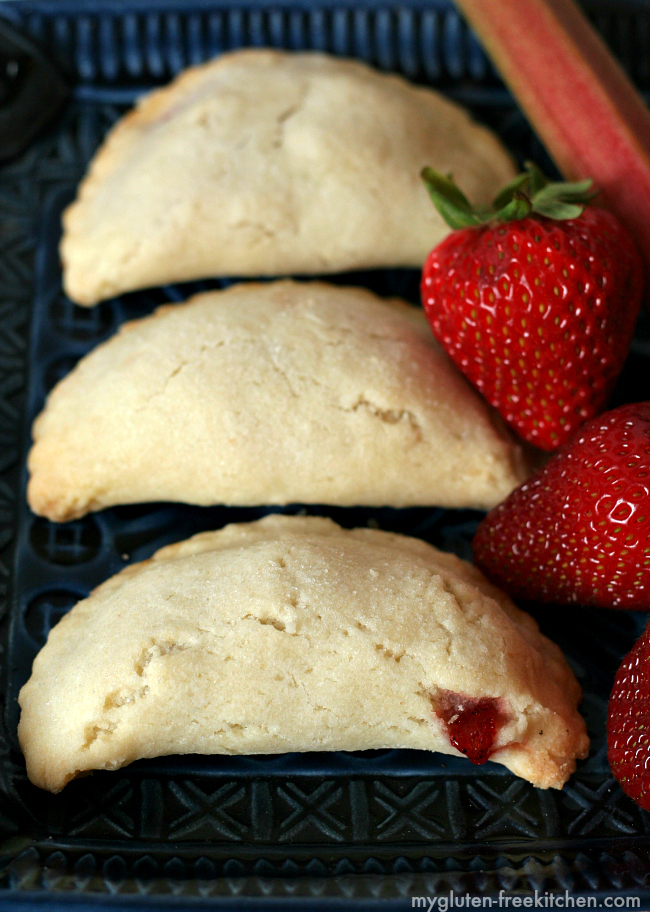 A few weeks ago, two kind neighbors gave me bags of garden fresh rhubarb so I could make some yummy summer desserts for the blog. One afternoon, my kitchen smelled so good as I made these strawberry rhubarb hand pies and a gluten-free strawberry rhubarb crisp. These delicious hand pies are made with an all-butter pie crust and filled with a yummy mixture of rhubarb and strawberries.
If you've never heard of a "hand pie", basically it is just a little pie that you can pick up and eat with your hands – no plate and fork needed. You can even have some cans of ready whipped cream for people to give their hand pie a swirl of whipped cream before they devour it!
This recipe was adapted from these Strawberry Rhubarb Hand Pies from a favorite blog of mine, Sugar Dish Me. I followed Heather's filling recipe, with a few twists of my own.
I added vanilla cane sugar
that I had purchased from Amazon, and lemon zest to the mixture. The bowl of fruit looked so vibrant and fresh and smelled heavenly!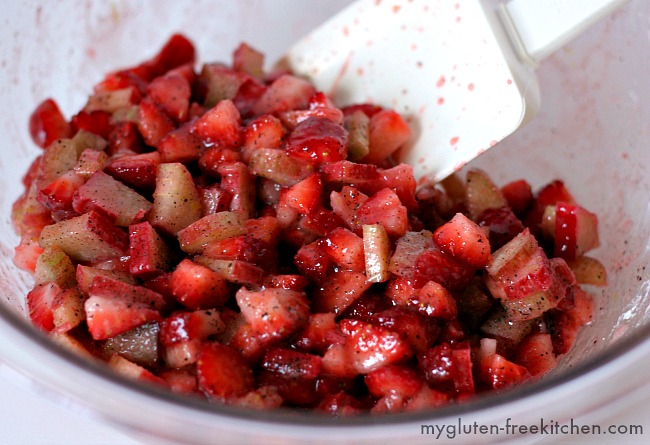 How to make gluten-free strawberry rhubarb hand pies:
To make the hand pies, I started with my trusty gluten-free pie crust. I make a from-scratch recipe that I've adapted from the cookbook In the Kitchen with Gluten Free Mama.
I patted the dough out into a circle between two pieces of wax paper, then chilled the dough a few hours. After chilling a few hours, I was able to roll the dough out to about 1/4″ thickness, then I used a cute scalloped round cutter to cut the dough circles. My scalloped circle measured 3 3/4″ wide and is from this Double Sided Round Cutter Set
.
You have to work a bit to figure out how much filling you can stuff in these and still be able to seal the edges. I put about 2 tsp. in each of my hand pies, but wish I would have worked at getting a bit more in them so that there was a better ratio of fruit/pastry in the finished product.
I also played around with brushing the crust with different things. I tried a beaten egg, egg yolk only, all butter, just milk, and just water. There wasn't much difference between the butter, milk, or water ones. The ones brushed with a beaten egg or beaten egg yolk were very yellow, but I did like how the crust crisped up more on those. So I'd suggest brushing these however you prefer when you usually make pies, or feel free to experiment.
After brushing, before baking, sprinkle each hand pie with additional sugar. I liked that extra little sugar on the top crust. If you have coarse sugar crystals on hand, use those on top – I just didn't have any!
Notes on ingredients and substitutions for these gluten-free strawberry rhubarb hand pies:
Flour: So far, I've only tested this with Gluten-free Mama's All-purpose Almond Blend (get on Amazon here), and Gluten-free Mama's All-purpose Coconut Blend (get on Amazon here). This recipe should work well with other high quality gluten-free all-purpose flours too.
Pie crust: If you'd rather not make your crust from scratch, I sometimes use Gluten Free Mama's Pie Crust Mix. It is so quick, easy, fool-proof and delicious!
Butter: I use all butter in my crust, but you can definitely use a dairy-free margarine or all shortening in yours as well.
Vanilla sugar: If you don't have or want to buy vanilla sugar, you can make your own vanilla sugar or you can just use regular sugar in place of the vanilla sugar I specify in the recipe.
Fruits: Want to try this with different fruits instead of strawberry and rhubarb? Go ahead and give it a shot. If you're using all sweeter fruits, unlike the tart rhubarb, you'll definitely want to decrease the sugar called for in my filling recipe.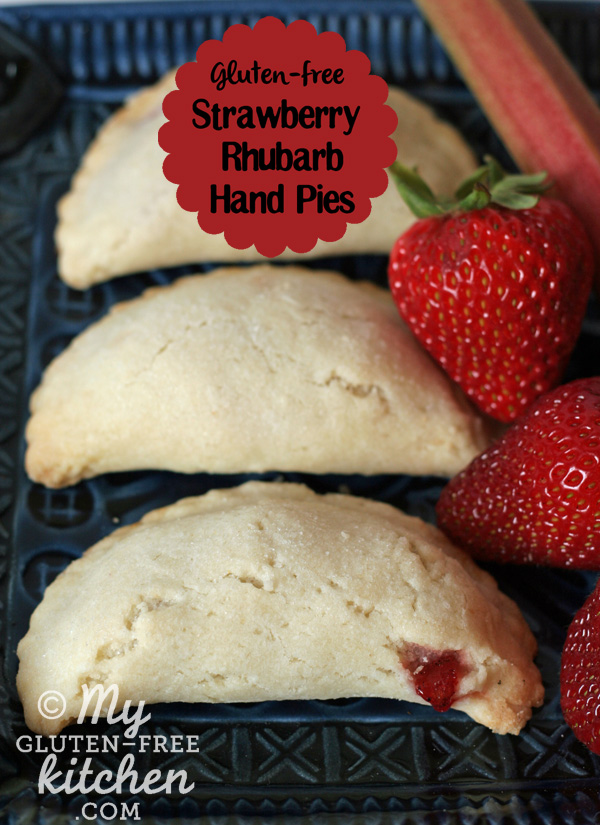 Other gluten-free rhubarb recipes to try:
My gluten-free strawberry rhubarb crisp recipe is my other go-to recipe for rhubarb. This chilled, whipped rhubarb fool recipe from my friend Toni looks delicious! This rhubarb butter recipe looks like just what I should make to spread on all the things! I bet it would be great on my gluten-free buttermilk biscuits!
These gluten-free strawberry rhubarb hand pies were well-liked by everyone that tried them. I had a few left over that I put in the freezer to pull out to enjoy whenever the craving strikes!
Gluten-free Strawberry Rhubarb Hand Pie Recipe:
Yield: 2 dozen
Gluten-free Strawberry Rhubarb Hand Pies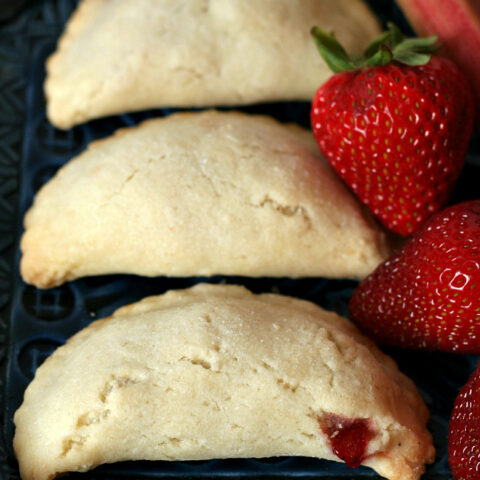 These delicious gluten-free strawberry rhubarb hand pies are made with an all-butter pie crust and filled with a yummy mixture of rhubarb and strawberries. They're perfect for summer potlucks and parties because they're so much easier to serve than slices of pie.

Prep Time 1 hour

Cook Time 30 minutes

Total Time 1 hour 30 minutes
Ingredients
Crust:
2 1/2 cups good quality gluten-free flour blend
1/3 cup sugar
1/2 tsp. salt
1/2 tsp. xanthan gum
1 cup unsalted butter (2 sticks total) (1 stick melted, 1 stick room temp) or non-dairy alternative
1 egg white
6-8 Tbsp. cold water
Pie Filling:
1 cup diced rhubarb
1 1/2 cups diced strawberries
2 Tbsp. cornstarch
1/4 cup vanilla sugar (or regular sugar)
1/4 cup sugar
1 tsp. lemon zest (from 1 small lemon)
pinch of salt
1 lightly beaten egg, or butter, or milk for brushing
extra sugar for sprinkling on hand pies
Instructions
Pie Crust:
In a large bowl, whisk together flour, sugar, salt and xanthan gum. Make a well in the center for adding the wet ingredients.
Add all of the butter or shortening, egg white, and 4 Tbsp. of the cold water.
Use a fork or pastry cutter to blend ingredients.
Add extra water as needed until dough comes together and is a mealy texture.
Note: You can also use a food processor for this process.
Use lightly floured hands to form dough into two balls.
Place one ball of dough between two pieces of wax paper that have been lightly sprayed with cooking spray. Roll out to about 1" thickness. Repeat with other ball of dough.
Place dough flats into refrigerator to chill while you make the filling. I kept the wax paper stuck to them.
Pie Filling:
Finely dice the rhubarb and strawberries. Place in a medium bowl.
Add the cornstarch, vanilla sugar, sugar, lemon zest and a pinch of salt to the bowl and stir together gently with a rubber spatula. Set aside.
Assemble:
Remove the pie dough circles from the refrigerator. Remove the top piece of wax paper. Sprinkle the dough with more gluten-free flour.
Roll the dough to 1/8" - 1/4" thickness.
Use the cookie cutter to cut out circles about 3.75" across.
Spoon about 2-3 teaspoons of filling onto center of each circle. Fold over the dough and use your fingers to pinch to seal the edges.
Place onto a parchment lined cookie sheet or jelly roll pan, leaving about 2" between each hand pie.
Repeat until you have used up all of your dough, re-rolling and re-flouring surface as needed to cut out more circles.
Use a knife to make a slit or an X in the top of each hand pie.
Brush the top of each pie with a lightly beaten egg, milk, or butter.
Sprinkle each pie with sugar.
Bake at 350° for 25-30 minutes or until tops are a pretty golden brown.
Notes
*Tested with Gluten Free Mama's Almond or Coconut Blend Flour. I haven't tested with other flour blends yet, but feel free to. If your flour blend already contains xanthan gum or guar gum, you shouldn't need to add the xanthan called for in my recipe unless the dough just is too crumbly.
Recommended Products
As an Amazon Associate and member of other affiliate programs, I earn from qualifying purchases.

Pin this to your gluten-free desserts or gluten-free pies board on Pinterest: