Everyone needs to have a go-to simple coleslaw recipe for an easy gluten-free side dish. With all of the summer potlucks, bbqs and parties, I thought I'd share this easy gluten-free coleslaw recipe in case you don't already have a go-to recipe!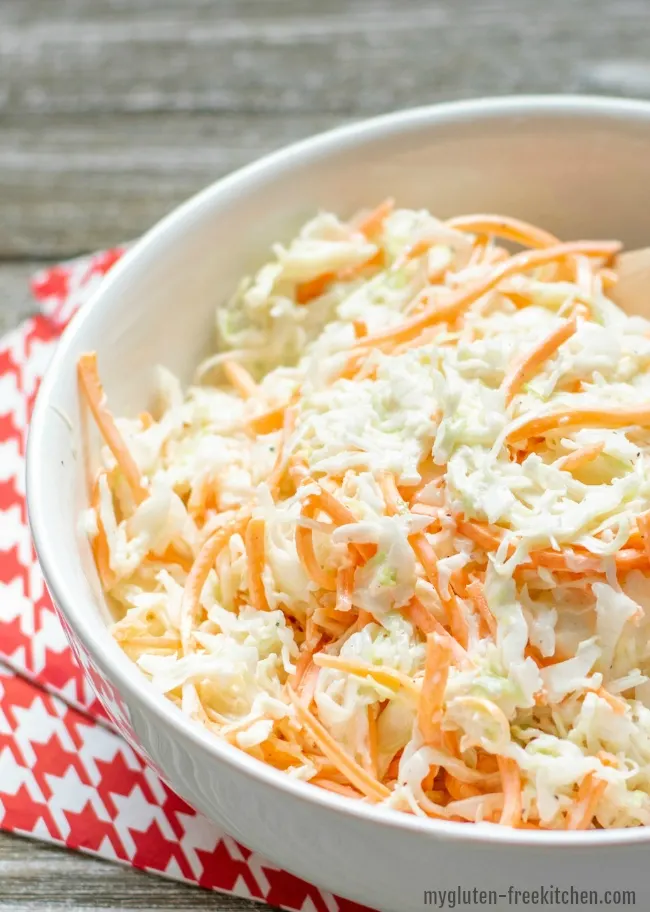 So many gluten-free meals are made better when served with a simple coleslaw! My family loves gluten-free pulled pork, and you can add this coleslaw right to the pulled pork sandwiches if you'd like! We also recently enjoyed coleslaw served on the side with our gluten-free French Dip sandwiches.
Coleslaw is one of those side dishes that everyone volunteers to bring to picnics and cookouts, mainly because it is so easy to pick up a container in the deli aisle, but it is just as easy (and tastier!) to make it at home! With a few simple ingredients you can whip up a batch of homemade gluten-free coleslaw that will put the grocery stores version to shame, plus you can be sure that your version is gluten-free!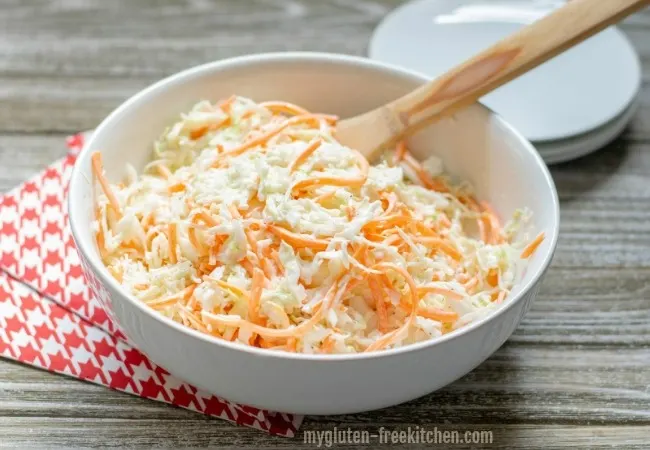 My favorite trick to making homemade coleslaw is to buy pre-shredded cabbage. You can always buy cabbage and run it through the shredding blade on a food processor or cut it really thinly with a knife, but pre-shredded cabbage is just so easy to find and it's generally inexpensive.
Carrots can be bought pre-shredded as well, but if you already have a bunch laying around, it's really simple to grate them quickly on a box grater.
One mistake people tend to make when making homemade coleslaw is that they add too much mayonnaise, thinking that it isn't wet enough, but the cabbage will leak some water as it sits, so give it a few minutes before you start to think you didn't add enough.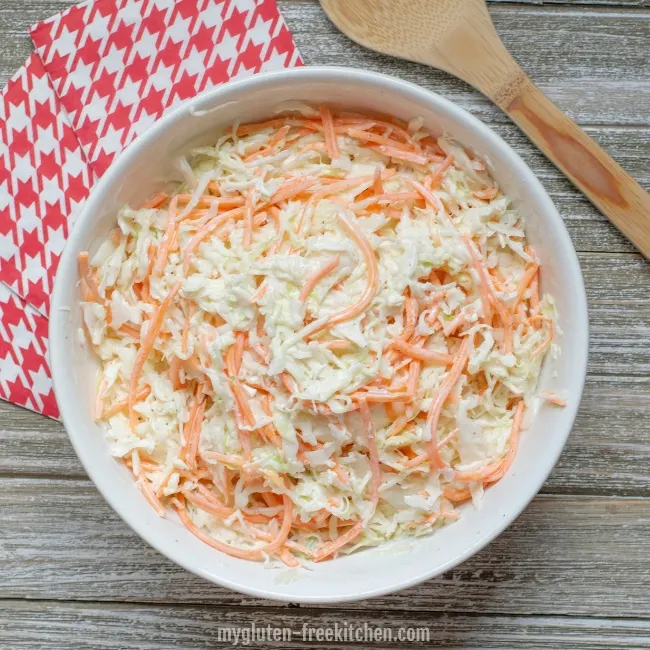 The great thing about this classic recipe is that you can tweak it a little bit if you like! Try adding some red cabbage or even a bit of pineapple for a twist people will go crazy for! Check out these gluten-free BBQ tacos with Hawaiian coleslaw!
Notes on ingredients and substitutions for this simple coleslaw recipe:
Cabbage: Look for pre-shredded cabbage to save yourself time! You can also use purple/red cabbage in this!
Carrots: Look for pre-shredded carrots to save yourself time!
Mayonnaise: You can use your favorite light mayo in place of regular mayo.
Vinegar: I recommend white wine vinegar but you can use apple cider vinegar if needed. Just do NOT use a malt vinegar!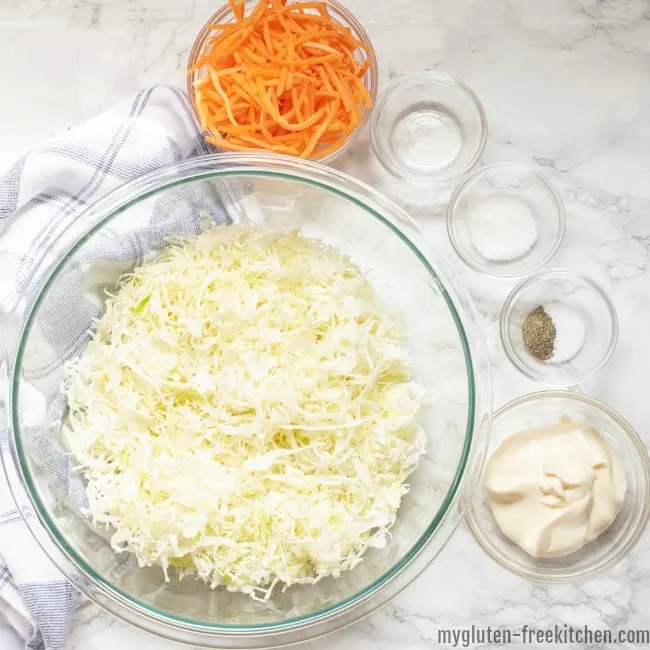 Is Coleslaw Gluten-free?
Usually, yes. But when a store coleslaw label simply lists vinegar or a home cook says they used vinegar, without specifying which kind, you have to confirm what type of vinegar they used. Malt Vinegar is not gluten-free! Malt is derived from barley – which is a gluten-containing grain. Avoid using malt vinegar in your recipes or consuming anything made with malt vinegar.
Is coleslaw dairy-free?
Traditional coleslaw like this one is dairy-free, as the creaminess comes from mayonnaise, which is dairy-free.
Can coleslaw be made the day before?
Yes, wrap bowl well with plastic wrap after making it and put in refrigerator. Keep refrigerated until about 15 minutes before serving, then give it a few stirs. I wouldn't make this more than a day before serving for best texture.
Don't leave coleslaw out for more than 2 hours at room temperature. If you need to keep it out, place the bowl in another bowl of ice to keep cool.
Next time your thinking about grabbing coleslaw to take to a get-together, try mixing up your own instead, it'll taste better and it will be celiac safe. Also be sure to bring along a pan of gluten-free cornbread as everyone will love it!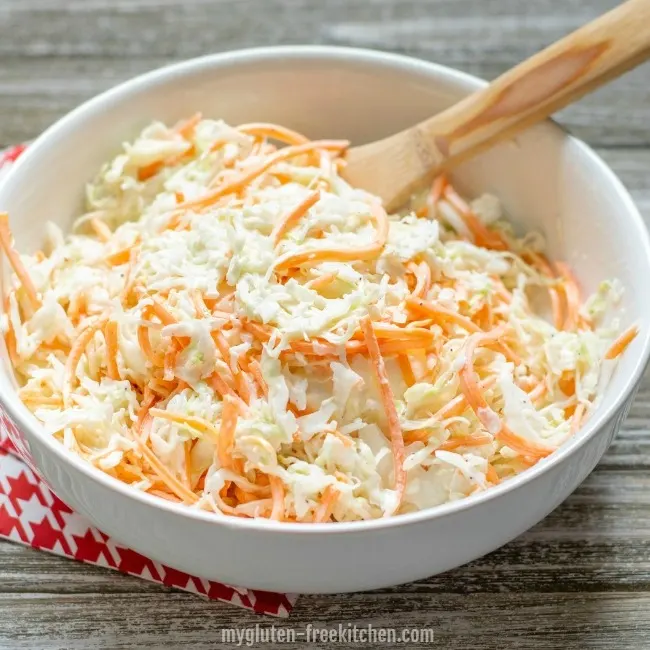 Have more cabbage on hand? You can make this Red Cabbage Salad next.
Gluten-free Simple Coleslaw Recipe:
Yield: 8 servings
Gluten-free Simple Coleslaw Recipe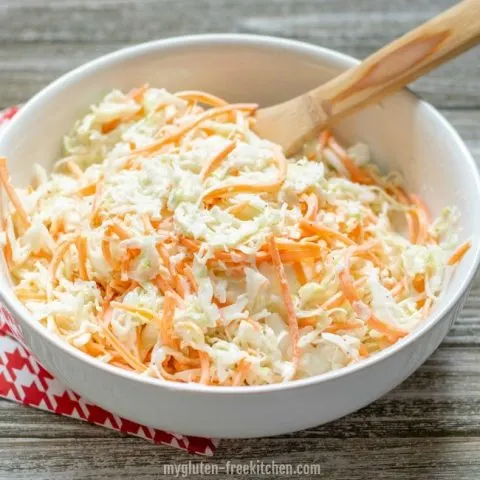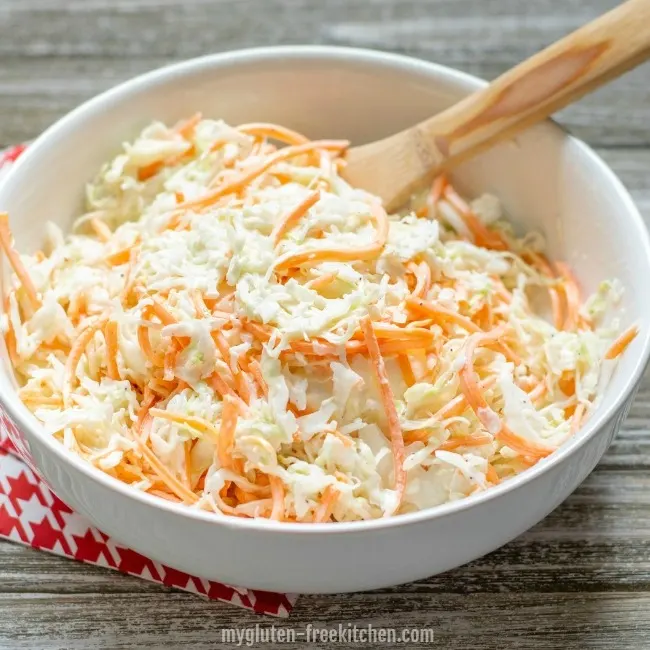 Everyone needs to have a go-to simple coleslaw recipe for an easy gluten-free side dish. This is an easy side dish that's gluten-free and dairy-free!
Ingredients
16 ounces shredded cabbage
1 cup shredded (matchstick) carrots
⅔ cup mayonnaise
1 teaspoon white wine vinegar
1 teaspoon sugar
1 teaspoon salt
½ teaspoon black pepper
Instructions
In a large bowl, stir together cabbage and carrots.
Add mayonnaise and vinegar and stir to mix well.
Add white wine vinegar, sugar, salt and pepper and mix well.
Serve immediately or cover tightly with plastic wrap and store in refrigerator until ready to serve.
Notes
Buy pre-shredded cabbage and carrots to save time! Shred your own to save money - you pick!
Food safety tip: Do not keep at room temperature for more than 2 hours, unless you put this bowl of coleslaw inside another bowl of ice to keep cold.
Recommended Products
As an Amazon Associate and member of other affiliate programs, I earn from qualifying purchases.
Pin this to your gluten-free side dishes board on Pinterest: