Gluten-free Peach Oatmeal Cobbler, Gluten-free Peach Oatmeal Cookie Crisp, Gluten-free Oatmeal Cookie Peach Crisp, Gluten-free Peach Delight… so many name ideas for this recipe. It was hard to come up with the appropriate name for this dessert I created recently!!! It tastes most like a gluten-free peach crisp, but instead of the traditional crisp topping, it's topped with oatmeal cookies! It looks more like a gluten-free peach cobbler for sure!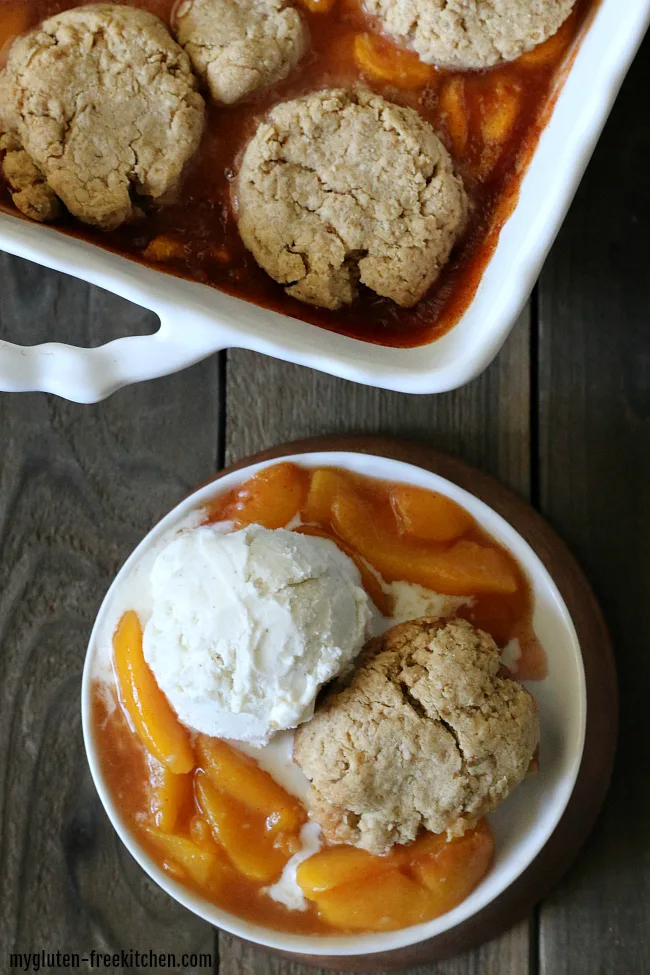 I got the idea for a dessert like this from a friend a few years back, and then put my own twist on it. I asked my friends on Facebook for name ideas and received all of the above, and more. While it looks more like a "cobbler" does, the topping is nothing like a gluten-free cobbler topping, which is biscuit-like.
In this gluten-free peach dessert, cinnamon, sugar and peaches are tossed together and topped with my favorite gluten-free oatmeal cookie dough and baked until cooked through. That's right, instead of the usual sugar/butter/oats topping for a crisp, this is topped with gluten-free oatmeal cookies!
Served warm, with a scoop of ice cream, this dessert is a perfect gluten-free summer dessert! It's excellent topped with whipped cream or a scoop of vanilla ice cream like you see here: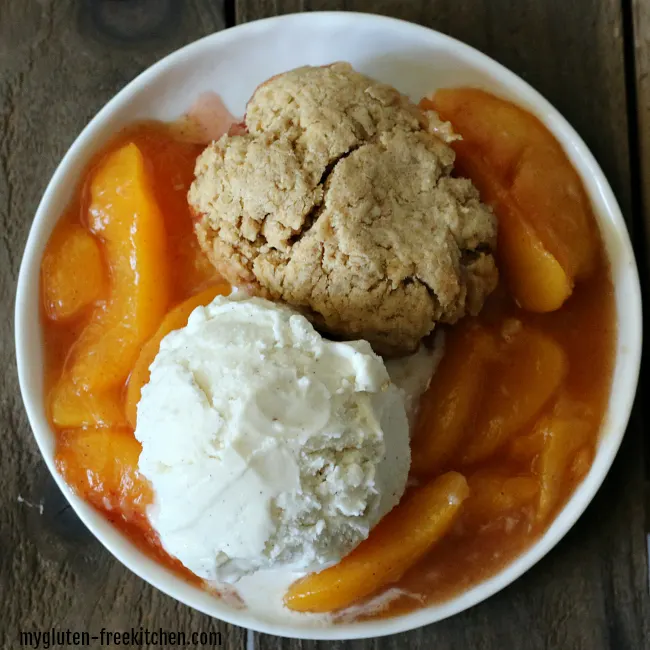 To make this topping, I use a medium cookie scoop
to make it super simple to scoop the oatmeal cookie dough onto the peach filling. No mess and super fast! The cookies don't spread out much, so I flatten them out some. You could also use a small cookie scoop if you'd prefer!
Here's a look at before baking (top) and after baking (bottom). You can see that the cookies only spread a bit. Sometimes I take the time to make every cookie piece the same size and lined up perfectly for presentation, and the rest of the time I remind myself that it tastes delicious either way and to just work quickly and get it done!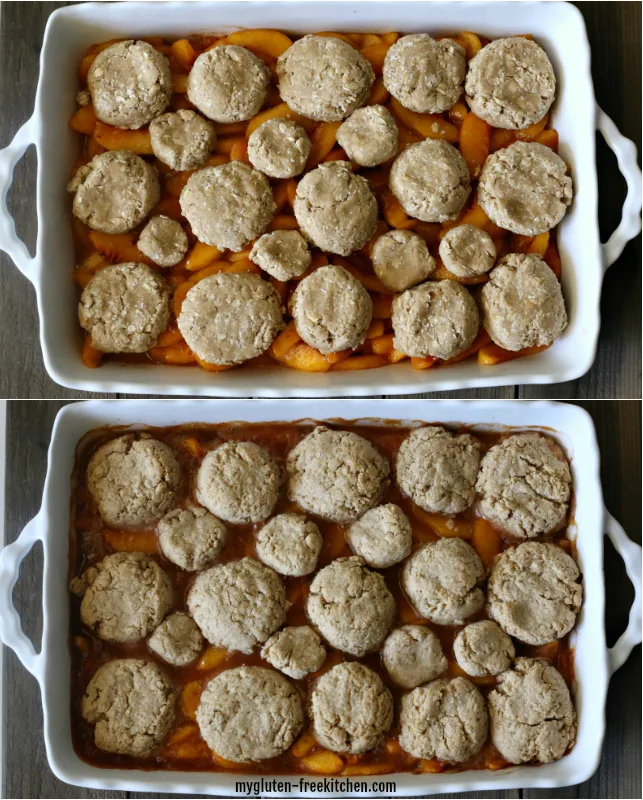 Notes on ingredients and substitutions for this Gluten-free Peach Crumble:
Looking for more gluten-free peach recipes? Be sure to try my gluten-free peach cake – I LOVE it! For a breakfast option, make this gluten-free blueberry peach coffee cake. If you like pie, try my friend Megan's allergy-friendly peach pie.
I love the simplicity of this fresh peach crisp, as it really allows the flavors of the peaches to shine. I'd love to hear from you if you try it out!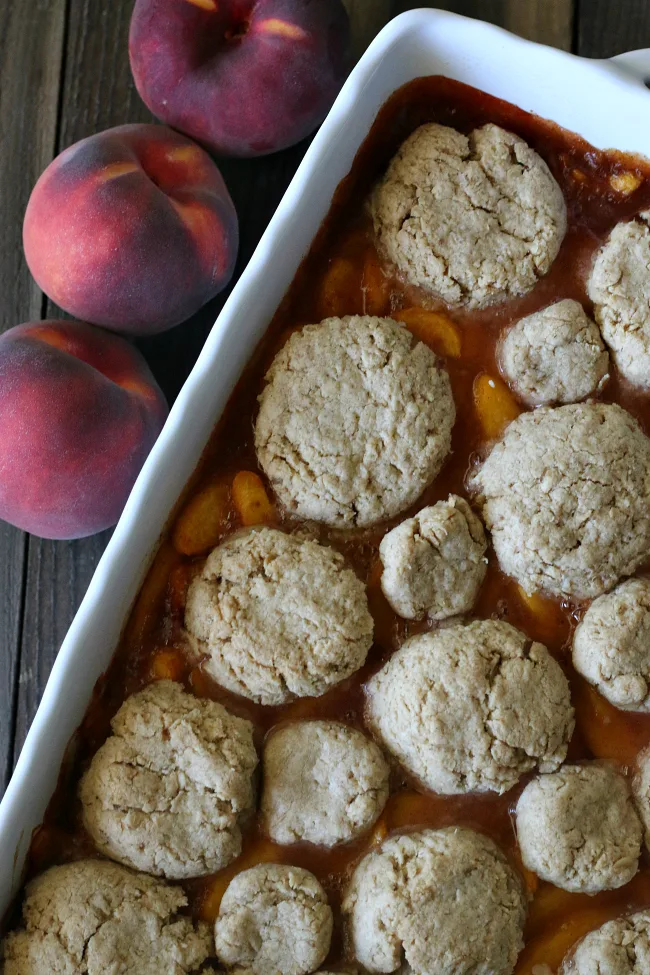 And now for the Gluten-free Peach Crisp Recipe:
Yield: 18 servings
Gluten-free Peach Crisp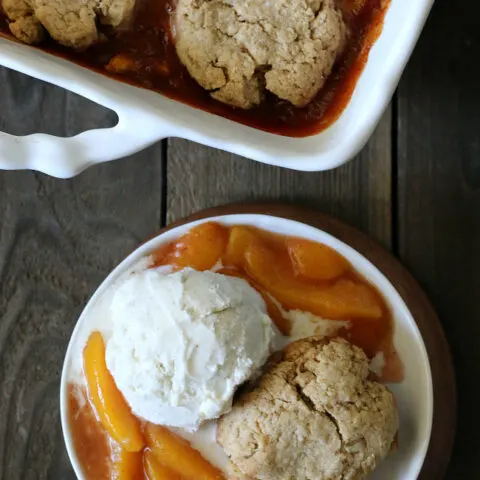 It tastes most like a gluten-free peach crisp, but instead of the traditional crisp topping, it's topped with oatmeal cookies!
Ingredients
Peach base:
11 cups sliced, peeled fresh peaches (about 5 lbs.)
1/3 cup sugar
1 1/2 tsp. cinnamon
2 Tbsp. gluten-free all-purpose flour* or cornstarch
2 Tbsp. lemon juice
Oatmeal Cookie topping:
3/4 cup unsalted butter, softened (or non-dairy substitute like coconut oil or Earth Balance sticks)
1 cup brown sugar
1/2 cup sugar
1 tsp. cinnamon
1 tsp. baking powder
1/4 tsp. salt
1 tsp. vanilla
1 egg
1/2 tsp. xanthan gum* (see note)
1 3/4 cup good quality gluten-free all-purpose flour*
2 cups certified gluten-free rolled oats or quick oats
Instructions
Lightly spray a 9x13 glass baking dish with cooking spray.
Preheat oven to 350°.
Peach base:
In a bowl, gently stir together sliced peaches, sugar, cinnamon, flour and lemon juice until peaches are coated evenly.
Spoon peach mixture into greased 9x13" baking dish. Spread evenly.
Oatmeal Cookie Topping:
In the bowl of your electric mixer, beat butter (or alternative) on medium speed for 30 seconds.
Add the brown sugar, sugar, cinnamon, baking powder, salt, vanilla, egg, xanthan gum, and 1 cup of the flour. Beat until thoroughly combined. Beat in remaining flour. Turn mixer to low speed and mix in the oats, stopping just when thoroughly mixed in.
Use a large cookie scoop or rounded tablespoon to scoop the cookie dough all over the peach mixture.
Bake at 350° for 40 minutes or until lightly browned and peach mixture is bubbly.
Notes
Good quality gluten-free all-purpose flour: I recommend gfJules, Authentic Foods Multi-Blend, Gluten Free Mama, or King Arthur Flour Measure for Measure.
*If the gluten-free flour blend you use already has xanthan gum or guar gum in it, then omit the xanthan gum called for in this recipe.
Recommended Products
As an Amazon Associate and member of other affiliate programs, I earn from qualifying purchases.
Pin this gf peach crisp recipe pic to your gluten-free desserts board!

I hope you and your family enjoy this gluten-free peach crisp recipe with oats as much as my family does!