Gluten-free Gingersnaps dipped in white chocolate are a favorite December treat! Our gluten-free Christmas cookie plates wouldn't be complete without these gluten-free ginger snap cookies each year! This was the very first recipe I shared on my blog when I started it in 2012! It holds a special place in my heart and I still make these gluten-free Christmas treats and enjoy them every year. I've updated this blog post with more tips and recommendations, but the recipe is still the same way I've made it for all these years.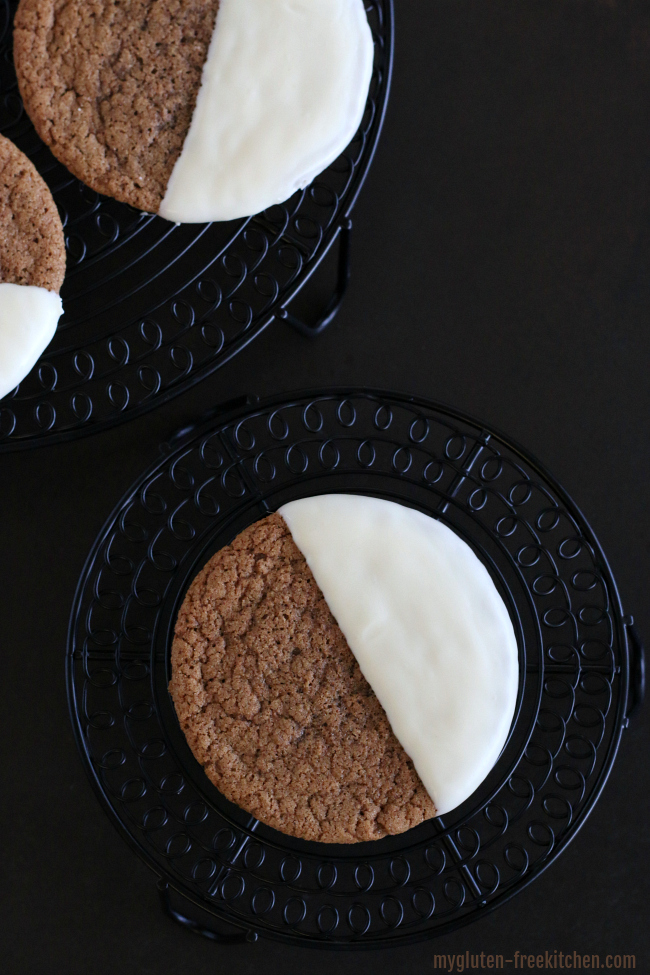 These gluten-free gingersnaps aren't the strong-flavored, very crisp gingersnaps you might have tried before. These are chewy cookies that have just the right amount of spice, complemented by the smooth white chocolate. December just calls for cookies like this!
I never liked gingersnaps or spice cookies until my friend's mother served these cookies to my husband and me many years ago. I was hooked on them right away and she kindly mailed me the recipe soon after. This became a must-make recipe in my house every Christmas.
I made the gluten-filled version for years and happily get the same results in this gluten-free version by using a good quality gluten-free flour blend.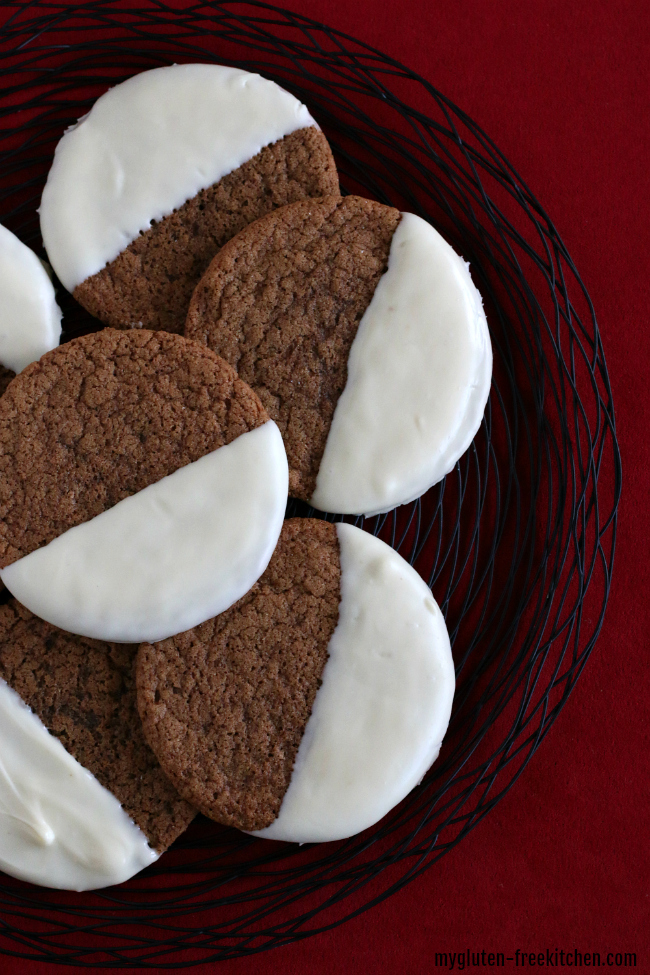 Notes on Ingredients for these gluten-free gingersnaps:
Butter or Shortening: You can use all butter or all shortening in these cookies. All butter results in great flavor but a flatter cookie (like the ones pictured), all shortening yields a puffier cookie. You can do a mix of butter and shortening too.
Gluten-free Flour: I've had success with all good quality gluten-free flour blends I've tried. gfJules flour blend works very well in these and is my go-to for making these. Gluten Free Mama's All-purpose Almond Blend Flour worked well, though the cookies spread a little thinner than when I use gfJules. This week I tested with King Arthur Measure for Measure blend and they look great but are just barely a little gritty in comparison to when I've used the other blends. So try it with your favorite blend or order one of these.
Xanthan Gum: If the gluten-free flour blend you use already has xanthan gum or guar gum in it, then omit the xanthan gum called for in this recipe. gfJules and King Arthur already have xanthan gum so you wouldn't need to add additional.
Molasses: I usually buy Grandma's Unsulphured Molasses but feel free to grab the kind at your neighborhood store.
Spices: Gingersnaps are supposed to be flavorful, so you'll see these have good amounts of ginger, cloves. and cinnamon. These are all ground spices you can buy on the spice aisle at your store.
White Chocolate: The best I've found for melting for dipping is Baker's White Chocolate Squares (you'll use 3 boxes), and Trader Joe's white chocolate chips (linked here so you can see what they look like – you'd need 1 full bag plus part of another). I don't recommend using Guittard white chips as they just don't melt smoothly.
TIP:
I highly recommend that you have both parchment paper and wax paper on hand for making these. You'll bake the cookies on parchment paper. When the cookies have cooled, you'll dip in the melted white chocolate and then I recommend laying them on wax paper while the chocolate sets.
Can you make these gluten-free gingersnaps dairy-free?
Yes! The cookies can be made with all shortening instead of butter and I've made them that way many times. You can use Crisco or Spectrum Organic all-vegetable shortening. Again, I've tested both ways and they work well here.
For the white chocolate, if you want dairy-free, I tested these this week using the new Nestle Simply Delicious White Chocolate Chips that I picked up at Walmart. They melted smoothly. They didn't dip picture perfect, but are otherwise a very good choice. I know Pascha makes a dairy-free white chocolate chip too, but those aren't available anywhere near me so I haven't tested melting them and a friend said they do not melt well.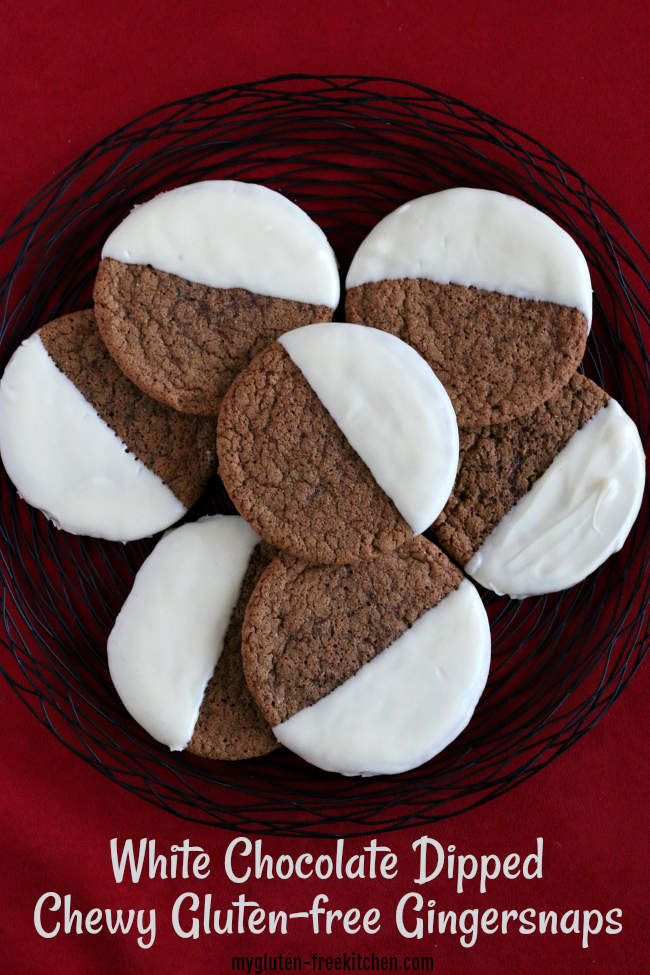 I know many like to make gingerbread men cookies for Christmas. I've always been the worst at decorating those, so I much prefer these! It's so easy to dip them, and everyone loves them when I bring them to holiday parties or include on cookie trays.
Looking for more gingerbread treats? Try these dairy-free gingerbread truffles. Or how about gingerbread candied bacon?! Amazing!
Also, if you want the same flavor profile of these cookies but don't want to dip them, then try these gingerbread cookies instead.
Two more treats you can add to your gluten-free Christmas baking list are these Christmas Dream Bars and my homemade gluten-free caramels.
Gluten-free Dipped Gingersnaps Recipe:
Yield: 42 cookies
Gluten-free White Chocolate Dipped Gingersnaps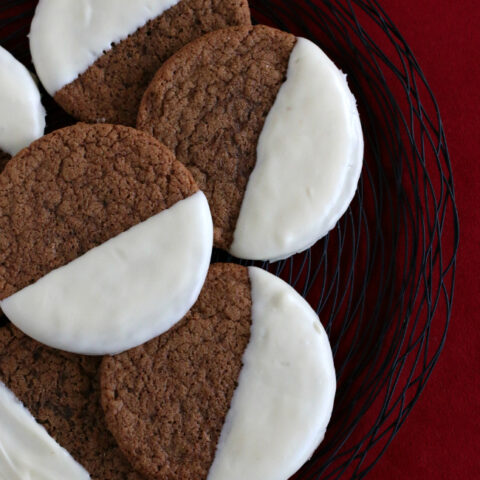 Gluten-free Ginger Snaps are dipped in white chocolate for a favorite Christmas cookie! Once you have these, you won't go back to regular gingersnaps!

Prep Time 10 minutes

Cook Time 11 minutes

Additional Time 1 hour

Total Time 1 hour 21 minutes
Ingredients
1 cup room temperature butter or shortening (=16 Tbsp.)
1½ cups sugar
½ cup molasses
2 eggs
4 cups gluten-free all-purpose flour blend
1 1/2 tsp. xanthan gum*
½ teaspoon salt
2¼ teaspoons baking soda
2¼ teaspoons ground ginger
1½ teaspoons ground cloves
1½ teaspoons ground cinnamon
Additional granulated sugar needed for rolling dough balls (about ¼ to 1/3 cup)
12 oz. white chocolate chips or 3 (4 ounce) Baker's white chocolate bars chopped up
1/8 cup shortening
Instructions
Cream butter (or shortening) and sugar until light colored & fluffy.
Beat in molasses & eggs.
Gradually add rest of ingredients until dough is blended.
Chill dough in refrigerator for at least one hour (okay to chill overnight also).
Using a 1½ inch wide cookie scoop (medium scoop), roll dough into balls. Roll balls in granulated sugar. Dough will be a little sticky; if too difficult, chill longer.
Place on parchment paper lined cookie sheets. Bake at 350° for 11-12 minutes. Let cool a few minutes on cookie sheet and then transfer to cooling rack to cool.
In double boiler or microwave, melt 12 oz. white chocolate bars or chips along with 1/8 cup shortening. Dip almost half of each cooled cookie in the melted white chocolate. Place on waxed paper to set. Enjoy!
Notes
*If the gluten-free flour blend you use already has xanthan gum or guar gum in it, then omit the xanthan gum called for in this recipe.

Dairy-free Adaptation: Use all shortening; use a non-dairy white chocolate.

You can use shortening or butter or half of each in this recipe. I've tried it all of those ways. Using shortening will produce a thicker cookie; all butter produces a thinner cookie. Both ways are delicious! I've used regular shortening (Crisco) and organic vegetable shortening, and both work well.

See blog post for more information on ingredients.

Depending on how heavily you dip your cookies, you may run out of white chocolate for dipping. If so, just make more!

Pin these gluten-free Christmas cookies to your gluten-free cookies board on Pinterest: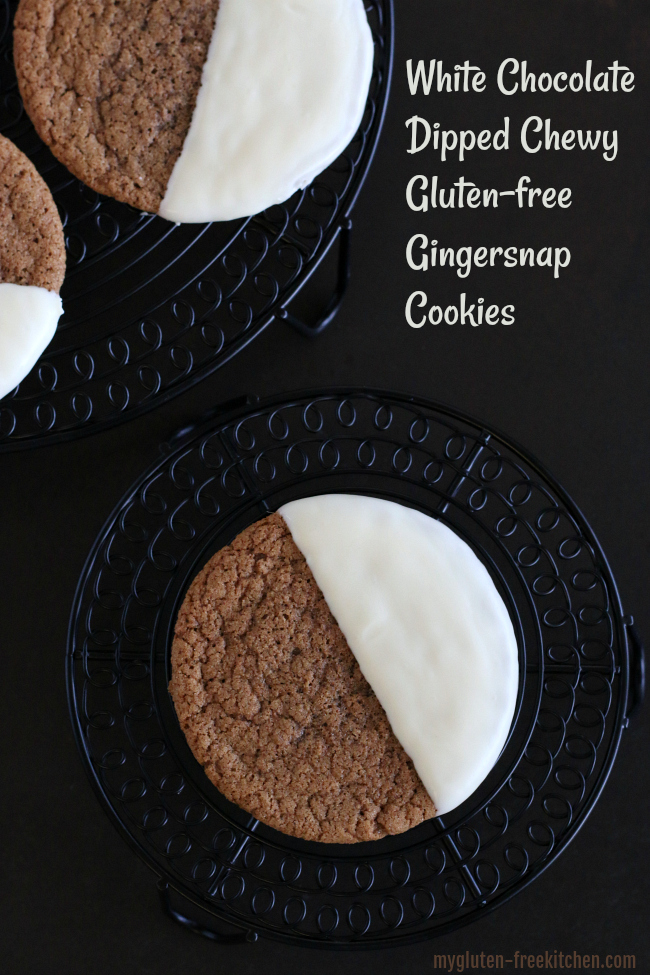 Recipe, notes, and photos updated December 2019.
Original photo from December 2012 here:

I hope you and your family enjoy these gluten-free ginger cookies as much as my family does!