What's better than a fudge pie in a pie crust? A gluten-free chocolate fudge pie in a chocolate cookie crust! If you love fudge pie or brownie pie, you'll love this. This is THE pie for the chocolate lovers around your table! Thanks to Enjoy Life for sponsoring this recipe as part of our ongoing partnership.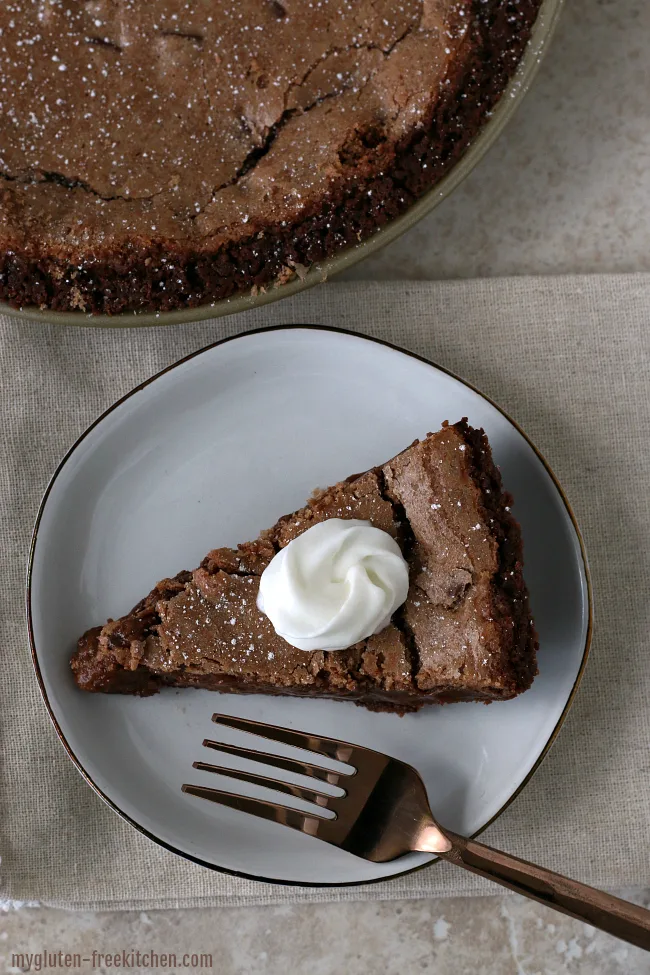 This gluten-free fudge pie has a oozy chocolatey filling in a crunchy chocolate cookie crust. So good together! With a chocolate crust, gooey, fudgy filling, and brownie like top crust, it's chocolate heaven!
In recent years, I'd heard of fudge pies, but had never had one before. Apparently they're a southern tradition. When I searched google trends for them, it was clear why I hadn't ever been served fudge pie before, living in Montana or Idaho!
Check out which states are searching for fudge pie the most:

Seeing as Tennessee seems to be the most popular place for fudge pie, when I came across a recipe in my box of clippings for Nashville Fudge Pie*, I knew it was what I should use as a starting point!
Traditional fudge pies are baked in a regular pie crust. I've shared before that I've just never been a fan of regular pie crusts and I really don't like the idea of pairing one with chocolate! Yuck!
Then last week, I suddenly thought, "Why don't I make the fudge pie in a chocolate cookie crust?!" Light bulb moment that resulted in this deliciousness!
I apologize to any that are offended that I didn't go the traditional pie crust route with this one. But I think once you have a bite of this, you'll forgive me!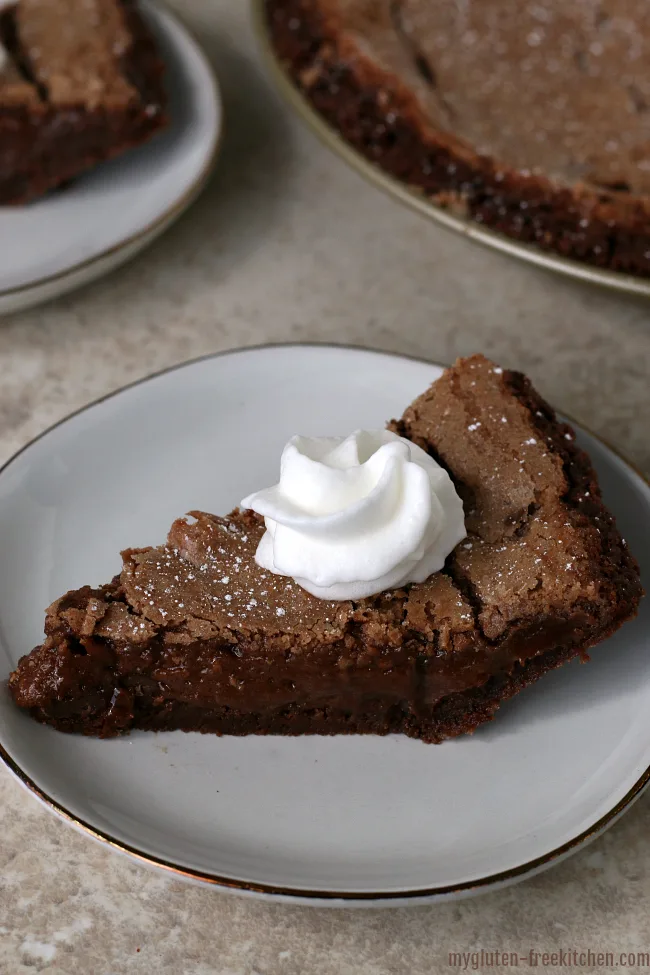 I've used Enjoy Life Double Chocolate Crunchy Cookies before to make a cookie crust – in this gluten-free raspberry mousse pie. and in my gluten-free chocolate cream pie recipe. So I knew they would work for this recipe too!
My friend Margaret used the double chocolate crunchy cookies in her gluten-free dairy-free Mud Pie recipe and boy does that look good too!
As far as the other ingredients for this pie, they're all pretty straightforward ones using ingredients that should already be in your gluten-free pantry!
Notes on ingredients and substitutions for this gluten-free chocolate fudge brownie pie:
Cookies: You'll use a whole box of these double chocolate crunchy cookies. I used 1 box of Enjoy Life Double Chocolate Crunchy Cookies for this recipe. If you want to feed a group, then I'd recommend getting two boxes so you can make two pies. If you think you'll make a lot of pies, I'd pick up this great deal from Amazon to get 6 boxes!
Butter: While I used butter in the crust and pie, I really think you could use coconut oil in both. I know for sure it works in the crust, and think it might work fine in the pie itself. I haven't tried it yet, so if you do, let me know! Also, a good butter alternative stick should work as well. Definitely worth a try if you want this to be dairy-free!
Chocolate chips: I opted for semi-sweet chocolate mini chips in this recipe. You can use either the semi-sweet morsels or the semi-sweet mini chips. Either would work well in this.
I buy the Enjoy Life semi-sweet mini chips at my local stores or online. Look for the teal package to help you spot them on the shelf, although I noticed last week that a few other brands are starting to copy their teal packaging idea. (Lame!)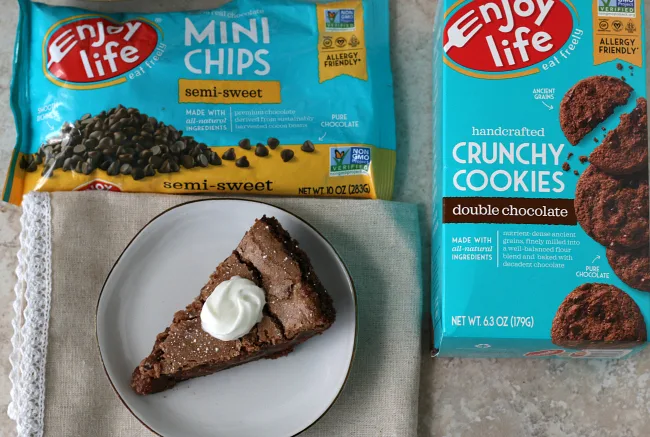 If you can't find the Enjoy Life semi-sweet mini chips at your local store, you can buy them online from Enjoy Life directly here or from Amazon here. I chose to add the mini chips for bits of extra chocolate throughout!
Here's a look at what this pie looks like during the process of making it: First the crust, then with the filling added, and finally the finished pie.

When done baking, the pie will have this crinkly crust that looks like the top of brownies! Underneath, it'll still be jiggly and you cannot do the toothpick test for doneness, as it will set up after baking. Trust the timer (if your oven temp is correct) and the looks of the top of the pie – nice golden brown!
This gluten-free fudge pie definitely firms up some as it cools – I would recommend waiting at least an hour for serving it.
It looks a little plain on it's own, so I used a little sifter to sprinkle powdered sugar lightly over it which made it look pretty. That's what I would do if I was bringing this pie somewhere or having it out on the counter when company was coming over. Super simple to do and just makes it so pretty!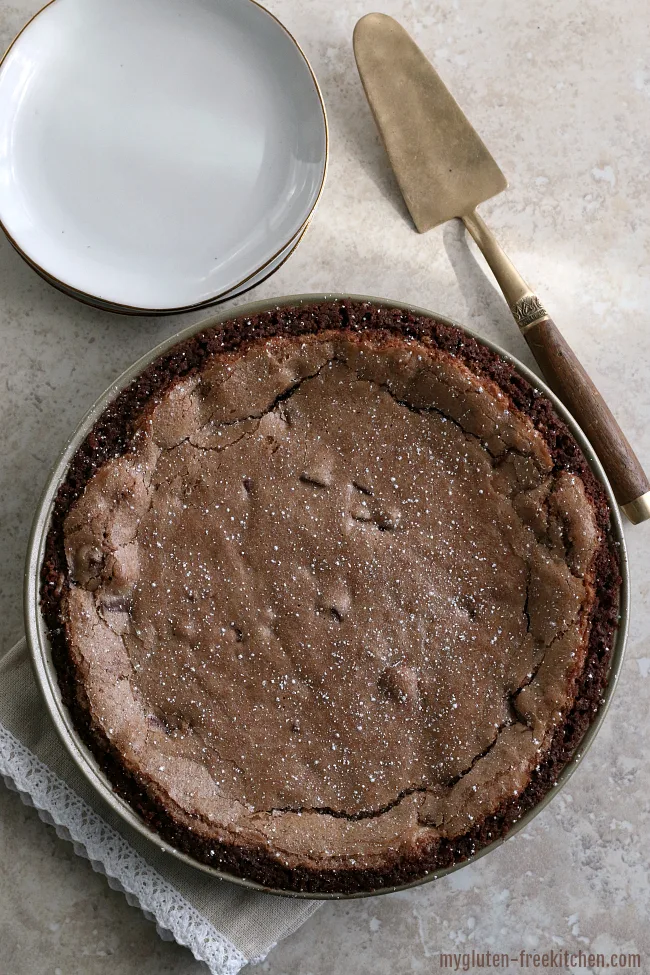 After it has cooled to room temperature, you can slice and serve! Underneath that brownie-like crackly crust, it'll still be gooey/fudgy inside, but won't be runny like it would be if you tried to cut it while hot. It'll look like this: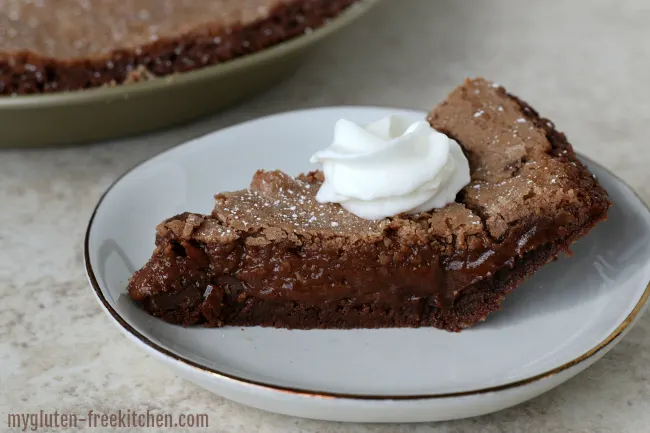 How do you think you'd enjoy a slice of this? We served it room temperature with whipped cream on it. I had thought about drizzling with chocolate syrup or my homemade hot fudge sauce but this dessert was so sweet and rich that it didn't need more chocolate! I definitely recommend sticking with fresh whipped cream, or refrigerated whipped topping to go on this!
I hope you enjoy this chocolate treat as much as my family did!
Gluten-free Fudge Pie Recipe:
Yield: 10 slices
Gluten-free Double Chocolate Fudge Pie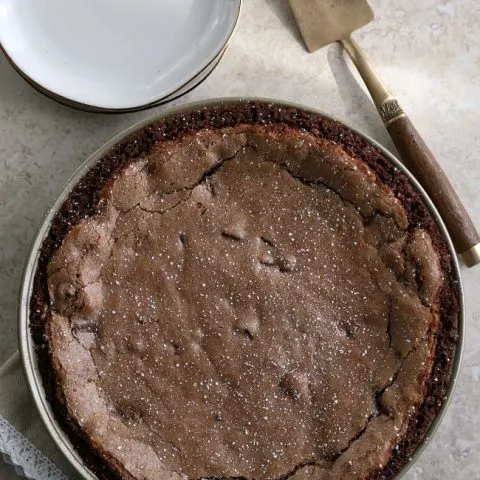 A gluten-free double chocolate fudge pie in a chocolate cookie crust! If you love fudge pie or really chocolatey desserts, you'll love this.

Prep Time 20 minutes

Cook Time 30 minutes

Total Time 50 minutes
Ingredients
1 box (6.3 oz.) of Enjoy Life gluten-free double chocolate crunch cookies
1/3 cup butter or coconut oil, room temperature
2 Tbsp. brown sugar
1/3 cup (slightly mounded) semi-sweet mini chips, (about 2 ounces)
1/2 cup (=1 stick or 8 Tbsp.) butter
3/4 cup sugar
2 large eggs
1/4 cup gluten-free flour blend with xanthan gum
1 tsp. pure vanilla extract
1/4 tsp. salt
3/4 semi-sweet mini chips
Instructions
Remove cookies from packaging and pulse them all in a food processor, until you have coarse crumbs. You may need to do this in two batches, depending on the size of your food processor. This will yield just about 2 cups of cookie crumbs.
Transfer cookie crumbs to a medium or large bowl and add brown sugar. Use spatula or whisk to mix together well.
Pour the melted butter or melted coconut oil over the cookie crumb mixture. Stir with a spatula until all is wet and well mixed.
Press cookie mixture into an ungreased 9" pie pan. Press evenly all over bottom and up sides of pan most of the way. I went about 2/3 or 3/4 up the sides of my pan. There isn't a need to go all the way up to the top as the pie filling isn't that high.
Set crust aside while you make the filling.
Place the 1/3 cup of semi-sweet chocolate in a microwave safe bowl and microwave in 30 second increments, stirring after each, until chunks/chips are melted and smooth. This took a total of 1 1/2 minutes for me. Set aside.
In the bowl of your stand mixer, add the butter and sugar and beat on medium -high speed for 2 minutes.
Add the melted chocolate and beat on medium speed until mixed.
Add the eggs, gluten-free flour, pure vanilla extract, salt, and beat on medium speed for 1 minute.
Stir in the 3/4 cup of mini chips, scraping sides of bowl to mix in anything that wasn't mixed well.
Pour this mixture into the pie crust. Bake the pie at 325° for 30 minutes. Pie will have a nice golden brown surface but will still be jiggly underneath if you give it a little shake. It will set up as it cools. Remove to a wire rack and let cool 1 hour before slicing.
Notes
You can also sub homemade gluten-free chocolate cookies to use in the crust.

If the gluten-free flour blend you use does not have xanthan gum or guar gum in it, then I would recommend adding 1/4 tsp of xanthan or guar gum in with the flour mixture in this recipe.
Recommended Products
As an Amazon Associate and member of other affiliate programs, I earn from qualifying purchases.

This recipe was heavily adapted from one I found for Nashville Fudge Pie. Unfortunately, it's been years since I copied this recipe down, and I haven't been able to locate the original cookbook source through my searches. If I figure it out, you can bet I'll update my post!
Pin this to your Gluten-free Pies board on Pinterest: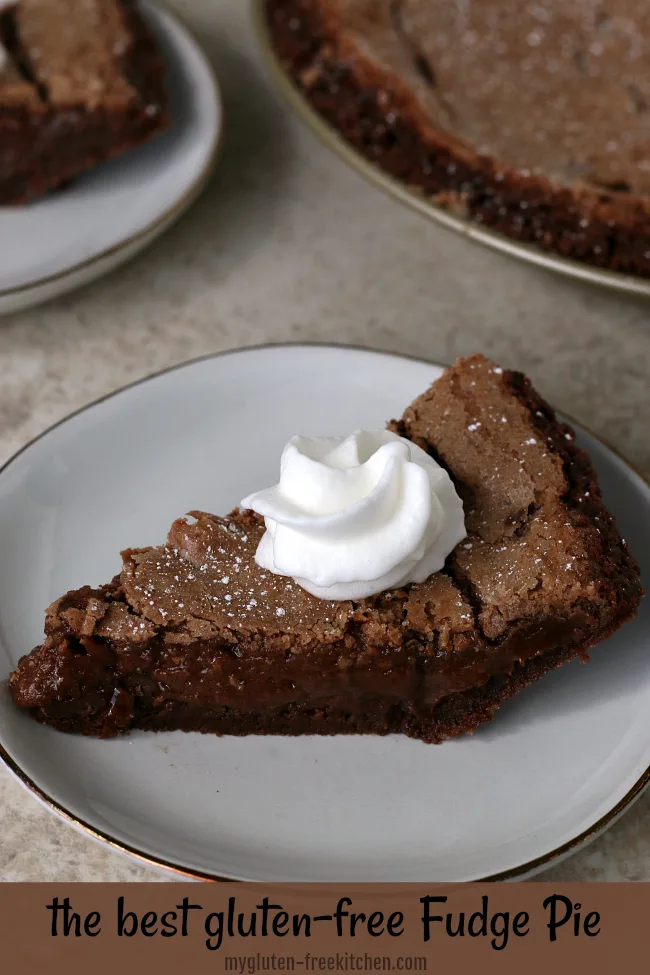 This sponsored post was created through my partnership with Enjoy Life Foods. As always, all opinions are my own. Collaborating with brands I love allows me to keep bringing you new and varied recipes! Thanks for your support!