Layer upon layer of chocolatey goodness in this gluten-free brownie toffee trifle! It looks complicated, but it's actually an easy gluten-free trifle recipe with just a few ingredients!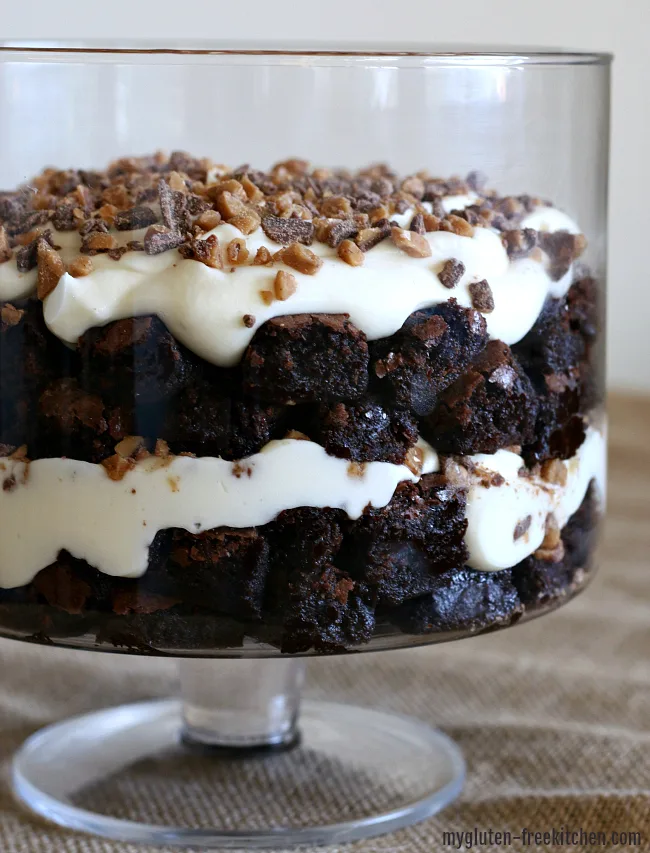 Layers of chewy gluten-free brownie chunks alternate with white chocolate pudding, whipped cream, and chocolate covered Heath toffee candy pieces to create this pretty gluten-free trifle. People ooh and aah over this dessert every time I bring it somewhere.
The only time-intensive part of making this is that you have to make the gluten-free brownies, let them cool, then cube them up. I prefer to make the batch of brownies the day before I make the trifle. It saves time on dessert day, and also the brownies have plenty of time to set so they aren't too fudgy or gooey to cut into squares. But you can also just make up a boxed brownie mix to save time.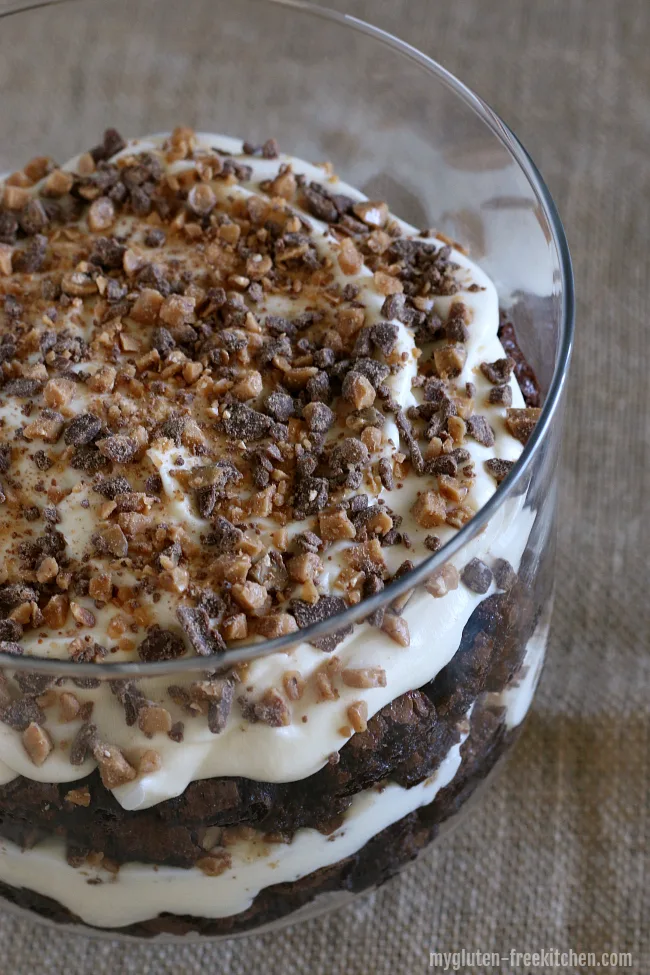 My favorite part about this dessert is that you can totally customize it to fit your preferences for taste and ingredients. Don't like Cool Whip? Feel free to make your own whipped cream to mix with the pudding (which is what I did this latest time).
To make my own Cool Whip substitute, I followed the instructions on this blog post on how to make homemade whipped topping. Her recipe makes the equivalent of a tub of Cool Whip.
Want a different flavor of pudding? Choose whatever flavor you would like or even make your own pudding from scratch.
Want to really make this a fast dessert? Choose a high-quality gluten-free brownie mix instead of baking them from scratch.
My favorite boxed gluten-free brownie mix is King Arthur Flour gluten-free Brownie Mix. I always have a few boxes of these on hand for a simple shortcut for desserts like this or when I'm out of ingredients for making my own from-scratch brownies. I can find this mix at some of my local stores in the gluten-free section. Or you can buy a 6-pack of these online from Amazon here.

Notes on ingredients and substitutions for this gluten-free brownie toffee trifle:
The toffee bits used in this are Heath Milk Chocolate English Toffee Bits. They can be found at several grocery stores. If your store doesn't have the milk chocolate ones, you can also get the ones that are just the toffee. You can also just buy whole Heath candy bars or Skor bars and chop them up. Both Heath and Skor are listed on Hershey's gluten-free candy list.
I usually use Jell-o White Chocolate Instant Pudding, which I buy from Amazon 6 boxes at a time, or sometimes find at my local stores! You can also use Jell-O Cheesecake Pudding or even Jell-O Vanilla Pudding flavors in this instead. I've tried them and they're great in this too.
Whipped topping: In this recipe, you can either use Cool Whip or homemade whipped cream. I've made this both ways, and people like it either way!
Is Jell-O instant pudding gluten-free?
I use Jell-O brand instant pudding in this. Kraft makes Jell-o pudding, and while they don't put out a list of gluten-free products, they are good about labeling. You can read Kraft's stance on labeling gluten here. Based on their information, and the fact that the starch is clearly labeled as being from corn, the pudding flavors I call for in this recipe appear to be free of gluten ingredients.
As always, I recommend checking all labels and if you are unsure, contact the manufacturer directly. I'm not aware of a certified gluten-free pudding mix, so I stick with Jell-o brand.
This gluten-free trifle is such a pretty dessert to bring to large gatherings. You'll need a trifle bowl for best presentation but they aren't that expensive. I found a number of trifle bowls on Amazon and they don't cost that much at all. Here's a trifle bowl that's a bestseller on Amazon.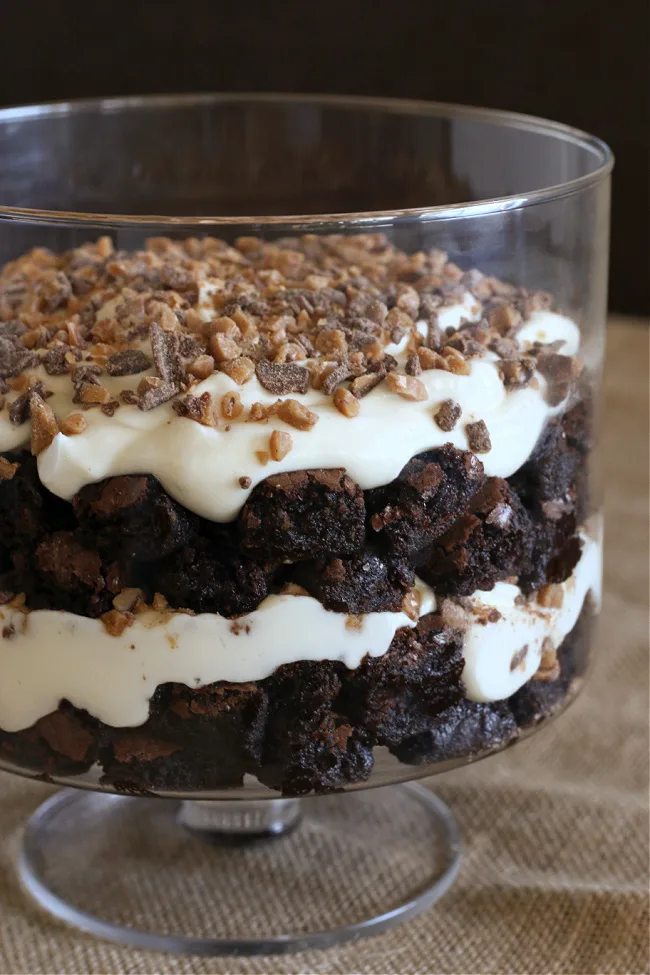 Make this beauty for your next party and you'll be sure to get a lot of smiles!
While this isn't a holiday only dessert, I do find myself bringing it to more gatherings around the holidays. Maybe because people are looking to indulge more then? I find this easily serves around 16 people. Trust me, it gets quite messy once you serve this, and not very photogenic once it's plopped on a plate, but man is it good!!
I don't think you'll get any complaints about looks when it tastes this good!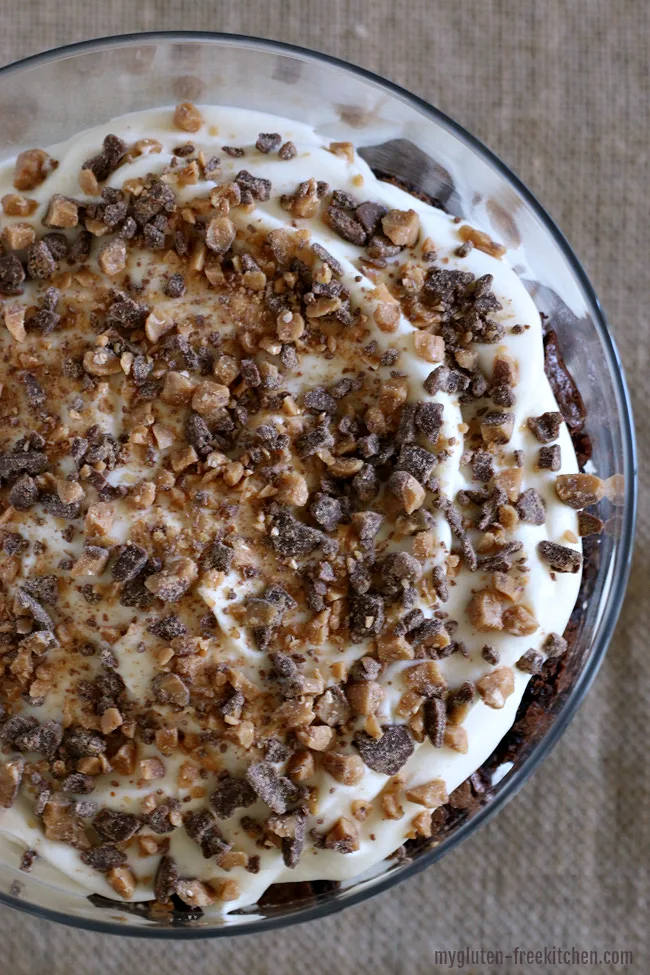 What else do I like to take to holiday parties? For an appetizer, I usually bring these chip and guacamole bites. If it's a cookie exchange, I usually bring these gluten-free gingerbread white chocolate cookies. And these gluten-free mint brownies are always a hit!
This recipe adapted from a clipping from an old Quick Cooking magazine!
I hope you and your family or friends enjoy this brownie trifle too!
Gluten-free Brownie Trifle Recipe:
Yield: 16 servings
Gluten-free Brownie Pudding Toffee Trifle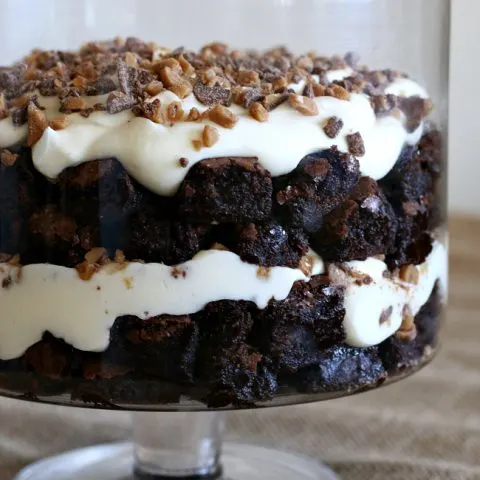 Layers of chewy gluten-free brownie chunks alternate with white chocolate pudding, whipped cream, and chocolate covered Heath toffee candy pieces to create this pretty gluten-free trifle.
Prep Time
1 hour
30 minutes
Total Time
2 hours
5 minutes
Ingredients
1 9x13 pan of gluten-free brownies
2 1/2 cups cold milk
2 small boxes (3.3 oz. each) Jell-O instant pudding mix (white chocolate or cheesecake flavor)
1 carton (8 oz.) Cool Whip whipped topping or homemade whipped cream (see note)
4 oz. (1/2 bag) of Heath English Toffee Bits
Instructions
Bake a batch of my best gluten-free brownies or a good quality 9x13 gluten-free brownie mix. Let cool completely. Cut brownies into 1" cubes. (Note: this step can be done day ahead).

In a large mixing bowl, use a stand mixer or a hand mixer to beat the milk and pudding mixes on low speed for 2 minutes. Use a rubber spatula to fold in the whipped topping.

In a glass trifle bowl, layer half of the brownie cubes. Spread half of the pudding/whipped topping mixture on top. Sprinkle with half of the Heath toffee bits.

Repeat layers a second time in same order.

Chill until ready to serve.
Notes
I've made this with Cool Whip with success. I've also made a homemade version of Cool Whip with success. I followed this homemade whipped cream recipe to make my own Cool Whip substitute at home.
For the toffee bits, I use the milk chocolate coated Heath bits found near the chocolate chip bags on the baking aisle. You can also use the plain ones. Or you can buy whole Heath Bars or Skor bars and chop them yourself until you have 4 ounces worth.
Recommended Products
As an Amazon Associate and member of other affiliate programs, I earn from qualifying purchases.
Pin this brownie trifle to your Gluten-free Desserts board on Pinterest: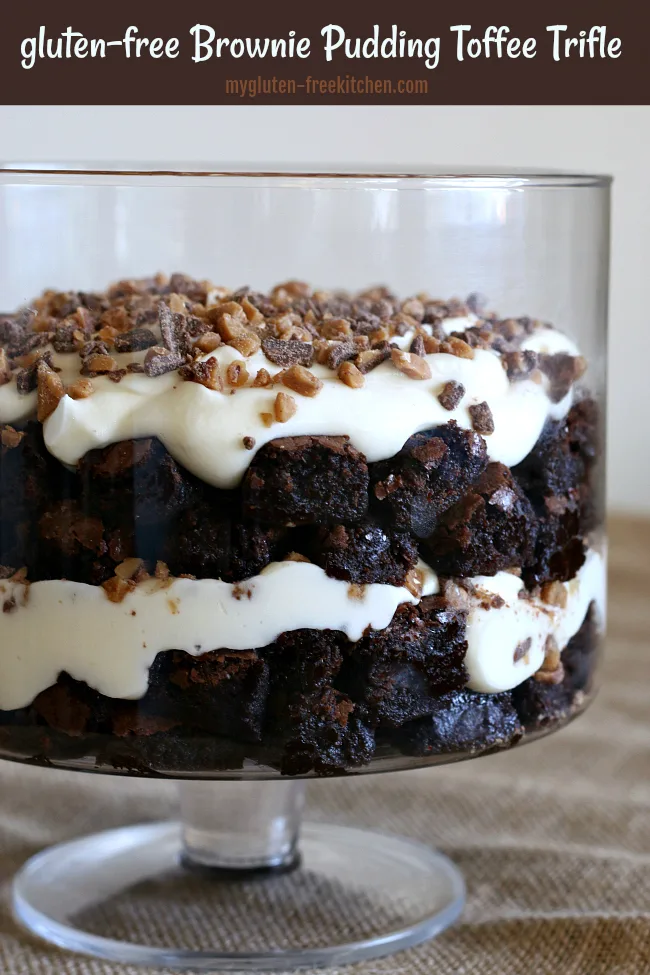 Originally published January 2014, updated entire post and photos Dec 2018. Sheepishly including previous photo from 2013!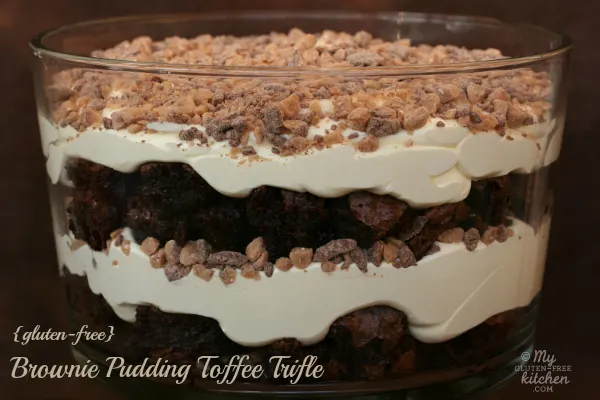 If you make this gluten-free trifle and love it, please come back and give this recipe a 5 star rating in the recipe card! Feel free to comment with tips or to share any successful substitutions you made.