A rich and creamy gluten-free chocolate pie in a gluten-free chocolate cookie crust. This gluten-free chocolate cream pie is perfect for holidays and family get togethers.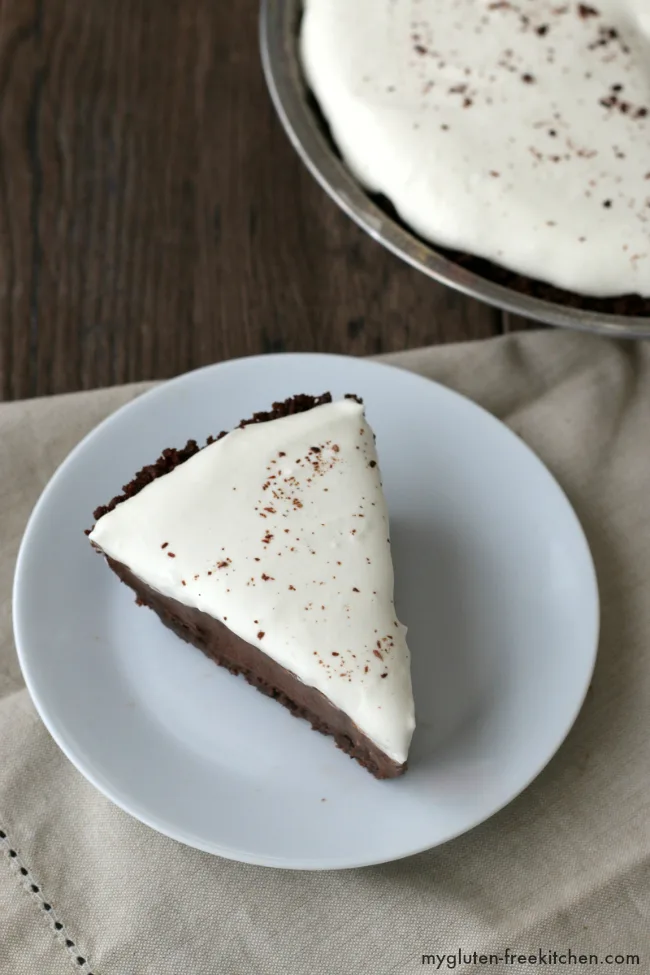 Confession: Prior to making this pie, I didn't know I liked chocolate cream pie, but after eating 4 pieces today, I can attest that it is a favorite!! No really, I ate 4 slices of this pie in one day, as my waistline can attest.
Thankfully, I made 3 pies in my attempt at getting the crust right, so there's plenty of pie left to share with the family. Good thing too, because my boys tried a slice as an after-school snack today and immediately asked for seconds! Thumbs up all around! I created this amazing pie in partnership with my sponsor, Enjoy Life Foods.
I really think you're going to love this one! I mean look at that slice!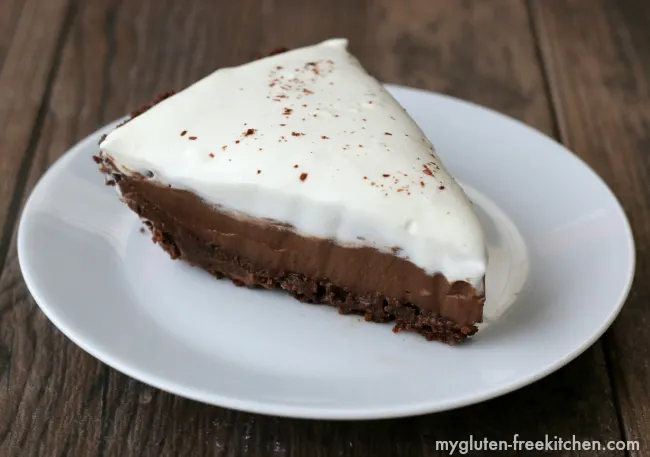 I recently asked my friends on my personal Facebook page what their favorite pie was, excluding pumpkin pie and summer fruit pies. I was blown away by the variety of answers! So many that I've never tried since I haven't been a huge pie fan, like coconut cream, banana cream, buttermilk pie, and Boston Cream pie.
Over a dozen of my friends mentioned chocolate cream pie. I had to go look it up and see what exactly that was, but it sure sounded good! You all know I'm a total chocoholic, as you know if you've tried my flourless chocolate cookies and my gluten-free chocolate cake!
After looking at some chocolate cream pies, I realized I'd had a sad version of this years ago, using a store bought pie crust, instant chocolate pudding and Cool Whip. YUCK! So that's why it hadn't been very memorable!!
I started searching through recipes for real chocolate cream pies. I found that most people's recipes were all variations of the same two recipes – one that includes raw eggs and whipped cream or half and half in the finished pie, and the other that is a cooked pudding made with whole milk.
There were a few variations in types of chocolate used and such, but most of the good recipes boiled down to the same basic ingredients. I decided to adapt a highly acclaimed recipe from Gourmet magazine that many other people, including Pioneer Woman have used over the years. It was definitely a good choice to work off of for the pudding filling.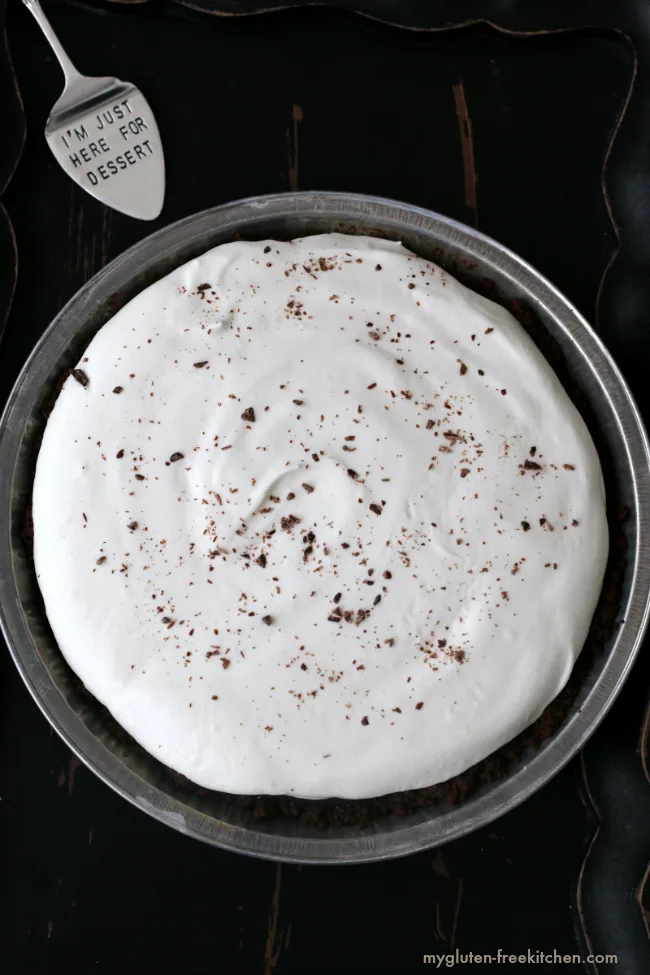 Of course I had to put my own spin on it, because I'm not one to leave a recipe alone! Since I'm not a fan of the usual flour based pie crusts or of Oreo style pie crusts (even gluten-free versions), I wanted something different. What could be better for a chocolate pie than a chocolate crust?
Earlier this year, I created a yummy dairy-free and gluten-free raspberry mousse pie. I figured I could just use that same crust for this pie, though this time including dairy in the crust since the pie was going to have a lot of dairy anyway.
As an Enjoy Life Foods blogger, they'd recently sent me some products I could use for my posts. I tried using the gluten-free soft baked brownie cookies, but ended up with a too soft (but delicious) crust. So I went back to using their gluten-free double chocolate crunchy cookies for the gluten-free chocolate pie crust instead.
Perfect. I'm so glad some of my local stores carry these all the time! I had to make an extra trip to get more after my recipe testing didn't go smoothly!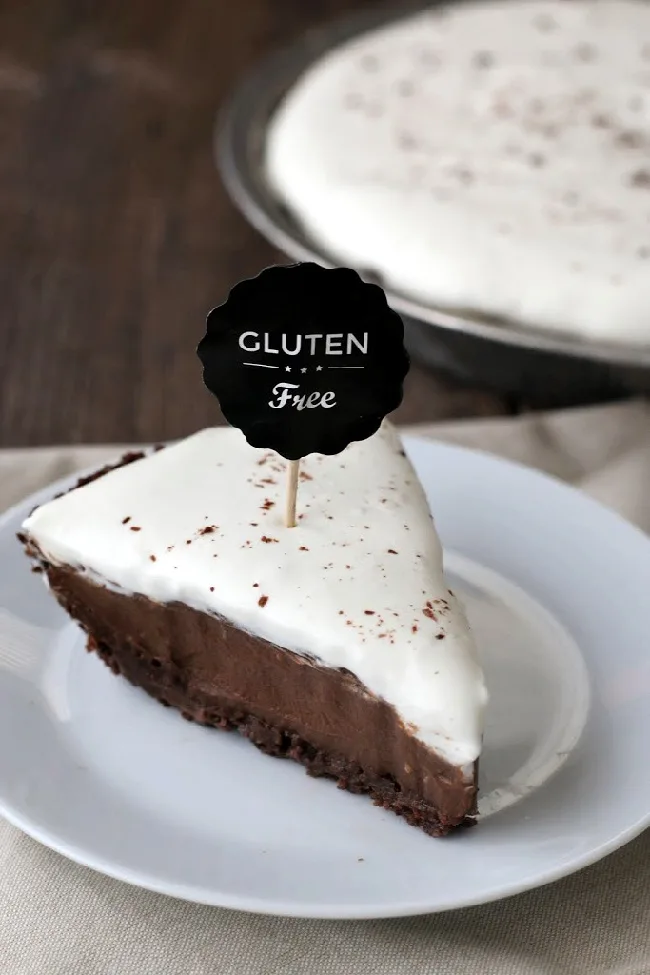 Notes on ingredients and substitutions for this gluten-free chocolate cream pie:
I used 1 box of Enjoy Life Double Chocolate Crunchy Cookies for the gluten-free chocolate crust recipe. If you want to feed a group, then I'd recommend getting two boxes so you can make two pies. If you think you'll make a lot of pies, I'd pick up this great deal from Amazon to get 6 boxes! I'm actually ordering those as we loved this pie so much that I'm planning to bring it to several get togethers over the holidays.
I found that I achieved the perfect chocolate flavor in this pudding filling by using both dark chocolate and semi-sweet chocolate. I definitely recommend using both, and you'll only be using a portion of each bag, so you'll have plenty left for your next dessert too! I used Enjoy Life dark chocolate morsels and semi-sweet chunks. Both of those are easily found at my local stores or bought online. You can buy the dark chocolate morsels here on Amazon. You can buy the semi-sweet chunks here on Amazon. I love that these are all certified gluten-free so I don't have to worry about cross contamination.
Butter: While I used salted butter in the crust (for rich flavor) you can also use coconut oil as an equal substitution.
Please take note to have all of your pie pudding ingredients measured and ready to use before you start cooking. You don't want to ruin the mixture because you had to stop and measure or weigh your chocolate!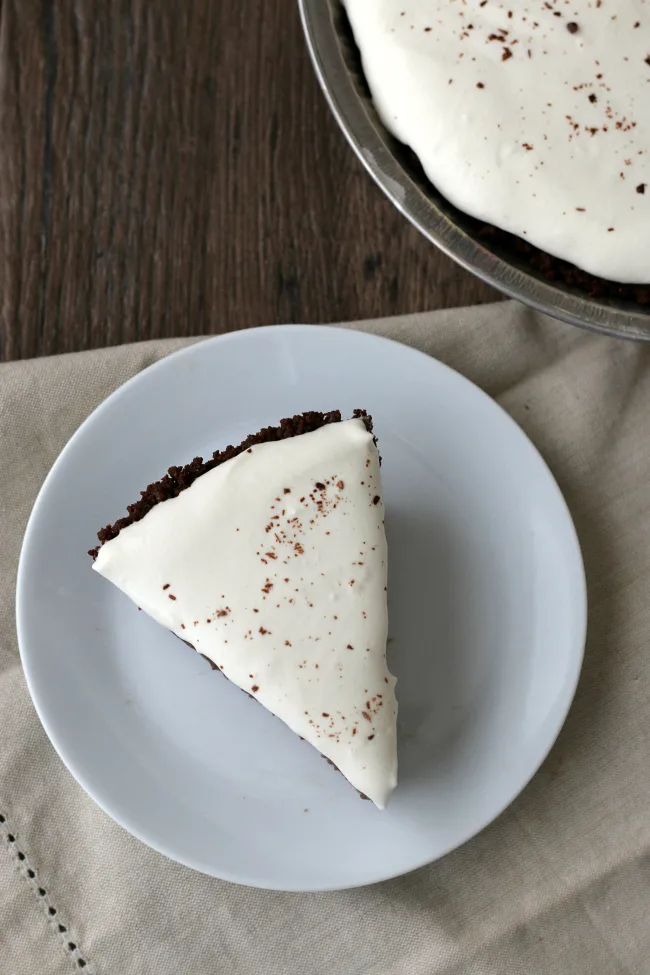 There's your slice, and here's the recipe so you can make your own pie to wow your friends and family!!
If you like this gluten-free chocolate cream pie, then I think you need to try my gluten-free trifle next – it has some similar flavors and is so good!
I'd love to hear what your favorite pie is and if there's one you'd like me to work on a gluten-free version of!
P.S. If you love this gf chocolate pie, would you come back and leave a 5 star rating for it? Thank you!
Gluten-free Chocolate Cream Pie Recipe:
Yield: 8 slices
Gluten-free Chocolate Cream Pie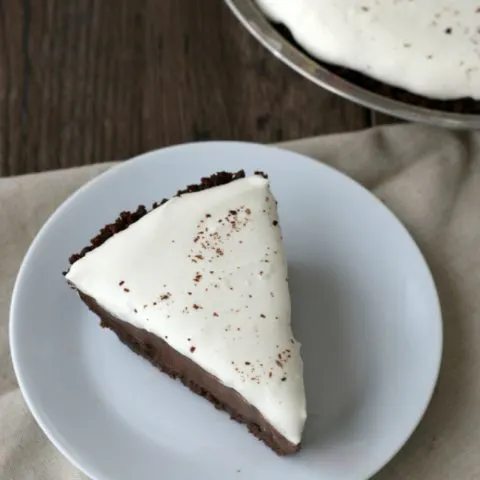 A rich and creamy chocolate pie in a gluten-free chocolate cookie crust. So dreamy!
Additional Time
1 hour
30 minutes
Total Time
1 hour
53 minutes
Ingredients
Crust:
1 box (6.3 oz.) Enjoy Life Double Chocolate Crunchy Cookies
1/4 cup salted butter
2 Tbsp. brown sugar
Chocolate Pie Pudding Filling:
1/3 cup sugar
2 Tbsp. cornstarch
1/8 tsp salt
2 large egg yolks
1 1/2 cups whole milk
2 oz. (about 1/3 cup) Enjoy Life dark chocolate morsels
1 1/2 oz. (about 1/4 cup) Enjoy Life semi-sweet chunks or chips
1 Tbsp. butter
1 tsp. pure vanilla extract
Whipped topping:
3/4 cup heavy whipping cream
1 Tbsp. sugar
1/2 tsp. pure vanilla extract
Instructions
Crust:
Remove cookies from packaging and pulse them all in a food processor, until you have coarse crumbs, with larger chunks of chocolate chips. You may need to do this in two batches, depending on the size of your food processor. This will yield just about 2 cups of cookie crumbs.
Transfer cookie crumbs to a medium or large bowl and add brown sugar. Use spatula or whisk to mix together well.
Pour the melted butter over the cookie crumb mixture. Stir with a spatula until all is wet and well mixed.
Press cookie mixture into a 9" pie pan that has been sprayed with cooking spray. Press evenly all over bottom and up sides of pan.
Bake in a 375° oven for 8 minutes. Remove from oven and place on a cooling rack to cool completely.
Chocolate Pie Pudding Filling:
Important: Have all pudding ingredients measured and ready before you turn on the stove because you'll mess it up if you have to stop to measure while it is cooking! It goes fast!
Add the sugar, cornstarch and salt to a medium saucepan (not on heat yet). Whisk together. Add the milk and egg yolks and whisk together until smooth.
Now move pan to stovetop and cook over medium heat, whisking constantly, until mixture barely comes to a boil and thickens. This should take around 4-6 minutes, depending on your stove, and if you've doubled the recipe, will take around 7-8 minutes. As soon as it starts to boil, remove from heat and continue to whisk for another minute as it thickens to a pudding-like consistency.
Stir in the dark and semi-sweet chocolate, butter, and vanilla extract and whisk until smooth.
At this point I switch from a whisk to a spatula and do some scraping and folding just to be sure everything is incorporated and smooth.
Scoop into cooled pie crust. Place into fridge. (see note about covering or not)
Whipped topping:
I find it easiest to use a straight sided bowl and hand mixer, but feel free to use a stand mixer too!
Beat heavy cream for one minute.
Add sugar and vanilla extract. Continue beating until the cream holds soft peaks.
Spread over surface of pie. Return to fridge, uncovered until ready to serve.
If desired, sprinkle with chocolate shavings. I just used a vegetable peeler on 2 Enjoy Life semi-sweet chunks to get these shavings.
Notes
*I tried refrigerating this both covered and uncovered with different pies. For covering, I used Cling Wrap and pushed it against the surface. This worked fine, but of course gives you a bit of a craggy surface once you remove the cling wrap. No big deal since you are going to cover with whipped cream. I also put in refrigerator uncovered, and that pie came out with small beads of moisture over the surface, again no big deal since I covered with whipped cream.
We stored leftover pieces uncovered in the refrigerator overnight.
Pin this to your gluten-free pies board on Pinterest: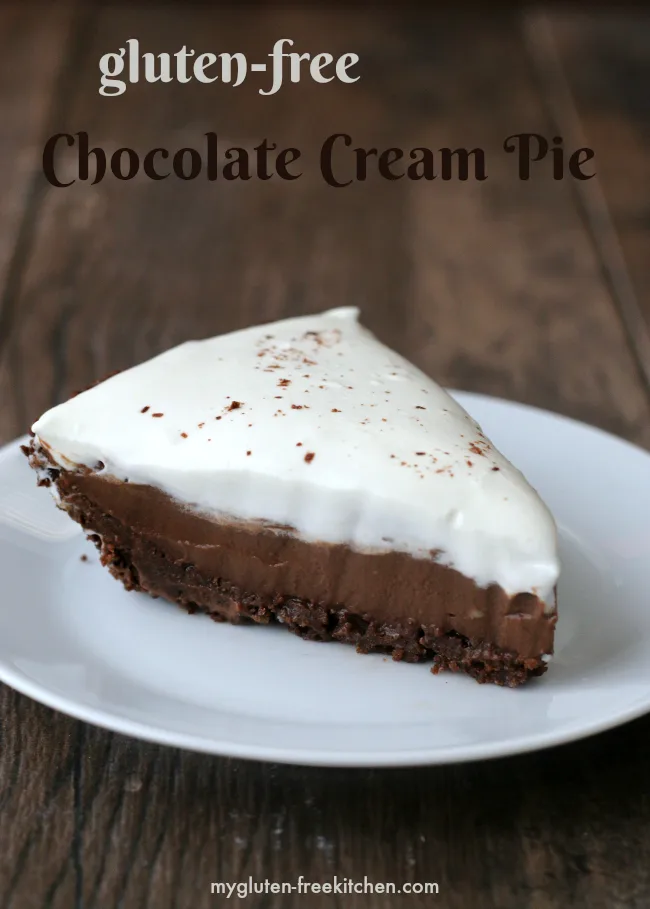 I hope you and your family and friends enjoy this gf chocolate pie too!
This sponsored post was created through my partnership with Enjoy Life Foods. As always, all opinions are my own. Collaborating with brands I love allows me to keep bringing you new and varied recipes! Thanks for your support!