These gluten-free chip and guacamole bites are fun gluten-free appetizers to bring to parties and potlucks. Much more fun than showing up with just chips and guacamole! This is an easy gluten-free appetizer!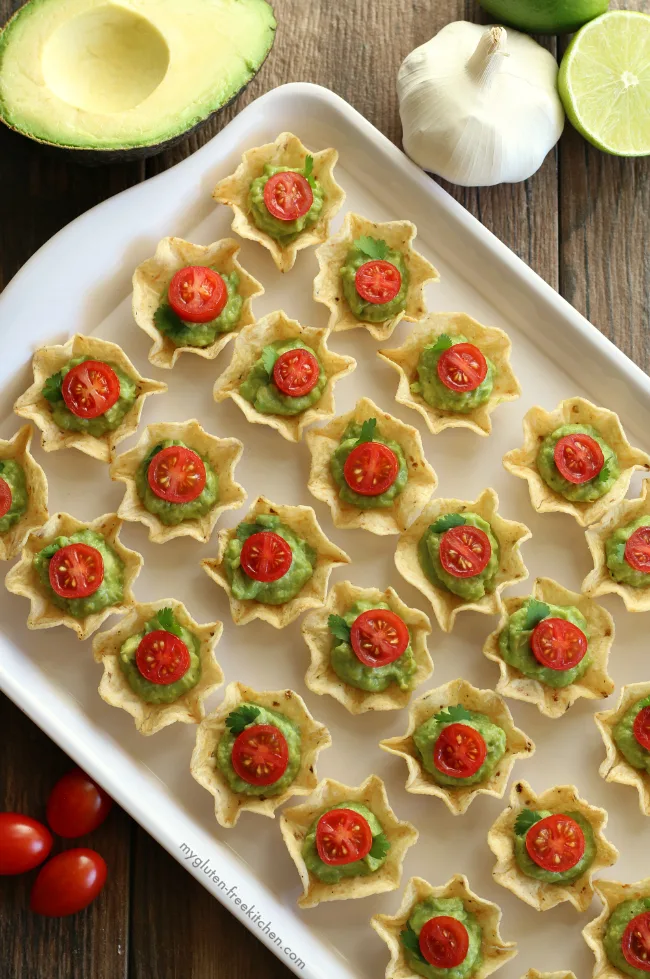 I've been making this tasty and easy little gluten-free appetizer for years and have been meaning to share it here. I made it to be a gluten-free football party appetizer or a gluten-free Cinco de Mayo appetizer.
But after I posted it, people started pointing out that the red and green make it perfect as a gluten-free Christmas appetizer to bring to their holiday parties.
I've also had people in the comments and by email let me know they were making these to serve at rehearsal dinners and other dinner parties throughout the year.
While you can use store bought guacamole, I find that it is wetter and has more potential for making these soggy. I recommend making my homemade guacamole instead.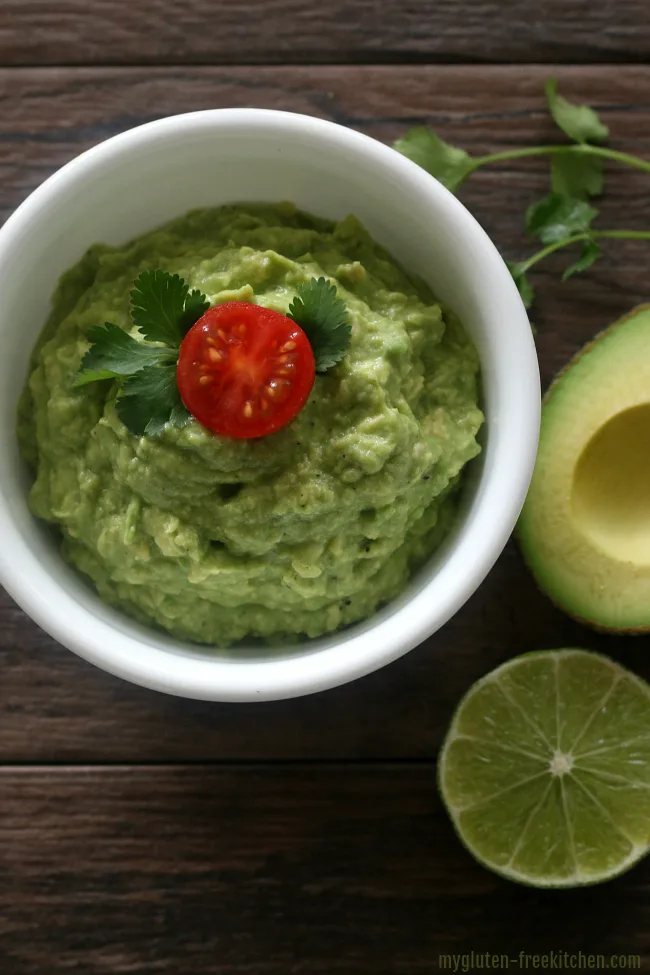 Since my simple homemade guacamole is made with lime juice in it, these don't brown easily while sitting out at the party either. They've stayed looking good for several hours during a party.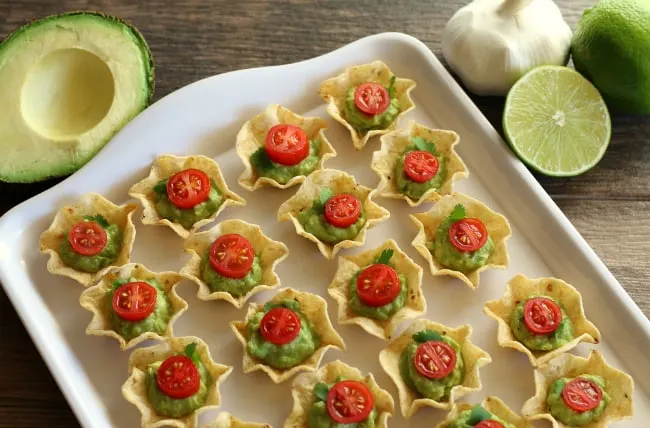 At one party we attended, I did add shredded cheese to them. If you aren't needing to work around any dairy allergies or intolerances, and would prefer cheese, go right ahead and add it!
You could do anything from a pepper jack to a sharp cheddar to vary the flavor. I used a sharp cheddar one time and loved it.
This is what they looked like with that (sorry it's not the best pic – it was taken hastily as I headed out the door to a party!):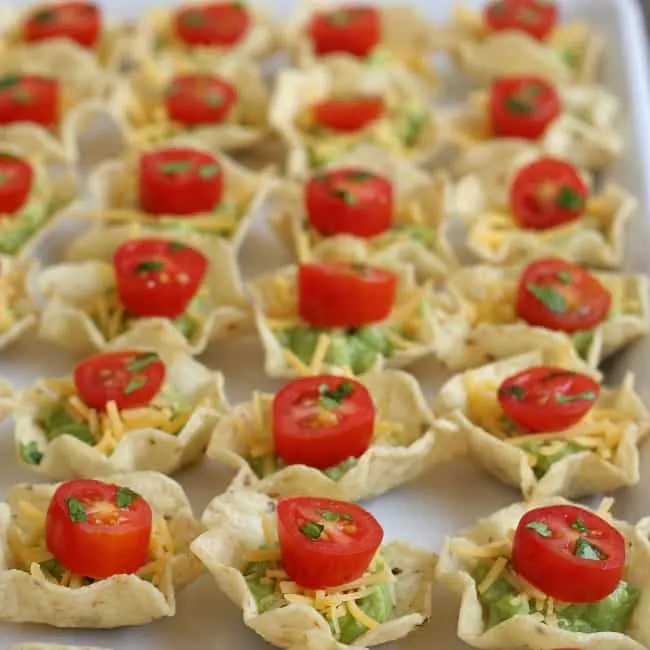 I love how the bit of cilantro sprinkled on top finishes these off and adds that extra kick of flavor.
My husband doesn't care for cilantro, and if you're one of those people that hates cilantro, feel free to leave it off. It was such a small amount here that he didn't mind!
Let's take a look at what you need for this recipe: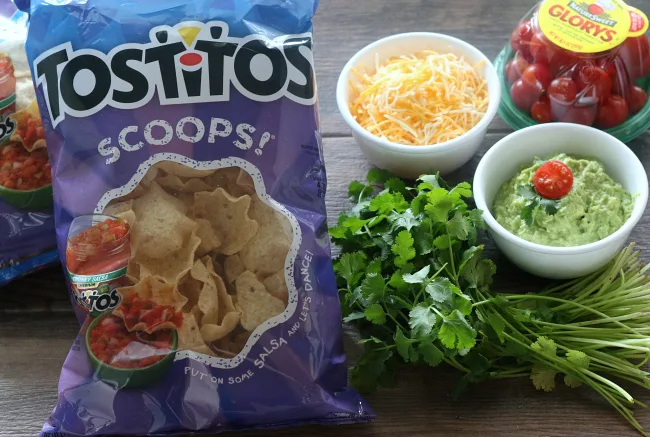 Notes on ingredients for these gluten-free chip and guacamole bites:
Chips: I used Tostitos scoops. Keep in mind that there's always a number of broken ones in the bag, so if you want a full tray to bring to a party, pick up two bags so you'll have enough intact scoop chips to use.
Guacamole. I used my homemade gluten-free guacamole because it is so easy and so flavorful. You could also use store bought guacamole that is gluten-free. Just be sure your guacamole has a good amount of lemon or lime juice so that it doesn't turn an unappealing brown color as it sits out at the party. Also, if you use another homemade recipe, make sure it isn't too wet. Mine is not too wet, and my chips don't get soggy quickly.
Cherry or grape tomatoes are perfect to give you firm, small slices for these.
Cilantro – a little goes a long way for flavor! I only put a little bit of cilantro on each chip, but if you really want the cilantro to pop, then feel free to add more.
Cheese – Including cheese is totally optional. Feel free to use your favorite, I've used shredded Cheddar and also the shredded cheese labeled Mexican 4 cheese. You could also use dairy-free cheese in these.
That's it! Only 4 ingredients; 5 if you add cheese!

Are Tostitos Scoops gluten-free?
Yes, Tostitos Scoops are gluten-free. They're labeled gluten-free and included on Frito Lay's gluten-free list. They claim that they test to make sure the products on the list meet the 20 ppm FDA threshold. Great news!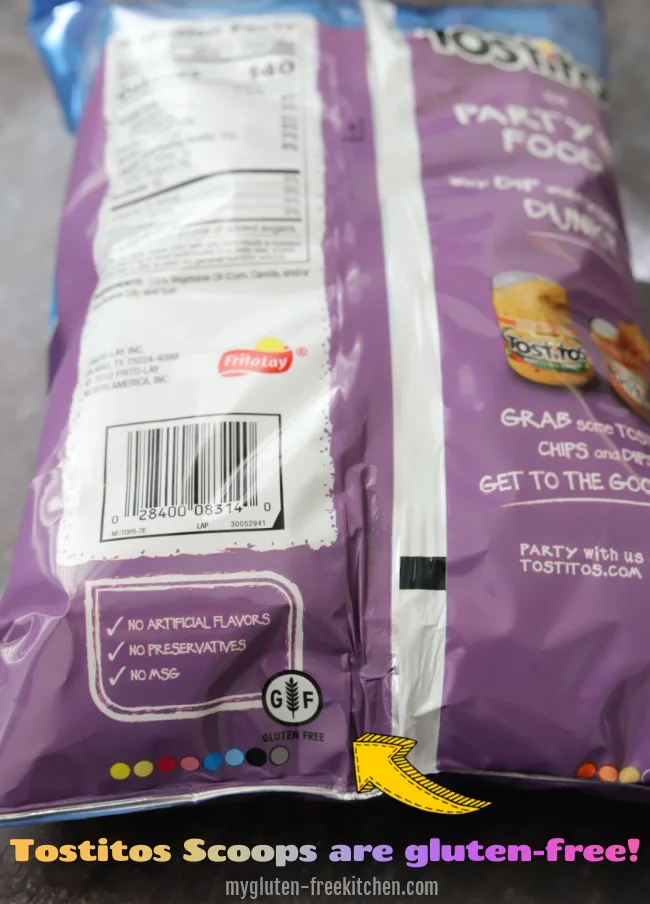 You can make as many or few of these as you'd like! One batch makes about 42 bites, feel free to double or triple for even more!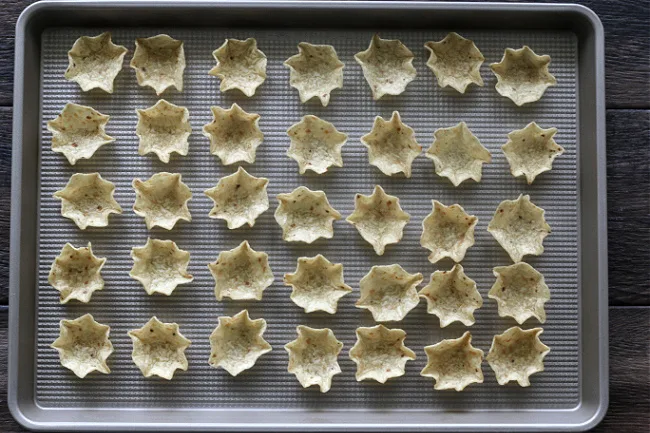 How to make Chips & Guacamole Bites:
Just lay out all of your scoop chips on your rimmed cookie sheet (also called a jelly roll pan).
Then fill with the guacamole.
Top with the tomato slices, and a bit of cilantro.
Any messes you make while doing this won't matter as you'll be transferring to your serving plate after.
I recommend making these on a large rimmed cookie sheet because this is also the best way to transport them.
Even if you just have to move them from one spot in your kitchen to another, you'll be glad you have the rimmed pan so they don't all slide off onto the kitchen floor!
After you finish, then you can put the finished bites on your serving tray when ready to serve.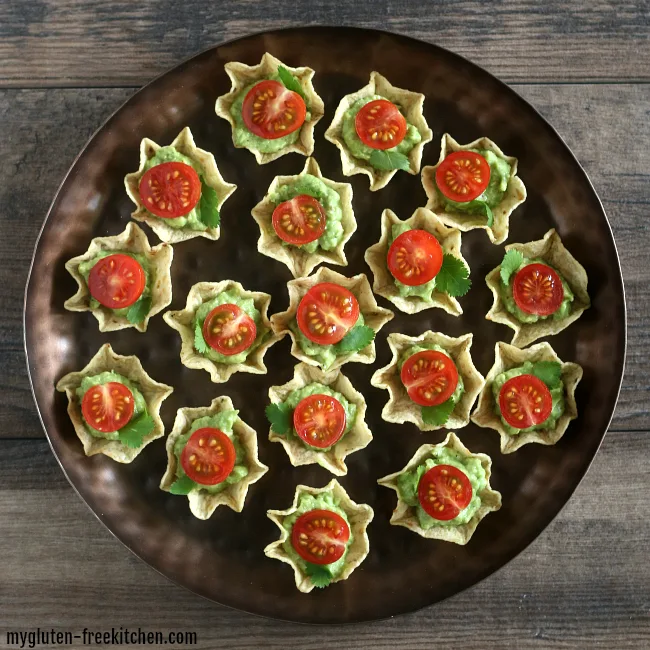 The combo of red tomatoes and green guacamole and cilantro makes these popular for Christmas parties too!
You can even arrange them on a round plate to further that Christmas theme by emulating a wreath – making for such a cute and different gluten-free Christmas appetizer.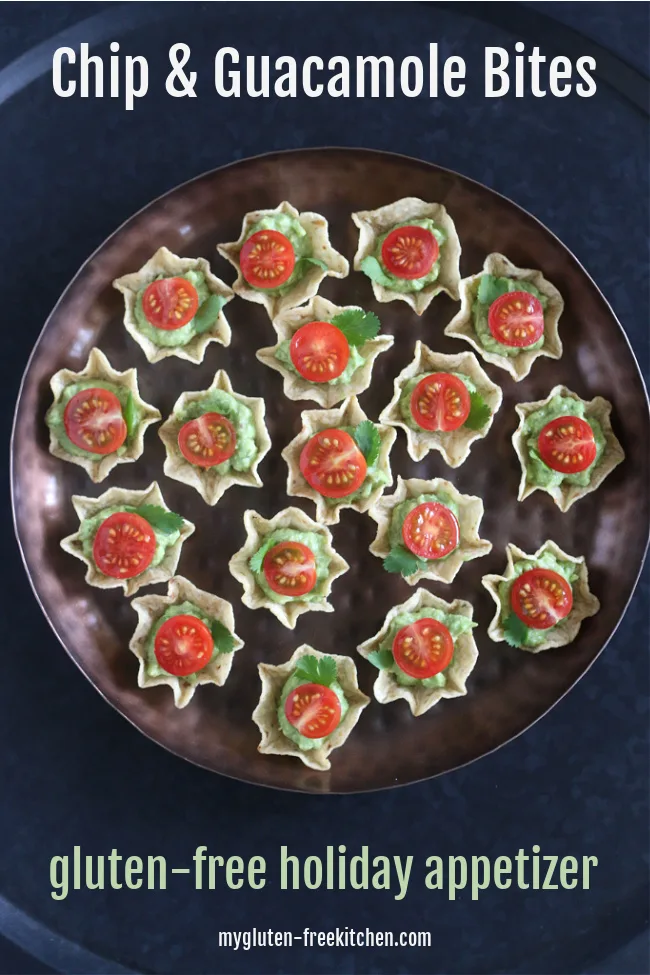 I'll work at making some more gluten-free appetizers to share with you soon too!
Scroll down past the recipe to see a few more of my favorite gluten-free appetizers.
If you make these and enjoy them, please come back and give this recipe a 5 star rating in the recipe card! Feel free to comment with tips or to share any successful substitutions you made.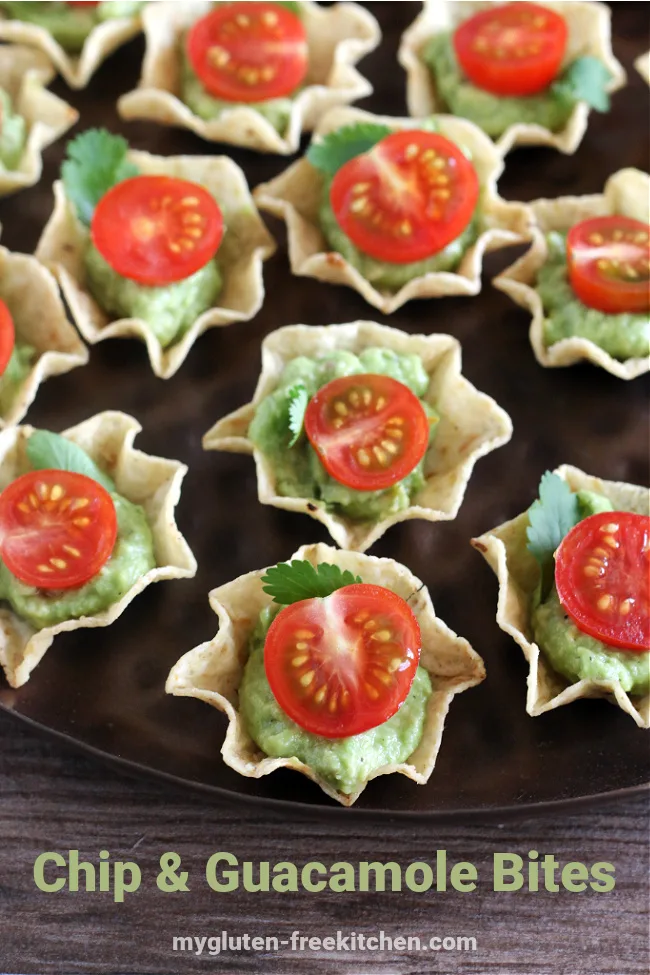 Gluten-free Chip and Guacamole Bites Recipe and instructions:
Yield: 42 bites
Gluten-free Chip and Guacamole Bites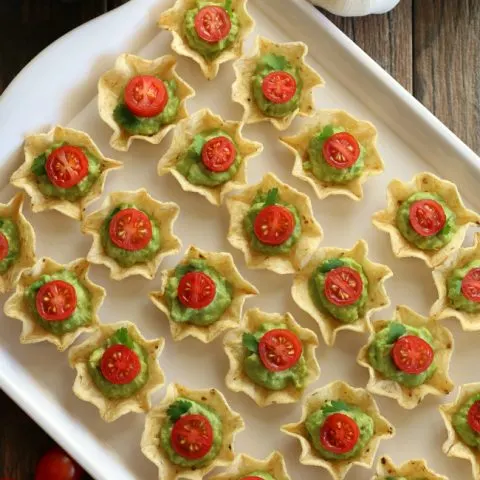 More fun than just a bowl of chips and guac, these chip and guacamole bites are yummy and are an appetizer that the gluten-free folks can enjoy too! You can make as many or few of these as you'd like for the size of group you are feeding!
Ingredients
1 bag Tostitos scoops chips
1 batch guacamole
1 pint cherry tomatoes or grape tomatoes, sliced
1 bunch fresh cilantro
optional: shredded cheese
Instructions
On your serving platter, spread out the scoop chips, discarding broken ones. (I don't really mean discard, I mean eat the broken ones as you go!)
Put about 1 rounded teaspoon of guacamole in the center of each scoop chip.
Top each with a slice of tomato.
Sprinkle with a bit of cilantro.
Notes
Be sure your guacamole has a good amount of lemon or lime juice so that it doesn't turn an unappealing brown color.
While you can use store bought guacamole, I find that is wetter and has more potential for making these soggy. I recommend making homemade guacamole instead. I make this classic guacamole recipe.
While you only need one bag of scoops per one batch of guacamole, I highly recommend you buy 2 bags in case your bag ends up having mostly broken scoops! I've had that happen!
One batch makes about 42 bites. If you want to double this, make another batch of guacamole, buy more bags of chips, but you shouldn't need to buy more tomatoes or cilantro.
Recommended Products
As an Amazon Associate and member of other affiliate programs, I earn from qualifying purchases.
Pin this to your gluten-free appetizers board: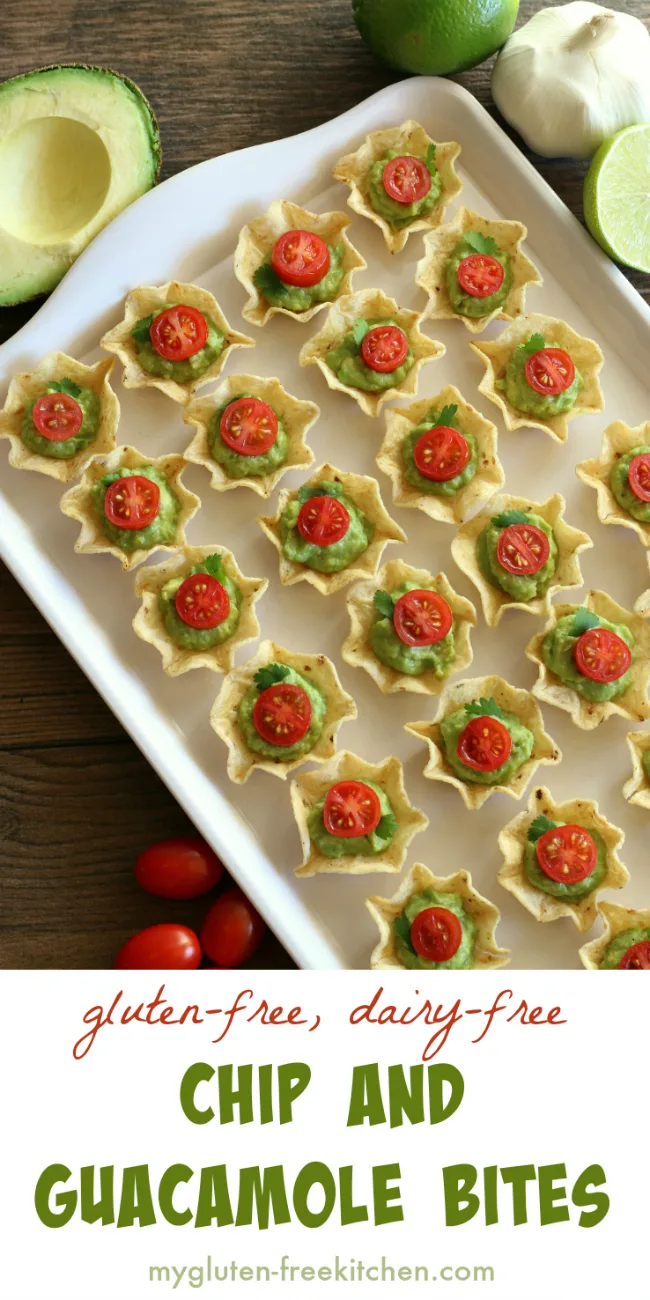 Other favorite gluten-free appetizers:
Gluten-free Cheesy Bean Dip: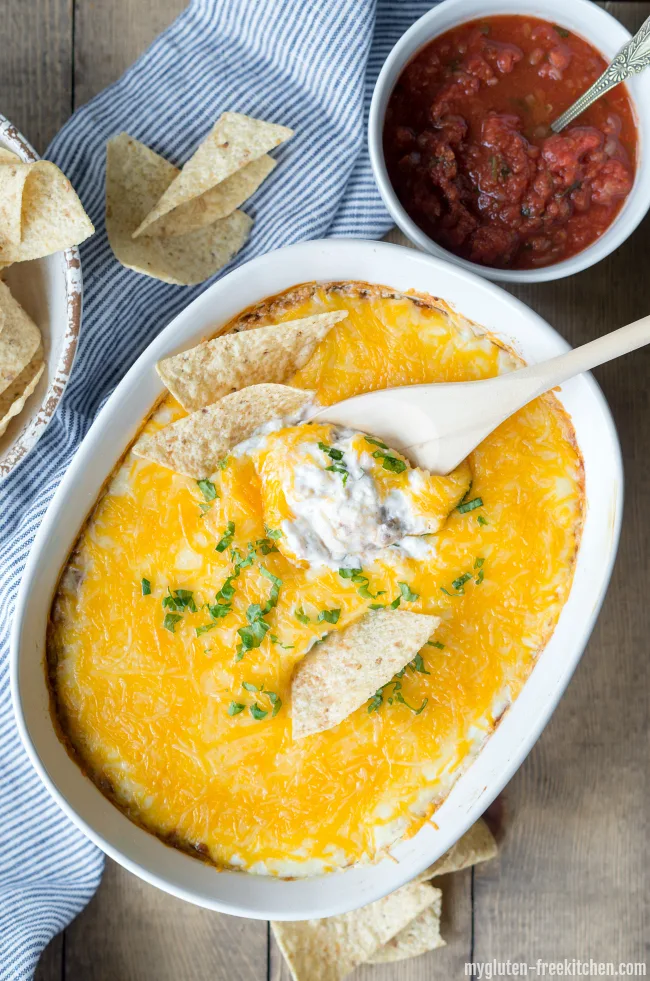 Gluten-free Spinach Artichoke Dip: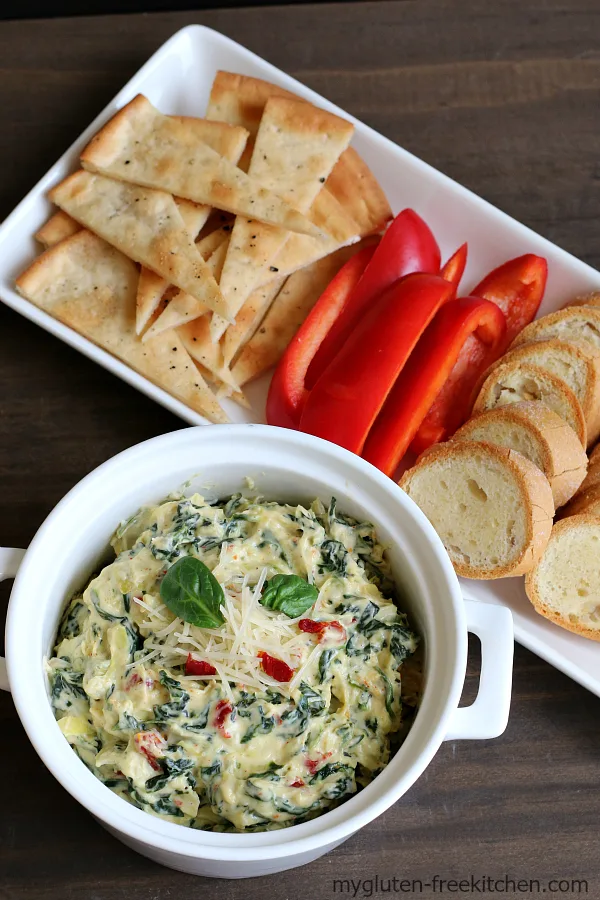 I hope you enjoy this gluten-free appetizer at your next party!
Please do come back and rate and review them afterwards! Thanks!