Gluten-free mudslide cookies are a flourless chocolate cookie that's rich, sweet, and will cure your chocolate cravings! These gluten-free chocolate cookies are free of dairy and nuts too! Thanks to Enjoy Life for sponsoring these flourless chocolate cookies recipe as part of our ongoing partnership.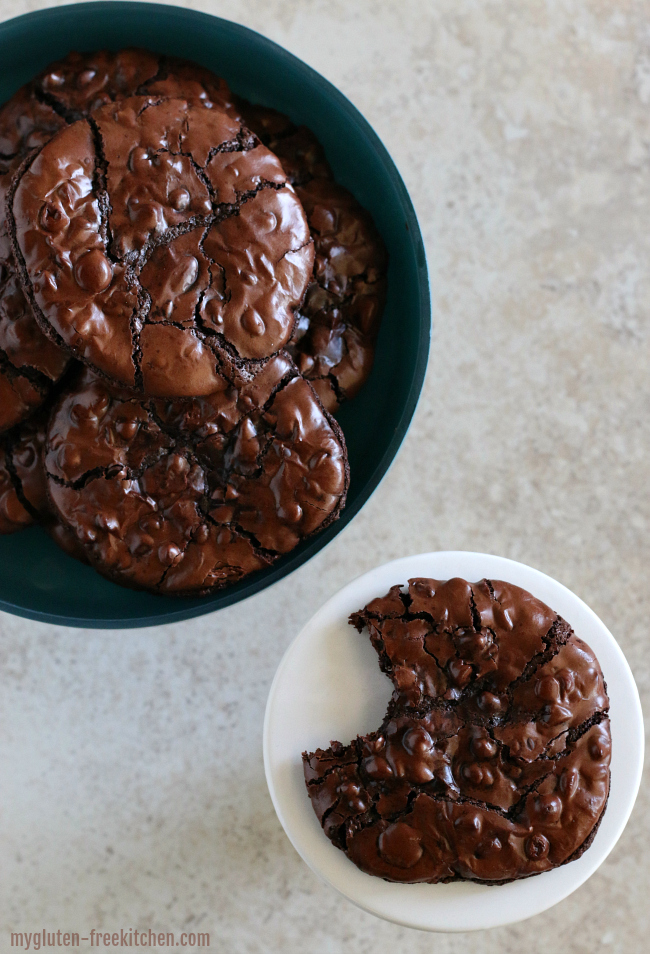 At a gluten-free bakery sometime over the past few years, I tried a cookie called a Mudslide Cookie. It was so rich and chocolatey and sweet that it quickly became my favorite gluten-free chocolate cookie and I knew I'd have to recreate it at home.
It just doesn't get more chocolatey than these flourless cookies, so they're perfect for a self-proclaimed chocoholic like me!
I had never had a chocolate cookie quite like the mudslide cookies, so I went searching online and found many recipes for flourless chocolate cookies that looked similar but not exactly the same as the shiny, rich ones I'd had.
Then I combined a few recipes, and tried these a few times, making changes until I made a cookie that I like even better than the ones I remembered. These are the best gluten-free chocolate flourless cookies!
Whether you call these mudslide cookies or flourless chocolate cookies, I think you'll love them!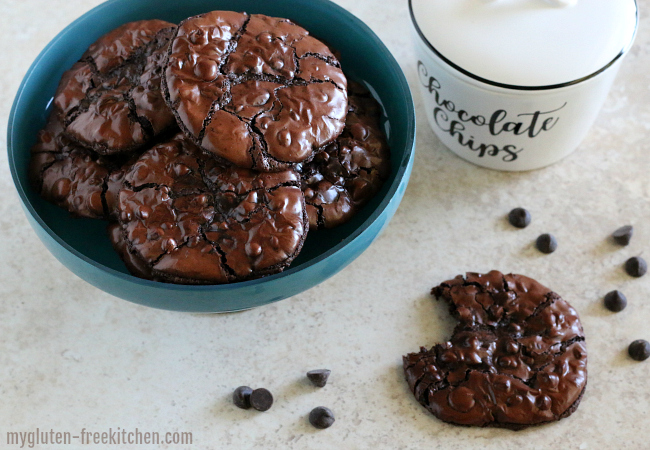 All those lumps and bumps make it seem like these have nuts, but they don't! By using a variety of chocolate sizes, I was able to achieve that bumpy look while still keeping them free of nuts.
Notes on ingredients and substitutions for flourless chocolate mudslide cookies:
Powdered sugar – This acts as a flour in this recipe! If you happen to be avoiding corn, there are several brands that make a powdered sugar that is corn free. I know that as of right now, the Trader Joe's powdered sugar is corn-free.
Cocoa Powder – I've tested this with several and saw no difference between using regular or Dutch cocoas.
Egg Whites – These are essential and I can't offer you an egg substitution for these. Make sure your eggs are at room temperature before you begin too!
Dark Chocolate: I wanted these to be dairy-free and rich, so I used the Enjoy Life Dark Chocolate Morsels in these. Those give the bigger lumps in these mudslide cookies!
Mini chips: My go-to gluten-free, dairy-free mini chips are Enjoy Life semisweet mini chips! They're certified gluten-free as well as free of other top allergens.
I've been using Enjoy Life chocolate for my baking for years now. Why? Because it's certified gluten-free and it tastes great! The chips melt perfectly too!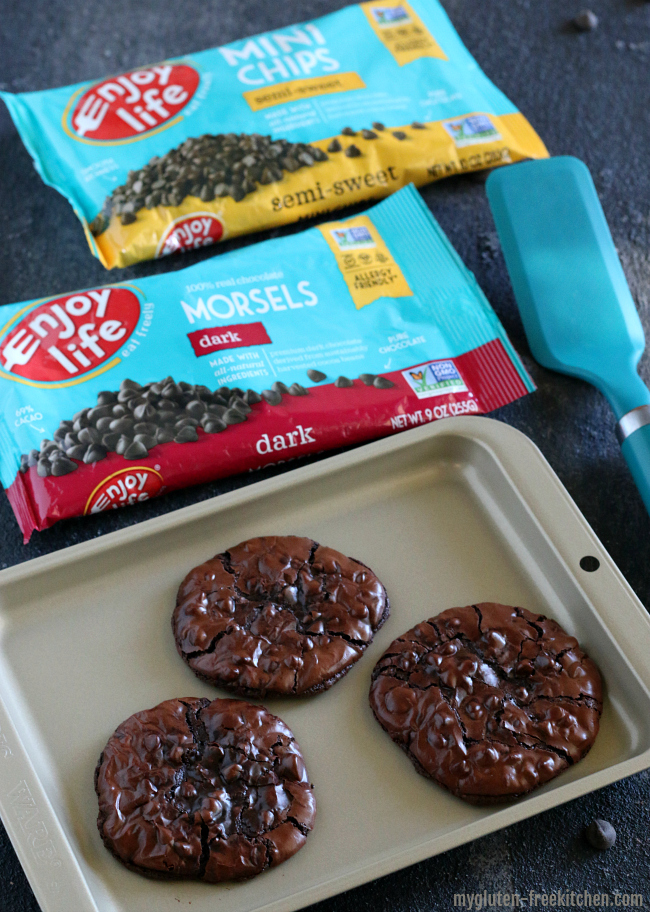 I buy my Enjoy Life baking chocolate locally at stores like Fred Meyer, Albertsons, my local co-op, and even Walmart. The bags of chips are easy to spot since they all have this bright teal packaging now! Some stores place these on the baking aisle with other brands of chocolate chips, while some stores place these in their gluten-free section, so check both places!
When I really want to stock up, I buy multiple packages of them online from Amazon.
I know many of you like to just add them to your Amazon cart with other items you're ordering, so you can find the mini chips here and the dark chocolate morsels here.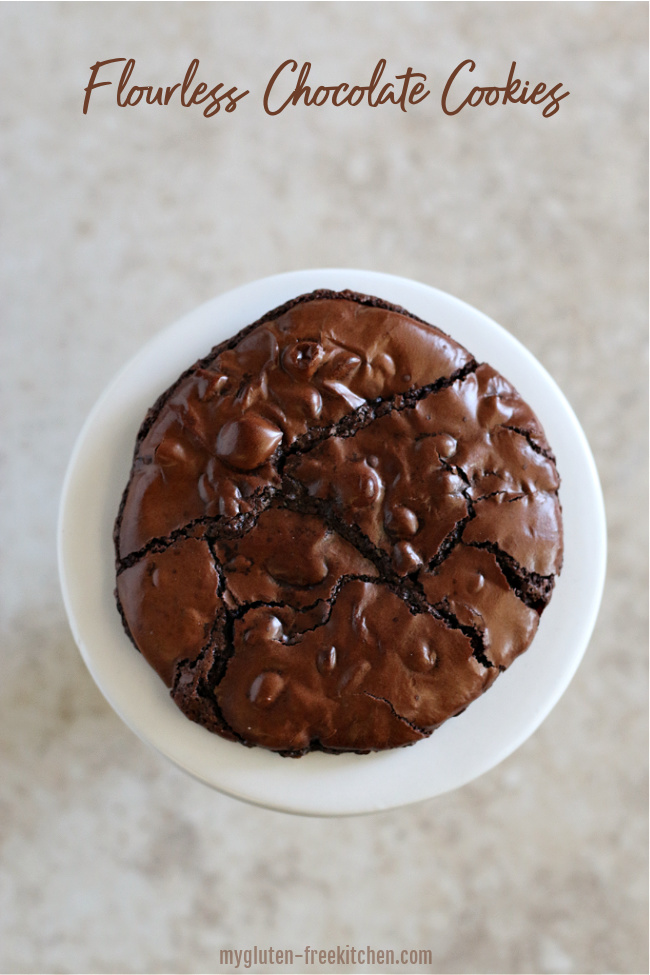 While recreating these, I knew I couldn't make them palm sized like the bakery did – these are just too sweet for that! Instead I made these perfectly sized so you can enjoy one!
I used my #40 cookie scoop to portion these out 12 per pan on parchment paper that's been sprayed with nonstick spray. (Yes, these need both parchment and spray or they stick!)
Here's a look at them ready to bake so you can see the thick batter texture: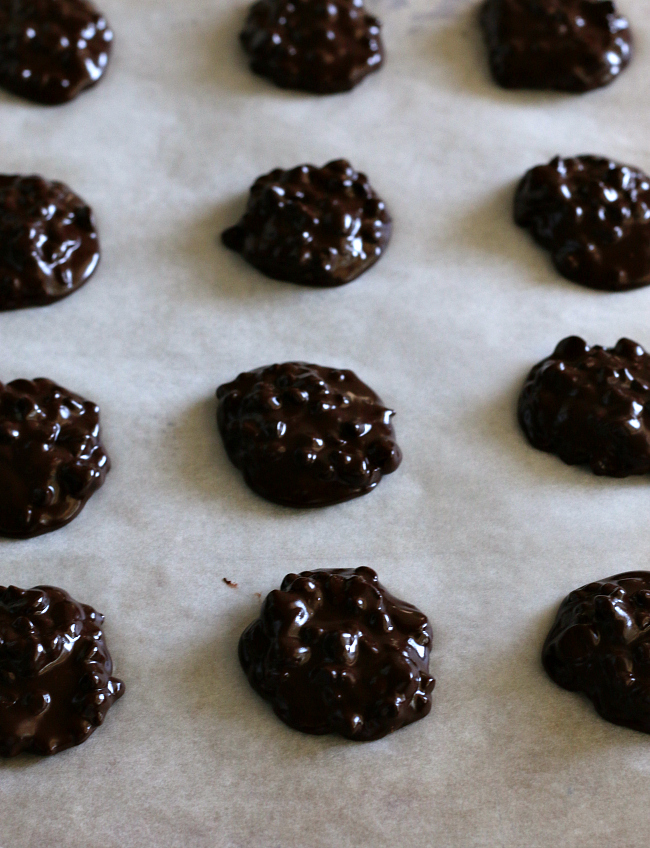 These were perfectly soft and chewy at the 12 minute mark. They had glossy tops and had cracked nicely – that's how I knew they were done! If you'd like yours crisper, feel free to bake a little longer.
These flourless chocolate cookies do get crisper on day two and three though, if any last that long!
Here's a look at these flourless fudge cookies just out of the oven: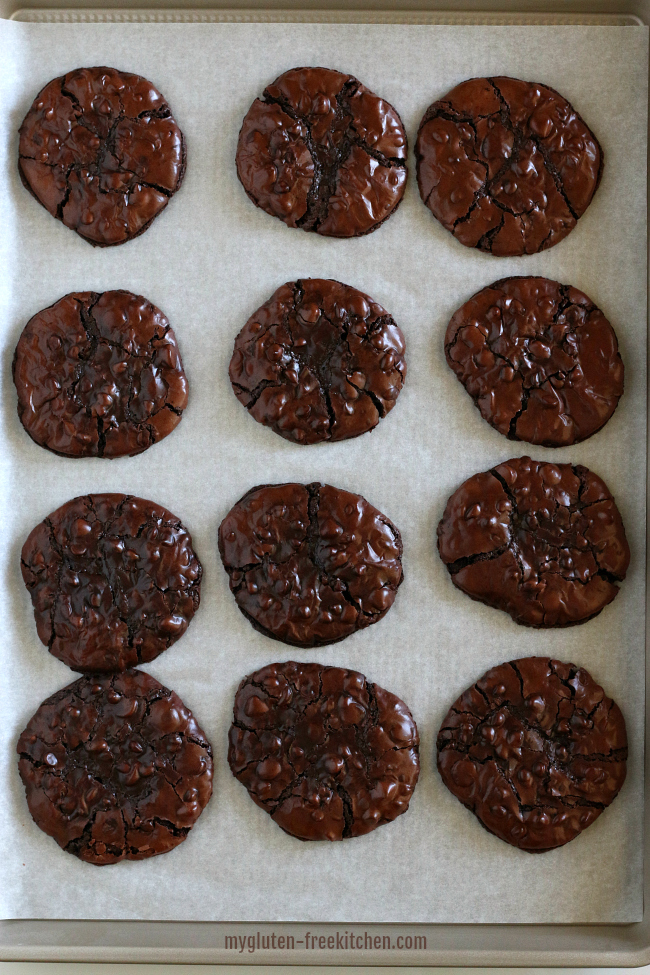 One batch of these dairy-free cookies makes 18 cookies when using a #40 scoop. You can feel free to make them smaller and lessen cooking time a minute or two, or make them larger and lengthen cooking time a minute or two. Just watch for them to be nice and glossy and cracked.
Store leftover cookies in an airtight container or Ziploc bag.
You can freeze the baked flourless chocolate cookies too so that you can pull them out to enjoy another day!
I bet if you put out a bowl of these cookies for company, there won't be any left to freeze though!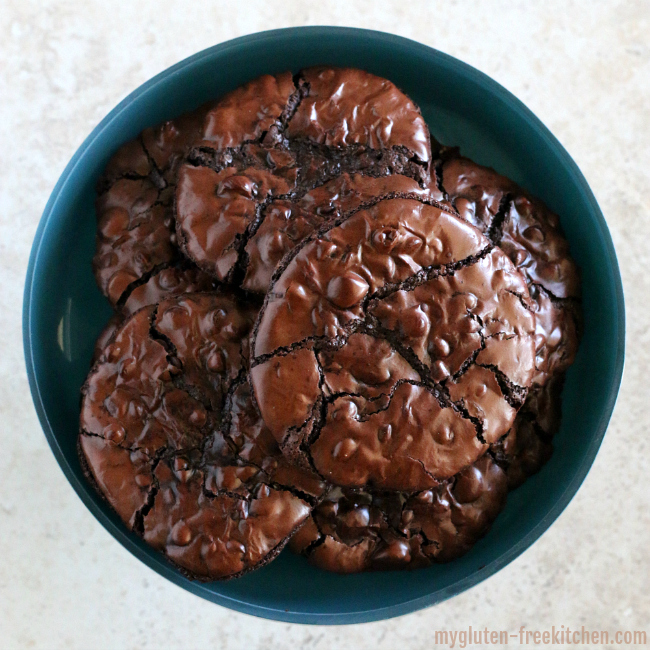 Looking for some other recipes for using your Enjoy Life dark chocolate morsels? Try these buckeye balls that use melted dark chocolate morsels for the coating! My friend Chrystal uses them in her gluten-free vegan chocolate ganache cake that looks so pretty! I used them in one of my favorite pies ever, this gluten-free chocolate cream pie.
I have so many recipes that use the semisweet mini chips! I loved them in these gluten-free banana oatmeal chocolate chip cookies. They're the perfect addition to this holiday gluten-free cranberry chocolate bread. You can use them in this vegan chocolate pie from my friend Erin. I'm dying to make this edible eggless chocolate chip cookie dough soon for a Friday night treat!
My recipe was adapted from these chewy gooey flourless chocolate cookies, some verbal tips from a baker, and various recipes from several cookbooks.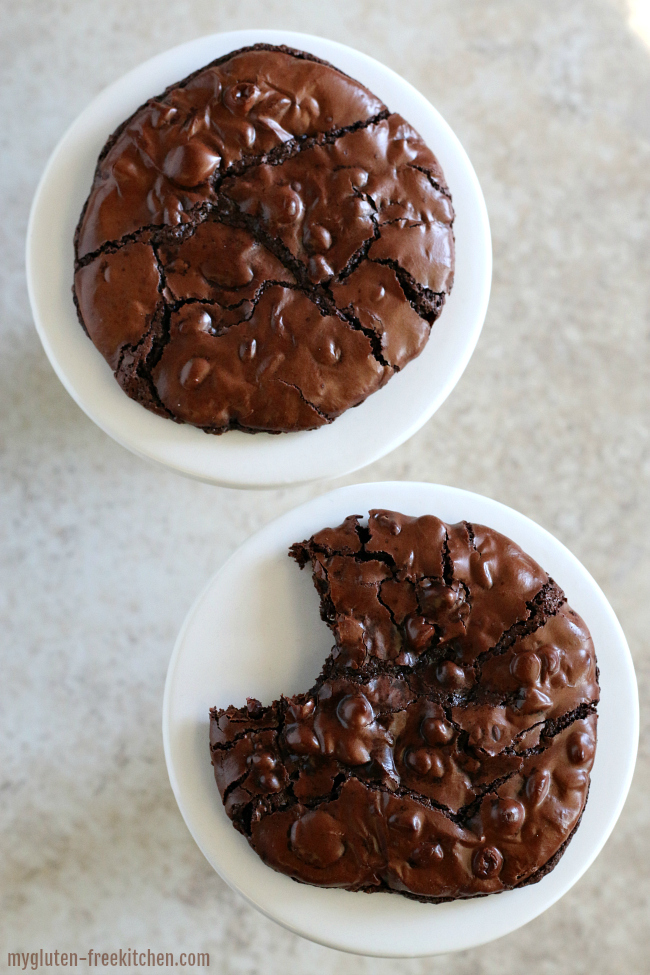 Please come back and rate and review the recipe if you love it!
Okay, enough talking, here's the recipe:
Gluten-free Flourless Chocolate Cookie Recipe:
Yield: 18 cookies
Flourless Chocolate Mudslide Cookies (gluten-free, dairy-free)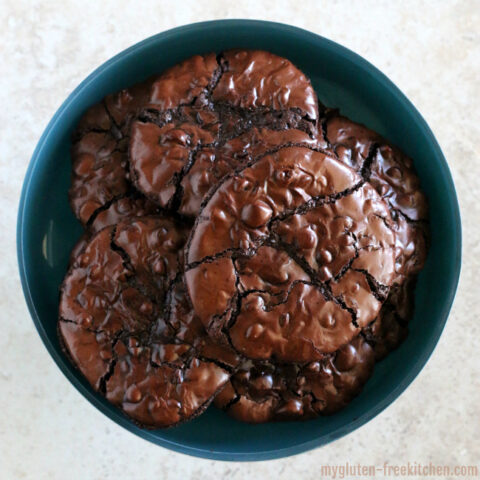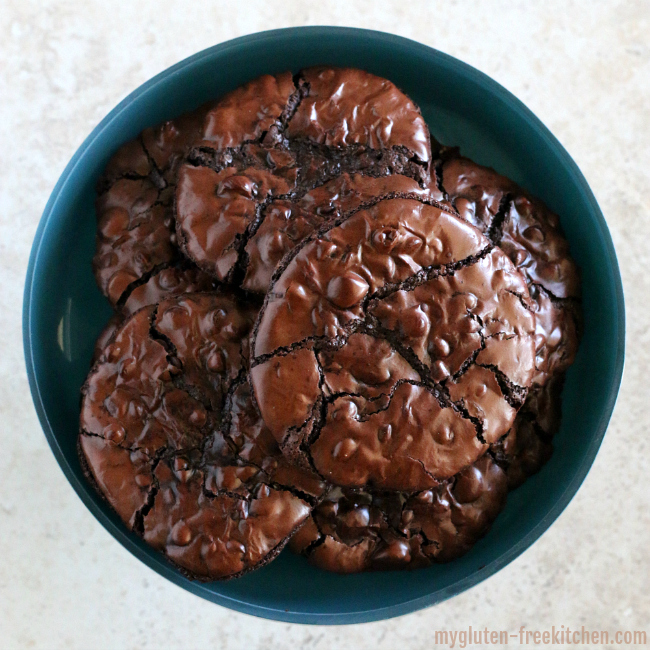 Gluten-free mudslide cookies are a flourless chocolate cookie that's rich, sweet, and will cure your chocolate cravings! These gluten-free chocolate cookies are free of dairy and nuts too!

Prep Time 10 minutes

Cook Time 12 minutes

Additional Time 12 minutes

Total Time 34 minutes
Ingredients
2 3/4 cups powdered sugar
3/4 cup cocoa powder
1/4 tsp. salt
3 lg. egg whites (room temperature)
2 tsp. pure vanilla extract
3/4 cup mini semi-sweet chocolate chips
1/2 cup dark chocolate chips
Instructions
Preheat oven to 350°. Line two cookie sheets with parchment paper. Spray top of parchment paper with nonstick cooking spray (otherwise these cookies really stick!)

To the bowl of your mixer, add the powdered sugar, cocoa powder, and salt. Mix together on low speed until mixed together well. (If you have a whisk attachment for your mixer, use that.)

Add the egg whites and pure vanilla extract and mix on low until mixed. Batter will be very thick when done!

Remove bowl from mixer. Using a spatula, stir in the mini semi-sweet chips and the dark chocolate chips.

Use a medium cookie scoop (#40) to scoop out wet dough mounds onto your sprayed parchment sheets, leaving plenty of room for them to spread during baking. On my large cookie sheet, I did 12, and then 6 on the other cookie sheet. You could do 8 per batch too if your sheet is smaller.

I prefer to bake one sheet at a time for even baking. If you need to use the same cookie sheet twice, be sure to let it cool between batches.

Bake in 350° oven for 12 minutes, or until glossy and cracked and edges are set. They will firm up as they cool too.

Remove from oven and let sit on the pan for 2-3 minutes. Slide parchment paper onto cooling rack for cookies to continue to cool. Enjoy!
Recommended Products
As an Amazon Associate and member of other affiliate programs, I earn from qualifying purchases.


Pin these flourless cookies to your gluten-free cookies board on Pinterest: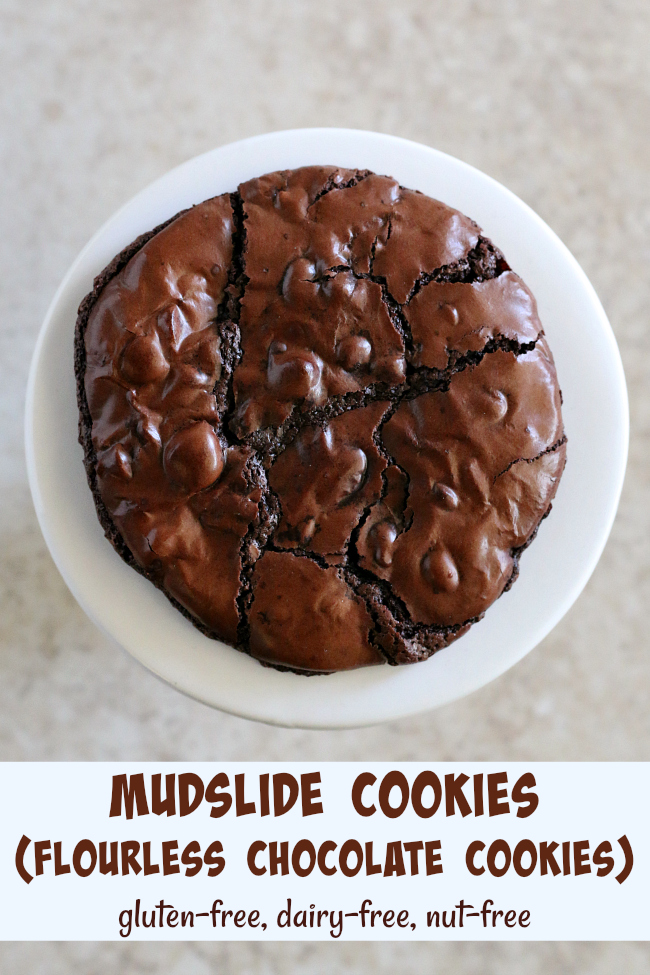 Looking for more flourless cookie recipes or gluten-free cookie recipes? Check out my Gluten-free Cookies Pinterest Board. Lots of ideas there!
This sponsored post was created through my partnership with Enjoy Life Foods. As always, all opinions are my own. Collaborating with brands I love allows me to keep bringing you new and varied recipes! Thanks for your support!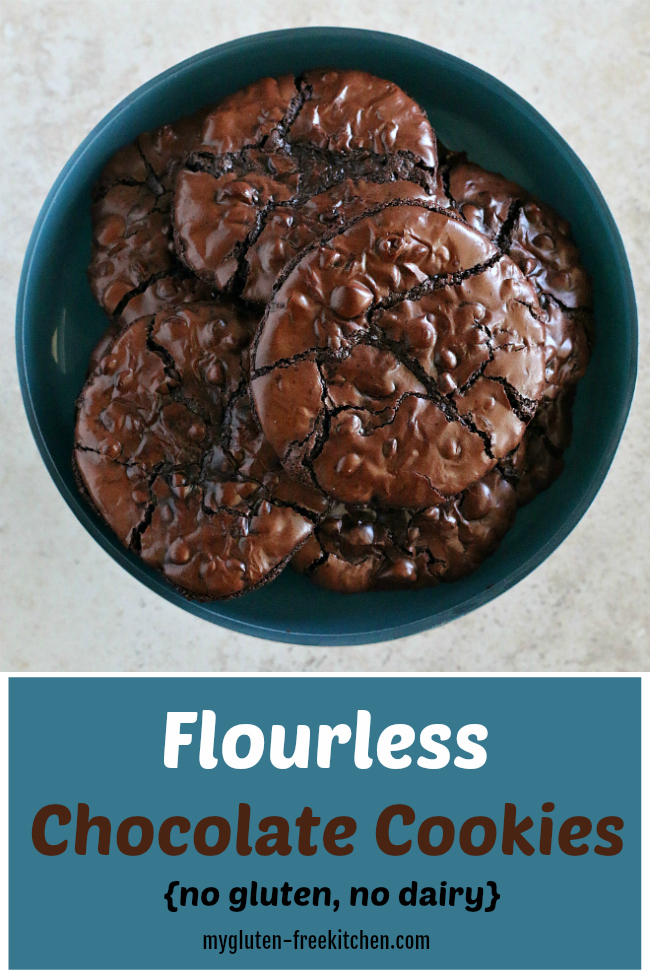 I hope you and your friends and family enjoy these flourless cookies as much as mine did!
I made the mudslide cookies exactly as directed and they came out AMAZING! This recipe will definitely be on repeat!
Saturday 9th of January 2021
What is the egg substitute? My son is allergic to eggs, dairy, wheat, peanuts, and tree nuts. We love enjoy life chocolate, he would love these but can't have the egg.
Thursday 10th of December 2020
Yummy cookie. Followed directions to the letter however ours never spread or got shiny.
Monday 9th of November 2020
Can I make the dough in advance, freeze it and them bake when desired? Thanks!
Tuesday 10th of November 2020
No that won't work for these.
Monday 26th of October 2020
This recipe did not work for me at all. I don't know what I did wrong. I followed every ingredient and every direction and ended up with a solid mass of dough in the bowl and couldn't even get all the powder incorporated into it. At least I have an easily-disposable lump I can put in the trash. I don't blame you or the recipe. I'm sure I did something wrong.