This gluten-free pretzel bark is a yummy sweet and salty snack!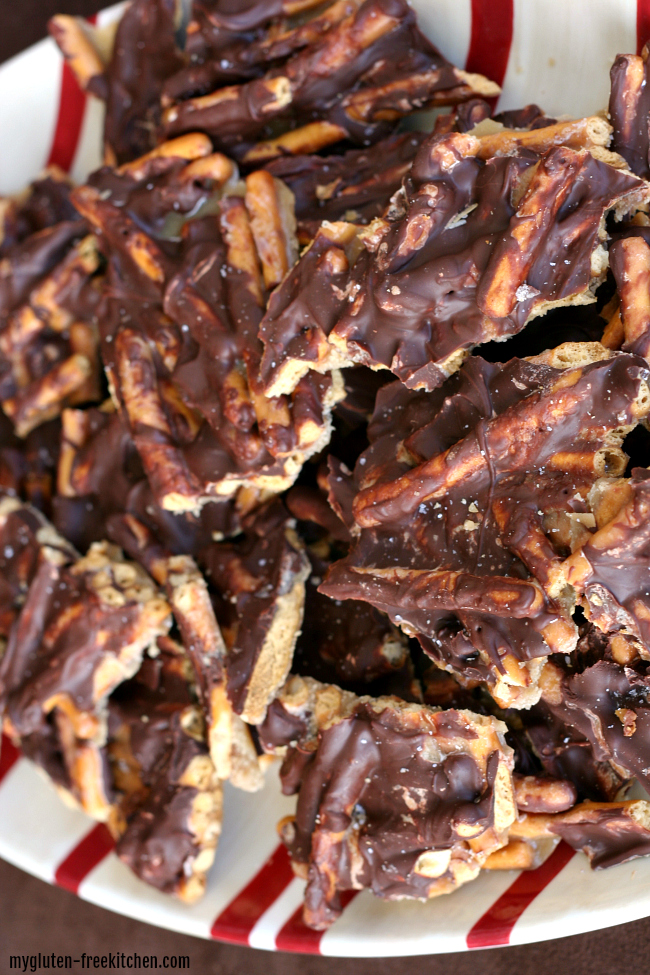 Today I'm sharing with you one of the easiest treats to make that is also so yummy! I love chocolate, caramel, and pretzels, so this gluten-free chocolate caramel pretzel bark was a hit with me the first time I tried it!
I've made it twice now in the past few weeks, first at a Super Bowl party and then for a smaller group get together. Both times, everyone loved it and kept going back for more! It is very addicting!
Crisp and salty gluten-free pretzels are topped with a simple homemade caramel mixture of butter & sugar, then topped with melted semi-sweet chocolate. The addition of a bit of sea salt on top complements all of the sweetness from the homemade caramel and chocolate.
There are several brands of gluten-free pretzels. My favorites are the Glutino pretzels, which are widely available nationwide and available from Amazon here, and the Snyder's Gluten-free pretzels which are, unfortunately, more difficult to find in my area but are available from Amazon here. I made a batch with each brand and they were both delicious!
This pretzel bark recipe is a blend/adaptation of one that I found via Pinterest on a site that is no longer active. I made it the first time using the double boiler method to melt the chocolate before spreading. The second time I made this, I sprinkled the chocolate chips over the pretzel/caramel mixture after baking, and then put back in the oven to bake an extra 2-3 minutes to melt the chocolate. Then it is easy to spread, and you save yourself the hassle (and extra dishes) of melting the chocolate over the double boiler. Be sure to check to make sure your chocolate is gluten-free and not made on shared equipment with wheat. Some of the chocolate I've tested on this are Guittard semi-sweet chips and Trader Joe's semi-sweet chocolate chips.
This is definitely among the "uglier" desserts out there. I'm including a pic to show you how it looked when it came out of the oven after melting and spreading the chocolate on top. After you let it cool, break it into chunks for snacking!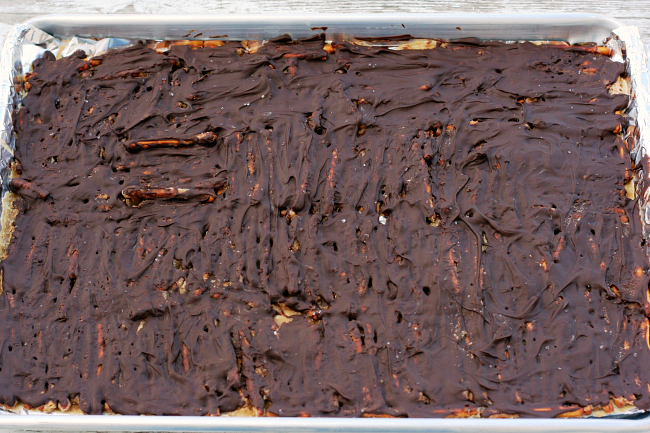 The key to this recipe is definitely making sure you chill it plenty before trying to break and peel from the aluminum foil or parchment. It seems a number of people commented that their mixture stuck to their foil. I only had that problem on the first batch, and only in the very center of my pan where it hadn't cooled completely before trying to break and peel. So if it is sticking, chill it even longer, then break up.
I stored and served this at room temperature, but if it seems too sticky, feel free to chill until serving. I can't say what these are like on day 2, because both times the entire pan of these were consumed within an hour of serving!
Another fun party snack to share is my apple nachos! You can even use crumbled pretzels on those too!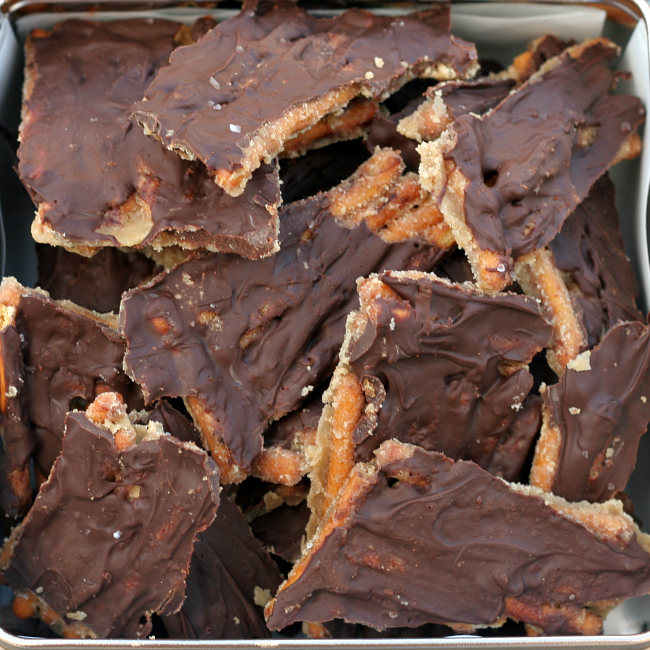 You can also package this salted caramel pretzel bark up for gifting as a gluten-free Christmas treat too! Another favorite gluten-free treat that I like to gift is these homemade gluten-free caramels.
With the leftover gluten-free pretzels you have, you might want to try these gluten-free pecan pretzel chocolates from my friend Amanda!
Gluten-free Pretzel Bark Recipe:
Yield: 12 servings
Gluten-free Pretzel Bark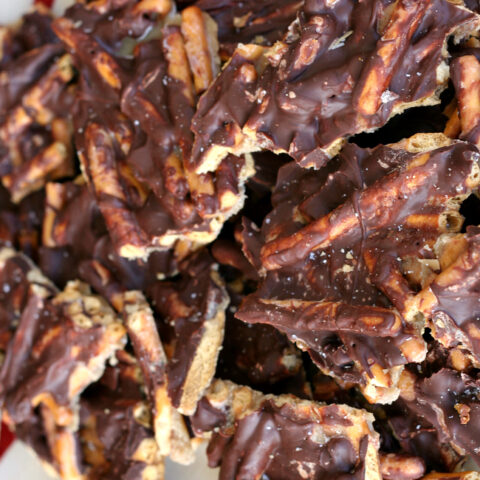 Sweet and salty snack lovers will love this gluten-free pretzel bark! Salty pretzels with sweet caramel and chocolate!

Prep Time 5 minutes

Cook Time 15 minutes

Additional Time 2 hours

Total Time 2 hours 20 minutes
Ingredients
1 cup (=2 sticks = 16 Tbsp.) of butter
1 cup packed light brown sugar
1/4 tsp. sea salt
1/2 tsp. pure vanilla extract
5 cups gluten-free pretzel sticks
12 oz. bag of semi-sweet chocolate chips
Additional coarse sea salt for sprinkling
Instructions
Line a jelly roll pan with aluminum foil. Don't use a cookie sheet without edges as your caramel will run off! Preheat the oven to 400°.
Cover the pan with a single layer of pretzels (okay if some overlapping).
Melt the butter in a saucepan over medium heat. Once the butter is melted, add the sugar and stir to incorporate. Allow the sugar and butter to softly simmer and bubble, but don't let it boil, so adjust the heat accordingly. Stir frequently. The browning process should take about 3-4 minutes from when it starts to bubble. It will thicken as it cooks as well.
Remove from heat and stir in the vanilla extract and sea salt. Pour caramel mixture evenly over the pretzels. Don't worry if every bit doesn't get covered. The caramel will melt further and fill in most of the gaps.
Put in the oven at 400° for five minutes. Remove from oven, sprinkle chocolate chips over the surface, and put back in oven for 3 minutes or until chips are melting and easily spreadable. Remove from oven; use a spatula to spread the melted chocolate chips over the whole surface.
Sprinkle extra sea salt over the surface to your liking.
Let cool on the counter top for a few minutes and then pop into the fridge or freezer for at least two hours.
When it comes out of the fridge/ freezer, break it up into uneven chunks with your hands and serve.
Notes
Don't walk away while the butter mixture is cooking! Stir frequently!

As always, be sure to double-check all of your ingredients to ensure they are gluten-free.
Recommended Products
As an Amazon Associate and member of other affiliate programs, I earn from qualifying purchases.


Pin this to your gluten-free snacks board on Pinterest: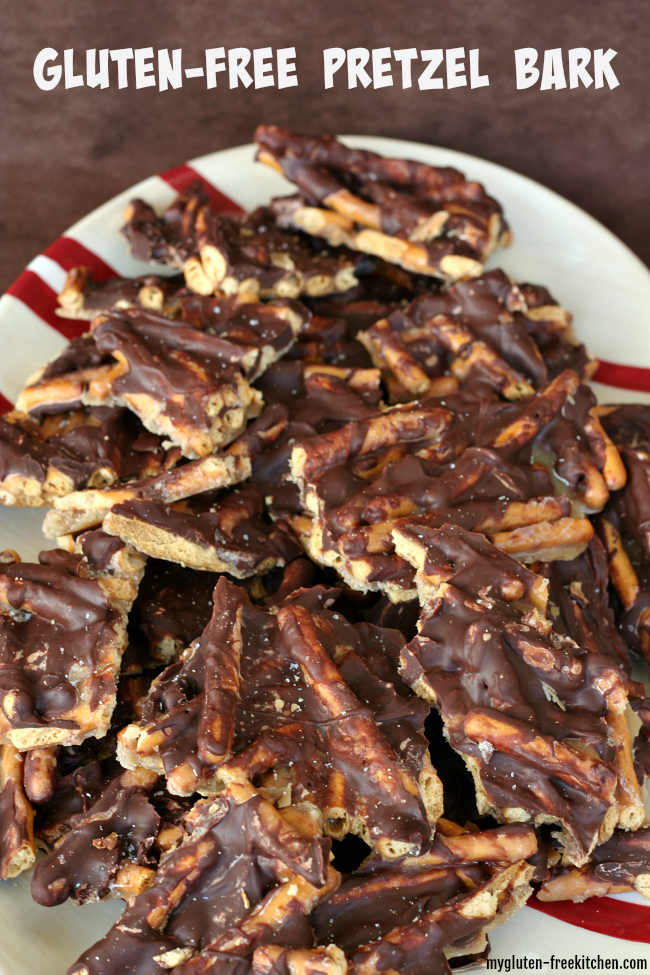 Sunday 15th of December 2013
I was SO looking forward to making (and sharing/eating) this gf bark. I have to say, I'm very disappointed in the chocolate aspect of it. The chips did not melt at all in the oven. They weren't even the tad bit spreadable at 3 minutes. I kept putting them in, taking them out to check. I lowered the temp for fear the chips would cook and the caramel would burn. Still, after 10 minutes not able to spread. They were barely melting. SO disappointed. These were going to be for a staff holiday cookie bake at the school where I work. There are a number of us that are gf. I haven't tasted it yet, although I'm sure it will be yummy, there is no way I can bring it to school. If I try this again, I think I would try melting the chips in the microwave or stove top like other bark recipes.
A note about gf pretzels....most of the comments are nearly a year old, and I've found that gf pretzels are more readily available (and much tastier!). We LOVE Snyder's gf pretzels. Sticks or knots. Glutino pretzels are pretty good, but you would need two bags for the amount called for here. HTH!
Sunday 15th of December 2013
Tammy, I tried to email you directly to talk to you about your frustrating experience, but your email bounced right back to me, so I guess you entered it incorrectly. I am so sorry that you had a frustrating experience! Can you tell me what kind of chocolate chips you were using? I've never experienced chocolate chips that don't melt. I've tried several brands, and asked around a half dozen other gals tonight, and all of them had never experienced that with semi-sweet chocolate or milk chocolate. I know the white chocolate or vanilla chips don't melt well, but you didn't mention those. I'd love to know so I can mention this in my post so others won't experience your same frustration. If you decide to try again, definitely feel free to melt the chocolate first like you are used to. I just recommended this as a time saver and because all of the brands I've tried have melted just great this way. I've had no problem with any of my favorite brands: Guittard and Ambrosia. I wouldn't recommend you use carob chips or some other alternative. Please do let me know!
Tuesday 26th of November 2013
Are these pretzel sticks or the circular ones? I wonder if this would this work with salted popcorn, I like the cracker idea too.
Tuesday 26th of November 2013
Gwen, I've made a batch with the curvy ones and a batch with the sticks - both worked well! Oooo, you've really got me thinking with that popcorn idea too! :)
Saturday 23rd of November 2013
OH MY GOD! These are amazing! Thanks for the recipe!
Tuesday 26th of November 2013
Megan, So glad you enjoyed them! I agree, they sure are amazing! I brought the stuff along to make these while visiting the in-laws this week for Thanksgiving and can't wait until I make them. They are hard to stay out of though!! Hope you have a delicious Thanksgiving Megan! ~Michelle
Thursday 14th of March 2013
These look great, though I have to say I don't find many of the GFree pretzels out very tasty, too tough. Wonder how this would be with a layer of Schar gluten free crackers, then the caramel, then another layer of crackers or just top the caramel with the chocolate. And you could make a ganache to top it off with, instead of just the chips.
Tuesday 26th of November 2013
Joan, So sorry that I somehow missed seeing this comment and replying to it in a timely manner. I think the gluten-free pretzels are getting better and better so I'm sure you'll find one you like for this. That cracker idea would probably work great as well! Let me know if you try it!