I'm so excited to bring you this recipe for gluten-free Hot Cross Buns. These are a new tradition for my family and hope you and your family will enjoy them too!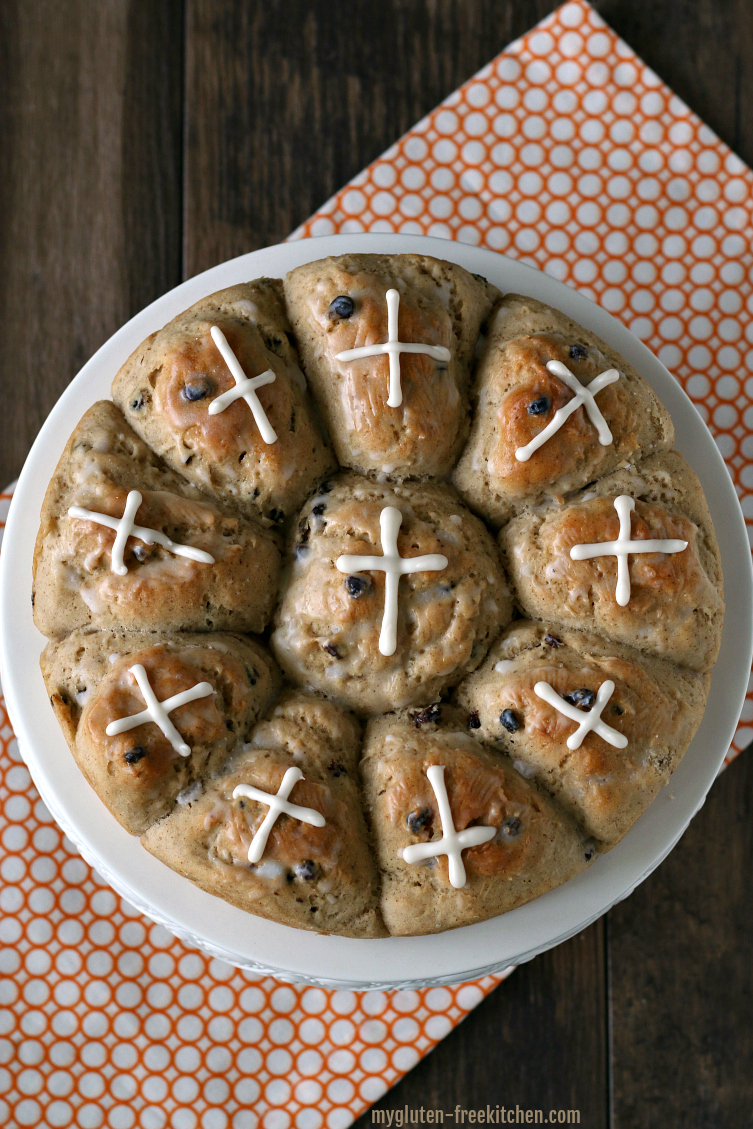 I've got just the addition to your family's Easter traditions. Whether you enjoy these gluten-free Hot Cross Buns on Good Friday or Easter Sunday, or any other day this spring, I think you'll love them!
Hot cross buns are a sweetly spiced dough filled with raisins or Zante currants, shaped into rolls, baked, then iced with a simple frosting in the shape of a cross.
There are a number of theories about the origin of hot cross buns, but they've definitely been around for hundreds of years. I enjoyed reading a bit about the history of hot cross buns in this article from the Kitchn.
I'd only had hot cross buns once before, many years ago, so I wasn't sure what all was usually in them. I enjoyed looking around the internet and in cookbooks for inspiration of typical ingredients in hot cross buns.
Spices like cinnamon, nutmeg, cloves or allspice are common ingredients. Raisins or Zante currants were almost always included. Some bakers like to include other dried fruits, candied orange, or zest in their buns too.
I decided to go with a classic take on them, using spices and Zante currants in mine.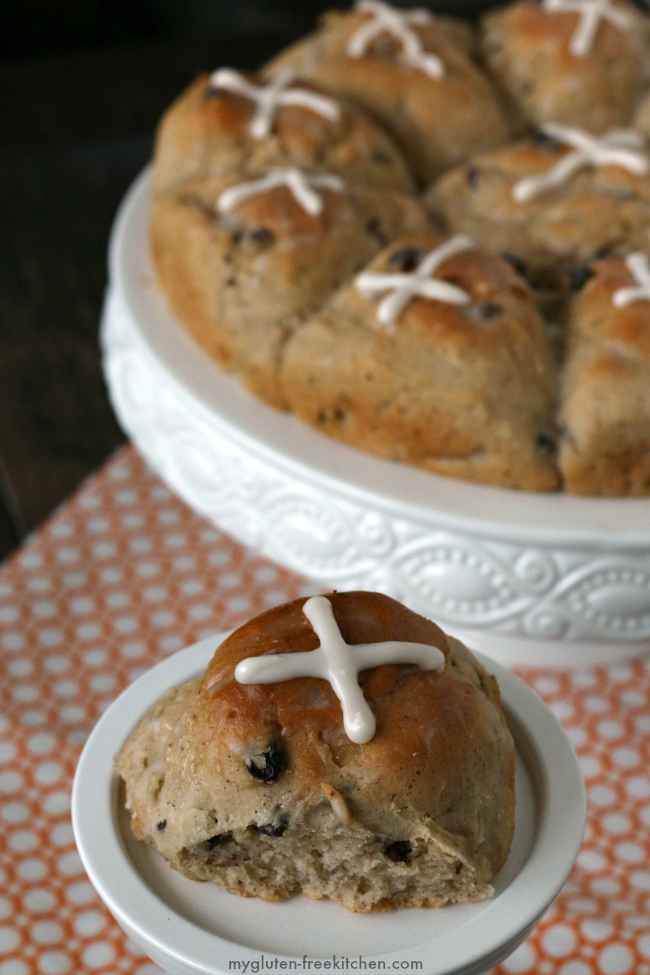 Many of the recipes that I looked at for hot cross buns were made with a good amount of dairy, but since I have so many dairy-free readers, I really wanted this recipe to be dairy-free too. I easily swapped out milk for cashew milk or flaxmilk, and replaced butter with coconut oil.
I went with my tried and true gluten-free pull-apart rolls recipe for the base for these hot cross buns. Those rolls are so good and so many of you have had success with making them. I made just a few changes and they worked perfectly.
Notes on ingredients and substitutions for these gluten-free hot cross buns:
I opted to use Zante currants. They are made from tiny grapes and I've found that while I dislike raisins, I do like Zante currants. Why? They are so small that they add just a bit of flavor without a weird mushy texture that you can get from raisins. They can usually be found in a box near the raisins and dried cranberries at your local store, though I admit I had to go to 2 stores before I could find them here locally! You can also order online – I get them here at nuts.com usually or these Gerbs brand currants (via Amazon here) that are on dedicated gluten-free and allergy free lines.. Note that Zante currants are not actually currants, which is why I specified what they are called.
You'll notice that I decided to soak my Zante currants in warm orange juice. This helped the currants be a little more moist and added just a hint of flavor to the rolls, which I loved. You could also soak your currants in rum, apple juice, or even just warm water.
For years I've recommended using Gluten Free Mama's Almond Flour Blend but it has become very difficult to find in stores or online. I've had great success now using Authentic Foods gluten-free multi-blend in these and all my gluten-free roll recipes. If you can't use these and would like other recommendations, be sure to visit my gluten-free dinner rolls recipe for the full scoop. I've tested with several flour blends and there are over 200 comments from people that have tested other blends with success too.
Since I wanted these rolls to be a bit creamier, without using dairy, I opted to use a non-dairy milk alternative. I've tested these with Silk Cashewmilk and also with Good Karma Flaxmilk. Your favorite dairy-free milk will work fine! If you can have dairy, feel free to use regular milk.
I use SAF instant yeast so that I can skip the step of proofing my yeast and so that the rolls can rise in half the time. If using active dry yeast, go ahead and proof it in the warm water and warm non-dairy milk just as you usually would, and double the time allowed for the dough to rise.
Egg-free: If you'd like to make these to be gluten-free vegan hot cross buns or are avoiding eggs due to allergy, then try this egg free option: ¼ cup water + 1 Tbsp. ground flaxseed. Simmer water and flaxseed over medium low heat for about 5 minutes until thickened. Stir frequently. Allow to cool. This is equal to one egg.
Some of these very same ingredients, like cinnamon, dairy-free milk, and coconut oil are used in my friend's gluten-free vegan coffee cake recipe, so make sure you try it too!
Here's a look at what these hot cross buns look like before baking: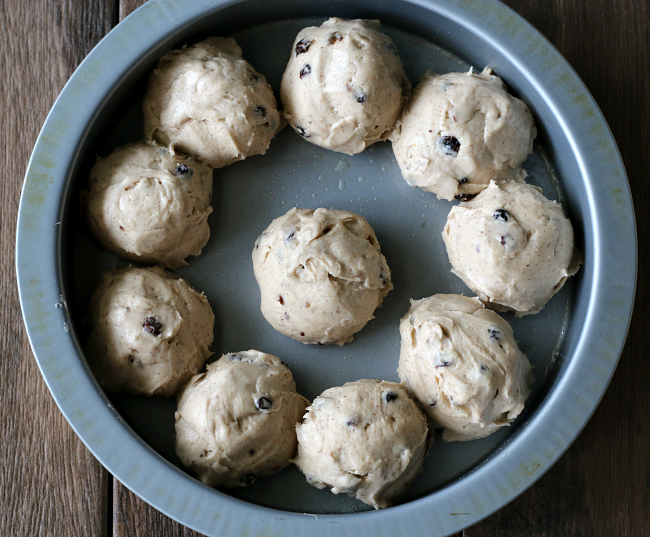 After baking for 24-26 minutes, your gluten-free hot cross buns will be golden brown and when you measure the internal temperature of one with a good thermometer, it will register 200 degrees. Here's a look at what they'll look like just out of the oven.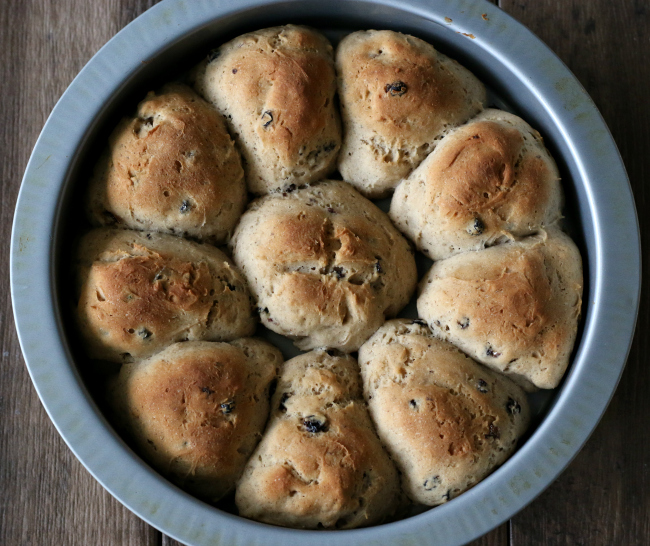 I hope you'll try these gluten-free cross buns soon and they become part of your family tradition for Easter! Are there any other holiday food traditions that you're missing? Let me know and I'll try to help get you a great recipe for it!
Another favorite gluten-free Easter recipe is these dairy-free chocolate eggs. And if you're making a gluten-free Easter brunch, check out my gluten-free breakfast casserole recipe. And for Easter dessert, make my gluten-free carrot cake.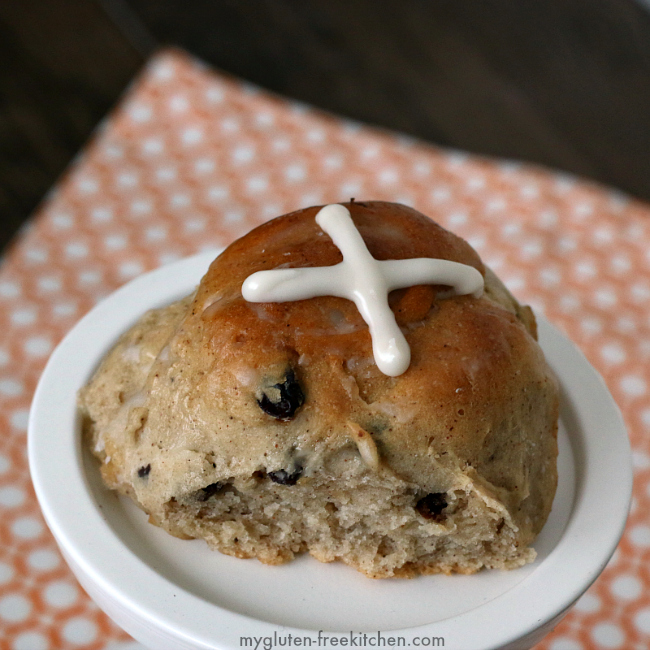 Gluten and dairy-free Hot Cross Buns recipe is mine. Icing recipe adapted from King Arthur.
Gluten-free Hot Cross Buns Recipe:
Yield: 10 rolls
Gluten-free Hot Cross Buns (dairy-free too!)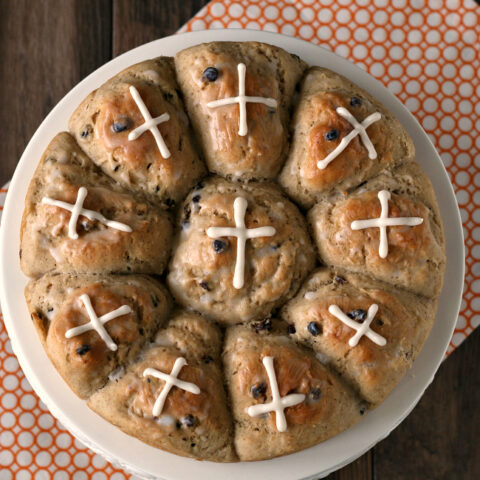 Gluten-free Hot Cross Buns for your Good Friday or gluten-free Easter Sunday. Includes options for dairy-free and egg-free.

Prep Time 1 hour 30 minutes

Cook Time 25 minutes

Additional Time 15 minutes

Total Time 2 hours 10 minutes
Ingredients
Buns:
1/4 cup Zante currants or raisins
1/8 cup orange juice
2¾ cups (11½ oz.) good quality gluten-free flour blend
1 1/2 tsp. xanthan gum *see note
2 tsp. SAF instant yeast
1/4 cup sugar
1 tsp. salt
1 tsp. cinnamon
1/4 tsp. allspice
1/8 tsp. nutmeg
1/2 cup warm non-dairy milk alternative
3/8 cup warm water (105-110°)
2 Tbsp. dairy-free margarine, coconut oil
1 egg (preferably room temp)
1 tsp. cider vinegar
1/2 tsp. pure vanilla extract
Icing:
1 cup plus 2 Tbsp. powdered confectioner's sugar
1/2 tsp. pure vanilla extract
pinch of salt
1 Tablespoon non-dairy milk, plus additional as needed
Instructions
Buns:
In a small bowl, soak the currants in the orange juice. Place in microwave for 15-20 seconds or until warm. Let sit while you prepare rest of recipe.
In the mixing bowl of your electric mixer, mix together flour, xanthan gum, instant yeast, sugar, salt, cinnamon, allspice, and nutmeg.
With mixer running on low speed, add in the warm water, warm dairy-free milk, melted shortening/coconut oil, egg, cider vinegar, and vanilla extract.
Mix on medium speed for 2 minutes. Scrape down the sides of the bowl.
Dump in the Zante currants with all of the orange juice they were in.
Mix on medium speed for 1 minute.
Remove bowl from mixer and stir with a spatula to make sure everything on the bottom got mixed in well.
Spray 8" or 9" round cake pan or pie plate with cooking spray. Using a large #20 cookie scoop or 1/3 cup measuring cup, scoop dough into 10 mounds in the pan. I place one mound in middle, then scoop 9 mounds of dough side by side all the way around the pan. I didn't want them quite as large as my dinner rolls, so I made 9 instead of 10.
Dip your fingertip into warm water and use to smooth out the tops of the rolls, continuing to wet fingers minimally as needed.
Cover with a dry towel and let rise in a warm place 45 minutes to 1 hour.
During the last few minutes that the rolls are rising, preheat oven to 400°.
Bake in 400° oven for 24-26 minutes. Tops should be golden brown and if you measure temperature of dough, it should measure 200°.
If desired, for shine, brush rolls with additional 1/2-1 Tablespoon of melted shortening, coconut oil, or margarine.
Once cool, remove from pan onto serving plate or platter.
Icing:
Once the rolls are cool, whisk or mix together icing ingredients, adding additional non-dairy milk as needed until you have a thick icing that you can pipe on. Scoop into a decorating bag that is fitted with a skinny circle tip. Pipe crossed lines onto each cooled bun.
To serve, I recommend a quick 15 seconds in the microwave as it softens up the dense dough and really makes these perfect!
Feel free to save leftover icing for people to add to their buns if they have a sweet tooth!
Store buns tightly covered at room temperature. These are best the first 2 days.
Notes
*I recommend using a good quality gluten-free flour blend that is not only rice flour and does not have any bean flours. I've had success with Authentic Foods Multi-Blend Flour, Gluten Free Mama's almond flour blend, Cup4Cup, and Pamela's.

* If the gluten-free flour blend you use already has xanthan gum or guar gum in it, then ADJUST the xanthan gum called for in this recipe. I would add 1/2 tsp. xanthan to the flour you measure out. If you do not have xanthan, you could make these without IF your blend has it already - but you'll get better results adding the additional 1/2 tsp.

*If you do not have instant yeast, you can use active dry yeast that you proof in the warm water called for in the recipe with a bit of sugar, just as you would usually do in a yeast recipe. The instant yeast used here skips this step, as well as cuts the rising time in about half. If using regular active dry yeast, you'll need to allow double the rising time.

*Egg-free: If you'd like to make these to be gluten-free vegan hot cross buns or are avoiding eggs due to allergy, then try this egg free option: ¼ cup water + 1 Tbsp. ground flaxseed. Simmer water and flaxseed over medium low heat for about 5 minutes until thickened. Stir frequently. Allow to cool. This is equal to one egg.


Pin this to your Gluten-free Easter board on Pinterest: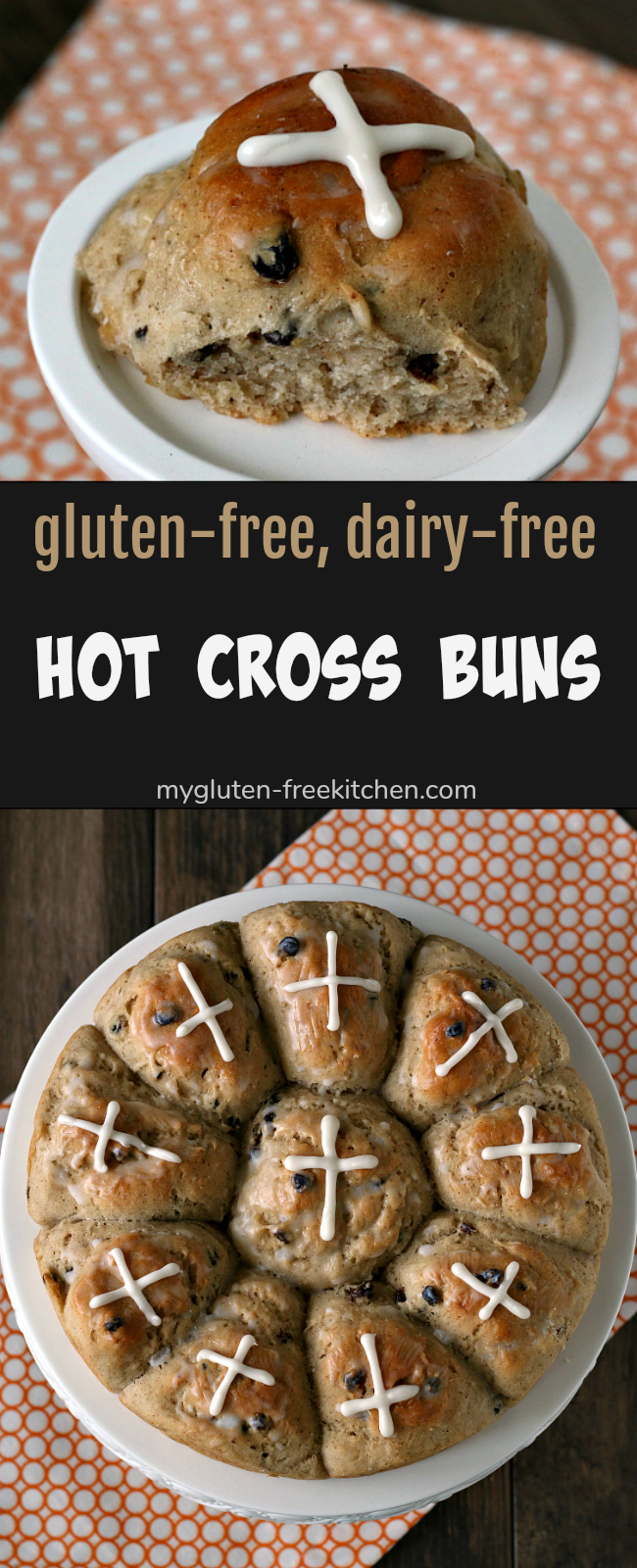 And don't miss the chance to make these gluten-free pull-apart cinnamon rolls for Easter brunch!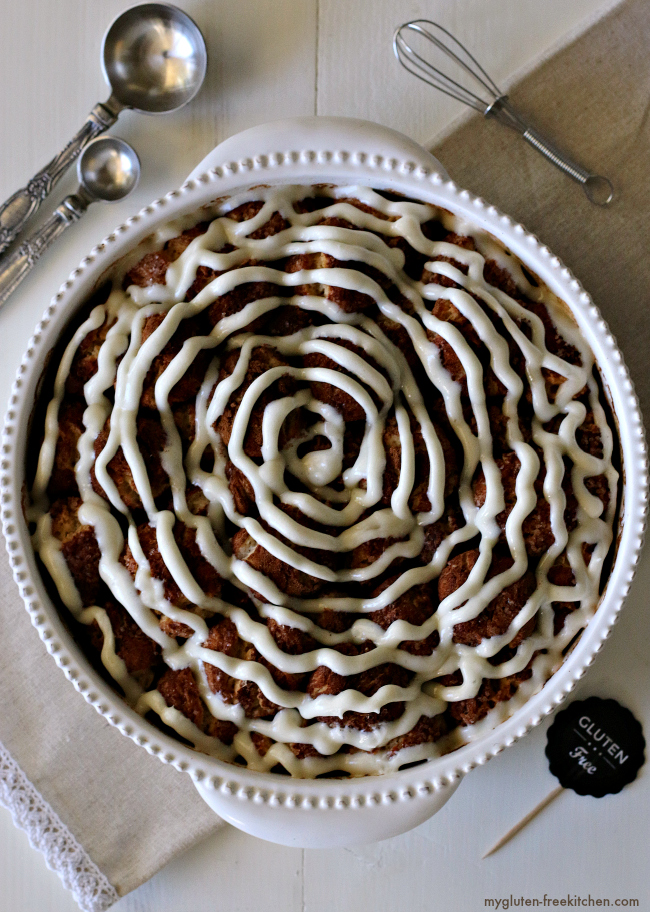 I hope you enjoy this gf hot cross buns recipe!
Please come back and leave a rating and comment if you like them!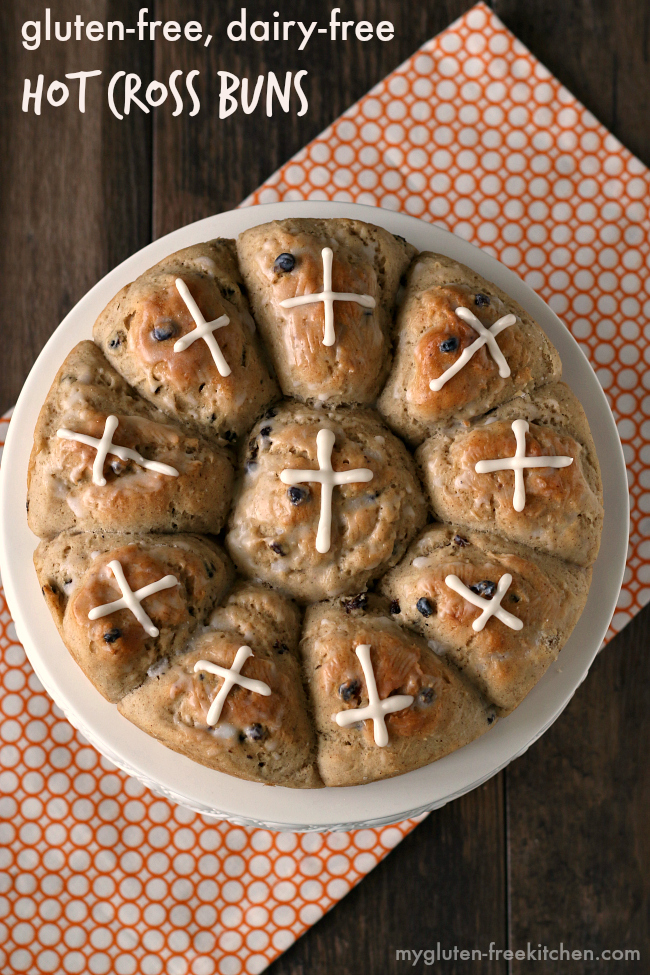 Tuesday 23rd of March 2021
[…] 1. Whip up a batch of hot cross buns, check out this recipe or this vegan/ gluten free one here […]
Sunday 14th of March 2021
Do gf hot cross buns freeze well?
Wednesday 31st of March 2021
@Chris, Try freezing just one for a few hours then bring it out to see the effect. All you would lose is one bun after all - or you may have a success.
Friday 10th of April 2020
What should you do if you do not have yeast? What would you suggest?
Saturday 11th of April 2020
Yeast is necessary for bread and buns, so if you don't have it you could try a muffin or cake recipe instead. Maybe the coffee cake recipe linked to in the article?
Friday 10th of April 2020
These were fantastic! Our daughter was diagnosed with Celiac disease 5 years ago and this is the best yeast bread we have made yet. I have no idea how well they will taste cool as our family of six made quick work of them. :). Thank you for sharing this recipe. I am looking forward to browsing your site for more yumminess!
Thursday 9th of April 2020
Making hot cross Buns today my mix looks like ill only get 5, not sure what I did wrong