Gluten-free chocolate cupcakes are topped with an amazing fresh raspberry frosting. These gluten-free chocolate raspberry cupcakes are perfect served at wedding or baby showers!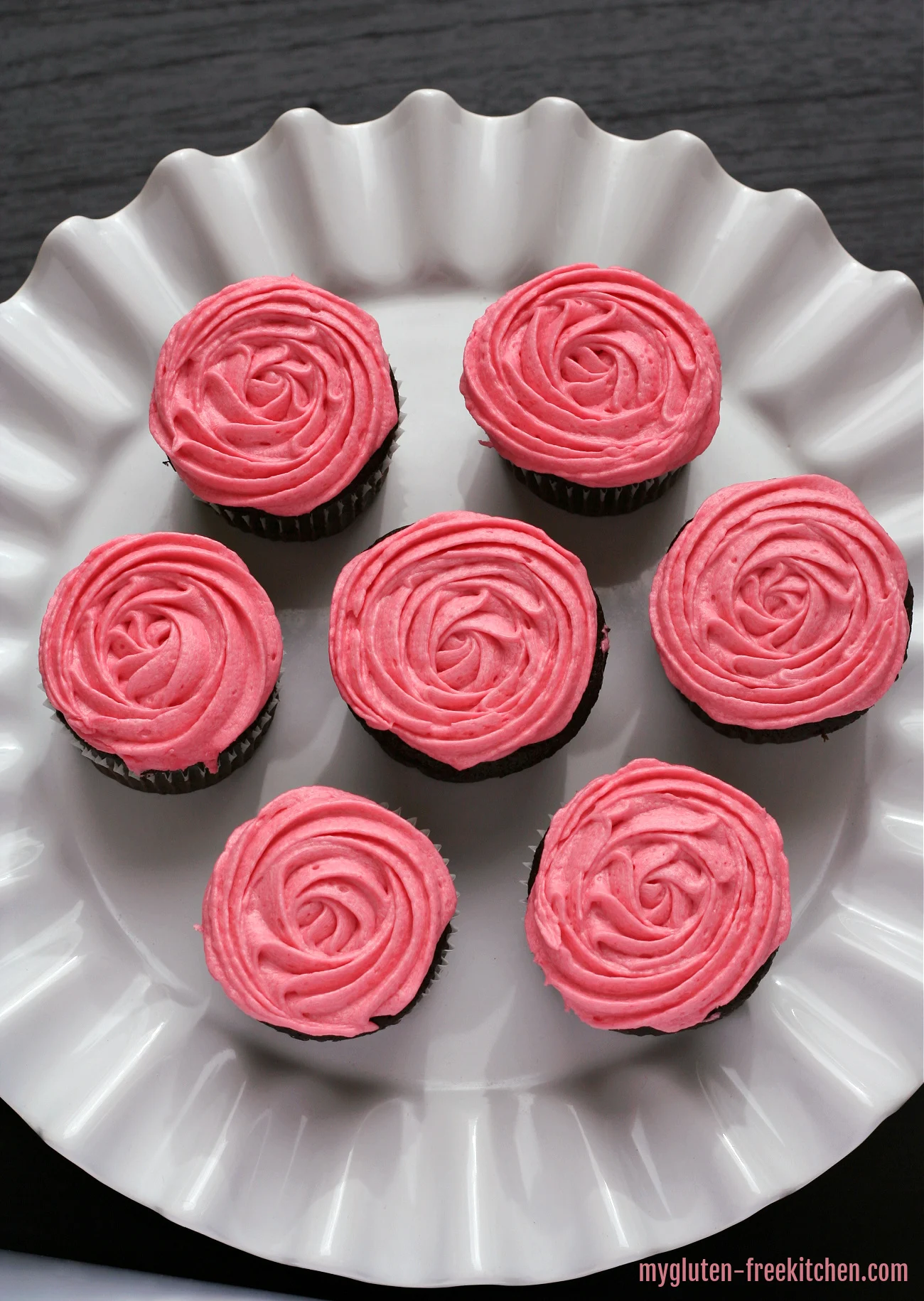 This past week I had the opportunity to provide gluten-free cupcakes for a special friend's baby shower. She loves chocolate, so deciding on chocolate cupcakes was easy. She is having her first girl, so I knew I wanted to incorporate some pink, but didn't want to just use food coloring to create pink frosting.
I thought back to a fresh blackberry frosting I made last year, and figured that if I used fresh raspberries instead, I'd have a beautiful pink color.
You are welcome to use your favorite chocolate cupcake recipe for this. I have another gluten-free chocolate cupcake recipe, and this one. I've always felt like the other one is really best texture on day 2, so I was pleased to find this one that turns out well on day 1 also. I like the taste and texture of both equally, and I really think you can't go wrong with either of them. I feel like the cupcake recipe I'm sharing today is just a tad more dense and sturdier.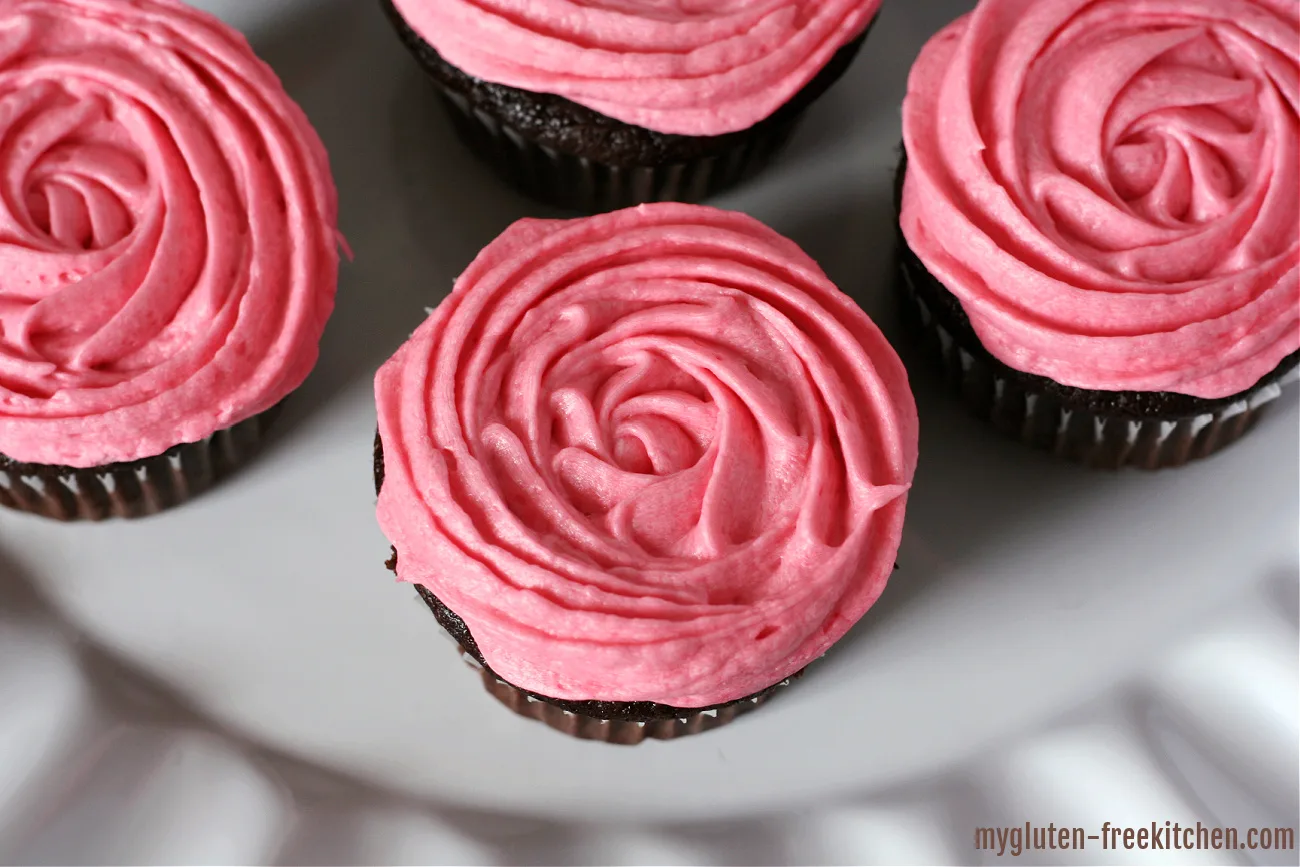 I have only made this frosting with fresh berries, so I'm not sure how frozen berries would work in it. If you try it, let me know!
You'll be blending the fresh raspberries in your blender, then pouring and squeezing the mixture through cheesecloth. I buy this ultra fine cheesecloth at Amazon or Bed Bath and Beyond.
The most beautiful, fragrant pure raspberry juice/puree comes through the cheesecloth, and that's what you'll be using in this recipe. I just discard the remaining chunks/seeds, but you could definitely throw them in a smoothie or something instead of tossing them.
I was so pleased with not only the flavor of the icing, but that I managed to decorate these to look like pretty flowers! Everything I do is by trial and error, so I was happy to be successful in making them pretty!
I used Wilton Decorating Tip-#1M Star
and started in the middle of the cupcake and just worked my way out in a spiral, trying not to let it build up higher at all as I went. I kind of actually let the tip drag through the icing as I went as well. Whatever I did, it totally worked and I even had my hubby video me so I can remember how I did it in the future!
These cupcakes would be great for a baby shower, bridal shower, birthday party, tea party, or Valentine's Day. I know I'll be making these again many times! I hope you'll pin or print this to try soon and come back to let me know when you try this!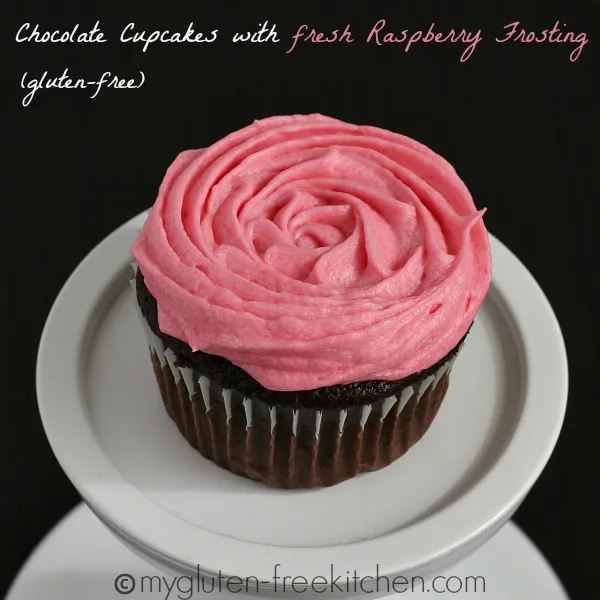 Have blackberries on hand instead of raspberries? You can make this frosting with blackberries, like I did in these gluten-free lemon cupcakes with blackberry frosting.
If you make these and love them, please come back and give this recipe a 5 star rating in the recipe card! Feel free to comment with tips or to share any successful substitutions you made.
Gluten-free Chocolate Cupcakes with Fresh Raspberry Frosting Recipe:
Yield: 18-24
Gluten-free Chocolate Cupcakes with Fresh Raspberry Frosting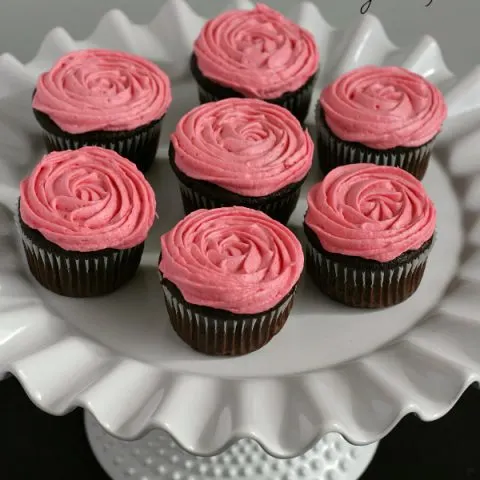 Gluten-free chocolate cupcakes are topped with an amazing fresh raspberry frosting. This is a pretty dessert for showers and parties.

Prep Time 30 minutes

Cook Time 18 minutes

Additional Time 20 minutes

Total Time 1 hour 8 minutes
Ingredients
Chocolate Cupcakes:
4 oz. unsweetened chocolate, chopped (I used Baker's)
1 cup boiling water
2 cups sugar
1 1/2 cups good gluten-free all-purpose flour blend
3/4 tsp. xanthan gum
3/4 tsp. baking soda
1/2 tsp. salt
1 Tbsp. Hershey's extra dark cocoa powder or regular cocoa powder
8 Tbsp. (1 stick) unsalted butter, melted
2 large eggs
2 tsp. vanilla extract
1/2 cup sour cream (recommend using Daisy or other natural sour cream)
Raspberry Frosting:
1 cup (2 sticks) salted butter, softened
6 cups powdered sugar (confectioners' sugar)
7 Tbsp. strained raspberry puree (made from about 1 1/2 cups fresh raspberries - see instructions below)
1 tsp. pure vanilla extract
Instructions
Cupcakes:
Preheat oven to 350°. Line muffin pans with paper cupcake liners (18-24).
Place the chopped unsweetened chocolate in a large mixing bowl and pour the boiling water over it. Let stand for 2 minutes while you prepare the dry ingredients.
Meanwhile, in a medium bowl, whisk together the sugar, flour, xanthan gum, baking soda, salt, and cocoa powder. Set aside.
The chocolate in the large mixing bowl should be melted by now. Whisk until chocolate is smooth. Whisk in the butter, then the eggs, until smooth. Whisk in the vanilla and sour cream until well mixed.
Whisk in the dry ingredients mixture in 3 separate additions, whisking until smooth after each addition.
Using a cookie scoop, divide the batter equally among the paper liners in pan. Depending on the size of cupcakes you want, you can get 18-24 cupcakes out of this recipe.
Bake at 350° for 18-20 minutes until well risen and feel firm when pressed in the center. You can also test with a toothpick, which should come out with moist crumbs attached but no wet batter, when inserted into the center of baked cupcake.
When cupcakes test done, remove pan to a wire rack to cool for about 5 minutes. Remove cupcakes from pan to cooling rack to cool completely before frosting.
Raspberry Frosting:
Using a blender or food processor, thoroughly puree the raspberries. Strain the pureed raspberries through cheesecloth or a fine strainer/sieve to remove the seeds. I do this over a bowl to collect the raspberry puree, then measure for the recipe from the bowl.
I prefer to use my Kitchenaid standing mixer to make the frosting, using the wire whisk attachment. In a mixing bowl, beat butter on medium speed until fluffy, about 2 minutes.
Slowly add 1 cup powdered sugar and beat until smooth.
Add raspberry puree and pure vanilla extract and beat until smooth.
Gradually add in the remaining powdered sugar, beating on low speed until combined. Then beat on medium high until light and fluffy, about 3 minutes.
To frost cupcakes, place frosting in a pastry bag with your choice of decorating tip (I used a Wilton 1M decorating tip). Decorate cupcakes using the pattern of your choice.
Notes
*If your flour blend already contains xanthan gum or guar gum, omit the xanthan gum called for in this recipe.
*This recipe has been tested numerous times successfully with each of these flours: Gluten-free Mama's Almond Blend All-purpose flour and gfJules gluten-free flour.

You may have a bit of raspberry puree left over, which makes a great addition to a homemade milkshake!
Recommended Products
As an Amazon Associate and member of other affiliate programs, I earn from qualifying purchases.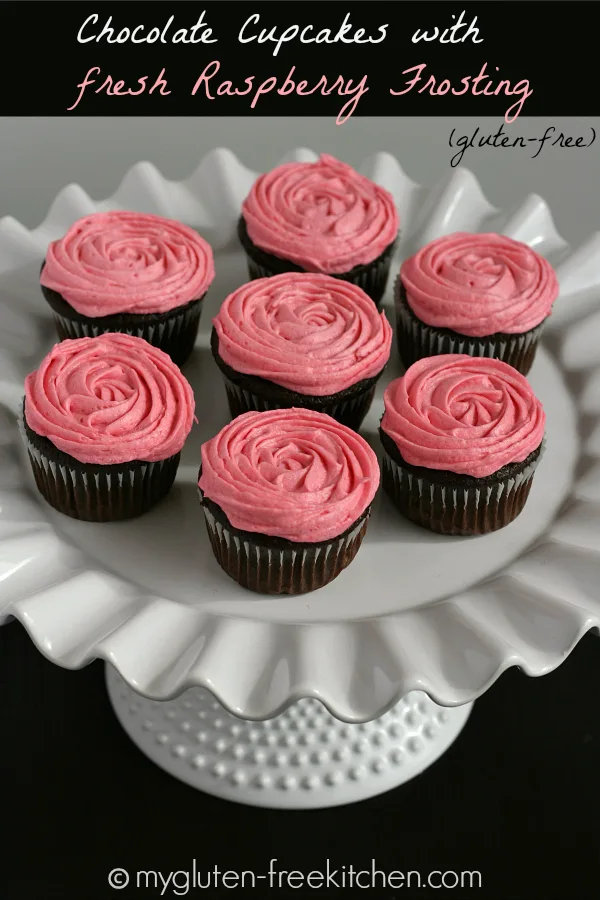 Get what you need to make this recipe from Amazon: