Delicious and easy to make, this festive looking gluten-free Christmas dessert is perfect to bring to holiday parties and potlucks. Mini gluten-free chocolate bundt cakes are topped with my favorite shiny fudge frosting and sprinkled with peppermint crunch for a holiday touch!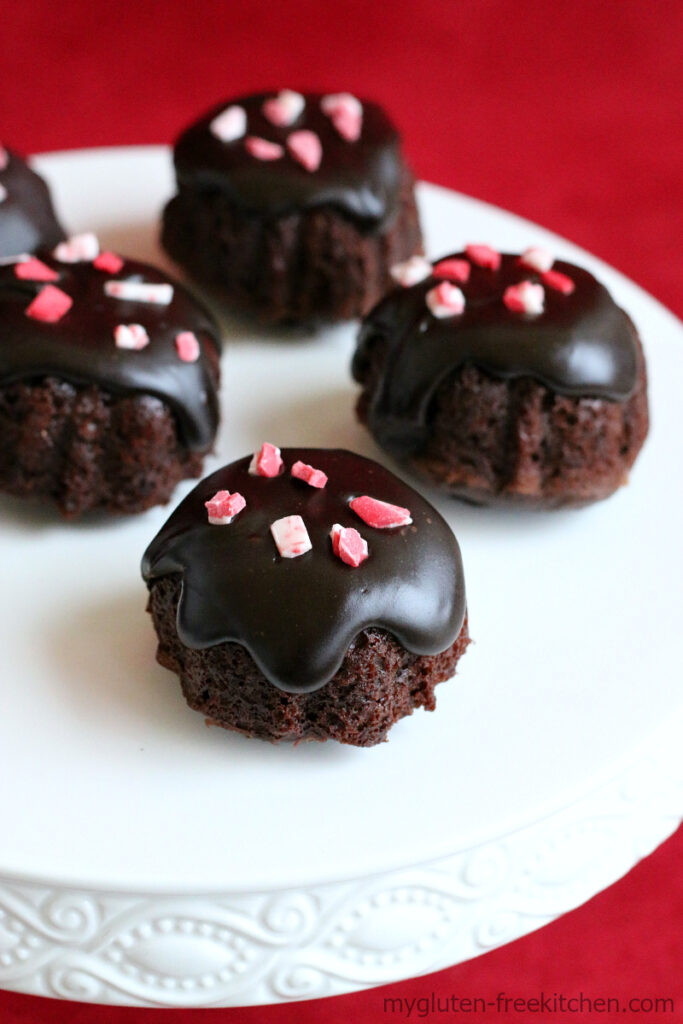 This past weekend we were invited to an ugly sweater party. Surprisingly, this was the first ugly sweater party that my husband and I have ever been to. I shared our outfits on Instagram if you'd like to take a peek.
Last year I took my gluten-free mini chocolate bundt cakes with mint frosting to a holiday party. Those were really yummy and well-liked, but I admit that if you can't find chocolate curls, those do take a bit of time to make. This weekend I was looking for something a little less minty, and with a candy cane look.
Now I've tried topping cakes with crushed candy canes before, but the texture just bothered me. I had stumbled upon these Andes Peppermint Crunch Baking Chips at my local store and thought they might be perfect – and they were! Despite the name, they aren't really crunchy – only slightly more than an average chocolate chip texture. I think these are perfectly peppermint flavored and go so well with the chocolate cake and fudge frosting.
I have loved the mini bundt pan that I purchased last year. I just think mini bundt cakes are a pretty alternative to big slices of cake or cupcakes. I found that filling my bundt cake cavities about 2/3 full of batter was ideal.
When I filled too full, the cakes rose above the level of the pan, which meant that the finished cakes were on wobbly bottoms once they were flipped over. Filling too little meant smaller cakes. You might want to bake a couple test mini cakes first to get a feel for how much batter to use.
Two things I realized after baking these: 1) I need to buy a second pan so that the baking process goes faster. 2) If you are re-using the pan, spray it with cooking oil really well in between batches or the second batch of cakes won't come out in tact.
Notes on Ingredients for these gluten-free Christmas mint cakes:
Andes Peppermint Crunch Baking Chips clearly state right on the bag that they are produced in a facility that does not use peanuts, tree nuts, eggs, or gluten. These do contain milk, so not suitable if you need to be dairy-free.
I like to use part Hershey's Special Dark Cocoa and part regular cocoa in both the cake and the fudge frosting. I adds that deep dark color to them both. In the recipe below I note that, but you are welcome to just add the amounts together and use all regular baking cocoa instead of any dark.
Since I was taking this to a party, I wanted to be aware of nut allergies, so I chose to use gfJules flour. It is one of my go-to blends that I highly recommend. It does contain xanthan gum already, so if you use a different good quality flour blend, you'll want to check if it contains xanthan, and if not add xanthan or guar gum for a binder in the recipe as I've specified below.
These took only a couple hours from start to finish and were a hit at the party I took them to. Let me know if you try them too!
Gluten-free Chocolate Peppermint Mini Bundt Cakes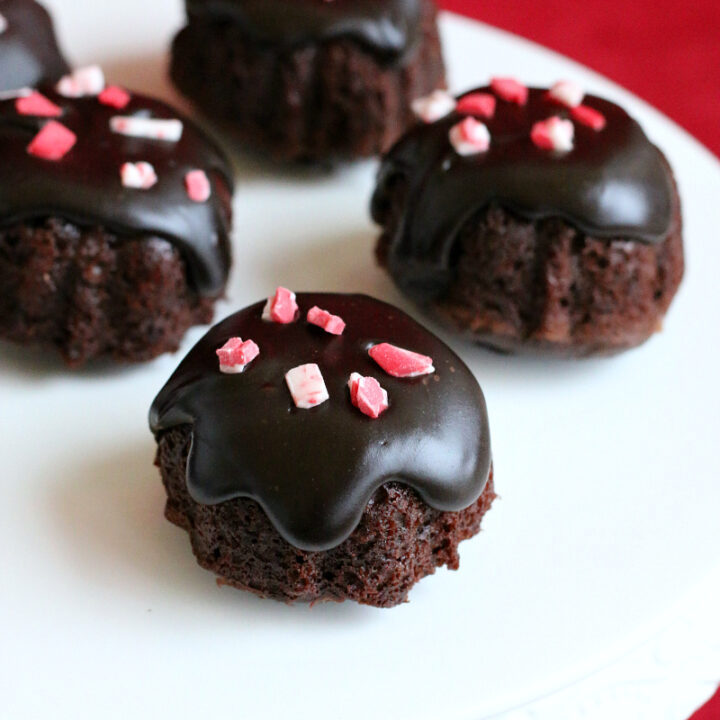 Mini gluten-free chocolate cakes with chocolate and peppermint make a fun gluten-free Christmas dessert!
Ingredients
Chocolate mini-cakes:
4 oz. unsweetened chocolate, chopped (I used Baker's squares)
1 cup boiling water
2 cups sugar
1 1/2 cups good gluten-free all-purpose flour blend*
3/4 tsp. xanthan gum
3/4 tsp. baking soda
1/2 tsp. salt
1 Tbsp. Hershey's Special Dark Cocoa powder (or regular cocoa powder)
1/2 cup (1 stick) unsalted butter, melted
2 large eggs
2 tsp. pure vanilla extract
1/2 cup sour cream (recommend Daisy or another natural sour cream)
Fudge Frosting:
1/4 cup butter
1/8 cupHershey's dark cocoa powder
1/8 cup regular cocoa powder
1 3/4 cups powdered sugar
3 Tbsp. milk
1/2 tsp. pure vanilla extract
~1 cup Andes Peppermint Crunch Baking Chips (from a 10 oz. bag)
Instructions
Cakes:
Preheat oven to 350°. Spray the cavities of the mini-bundt pan well with non-stick cooking spray.
Place the chopped unsweetened chocolate in a large mixing bowl and pour the boiling water over it. Let stand for 2 minutes while you prepare the dry ingredients.
Meanwhile, in a medium bowl, whisk together the sugar, flour, xanthan gum, baking soda, salt, and cocoa powder. Set aside.
The chocolate in the large mixing bowl should be melted by now. Whisk until chocolate is smooth. Whisk in the butter, then the eggs, until smooth. Whisk in the vanilla and sour cream until well mixed.
Whisk in the dry ingredients mixture in 3 separate additions, whisking until smooth after each addition.
Using a cookie scoop, fill each well-greased mini-bundt cavity between 2/3 and 3/4 full.
Bake at 350° for 15 minutes until well risen and feel firm when pressed in the center. You can also test with a toothpick, which should come out with moist crumbs attached but no wet batter, when inserted into the center of baked cupcake.
When cupcakes test done, remove pan to a wire rack to cool for about 5 minutes. Gently remove from pan. If you only have one mini-bundt pan, before reusing pan, make sure to coat well again with non-stick cooking spray. Repeat baking and cooling steps until you've used up all of your batter.
Allow to cool completely before frosting.
Frosting:
Using a medium glass bowl, melt the stick of butter in microwave. Whisk in cocoa powder, then heat for 1 minute.
Add powdered sugar and milk alternately, beating with a hand mixer until creamy after each addition.
Add vanilla extract last, beating it until mixed well.
If you use this frosting while still warm, it is easily spreadable and has a glossy finish. I found it best to use a spoon to pour the frosting on 4 cakes in a row, then place the peppermint crunch baking chips on top of those 4 cakes. Then I would warm the frosting up in the microwave another 10-15 seconds and repeat the process. This way all of my cakes had a nice glossy finish and the peppermint crunch pieces stayed on well.
Notes
*In my opinion, a good quality all-purpose flour blend does not contain bean flours and is not primarily rice flour. I tested this with gfJules and also recommend, Gluten Free Mama's Almond Blend, Cup4Cup, and Pamela's.
*If you don't care about the chocolate cakes and frosting appearing extra dark, you can use regular baking cocoa everywhere it is called for in the recipes.