I was in Denver a few weekends ago for the Food Allergy Bloggers Conference. Those of you that follow me on Instagram saw that I enjoyed some great gluten-free meals and gluten-free treats around the Denver area with my blogging friends. I just have to pass on what I discovered so that you can check out these places yourself the next time you travel to Denver!
Two of my gluten-free blogger friends, Jules (gfJules) and Brianna of Flippin' Delicious, joined me in a very fun gluten-free bakery hop around the area. While there are a number of bakeries and restaurants in the Denver area serving gluten-free goodies, as celiacs that really didn't want to risk getting glutened before our conference, so we only visited 100% dedicated gluten-free facilities. I will always choose a dedicated facility over a shared one! We drove around in comfort in the minivan hitting 2 different bakeries and a lunch spot in about 4 hours.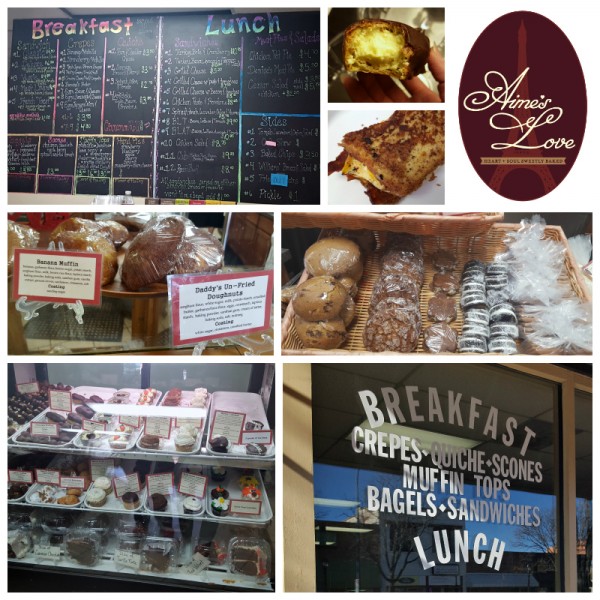 Our first stop was Aime's Love, a dedicated gluten-free bakery just north of Denver, on Main Street in Longmont, Colorado. She had a variety of baked goods, from muffin tops, to eclairs and many varities of cupcakes. When I asked Aime what her customers said was her best item, she right away pointed out her eclairs, so I made sure to snatch up one of those to enjoy later.
Aime's Love is a cute little bakery and cafe. There was seating for about 12-15 in the front area. She had many cases full of all sorts of baked goods. One thing that stands out here is that she includes every single ingredient used on the tag for each item. This made it so easy for each person in our group to tell at a glance whether the item contained any allergens we were looking to avoid. Unfortunately, there weren't many vegan options for my vegan friends. Aime uses different flour blends depending on what she is baking, and I based my buying choices accordingly. While I skipped over the muffins and cupcakes due to their use of bean flour, which I dislike, I could see that many other items didn't contain bean flour.
What I enjoyed: French Toast breakfast – 2 pieces of maple sweetened French Toast, with crispy bacon and egg sandwiched between. No need for syrup with this one! I really liked the French Toast and it was a great meal to start the day with. It wasn't a fancy meal, but it really was good! I bought one of the recommended eclairs to take with me and put in the hotel fridge. I enjoyed this for dessert the next night and can honestly say that this was the best eclair that I've ever had. The pastry cream filling was perfectly creamy.
You can check out Aime's Love website, or follow them on Facebook.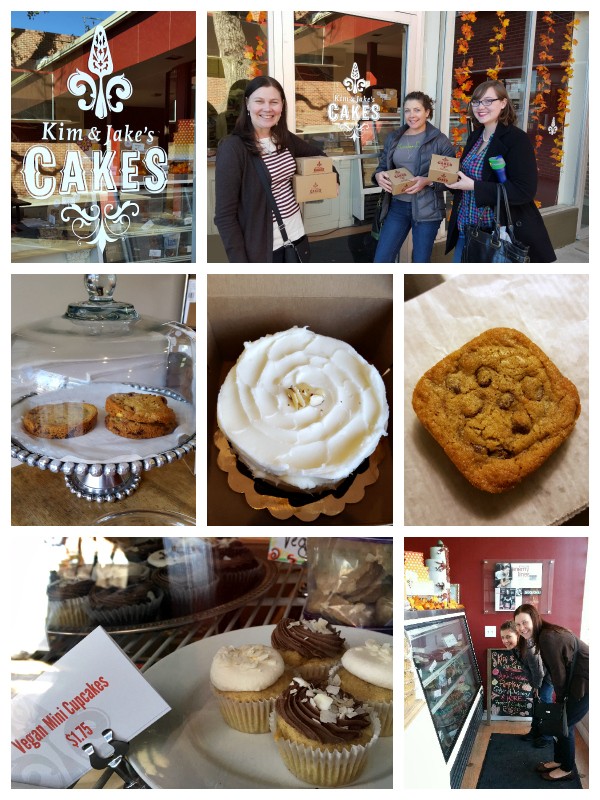 Third stop was Kim & Jake's Cakes Gluten Free Bakery in Boulder, Colorado. I saw huge rolls from this company for sale at my local Whole Foods store but hadn't tried them yet. So when I saw that this bakery had a retail storefront in Boulder, not too far away from Denver, I knew I had to make the trip. From their website, I could see that they specialize in cakes and also had vegan offerings, which was important for us to find for Jules to enjoy. She hadn't been able to eat much at the previous two bakeries, so she was excited to see so many options here.
Located in a strip mall, you walk in the door and are right at the counter right away. There isn't any seating inside, and when another customer came in, the 4 of us were really shuffling around to all fit. If there was a little more room, and we had more time, I would have enjoyed spending a bit more time taking it all in, enjoying the way they arranged the items and seeing all the items offered. Pretty sure I missed quite a bit here.
The customer service was amazing. The guy was very friendly, answered all of our questions, recommended items and even recommended nearby safe restaurants for us to try if we had time.
What I enjoyed:
Almond Cake with chocolate frosting in the middle and frosted with an incredible almond frosting. This dessert was seriously amazing. I shared some of it with Brianna in the hotel room one night and she enjoyed it as well. It was a 6″ cake, and so the frosting to cake ratio was a bit too much for me, but I think on a full size cake or cupcakes it would be perfect. I'll definitely be looking to buy this in cupcake form when I go back next visit, and yes, I will be back! Even just looking at this photo again, I'm practically drooling!
We were able to sample their Sea Salt Chocolate Chip cookies. I buy chocolate chip cookies at gluten-free bakeries all the time, and they never compare with my homemade chewy gluten-free chocolate chip cookies. But these were truly the best chocolate chip cookie that I've found at any of the gluten-free bakeries that I've visited nationwide so far. I bought one to go and then spend the rest of the weekend regretting that I hadn't bought more to enjoy on the trip home!
I also brought back two Vegan Pumpkin Chai cakes for my friends Erica and Cindy. They enjoyed them and said it the cakes were still moist and yummy a couple of days later.
You can check out Kim & Jake's Cakes Gluten Free Bakery website, or find them on Facebook and Instagram.
That was the end of our bakery tour. There were a few others we wanted to make it too, but just didn't have time with them all spread apart like they are. We'd already covered a lot of territory in a little over 3 hours – Denver to Longmont to Lafayette to Boulder, enjoying all those goodies along the way.
---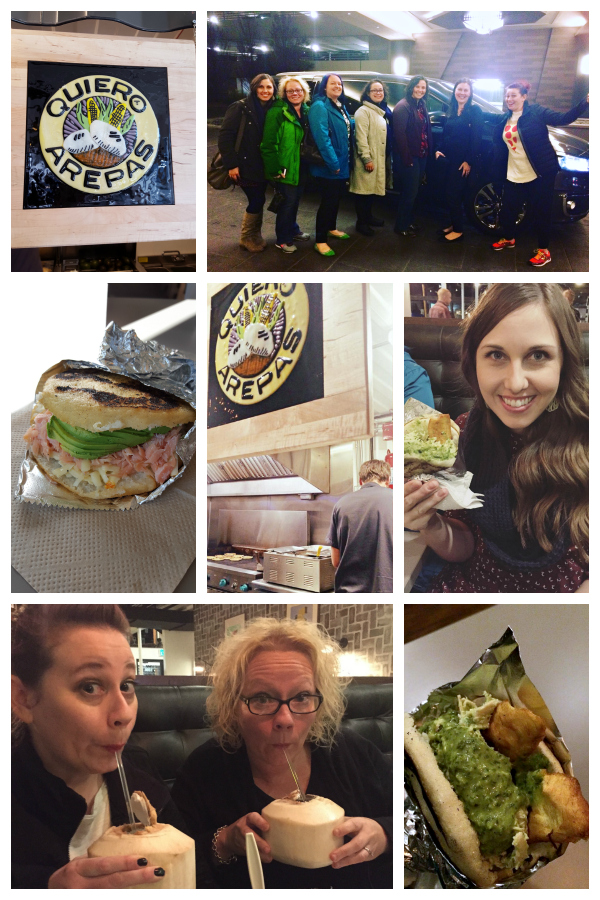 Did you know that Denver has a food truck that is dedicated gluten-free?! Seriously exciting! When I found out about this, I knew I had to go there! It's called Quiero Arepas and can be found at farmer's markets and events throughout Denver area, and at their stand alone location. There is this really fun and funky location in Denver where 5 different restaurants each have a little shipping container (like a box car on a train) and that is there whole kitchen area, with a cutout for the counter. That's where Jules, Brianna and I headed after our bakery tour. The three of us enjoyed our lunch at Quiero Arepas so much that I organized a whole group of us to go back there on Sunday night after the conference was over.
As you would expect from a food truck, the menu at Quiero Arepas is quite limited, but everything is gluten-free and fresh. They were offering 4-5 choices of arepas on our visits. An arepa is a Venezuelan flatbread stuffed with a variety of ingredients, like a sandwich. Every single person that had an arepa with avocado was raving about the avocado. It was fresh, vibrant and perfectly ripe. I wanted to include a snippet from their website that describes their awesome philosophy and commitment:
"Quiero Arepas® is committed to using produce that comes from local farmers, local and all natural meats, cheese from local cheese makers, supporting fellow small business owners and hiring local/independent labor. The entire menu is always 100% natural and certified gluten-free. The Quiero Arepas® truck "Arepita" is powered by natural gas so it is a low emission vehicle and also part of the clean energy program. Quiero Arepas® chooses not to offer lids, straws, plates, side cups, utensils etc. to remain as close to zero waste as possible."
It was so nice to meet Beckie, one of the owners and visit with her about the business. She was fun, enthusiastic, and friendly.
I enjoyed the honey smoked salmon, avocado and cheese arepa so much that I had it on both of my visits. On the menu, that arepa (called the El Caribe) comes with capers (which I passed on) as well as their amazing sauce, but I skipped the sauce due to onions in it. Still, even without those, I found this to be very flavorful and VERY filling!! Despite being hungry, I couldn't finish the whole arepa on either of my visits, even though I wanted to! It was so good! Around the table, I heard everyone say that they loved their meals. My vegan friends really enjoyed their "La Original" arepas with fried plantains, beans, avocado and sauce. Erica and Cindy enjoyed drinking coconut milk straight from the source! What a fun experience!
You can check out Quiero Arepas website, and find them on Facebook, Twitter, and Instagram.
---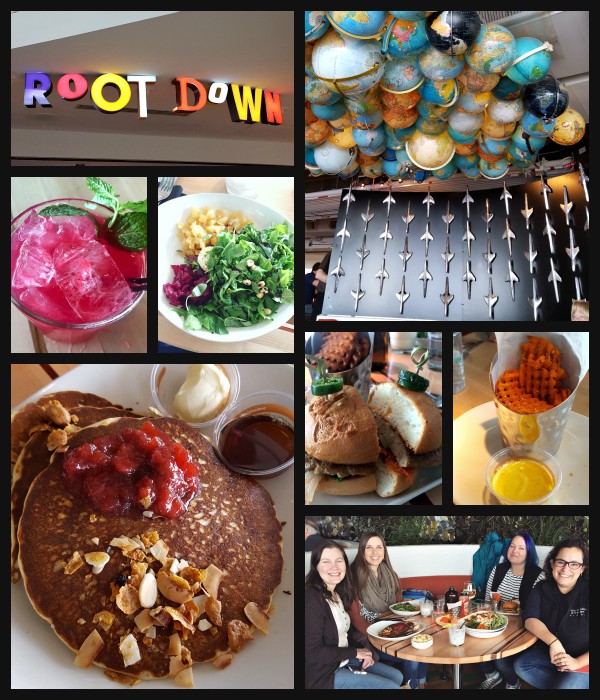 On my last day in Denver, I loaded up 3 of my friends with all of our luggage and headed to the airport! After we all got checked in and through security, we met up at Root Down, a restaurant in Terminal C of Denver International Airport. They have a location in Denver as well as this airport location. Everyone else in my group had heard such great things about Root Down, and it had good ratings from other celiacs, so we all gave it a try.
I was the last to arrive, so my friends had already grilled our server Donald about the menu and safety. Being ever cautious, I still inquired before ordering the pancakes and was assured that everything is prepared and cooked separately so as to reduce the risk as much as possible. Their website states "We serve American Cuisine with a global spin. Organic & local whenever possible and specializing in gluten-free & vegan items". Every menu item was clearly labeled if it was gluten-free and/or vegan, and honestly that was most of the menu! It looked like at least 80% of the items were gluten-free. We were there in time to order off of their Brunch/Lunch Menu.
I ordered the Almond Buttermilk Pancakes, which come with cornflake crunch, maple agave and rhubarb-strawberry jam. I asked for the toppings to be served on the side, and really that would be my only complaint… that they didn't come out on the side. I was very skeptical of the cornflake crunch being safe for me, as there really aren't a lot of corn flakes on the market that don't have malt in them. Normally I would have waited to eat it until they could bring out the packaging for me to check. Being on a time crunch to meet my plane, I resorted to picking off every last bit of the cornflake crunch off of my pancake and even moving that top pancake aside and not eating it. I thoroughly enjoyed the other two pancakes though! They were, without doubt, the BEST gluten-free pancakes I've ever had. Yes, even better than my homemade ones! I can't rave about them enough. The maple agave syrup and the jam were both perfect on them. If you are celiac, please do check on the cornflake crunch before ordering these. I will inquire more the next time I go for sure. There will be a next time too!
My friends ordered salads, a turkey burger, sweet potato fries and some beverages and said everything was great. I snitched several of the sweet potato fries and they were really good! They are fried in a dedicated fryer so no risk of cross-contamination. I would get them again too.
You can check out Root Down DIA website, or find them on Facebook and Instagram.
I already can't wait until my next trip to Denver so I can revisit some of these places and visit the other bakeries and restaurants that were on my list that I couldn't make it to! This trip was such a blast, getting to go around town with my blogging friends. Can't wait to do it again soon!
Let me know if you have tried any of these places or if you have other Denver area recommendations!