Looking for a yummy, healthy, and hearty make-ahead gluten-free breakfast? These gluten-free apple cinnamon baked oatmeal squares can be made one day and enjoyed for breakfast the next few days! They're soft and chewy, and full of chunky apples and cinnamon!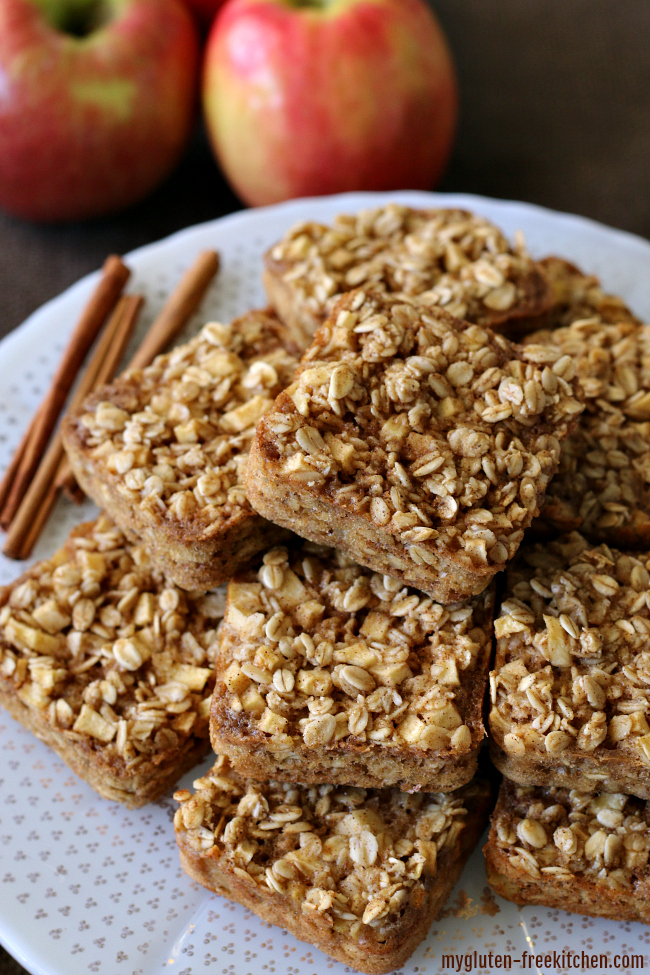 How do you like your baked oatmeal? Sometimes I like it plain and sometimes I like it warmed up and eaten in a bowl with non-dairy milk. I have one kid that likes to grab these and go, while the other likes to mash one up in a bowl of milk. No matter how you like to have baked oatmeal, I think you'll like this new recipe for gluten-free apple cinnamon baked oatmeal squares.
A couple of years ago, I created these gluten-free maple brown sugar baked oatmeal squares that were a hit with my family. Some of you have tried them too and they were a hit with your family too.
I had made that recipe inspired by my boys' favorite instant oatmeal flavor. Their other favorite instant oatmeal flavor: apple cinnamon, thus the inspiration for today's recipe! I think these will remind you of those apple cinnamon instant oatmeal packets a bit, but in a square that you can either have in a bowl with milk or grab and go! Some days just call for portable breakfast bars!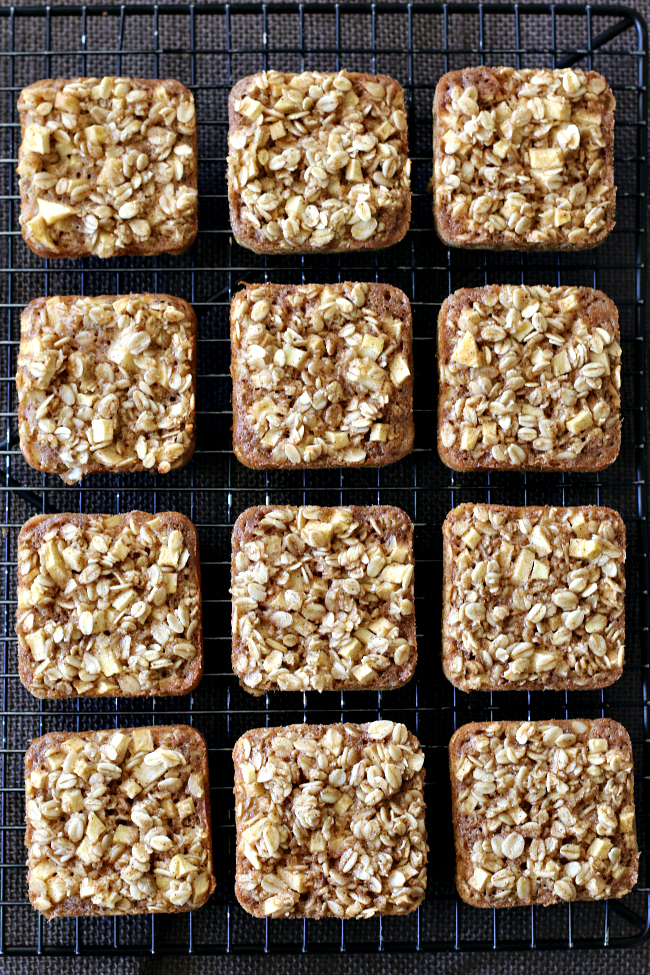 These are also flourless! Yep – the whole grain gluten-free oats are just what you need for these, no flour, no gums.
Oats, real apple chunks and cinnamon are just delicious together!
Notes on ingredients for these gluten-free apple cinnamon baked oatmeal squares:
Milk: I've made these with regular milk and I've also made them dairy-free by using a nut milk or FlaxMilk. Use the option that best suits your specific allergens or dietary needs.
To continue the dairy-free theme with this recipe, I used melted coconut oil. I think any oil would work fine in this, if you need to avoid coconut.
Oats: As always, be sure to use certified gluten-free oats in this recipe. I use GF Harvest Old Fashioned Rolled Oats which I buy from Amazon here. I highly recommend these safe oats!
Use pure maple syrup, not the cheap pancake syrup. I buy jugs of pure maple syrup at Costco.
Apple: I like to choose a tart, flavorful apple for these like McIntosh, Braeburn, or Pink Lady. Use your favorite apple!
Cinnamon: I love this cinnamon.
The batter for this will be very loose/liquidy when you are done mixing together. THat's how it should be! But you'll evenly scoop into the sections of your bar pan and they'll bake up nice! These are softer than my maple brown sugar version – these don't get crispy like those do. These stay nice a moist due to the real apple chunks!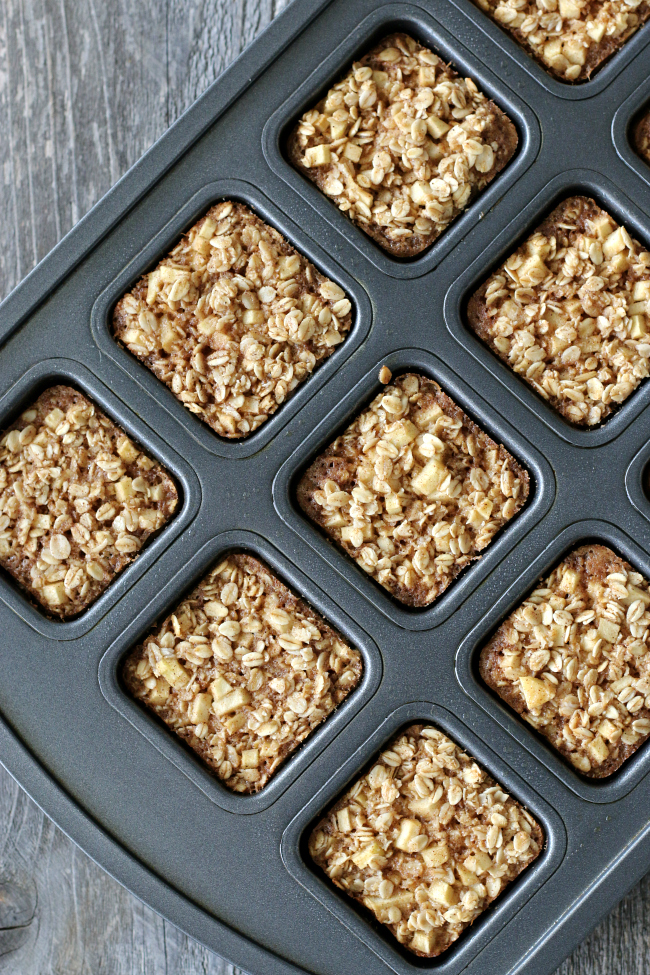 I make these in this brownie/bar pan and recommend getting one if you want to make grab and go breakfasts and snacks!
What else will you make with your apples and cinnamon? You've got to try these gluten-free apple muffins as they're so good! And be sure to try my gluten-free apple puff pancake! Want some dessert? Let me suggest my gluten-free apple pear tart for a show-stopping dessert! Want to try a paleo dessert spin? Try this paleo apple crisp!
Is there another flavor of baked oatmeal you'd like me to make? Let me know and I'll give it a try!!
Gluten-free Apple Cinnamon Baked Oatmeal Squares Recipe:
Yield: 12 squares
Gluten-free Apple Cinnamon Baked Oatmeal Squares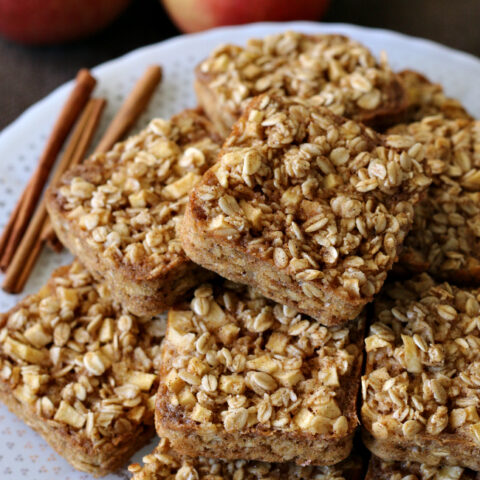 Looking for a yummy, healthy, and hearty make-ahead gluten-free breakfast? These gluten-free apple cinnamon baked oatmeal squares can be made one day and enjoyed for breakfast the next few days! They're dairy-free too!

Prep Time 20 minutes

Cook Time 20 minutes

Total Time 40 minutes
Ingredients
3 cups gluten-free rolled oats
1/3 cup brown sugar
1 1/2 tsp. cinnamon
2 tsp. baking powder
1/2 tsp. salt
1 cup milk or non-dairy milk
2 eggs
1/4 cup melted coconut oil
1/3 cup pure maple syrup
1 1/3 cup diced, peeled apple (about one large apple)
1 tsp. cinnamon
Instructions
Preheat oven to 350°. Spray each square of a brownie/bar pan with cooking spray.
In the bowl of your stand mixer (or a large bowl if you prefer to mix by hand), add the oats, brown sugar, cinnamon, baking powder, and salt. Mix on low speed for 30 seconds.
Add the milk, eggs, melted coconut oil and maple syrup and mix on low speed until well blended.
In a separate bowl, stir together the diced, peeled apple chunks with 1 teaspoon cinnamon.
Stir the cinnamon apples into the oatmeal batter with a spatula until combined.
Use a 1/4 cup measuring cup or scoop to fill each square of the brownie pan. You'll end up with an even dozen.
Bake at 350° for 20 minutes, or until mixture is set firmly and edges just begin to brown. Remove from oven to cooling rack and let set in pan for 3-5 minutes. Remove from pan and allow to cool completely on cooling rack.
Store at room temperature in sealed container, or wrap individually in plastic wrap or foil for sending to school.
Recommended Products
As an Amazon Associate and member of other affiliate programs, I earn from qualifying purchases.


Pin this to your gluten-free breakfast recipes Pinterest board!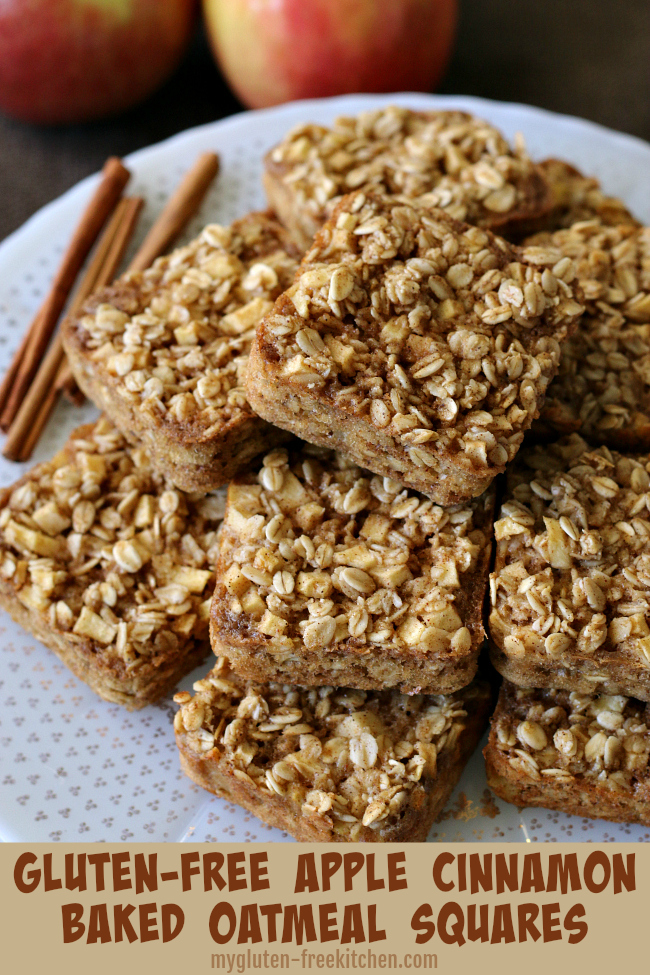 I hope you and your family enjoy these gluten-free oatmeal squares too!
Tuesday 19th of October 2021
Well these were a hit! I made them for a tea party with my gluten-free, sugar-free friends (halved the maple syrup & kept the coconut sugar as-is) and they turned out great. I made my own oat milk (oats, water, coconut oil, salt) so they may have been a tad more oily/wet than intended, however they were pleasantly moist with almost a cakey chew, and held together very well. I think I'd leave them in a little longer next time, to get a better crisp on the edges — I used an 8x8 metal baking dish lined with parchment. I can also imagine cutting 9 squares instead of 12 next time and topping with vanilla ice cream for a "healthy" dessert! Thanks for the recipe!
Wednesday 15th of September 2021
Came out perfect! I made mine in a 9x9 and it cooked for about 30 minutes. Will definitely be making this on the regular.
Tuesday 24th of August 2021
Friday 30th of April 2021
This recipe was amazing. I have made other baked oatmeal recipes & this was by far the best. Warm it reminds me of apple crisp.
Thursday 26th of November 2020
I love these! I made the recipe in an 8 x 8 pan, and just let it cook an extra 5 minutes. I left out the brown sugar because I'm not eating sugar at the moment, and didn't miss it.