All the yummy flavor of gluten-free apple fritters, without the frying, in these delicious muffins! Gluten-free Apple Fritter Muffins are easy, portable, and will have you licking your fingers!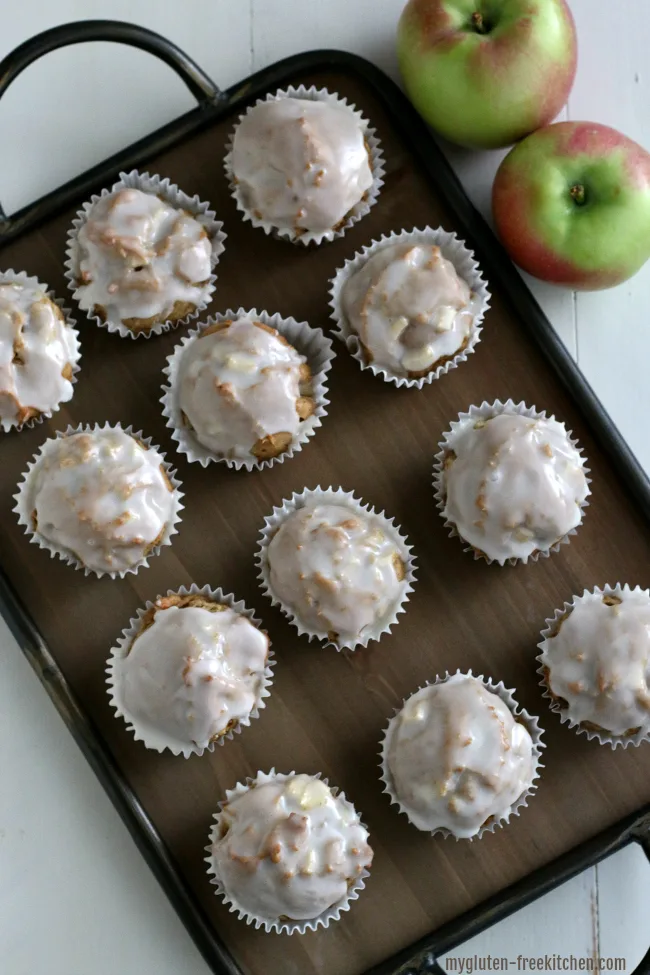 I first experimented with apple fritter muffins several years ago, but I was very unhappy with the texture of the attempts I made. Instead of tender, they came out kind of rubbery, and were very flat. I shelved the idea and then decided to revisit it this fall.
After making my gluten-free apple streusel muffins again this fall, I suddenly thought – "Why am I trying new muffin recipes for my apple fritter muffins? Why don't I use these muffins, and swap the streusel for icing?"
So I did. And it worked perfectly! Now we have another favorite gluten-free apple muffin in this house!
These gluten-free apple muffins themselves are fine plain, but aren't very sweet, since I'm counting on them being topped with sweetness. Here's a look at the unglazed apple muffins: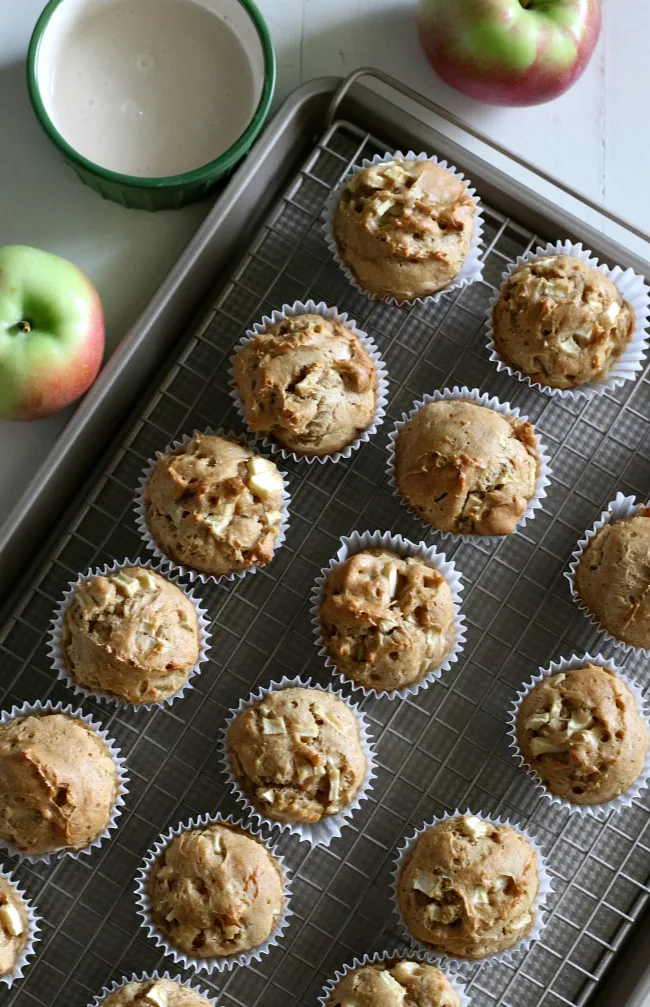 I recommend placing them like this on a cooling rack that's over a baking sheet or over aluminum foil so that drips will fall down through the rack and can be cleaned up easily instead of making your counter all sticky!
I found it easiest to just dip the muffins right into the bowl of icing to glaze the muffin tops. Here's a look at the just glazed muffins: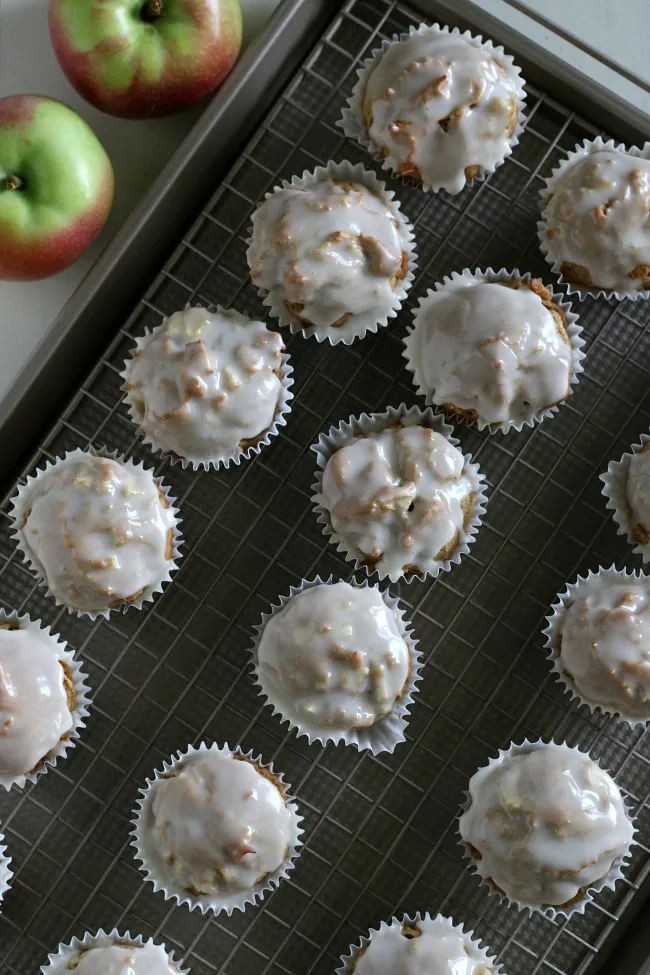 These are yummy, but messy, eaten right away. Or you can wait about 30-45 minutes for the glaze to set well before eating. Either way, they're delicious! They're sweet, full of apple flavor, with hints of butter and cinnamon. A batch of these was polished off very quickly at my house!
Tips for making gluten-free apple fritter muffins:
I highly recommend using paper muffin liners for these! They'll be less messy to eat and the pans are so much easier to clean too!
You can dice the apples however small you'd like. I prefer to dice pretty small, using my favorite paring knife. I just feel like dicing them small gets more of the flavor mixed throughout each bite, and you don't have any weird texture issues like you might with large chunks.
Notes on ingredients and substitutions for gluten-free apple fritter muffins:
Apples: I like using a tart or semi-tart apple variety in my baking. I've used McIntosh, Pink Lady, and Braeburn. Feel free to use your favorite semi-tart or good baking apple variety.
Gluten-free flour: I tested it with both of my go-to flour blends: gfJules and Gluten-free Mama's with great results with either one. You can buy gfJules gluten-free flour blend directly or from Amazon. You can buy Gluten-free Mama's on Amazon or sometimes get lucky and find it at TJMaxx or HomeGoods stores.
Xanthan gum: If your flour blend doesn't have xanthan or guar gum in it already, you'll need to add it, as indicated in the recipe, otherwise your muffins will fall apart. I buy mine from Amazon with a single bag lasting me at least a year or more!
Buttermilk: Buttermilk makes these tender. If you can't have dairy, you can make your own buttermilk substitute.
Butter: If you can't have dairy, you'll want to use a melted non-dairy butter alternative or oil. Note that I haven't tried this substitution, but I think it should work fine.
Milk: You can substitute with your favorite non-dairy milk for the milk in the glaze.
Powdered sugar: I usually use C&H powdered sugar. If you're avoiding corn, you probably know that most powdered sugar has some corn starch added, but I'm happy to tell you that Trader Joe's powdered sugar doesn't use corn starch, so you can use that.
Vanilla Extract: Be sure to use a good quality pure vanilla extract. I like to use this Nielsen-Massey Vanilla Extract.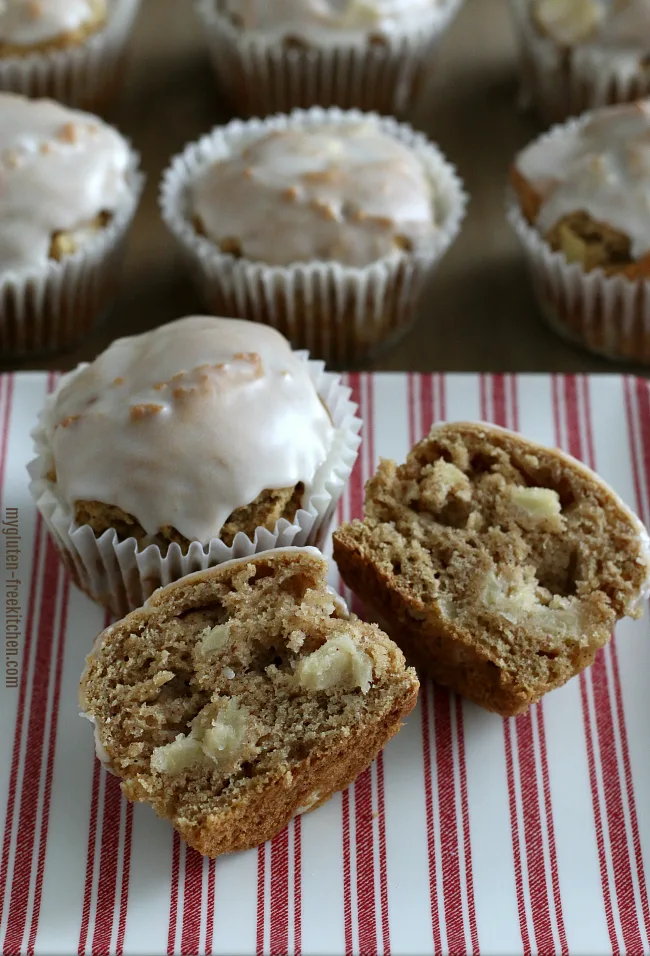 These are tender muffins with just the right amount of apple chunks in them!
Store leftovers in an airtight container. These are definitely best eaten the day they're made ahead. They're still yummy the next day, but the glaze definitely changes the second day – just like when you used to buy glazed donuts at the store! I bet you can't eat just one or two anyway, so I'm sure you and your family and friends can polish off a batch of these in one day anyway!
What else should you make with your apples? For a portable breakfast idea, you can make my gluten-free apple cinnamon baked oatmeal squares. For a side dish, I'd recomend making my apple grape salad recipe or this broccoli apple salad recipe. I'd recommend making my gluten-free apple cake for a yummy dessert.
I hope you enjoy these muffins! Let me know if there's another muffin variety you'd like me to make!
Gluten-free Apple Fritter Muffin Recipe:
Yield: 20 muffins
Gluten-free Apple Fritter Muffin Recipe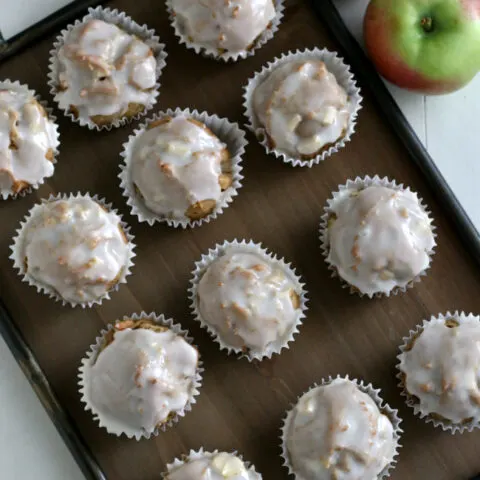 All the yummy flavor of gluten-free apple fritters, without the frying, in these delicious muffins! Gluten-free Apple Fritter Muffins are easy, portable, and will have you licking your fingers!

Prep Time 15 minutes

Cook Time 17 minutes

Total Time 32 minutes
Ingredients
Muffins:
2 1/4 cups good gluten-free all-purpose flour blend*
1 tsp. xanthan gum
1 tsp. baking soda
1 tsp. cinnamon
1/2 tsp. salt
1/2 tsp. allspice
1 cup buttermilk
1/2 cup butter, melted
1 egg
1 tsp. pure vanilla extract
1 1/4 cups packed brown sugar
2 cups peeled and finely diced apples
Glaze:
1 1/2 cups powdered sugar
3 Tbsp. milk (or non-dairy milk)
1/4 tsp. pure vanilla extract
Instructions
Line 20 muffin cups with paper liners.
Preheat oven to 375°.
In a large bowl, whisk together flour, xanthan gum, baking soda, cinnamon, salt, and allspice.
In a medium bowl, whisk together the buttermilk, melted butter, egg, vanilla, and brown sugar. Whisk until brown sugar has dissolved into mixture.
Pour the wet mixture into the dry ingredients mixture in the large bowl. Gently stir together with a rubber spatula. Add the diced apples and stir just until mixed in. Don't overmix.
Use a large cookie scoop or ice cream scoop to fill muffin tins about 3/4 full. Depending on the size of your scoop, you'll get anywhere from 18-21 muffins. I used a #20 scoop and got 20 muffins as a result.
Bake at 375° for about 17 minutes. You can tell they are done when they you press on a muffin gently and the top of the muffin springs back.
Let cool in the pan about 5-10 minutes, then remove to finish cooling on a cooling rack.
In a small bowl, whisk together the glaze ingredients until smooth.
With the muffins on a cooling rack over another pan or some aluminum foil for easy cleanup, dip each muffin in the glaze and set on rack. Repeat until all muffins are glazed.
Let glaze set before eating if you want this to be less messy to eat!
Store in a covered container at room temperature. These are best eaten the first day due to the glaze.
Notes
I recommend using gfJules Gluten-free Flour, King Arthur Gluten-free Measure for Measure Flour or Gluten Free Mama's All-purpose Almond Flour Blend in my recipes.

If using a gluten-free flour blend with xanthan gum or guar gum already in it, be sure to omit the xanthan gum called for in the recipe.
Recommended Products
As an Amazon Associate and member of other affiliate programs, I earn from qualifying purchases.


Pin this to your gluten-free muffin board on Pinterest: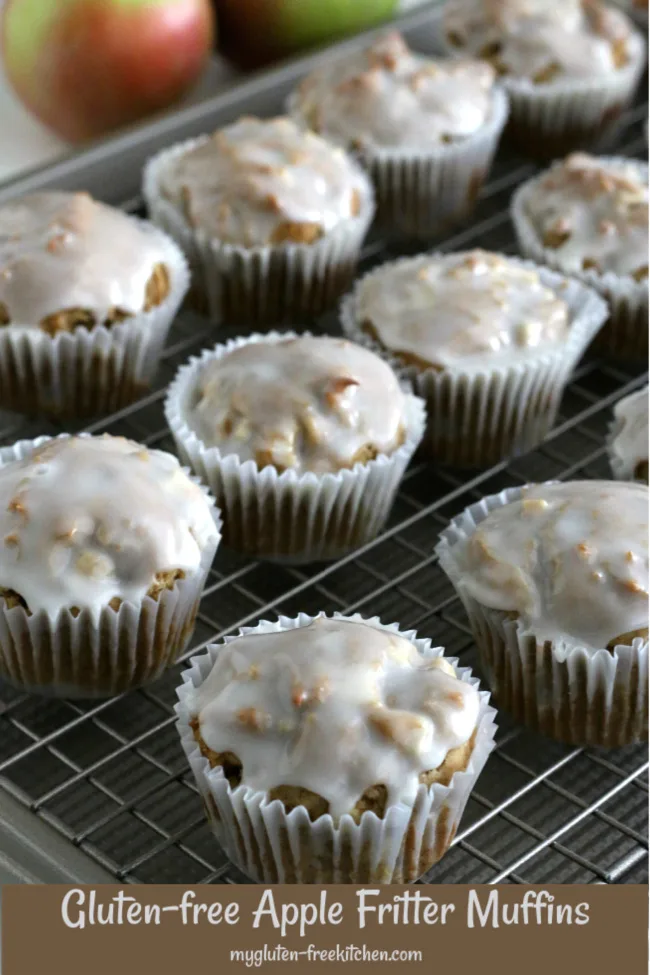 I hope you enjoy these too! Happy Baking!