So much easier than making apple pie, this gluten-free apple crisp is our go-to fall dessert when we buy a box of apples from the orchard!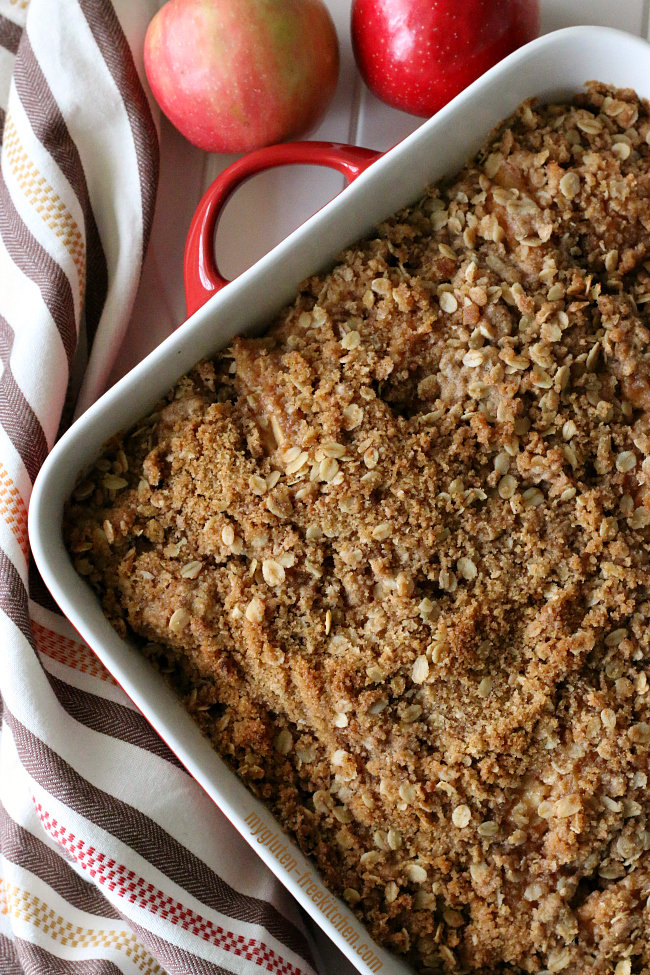 My husband loves fruit desserts. While I often choose to have my fruit in a cake like in this gluten-free apple cake, my hubby would always prefer a homemade gluten-free Dutch apple pie or this apple crisp for dessert.
I rarely feel like making a pie with a pie crust, but I'm always up to mixing up a fruit crisp like this gluten-free apple crisp! The streusel topping is so much easier to make than a pie crust!
This recipe for gluten-free apple crisp is a long-time family favorite recipe, adapted from my mom's recipe.
Crisps are very easy to convert to gluten-free, as you can substitute pretty much any gluten-free flour and certified gluten-free oats in the topping.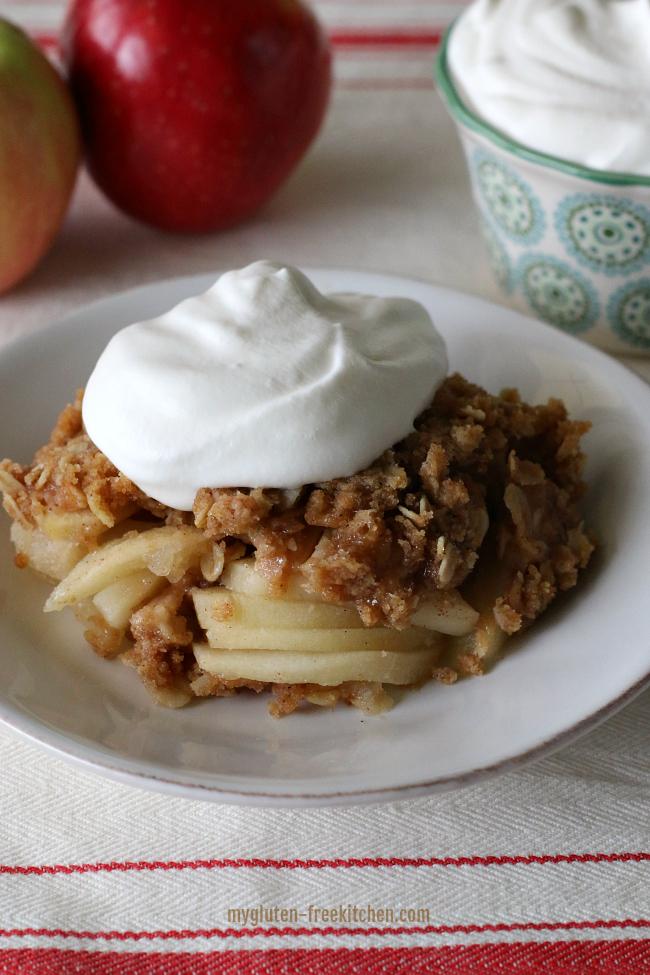 Pick your favorite baking apple to use in this recipe. This guide to fall apple varieties can help you choose which variety you want to use in this gf apple crisp.
The variety of apple that you pick will affect the texture of the apple crisp. Some varieties, like McIntosh will become very soft, while others, like Honeycrisp or Pink Lady, will retain their shape. I prefer to use a somewhat tart variety like McIntosh, Braeburn or Pink Lady as I find it goes well with the sweet crisp topping.
In the photo above, where you can see the shape of the apple slices still, we used Pink Lady apples. In this older photo below, we used McIntosh apples, which break down more. Both are amazing apple crisps – just wanted to show you the difference so you'd know that the results will definitely vary depending on the variety of apple you use.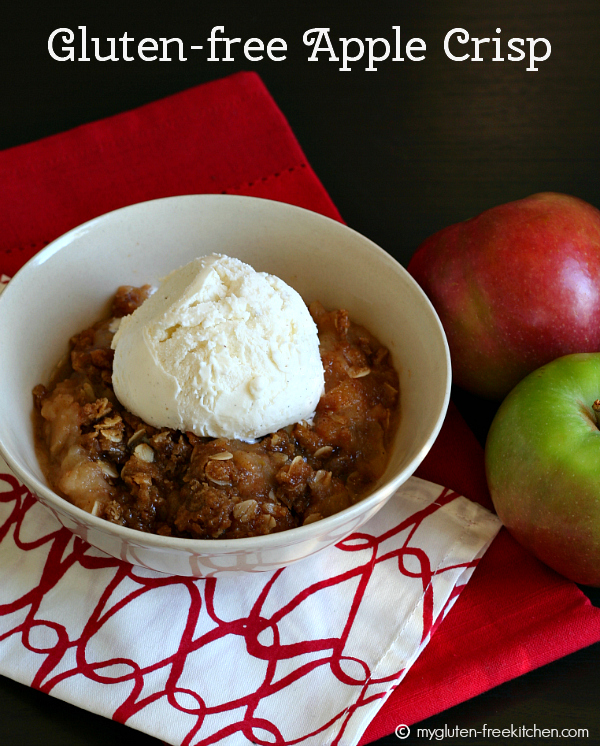 Making this apple crisp is so easy and requires just 11 ingredients! I didn't include the tablespoon of water in the ingredients pic but here are the rest of the ingredients: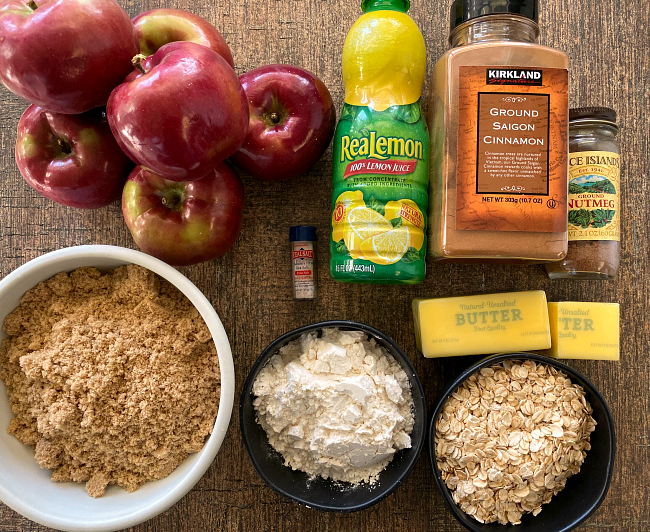 Notes on ingredients and substitutions for this gluten-free apple crisp:
Lemon Juice: you might be wondering why there is lemon juice in this recipe – it's to keep the apples from discoloring while you're getting everything ready. It really doesn't affect the taste.
Gluten-free Flour: Most brands of gluten-free flour should work just fine in this recipe. The flours I've used and recommend are: gfJules (from Amazon here), Gluten Free Mama, and King Arthur Measure for Measure.
Gluten-free Oats: You want to use certified gluten-free oats. I recommend GF Harvest Old-Fashioned Rolled Oats and Gluten free Prairie.
Butter: You can use regular salted butter, just omit the additional salt called for in the topping. Otherwise use unsalted butter or your favorite non-dairy butter stick alternative.
Can you make this a dairy-free apple crisp?
Yes! The only dairy here is the butter used in the topping, so you can definitely swap that for your favorite butter alternative. Stick non-dairy butter alternatives like Melt or Earth Balance work well, or use coconut oil that's at a solid state.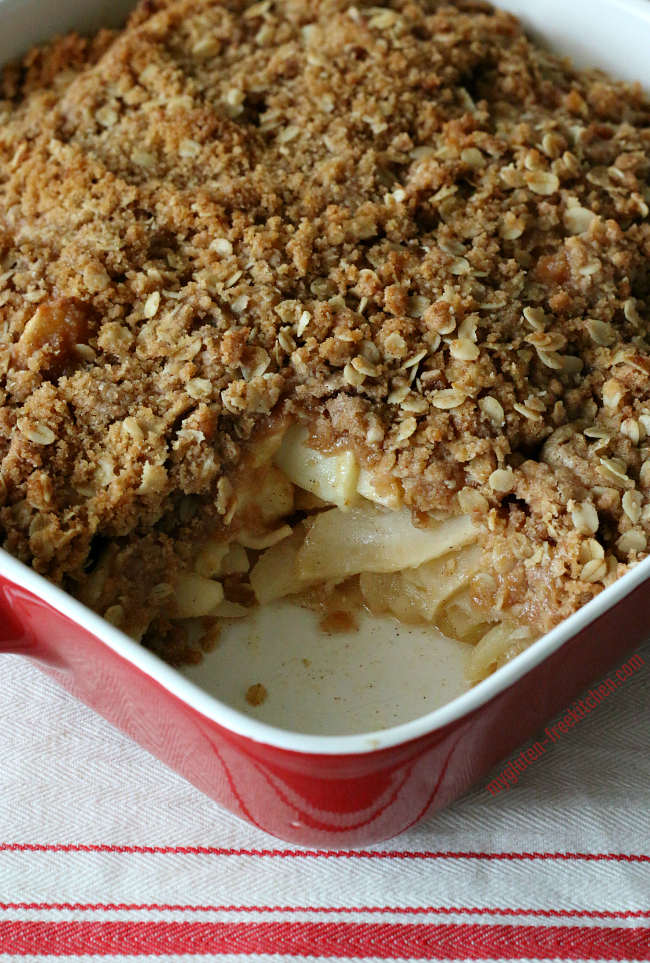 I love making this to bring to fall potlucks! My hubby or kids are very willing to use our handy apple peeler corer slicer
to peel and slice up all the apples I need while I mix up the topping. I can have this in the oven in minutes after the slicing is done, or put it in the fridge to bake later.
I highly recommend you get one of these apple peeler corer slicers at Amazon too! It's so handy and so much easier on my hands than peeling and slicing these by hand!!
You can check it out in action in the video on this post!
Several times, I've put this gluten-free apple crisp together before dinner, then I wait to put it in the oven until I pull dinner out of the oven. It bakes while we enjoy dinner, and we're ready to enjoy dessert right after. Guests are always like, "What's that yummy smell?"
We love it with a scoop of ice cream or fresh homemade whipped cream, but you could definitely enjoy with a non-dairy ice cream or coco-whip topping if you need it to be dairy-free.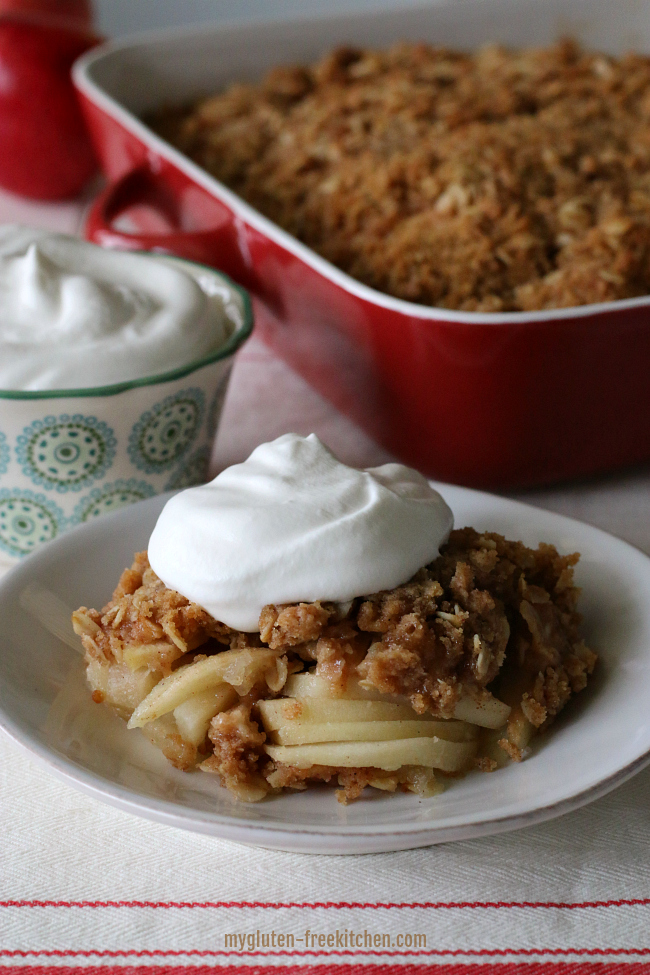 Looking for more gluten-free apple recipes? Here are some to try:
If you have more apples on hand, I'd suggest using some to make these gluten-free allergy friendly apple nachos! Or you could make this gluten-free apple pear tart. It's such a pretty dessert to share with company.
For a side dish, I'd recommend this apple grape salad recipe. And for breakfast, I'd recommend these gluten-free apple muffins or my gluten-free apple puff pancake recipe! These are all favorites here!
My family loves dried apples, so I'm wanting to make these baked apple chips as I think they'll like them too! I'm also definitely wanting to make this fresh apple pie dip recipe soon!
Gluten-free Apple Crisp Recipe:
Yield: 12-16 servings
Gluten-free Apple Crisp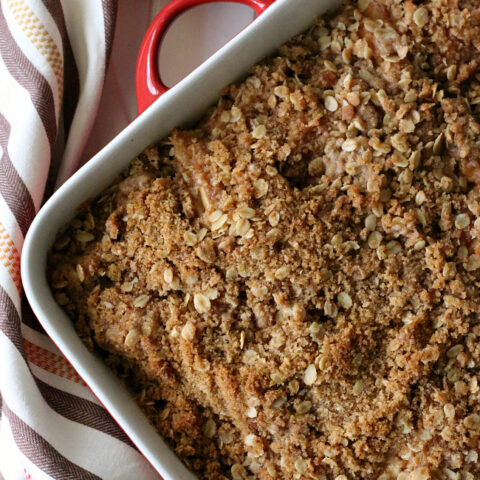 If you don't need a large pan of this yummy gluten-free apple crisp, feel free to halve all ingredients and bake in an 8"x8" pan instead.

Prep Time 20 minutes

Cook Time 45 minutes

Total Time 1 hour 5 minutes
Ingredients
12 cups peeled, sliced apples
1/2 tsp cinnamon
2 Tbsp. lemon juice
1 Tbsp. water
Topping:
1 1/2 cups firmly packed brown sugar
1 cup gluten-free all-purpose flour
1 cup gluten-free rolled oats or old-fashioned oats
2 tsp. cinnamon
1/2 tsp. nutmeg
1/8 tsp. salt
3/4 cup unsalted butter or non-dairy alternative
Instructions
Preheat oven to 375°.
In a large bowl, stir together sliced apples, 1/2 teaspoon cinnamon, lemon juice and water. Scoop into 9x13 baking pan.
In a medium bowl, whisk together all topping ingredients except butter. Use a pastry cutter or 2 knives to cut in butter until mixture is crumbly. Sprinkle over apples.
Bake at 375° for 45 minutes or until apples are tender and topping is crisp and browned.
Serve warm with whipped cream or ice cream or non-dairy alternative.
Notes
Most brands of gluten-free flour should work just fine in this recipe. The flours I've used and recommend are: gfJules, Gluten Free Mama, and King Arthur Flour.

For the oats, I recommend GF Harvest and Gluten Free Prairie.
Recommended Products
As an Amazon Associate and member of other affiliate programs, I earn from qualifying purchases.

Pin this gluten-free apple recipe to your gluten-free desserts Pinterest board: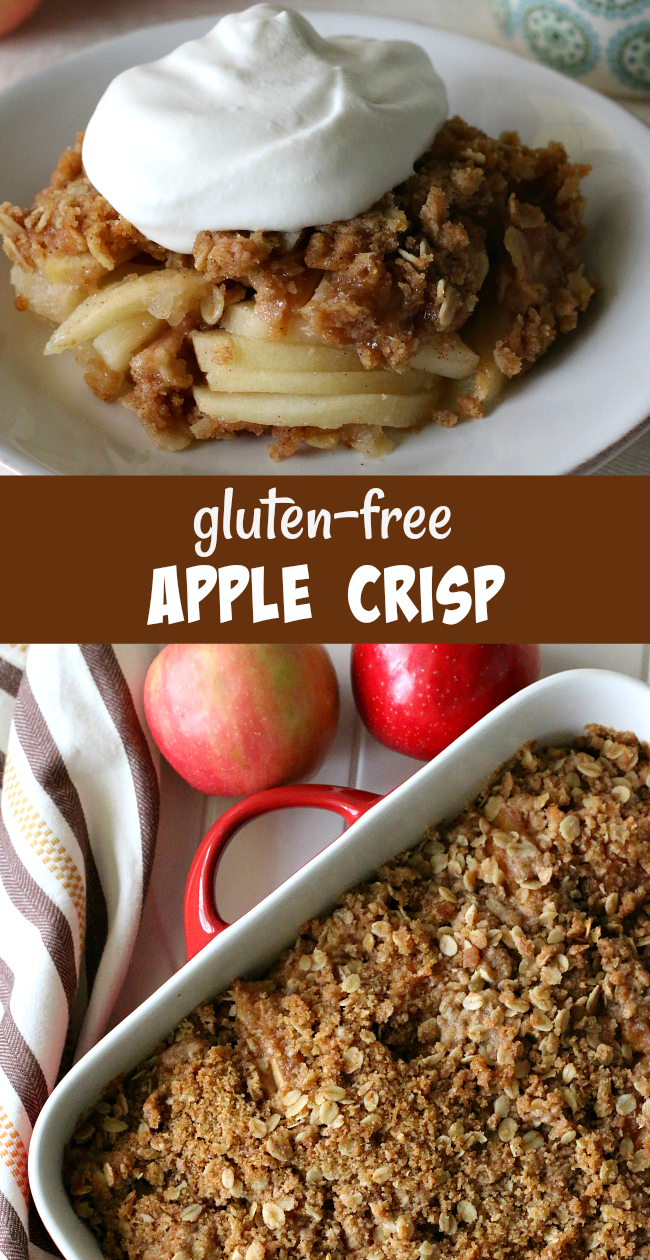 Recipe originally posted October 2014. Updated text and pics in September 2018.
Get what you need for this recipe on Amazon by shopping through these links (affiliate links):

I hope you and your family enjoy this gf apple crisp as much as my family does!
Saturday 20th of November 2021
What a wonderful recipe Michelle! I want to make it for Thanksgiving but due to other dishes would like to make this ahead of time & freeze it. I noticed that you said freezing it ahead of time would make apples mushy. What about baking it, cooling it and freezing it several days before Thanksgiving, then defrosting it & baking it covered after the turkey is out or the night before? Any suggestions on how to make it ahead of time & retain the flavor would be great!
Sunday 24th of October 2021
I made this last night for the family as dessert, and it was excellent! Everyone raved about it. I used apple pie spice in lieu of just cinnamon and needed to bake it a little longer than the recipe said, but the end result was delicious. Everyone loved it!
Saturday 31st of July 2021
Oh Darling! Sorry, but you are using the WRONG APPLES! My family brought a very similar recipe over the Oregon Trail, which I still have, and it calls for "yeller apples" -- i.e, Golden Delicious.
And don't worry about the am't of butter you are using, as long as it's real butter.
When baked and finished, you should have a thick, sweet, sauce starting under (I use corn flakes) the topping and going clear to the bottom of your apples.
You won't make another Apple Crinkle without using Golden Delicious, betcha. (And take down the pink apple recipe -- it looks dry, unappetizing.
Wednesday 24th of February 2021
I am going to try this, looks great! If halving the recipe do I still bake it for 45 minutes?
Sunday 22nd of November 2020
Would love to be able to just jump to the recipe without having to spend 20 minutes scrolling through a bunch of nonsense. Otherwise easy recipe.
Monday 23rd of November 2020
Glad you enjoyed the recipe! Sorry the scrolling was painful. Most people appreciate the notes on ingredients and other helpful information that I give. You must be on AOL dial-up for your internet if that took you 20 minutes to scroll through!