Highlighting the fresh fruits of fall, this gluten-free apple pear tart also includes cranberries for a delicious mix of sweet and tart, over a flavorful almond crust. This is one gluten-free apple dessert that I'll be making every fall and I'm sure will appear at holiday dinners!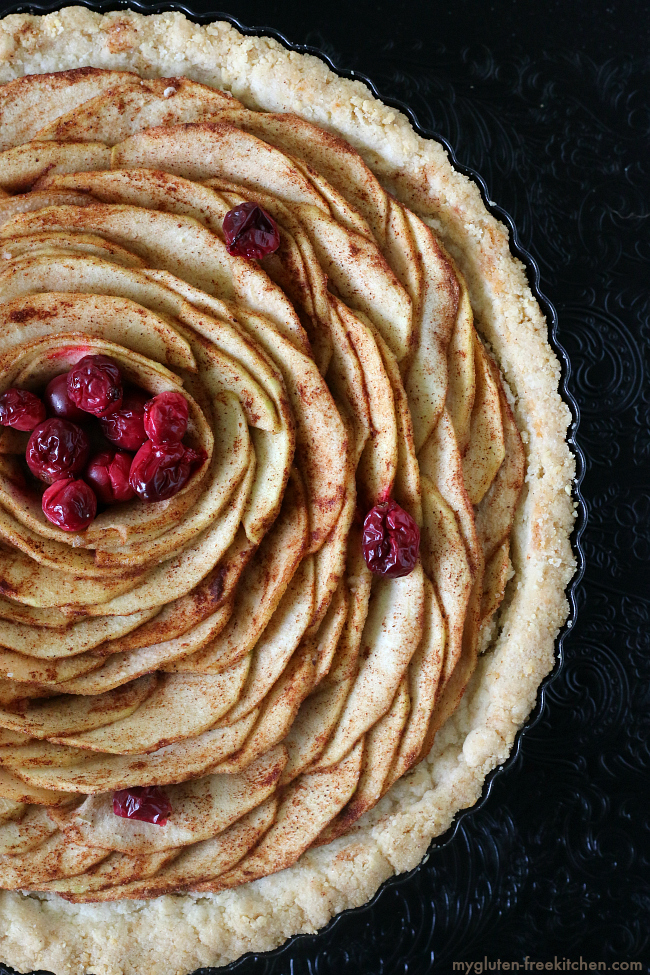 I think I've mentioned before that I'm not a fan of pie crust. Never have liked it, and would usually just eat the filling out of the pie and leave the crust – even when I could eat regular (gluten) crusts. I just don't care for the flakiness, texture, and bland taste.
If you check out the gluten-free pies category on my site, you'll see that I haven't used a traditional pie crust for any of them. I always opt for a cookie based crust instead, which is so delicious and much preferred by me over a regular pie crust.
For today's gluten-free apple pear tart, I ventured hesitantly into the land of traditional pie crusts, but went for one that still had a twist in texture and flavor. Boy oh boy am I glad I tried this one.
The texture: perfect – holds it shape but crumbles nicely when you cut into a bite. The flavor: crazy good – I adore the almond flavor! This is the gluten-free pie crust I've been looking for for years!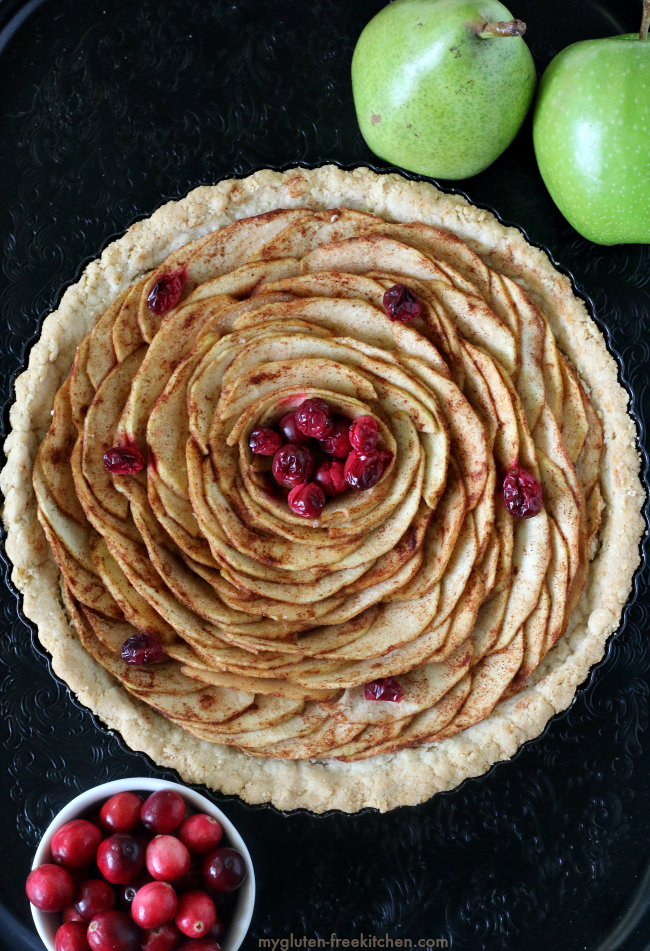 The great thing about making a tart instead of a pie is that you don't have to worry about working hard on a pretty top scalloped or twisted pie crust edge – something I can never achieve anyway.
There isn't a top crust, and you just press the crust mixture into the bottom of sides of pan and you're done! The rippled edge of the pan makes the crust pretty without extra effort. That's my kind of pie!
Of course, you'll need a tart pan and I recommend one like this one that I used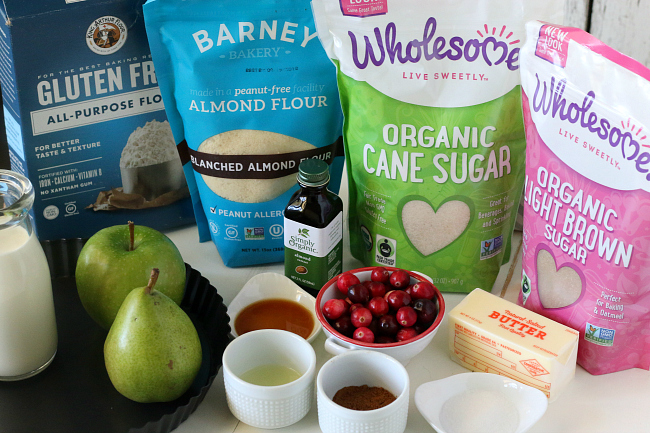 Notes on ingredients and substitutions for this gluten-free apple pear tart recipe:
While I opted to use these specific products this time, you are welcome to substitute with the sugars you usually use and the gluten-free flour blend you usually use!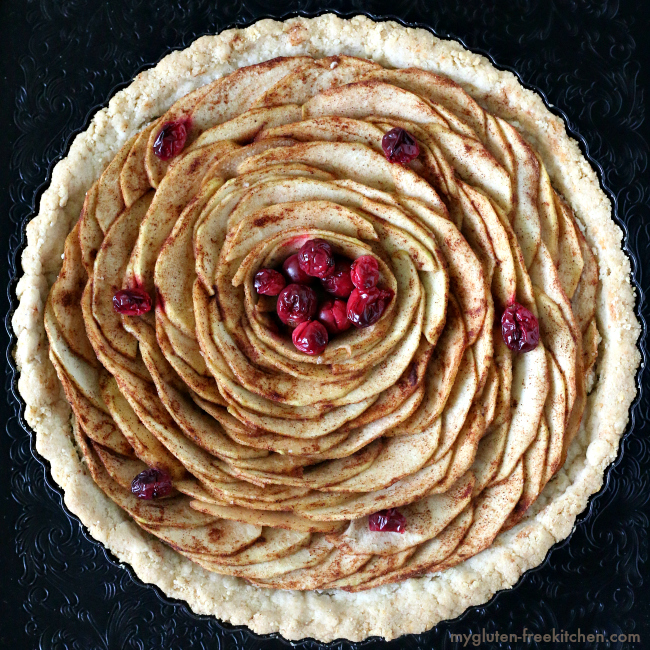 For the filling of my gluten-free apple pear tart, I just thinly sliced one apple and one pear. (You might need another apple or pear if your fruit is small and your tart pan is large.)
You'll want to choose a good tart apple and a good baking pear. Some good apple choices include Granny Smith, Pink Lady and Braeburn. You can make this a gluten-free apple tart by using just apples.
For the pear, after reading what varieties are best for baking, I chose a D'Anjou pear. You can make this a gluten-free pear tart by using all pears.
Since I really wanted to highlight fruits in season in the fall, I also included fresh cranberries. I wasn't sure how crazy people would be about a whole lot of tart cranberries in this tart, so I didn't include a ton. About 1/8 cup in the center of the tart and a few more sprinkled over the top. Everyone liked it like this, as you had just a few bites that had that yummy, unique flavor from the cranberries.
You can definitely add more cranberries when you make this if you'd like to!
I topped my gluten-free apple pear tart with a simple homemade whipped cream topping. It was the perfect finishing touch!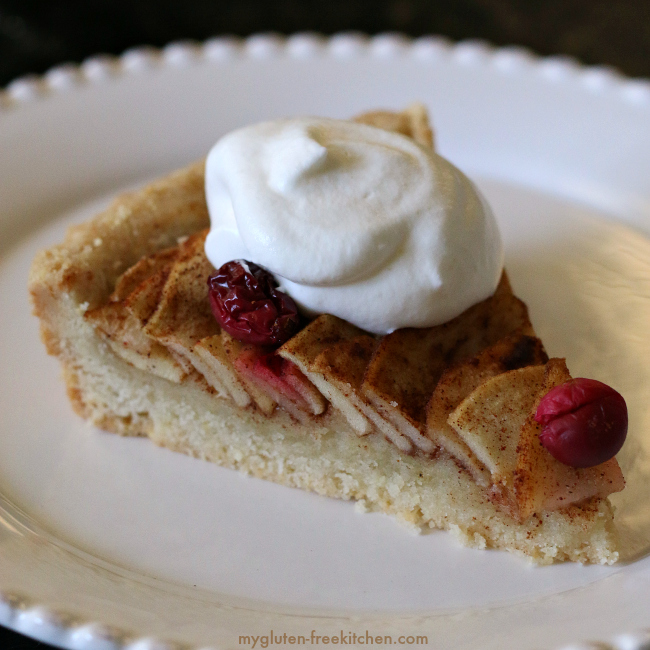 My other favorite gluten-free apple recipes include this gluten-free apple cake recipe that I love to make every fall! These gluten-free apple fritter muffins are a new favorite muffin recipe that reminds me so much of apple fritter donuts! And I love using tart apples in this gluten-free apple puff pancake recipe too! These gluten-free apple pie pancakes have me drooling!
Happy Fall and Happy Baking!!
If you make this and love it, please come back and give this recipe a 5 star rating in the recipe card! Feel free to comment with tips or to share any successful substitutions you made.
Gluten-free Apple Pear Tart Recipe:
Yield: 8-10 slices
Gluten-free Apple Pear Tart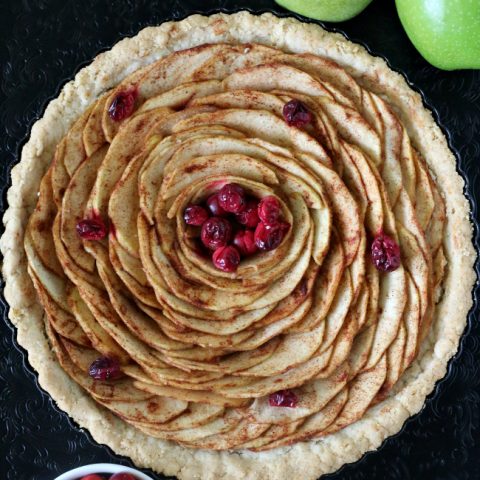 Highlighting the fresh fruits of fall, this gluten-free apple pear tart also includes cranberries for a delicious mix of sweet and tart, over a flavorful almond crust.

Prep Time 40 minutes

Cook Time 1 hour

Total Time 1 hour 40 minutes
Ingredients
Almond Crust
1/2 cup organic white sugar
1/2 cup salted butter, softened
1/4 tsp salt
1 tsp. pure vanilla extract
1/2 tsp. almond extract
1 1/2 cups Gluten-free All-Purpose Flour*
3/4 cup blanched almond flour
Filling
1 large tart apple like Granny Smith, Pink Lady, Braeburn
1 pear (I used D'Anjou)
1 Tbsp. lemon juice
2 Tbsp. organic white sugar
1 Tbsp. organic light brown sugar
2 tsp. ground cinnamon
1/8 tsp. nutmeg
Topping
1 cup heavy whipping cream
1-2 Tbsp. organic white sugar
1/2 tsp. pure vanilla extract
Instructions
Almond Crust:
Using a hand mixer or a stand mixer, beat together the sugar, butter, salt and extracts on medium speed until well mixed.

Add the gluten-free flour and blanched almond flour and stir with a spatula until flour is mixed in and mixture makes crumbs that cling together when squeezed.

Press the crumb mixture into the bottom and sides of a 8 or 9" tart pan. Place in freezer for 15 minutes.

Preheat oven to 350°.

Remove from freezer and bake at 350° for 14 minutes. Remove from oven and place on wire rack while you add filling.
Filling:
While crust is freezing and baking, you can prepare the fruit filling.

Peel, core, and thinly slice 1 apple and 1 pear. I sliced mine about 1/8" thick. If your apple or pear is small, add another one! Mine were large, so you might need 2 of each or somewhere in between.

Place apple and pear slices in a bowl. Sprinkle with lemon juice and gently stir to coat to prevent browning.

Stir in sugar, brown sugar, cinnamon and nutmeg until slices are well coated.

Arrange slices in baked almond crust in whatever arrangement you'd prefer. I went around in a clockwise pattern starting at the outside. You can do rows or another overlapping pattern you'd prefer, leaving a 1 to 1 1/2" center free.

In the center of tart, don't overlap the apples, just lay one apple slice on the bottom, then fill the 1 1-1/2" center with fresh cranberries. The single slice helps prevent the cranberry juice from seeping into the crust, discoloring your crust.

Sprinkle additional cranberries over the top of tart as desired. Feel free to add more than I did!

Bake at 350° for 45 minutes. Let cool on wire rack completely.
Whipped cream:
While tart is cooling, make homemade whipped cream.

1 cup heavy whipping cream

1-2 Tbsp. sugar

1/2 tsp. pure vanilla extract

Use whisk attachment on stand or hand mixer to whip whipping cream to soft peaks. Add sugar and pure vanilla extract and continue whipping until stiff peaks.

Remove outer rim of tart pan and then slice tart into slices. Top each slice with a scoop of whipping cream. Enjoy!
Notes
Be sure to use a good tart apple in this!

See blog post for notes on ingredients.
Recommended Products
As an Amazon Associate and member of other affiliate programs, I earn from qualifying purchases.

Pin this gluten-free apple tart to your gluten-free desserts board on Pinterest: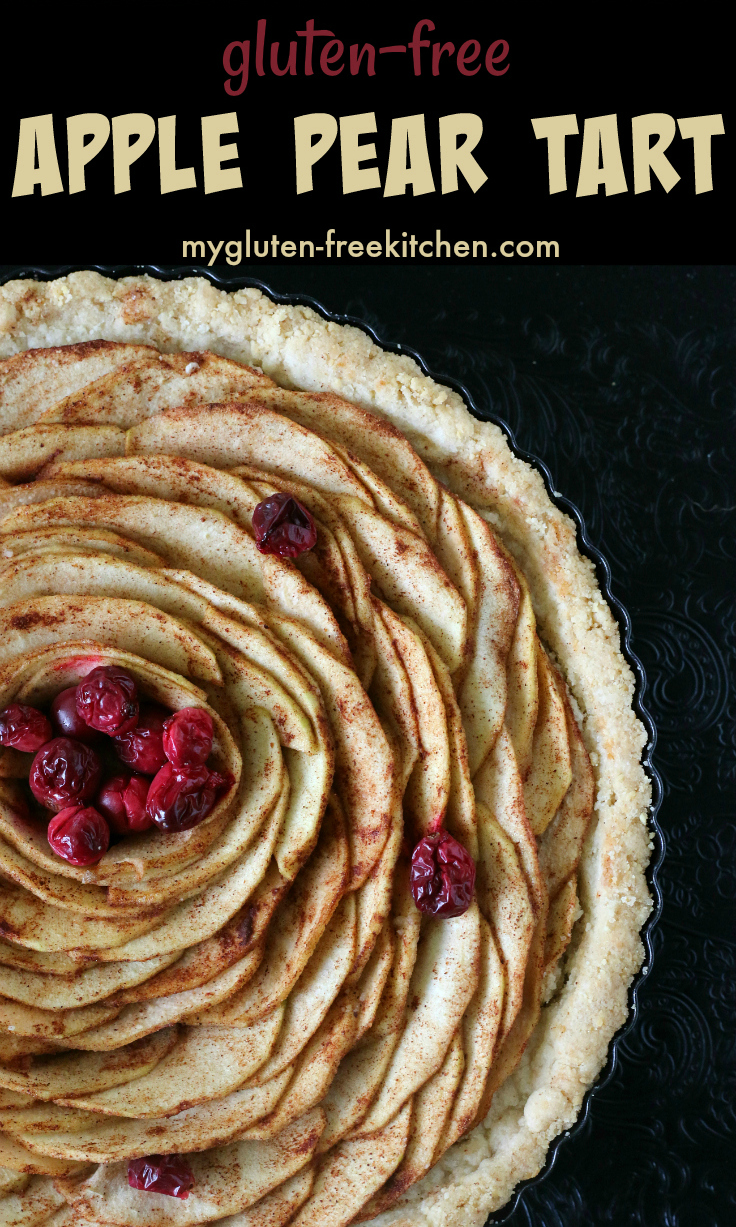 I hope you and your family enjoy this gf tart as much as my family did!