Today I'm inviting you to join me in our backyard for a nice evening outside enjoying gluten-free S'mores over the fire pit!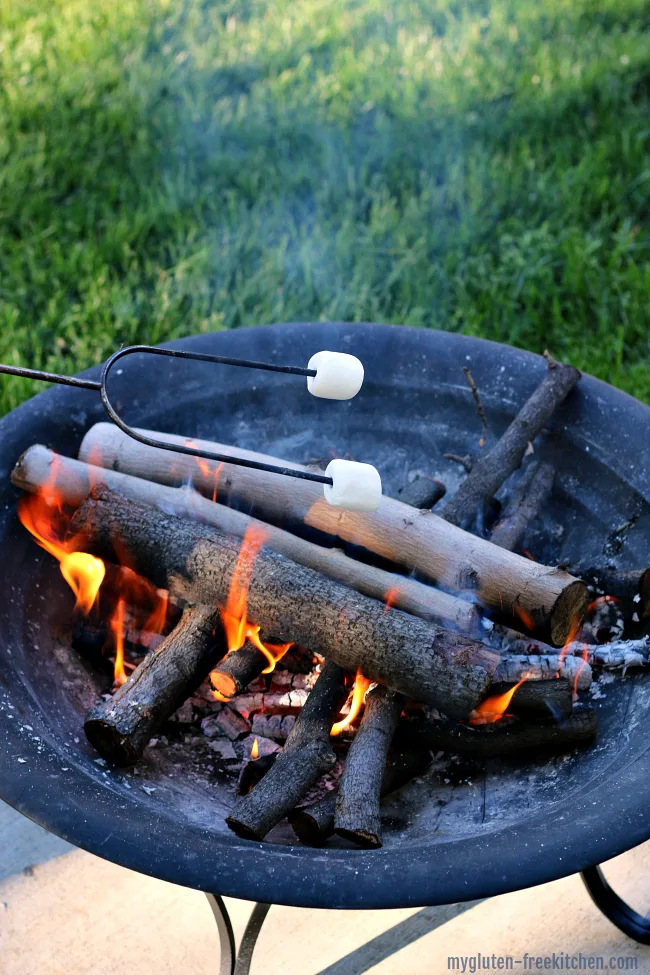 First off, I've got to ask you how you enjoy your roasted marshmallows? I asked this on my Instagram stories yesterday and the results were: 69% like them perfectly blackened, while 31% like them any other inferior way. Okay okay, I guess my wording showed my bias there! 😉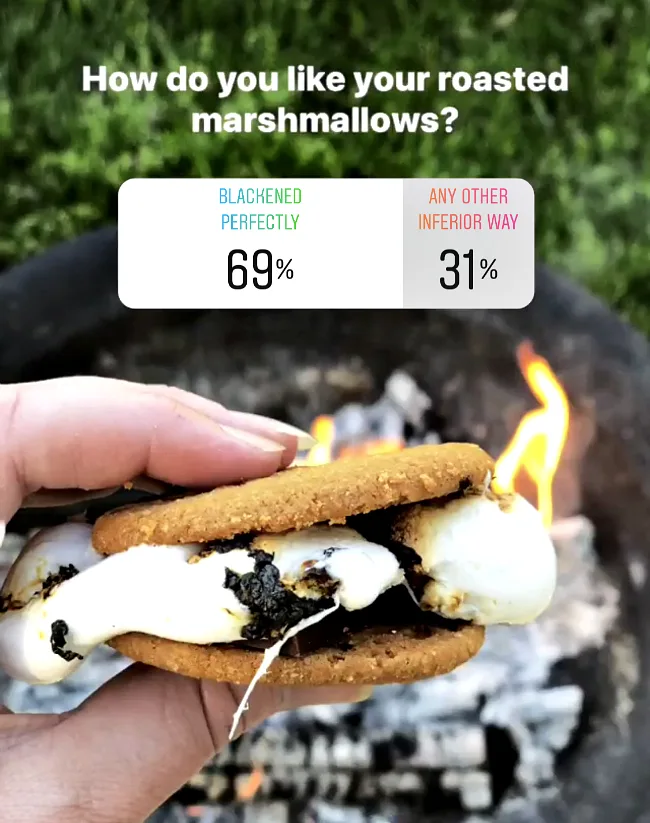 Now the rest of my family refuses to eat their marshmallows if they're black, so now I just wait to eat everyone else's blackened marshmallows instead of roasting my own! Life of mom!
Backyard S'mores are the only way I get to enjoy S'mores! My family goes camping without me so I never have S'mores with them at a campsite in the mountains. That's by choice by the way! I'd rather not sleep in a tent. Also, it's sooooo nice to just stay home in a perfectly quite house while the boys go camping a couple times each summer.
I'm not sharing a new recipe today, rather sharing how we enjoy backyard S'mores, gluten-free style and my favorite products that make that possible! No more missing out while those around you enjoy S'mores! Today's post is sponsored by Enjoy Life Foods as part of our year-long collaboration.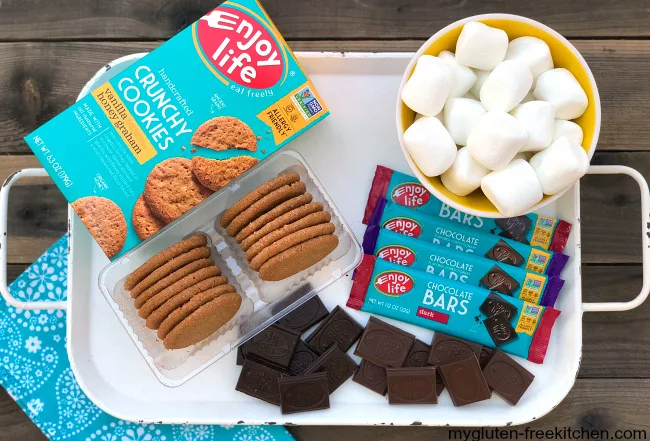 Here's what I gather for our backyard S'mores nights:
Vanilla Honey Graham Crunchy Cookies – certified gluten-free, allergy-friendly, and perfect for S'mores! I prefer these by far over any gluten-free graham crackers I've tried so far.
Marshmallows – Use any variety labeled gluten-free – Campfire marshmallows and Dandie's marshmallows are both labeled gluten-free. I've used regular and vanilla ones, though I thought some of the flavored ones might be fun to try sometime!
Chocolate – I like to put out both dark chocolate and milk chocolate. Since I'm avoiding milk, it makes sense for me to use the Enjoy life dark chocolate bars and ricemilk chocolate bars. They're certified gluten-free, dairy-free, and free of most of the main allergens too. I didn't use to be a dark chocolate fan, but I've found that for S'mores, I especially like the dark chocolate as it pairs well with the sweetness of the marshmallows!
When you're watching for the Enjoy Life cookies and chocolate bars at your local store, be sure to watch for their new teal packaging! They've turned all of our products teal this year in order to make them POP on the shelf, and as an ode to the food allergy community. I love how easy it is to spot them at the store now! If you spot them at your store, snap a photo of the teal packaging on shelf, and share it on your social media of choice, tagging Enjoy Life, the retailer and use the hashtag #tealspotting for a chance to win a free product coupon!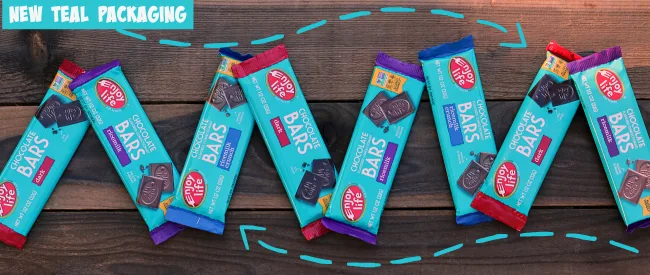 If you can't find the Vanilla Honey Graham Crunchy Cookies or the chocolate bars at your local stores, you can buy them online! For the month of May, during Celiac Awareness month, Enjoy Life is offering my readers 15% off your entire purchase when you follow this link and enter code: ENJOYMGFK This is good for orders of at least $10 and is valid for one use anytime between May 1st and June 8, 2018. Get shopping!!
We bought this fire pit a few years back and it's been so fun to pull it out and have a backyard campfire at dusk. Next summer we're hoping to completely redo our backyard and install a fire pit area that's permanent. I can't wait!!
I see many more S'mores nights in my future!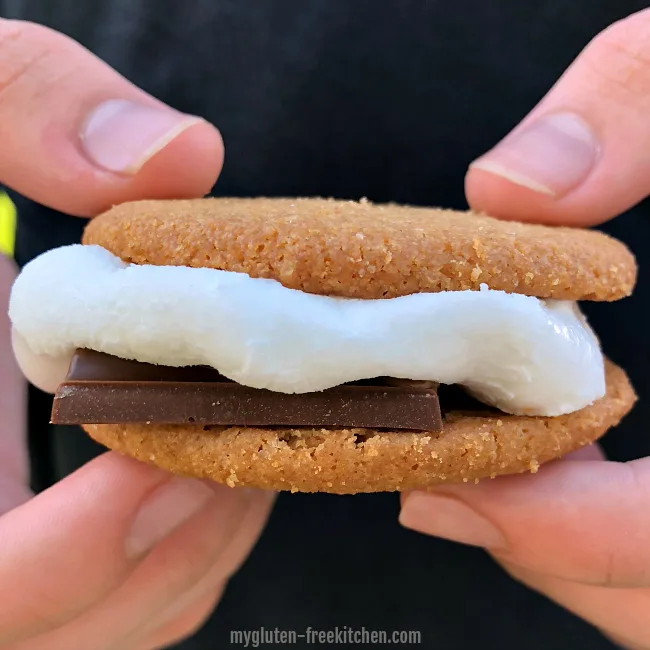 P.S. Have leftover cookies and chocolate? You can make these gluten-free No-Bake S'mores Cookies that are perfect for sharing! They're not only gluten-free but top 8 free too and perfect for class parties, neighborhood get togethers, etc.