Please forgive me for keeping this awesome recipe from you for so long. My family has been enjoying these for four years now, as I've developed this recipe and tweaked it periodically until perfect. Now I'm ready to share this new gluten-free garlic parmesan dinner roll recipe with you! I hope you'll enjoy them as much as we do!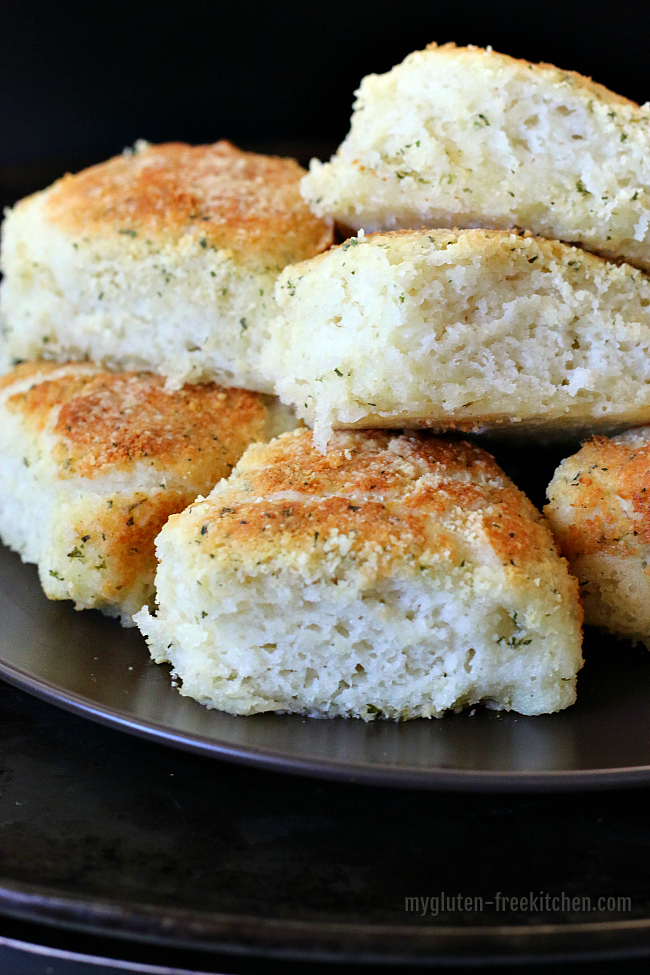 A few years back, I wanted a yummy bread recipe that would go well with pasta dinners. Something to have alongside our gluten-free baked ziti, or gluten-free skillet spaghetti, both of which we have regularly here. Something different from gluten-free garlic bread – maybe a bit more fluffy and able to absorb spaghetti sauce for dipping too.
I decided to work with my proven recipe for gluten-free dinner rolls. After many tries at tweaking seasonings, I finally got them just right. Perfect texture with perfect garlic and parmesan and butter flavors.
Here are some notes about ingredients and some tips for these to turn out delicious!
Notes on Ingredients for Gluten-free Garlic Parmesan Dinner Rolls:
Flour: I have the best results for these rolls when I use Gluten-free Mama's Almond All-purpose gluten-free flour blend. or Authentic Foods Multi-Blend. You CAN definitely try with your own preferred blend! Please do, and report back! I recommend measuring the flour for this by weight. I will update as I try with other flour blends as well, but I simply cannot try them all. I did use Manini's multipurpose for one try, and while the texture was excellent, they got huge and not as pretty – but definitely tasty, so I wouldn't hesitate to use it if you have it.
Xanthan gum: Essential if your flour blend does not have xanthan or guar gum already in it. Guar gum should work equally in this; my stomach just doesn't tolerate it. The xanthan gum I use is this one from Amazon.
Instant yeast: Using instant yeast cuts the amount of time you need to allow for the rolls to rise. I use SAF Instant Yeast, which I keep in a ziploc bag in my fridge and use straight from the fridge each time. Yes, you can use regular, active dry yeast in this recipe. Use the same amount of yeast called for, but go ahead and proof the yeast in the warm water with a bit of sugar. Then you are going to need to extend the rising time for the rolls by at least double what I have listed here. Here's what it looks like so you can find it or click to order it. It seems expensive, but lasts more than a year for me in the fridge.
Egg: There is only one egg in these and you'll have best results if it is room temperature. But if you cannot have eggs in your baked goods you can use this successful substitution: ¼ cup water + 1 Tbsp. ground flaxseed. Simmer water and flaxseed over medium low heat for about 5 minutes until thickened. Stir frequently. Allow to cool. This is equal to one egg.
Parmesan: Some people call it grated, some call it powdered, whatever you call it, you want to use the powdery Parmesan cheese. I find it on the shelf near the spaghetti sauce. The brand I like and have always used that is also easy to find and affordable is this Kraft Grated Parmesan.
Parsley: I use dried parsley because it's easy to just have on hand. You can sure use fresh or even add some other favorite herbs – dried or fresh.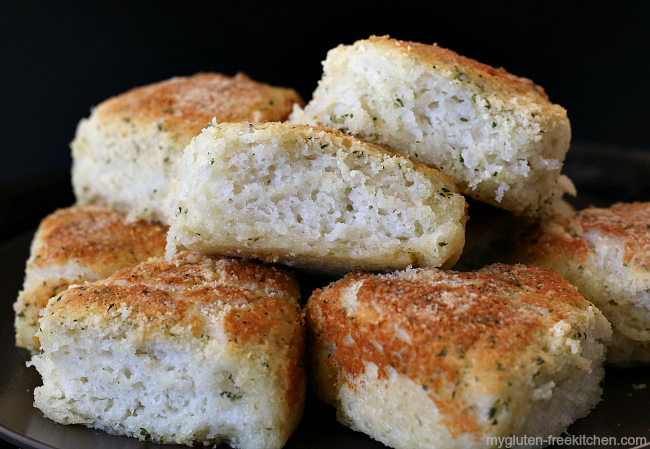 Tips for making these gluten-free garlic Parmesan rolls:
When making gluten-free yeast doughs, the end result is typically a very wet, sticky dough. Do not be tempted to add extra flour! You will not be kneading the dough by hand at all. Your mixer does all the work!
As I mentioned in my other rolls posts, with gluten-free yeast breads, your pans shape your dough. So you can't just put blobs of dough onto a cookie sheet and expect them to come out as nice dinner rolls. I highly recommend you buy a good 8″ or 9″ round metal cake pan to use for making these and my other roll recipes. This pan or this pan would be good options if you don't already have a favorite.
Making all the rolls the same size not only makes it look nice, it makes them bake evenly. I like to use this large cookie scoop, mounded, or this even larger #16 scoop to scoop the gluten-free dough into 9 rolls. Or not-mounded to scoop 10 rolls if you'd prefer them smaller. I do eight rolls around the outside of the pan and one in the middle, but others have done 8 around and two in the middle. Either works! I know if you have a family of 5, you'd rather not have people fighting, so 10 rolls is better for you!
Here's a little visual of what the rolls look like at each stage: after scooping and smoothing the dough into rolls; after brushing with the yummy Parmesan and butter mixture; after the rolls rise and are sprinkled with additional Parmesan; and after baking.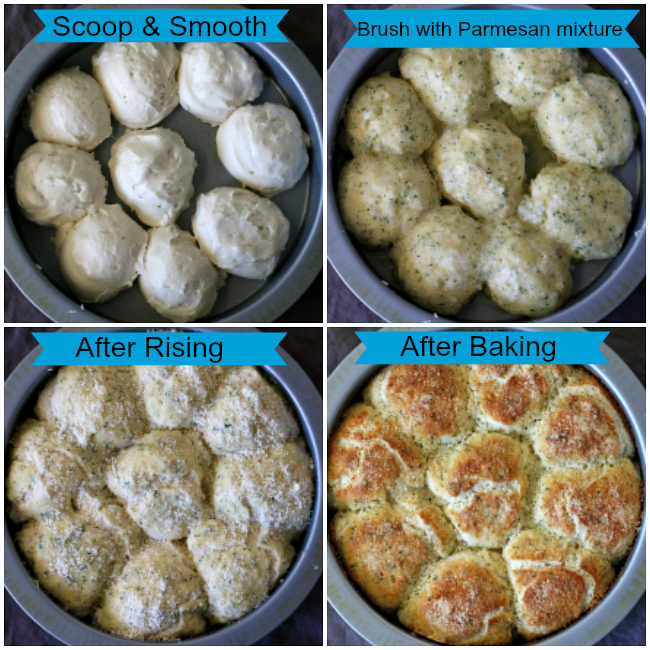 So many of you love my gluten-free pull-apart dinner rolls recipe, so much so that they've been my second most popular recipe on my site for years now, and most popular over the holidays. I've been working on several roll recipes including these garlic rolls, and am thinking about putting together a small ebook cookbook soon, if there's interest.
So far, I've shared my gluten-free hot cross buns recipe that's perfect for Easter and my gluten-free pull-apart cinnamon rolls recipe that's perfect for any special weekend or holiday! I have to keep the others a secret for now, but I'll share them once they're perfected!
If you're serving this with a yummy pasta dish, you might want to read this post on how to cook gluten-free pasta so it isn't mushy! I found some great tips in there that I'm going to try when I make spaghetti next week!
While I often serve these with pasta dishes, as I mentioned earlier, I recently served when we had steak and veggies for dinner and they were delicious with that too! What other meal recipes would you like to see here on the blog to have with these rolls? Let me know!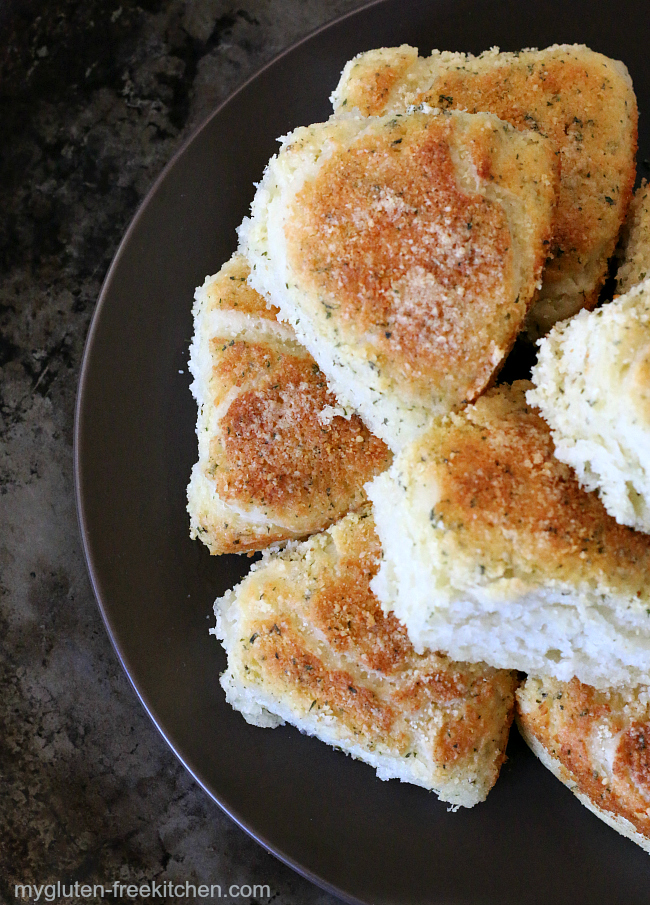 Don't you just want to steal one right off the top? I'm sure no one would notice!
Recipe for Gluten-free Garlic Parmesan Dinner Rolls:
Yield: 9 rolls
Gluten-free Garlic Parmesan Dinner Rolls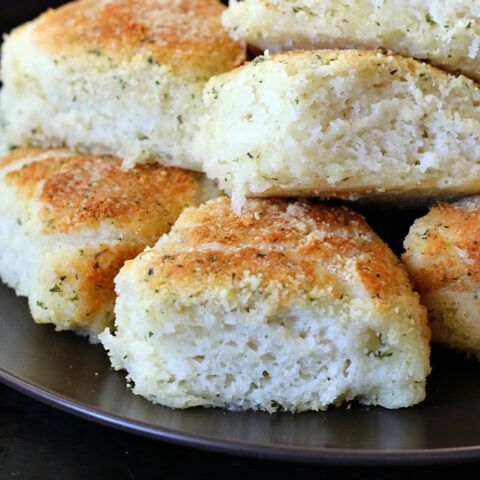 These gluten-free garlic Parmesan dinner rolls have the perfect texture, perfect garlic, Parmesan and butter flavors, and are a great addition to your gluten-free meal! The taste is similar to gluten-free garlic bread!

Prep Time 1 hour 20 minutes

Cook Time 26 minutes

Total Time 1 hour 46 minutes
Ingredients
Rolls:
2 3/4 cups (11 1/2 oz.) good quality gluten-free all-purpose flour blend
1 1/2 tsp. xanthan gum
1 Tbsp. sugar
2 tsp. SAF instant yeast
1 tsp. sea salt
1 tsp. garlic powder
1 cup warm water (105-1100)
2 Tbsp. butter, melted
1 egg (preferably room temp)
1 tsp. cider vinegar
Coating:
6 Tbsp. salted butter
1/3 cup grated Parmesan
1 tsp. garlic powder
1/2 tsp. sea salt
1/2 tsp. dried parsley
1 Tbsp. grated Parmesan for topping
Instructions
In the mixing bowl of your electric mixer, mix together flour, xanthan gum, instant yeast, sugar, sea salt and garlic powder.
With mixer running on low speed, add in the water, melted butter (or substitute), egg, and cider vinegar.
Mix on medium speed 3 minutes.
Spray 8" or 9" round cake pan or pie plate with cooking spray. Using a 2" scoop or 1/3 cup measuring cup, scoop dough into 9 mounds in the pan. I place one mound in middle, then scoop 8 mounds of dough side by side all the way around the pan. You can also make them a bit smaller so that you have 10 rolls, and bake for a little less time.
Dip your fingertips into warm water and use to smooth out the tops of the rolls, continuing to wet fingers as needed.
In a microwave safe bowl, melt the 6 Tablespoons of butter. To the bowl of melted butter, add grated Parmesan, garlic powder, sea salt, and dried parsley. Whisk together.
Use a pastry brush or basting brush to brush the butter/Parmesan mixture all over the top and sides of the dough balls. There is enough mixture to cover each roll completely.
Cover with a dry towel and let rise in a warm place 45 minutes to 1 hour.
During the last few minutes that the rolls are rising, preheat oven to 400°.
Remove the dry towel. Sprinkle 1 Tablespoon of additional grated Parmesan over the unbaked rolls.
Bake in 400° oven for 26 minutes. Tops should be golden brown and if you measure temperature of dough, it should measure 200°.
Remove from oven and let cool a few minutes before separating rolls and enjoying!
Notes
I've had the best results using Gluten Free Mama's All-purpose Almond Flour Blend or Authentic Foods Multi-Blend. If using a flour blend that already has xanthan or guar gum in it, then cut the amount of xanthan gum called for in this recipe down to 1/2 tsp.

*see blog post for ingredient substitutions
Recommended Products
As an Amazon Associate and member of other affiliate programs, I earn from qualifying purchases.


Pin these to your gluten-free bread board on Pinterest: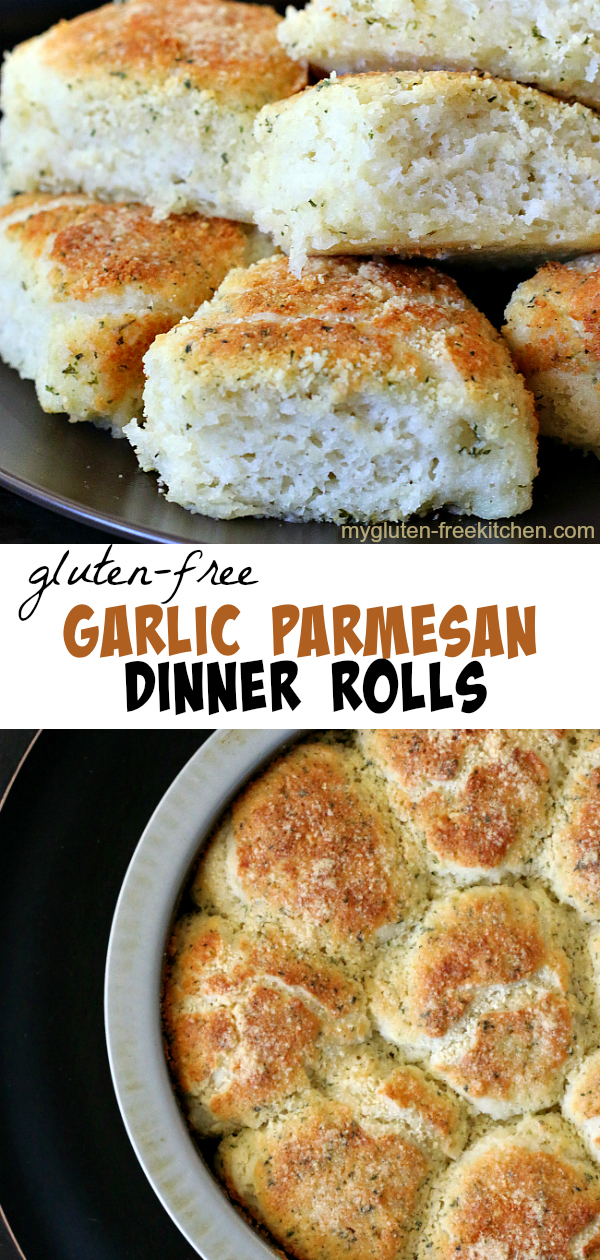 I hope you and your family enjoys these garlic rolls as much as mine does!