I'm thrilled to have finally found the perfect homemade gluten-free caramel sauce recipe to share with you! This homemade caramel sauce is thick, creamy, buttery and perfectly sweet. It stays soft at room temperature, and can be warmed just a bit for drizzling. It's perfect for enjoying over gluten-free brownies and ice cream!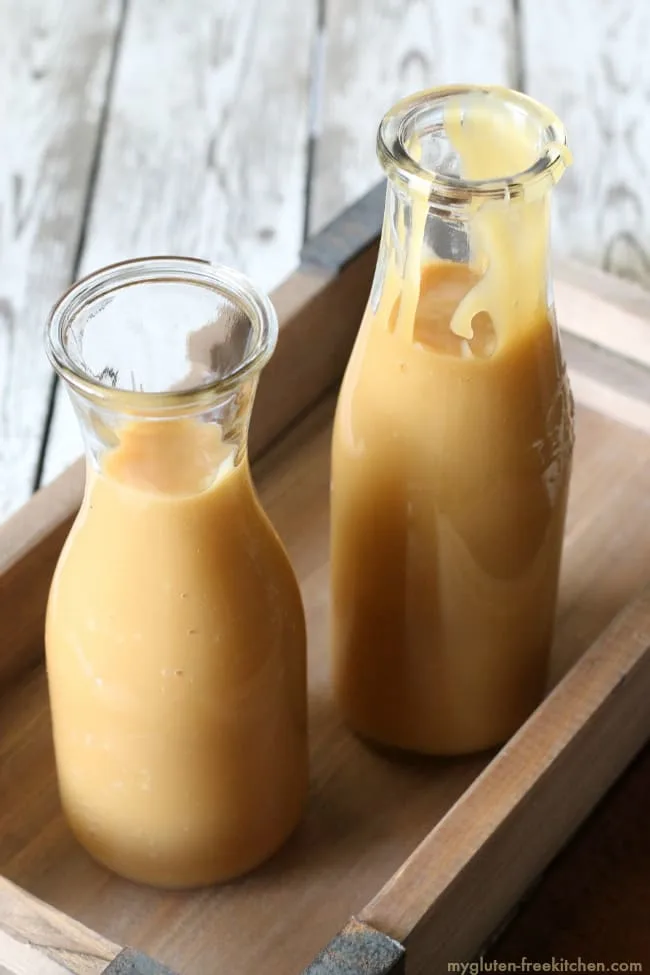 I'm not a fan of any store bought caramel sauces that I've tried – they're very runny and just don't have great flavor. They're nothing like the thick and buttery caramel sauce that I grew up enjoying at Leatherby's Family Creamery in Sacramento. While this isn't an exact copycat of the Leatherbys caramel sauce, I like it even better!
I could not stop digging into this salted caramel sauce with my spoon! I ended up sending one jar over to my friend's house because I knew I was going to eat the whole jar if I didn't!
I've also got to tell you that this salted caramel sauce is very, very good drizzled over fresh popped popcorn! I may have eaten three bowls of popcorn drizzled with this caramel sauce last night – just to make sure I could recommend that to you!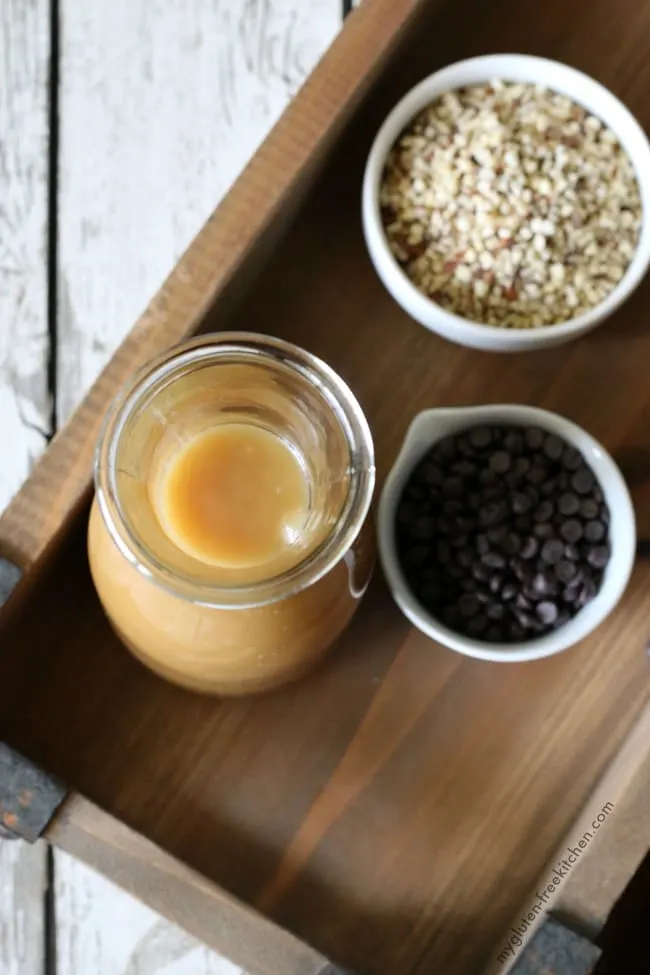 Please note that you will be using a candy thermometer for this recipe. You'll want to calibrate it to make sure it's accurate. Here's a great tutorial on calibrating a thermometer.
This caramel sauce is made with evaporated milk. You won't use a whole can though – don't make the mistake of reading 1 cup as 1 can. You will have some leftover.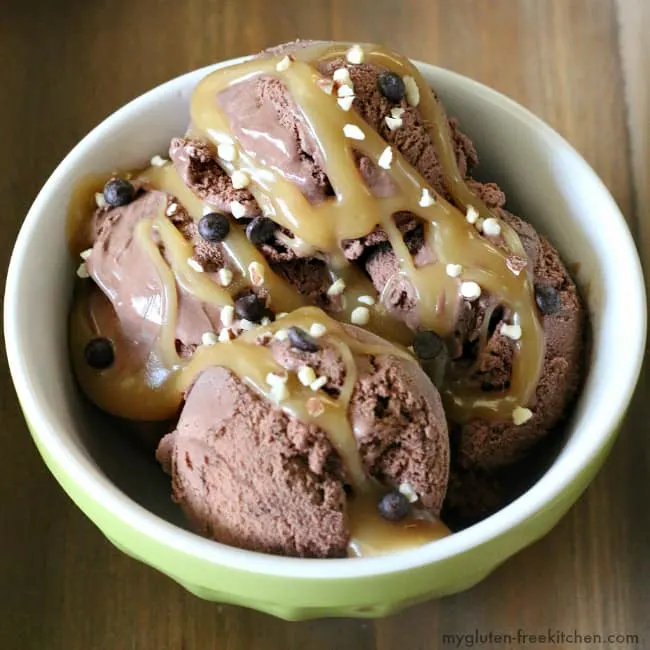 One of my favorite ways to enjoy this homemade caramel sauce is over chocolate ice cream, and sprinkled with chopped almonds and a few mini chocolate chips. Sooooo good!
Love cheesecake? Drizzle this caramel topping over my gluten-free cheesecake for a decadent dessert! It would also be amazing on this chocolate mug cake. I'm ready to dig in!
Need a dairy-free caramel sauce? Make this vegan caramel sauce.
And now here's the recipe for this amazing homemade caramel sauce!
Gluten-free Caramel Sauce Recipe:
Yield: 5 cups
Gluten-free Caramel Sauce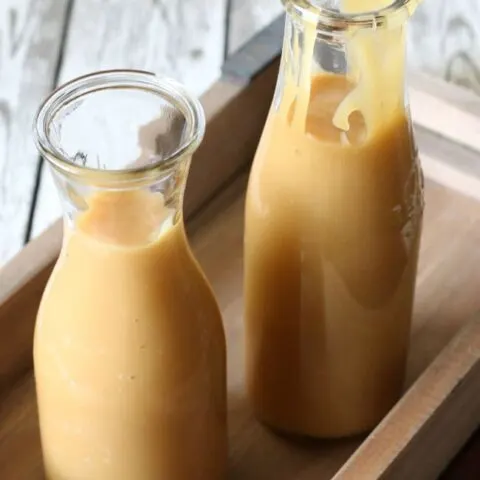 Thick, buttery gluten-free caramel sauce that is delicious over ice cream, popcorn, brownies or cheesecake. You can drizzle this caramel topping on pretty much anything!

Prep Time 5 minutes

Cook Time 25 minutes

Additional Time 20 minutes

Total Time 50 minutes
Ingredients
2 cups sugar
1 cup brown sugar
3/4 cup Karo light corn syrup
1 cup evaporated milk (note: this is not a full can)
1 pint (2 cups) heavy whipping cream
1 cup (2 sticks or 16 Tbsp.) unsalted butter
1 tsp. sea salt
1 tsp. pure vanilla extract
Instructions
In a large pot (tall enough for your candy thermometer to clip on to), combine the sugar, brown sugar, light corn syrup, evaporated milk, heavy cream, unsalted butter and sea salt. (So everything except the vanilla extract!)
Cook over medium heat, stirring constantly with a rubber spatula. Be sure you are constantly scraping the sides, edges, and bottom of the pan and do not leave unattended for more than a couple of seconds.
Continue cooking and stirring, monitoring the temperature with a candy thermometer until temperature reaches 224°. This took about 24 minutes for me, but will vary depending on your stove, pot size, and altitude.
Immediately remove from heat and set hot pot on a cooling rack or trivet.
Stir in pure vanilla extract.
Let cool before serving. Store leftovers in jar at room temperature or refrigerator. You can microwave the sauce for 20-30 seconds to warm and thin the sauce for drizzling again.
Notes
I do not recommend trying to cut back the sugar, nor do I recommend substituting with dairy-free alternatives This is definitely a buttery, sugary treat.
Recommended Products
As an Amazon Associate and member of other affiliate programs, I earn from qualifying purchases.

Pin this to your gluten-free desserts board on Pinterest: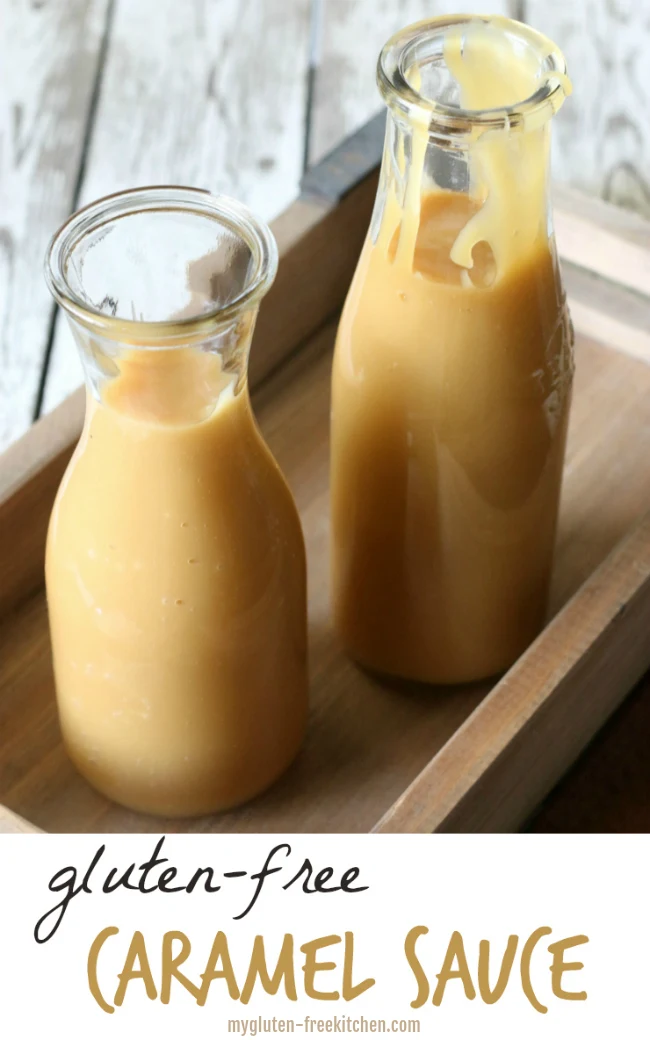 Party time!! Just as I did last year, I've gathered some of my favorite gluten-free bloggers to host a virtual ice cream social for these hot summer nights! Each blogger is sharing a recipe for a gluten-free ice cream, topping, popsicle or other cool dessert.
I hope you enjoy this gf caramel topping too! Please come back and rate and review it once you've tried it!