Gluten-free brownies that are perfectly chewy and fudgy all at the same time. No cakey brownies here! These chewy gluten-free brownies are perfect for those intense chocolate cravings!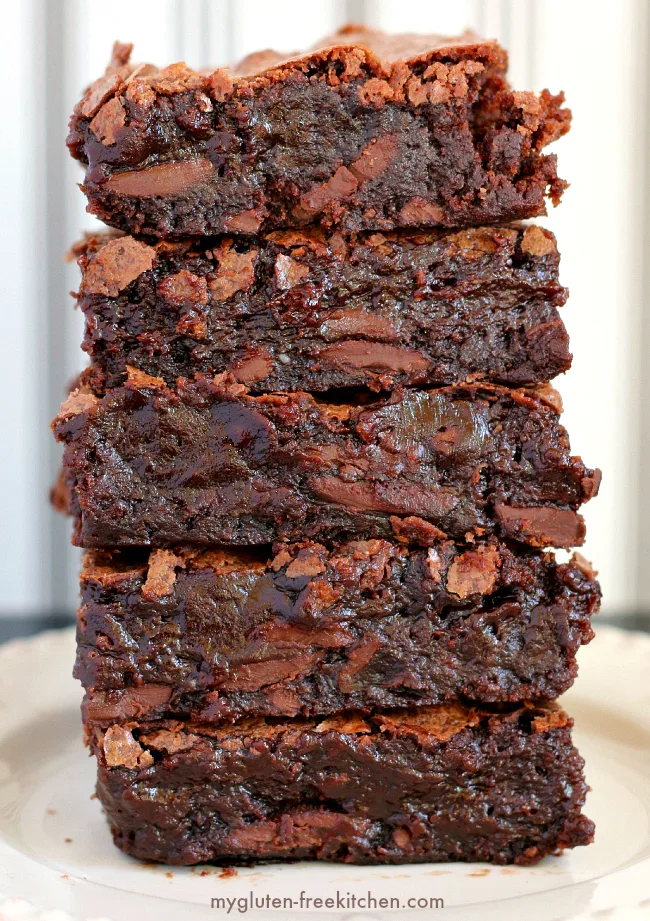 Brownies have always been one of my absolute favorite desserts. I love the simplicity of them and they are a perfect fix for a chocolate craving. These are, by far, the best gluten-free brownies I've had. If you like your brownies to be fudgy and chewy, not cakey, then these are for you.
America's Test Kitchen developed the perfect gluten-full version of this recipe, and I easily adapted it to gluten-free my favorite gluten-free flour blends.
I'm a huge fan of America's Test Kitchen and Cook's Illustrated. They research and test a ton before coming up with the perfect version of a recipe. If you've never followed a recipe by America's Test Kitchen, you might be surprised at the precise steps involved, but trust that every little detail has been tested.
In this recipe, you might be tempted to skip lining the pan with aluminum foil but don't! I have tried this recipe without the foil, and the brownies did not turn out as well, and lacked the shiny crust that makes these so beautiful.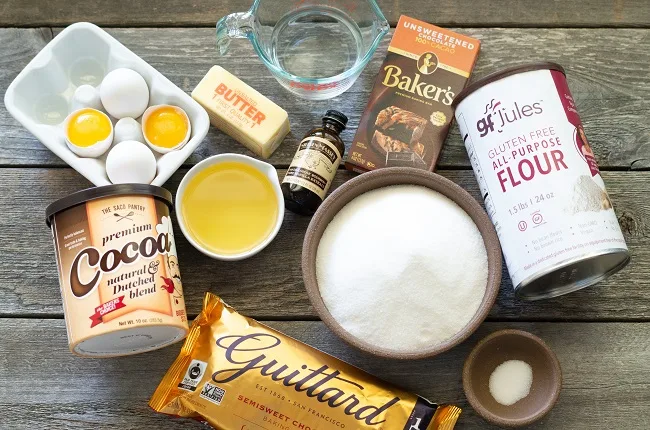 Notes on Ingredients and Substitutions for these gluten-free brownies:
Cocoa: I've had success no matter what cocoa I use. My usual though is this Saco cocoa that is a blend of natural and Dutch process cocoa. I buy mine at Winco, but it's also available from Amazon here.
Unsweetened Chocolate: You need to chop and melt unsweetened chocolate squares. I use Baker's unsweetened chocolate which I find at Target and Winco and most other stores. You'll use just 2 ounces of it – read the package so you understand how much of the package that is. I suggest putting the rest in a ziploc bag and storing until the next time you make these brownies!
Chocolate chips: I'm not a fan of milk chocolate, so I use semi-sweet chocolate in my recipe. If you love milk chocolate, feel free to use milk chocolate chips. Or use bittersweet or dark chocolate if you love either of those.
Egg yolks: One of the main reasons these are chewy is that they have extra egg yolks. So you'll be using two whole eggs plus two egg yolks. I really don't think any egg substitutions would work well in this recipe. Sorry!
Oil/Butter: This recipe uses both oil and butter for great texture and flavor. If you need to, you can use combine the amounts and use all of one or the other. I do recommend a flavorless oil like corn oil, canola oil, or a light tasting olive oil.
As always, I only recommend baking with a good quality all-purpose gluten-free flour blend. All flour blends are not created equal! I recommend avoiding flour blends that contain any bean flours or that are primarily rice flour, as you'll get a more gritty result. I definitely recommend gfJules gluten-free flour which you can buy direct or from Amazon. Other good quality flour blends I recommend are: King Arthur Measure for Measure (from Amazon or Target), Cup4Cup (from Amazon or Target), Authentic Foods Multi-blend, and Pamela's.
Can you make these gluten-free brownies dairy-free?
Yes! You can replace the butter with an equal amount of additional oil. You can replace the chocolate chips with dairy-free chocolate mini chips or chocolate chunks from Enjoy Life.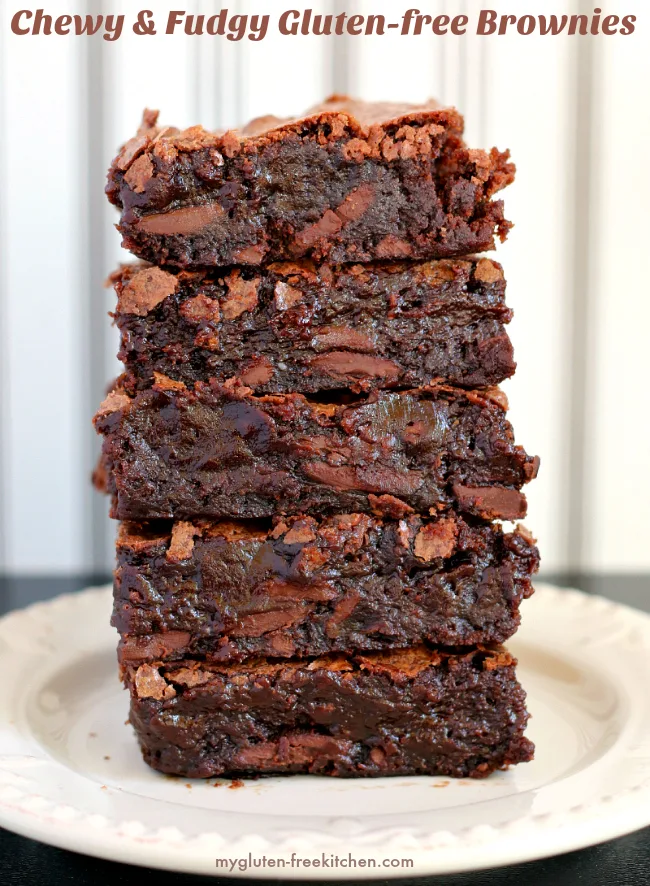 My favorite way to enjoy these gf brownies (besides plain, with a glass of cold milk) is to have gluten-free Brownie Sundaes with my homemade hot fudge! And if I make my homemade caramel sauce, or peanut butter ice cream topping also, even better – so good with all of these!
Looking for other gluten-free chocolate desserts? Try my gluten-free trifle recipe with brownies, candy, and whipped cream. Over the top good too! And you can't go wrong with my gluten-free chocolate cupcakes either!
If you make these and love them, please come back and give this recipe a 5 star rating in the recipe card! Feel free to comment with tips or to share any successful substitutions you made.
Gluten-free Chewy Brownies Recipe:
Yield: 24 brownies
Best Ever Chewy Fudgy Gluten-free Brownies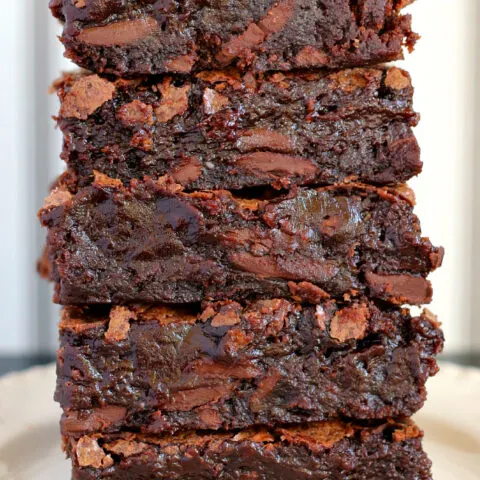 Notice that you need 4 eggs total for this recipe. You'll use 2 whole eggs + 2 extra egg yolks. I'm sure you can come up with another yummy use for the leftover whites!
Additional Time
1 hour
30 minutes
Total Time
2 hours
25 minutes
Ingredients
1/3 cup Dutch-processed cocoa
1/2 cup plus 2 tablespoons boiling water
2 oz. unsweetened chocolate, finely chopped (I use Baker's squares)
4 tablespoons (1/2 stick) unsalted butter, melted
1/2 cup plus 2 tablespoons oil (corn, canola, vegetable, or coconut)
2 large eggs
2 large egg yolks
2 teaspoons pure vanilla extract
2 1/2 cups sugar
1¾ cups good quality gluten-free flour blend*
1/2 tsp. xanthan gum (*see note)
3/4 teaspoon salt
6 ounces semi-sweet chocolate chunks or chips
Instructions
Preheat oven to 350°. Make a foil sling: Cut 18" length foil and fold lengthwise to 8" width. Fit foil into length of 13x9" baking pan (I recommend using a metal one), pushing into corners and up the sides of pan; allow excess to overhang pan edges. Cut 14" length foil and fit into width of pan in the same manner, perpendicular to the first sheet. Spray foil with nonstick cooking spray.
In a large microwave safe bowl, whisk cocoa and boiling water together until smooth. Add unsweetened chocolate and whisk until the chocolate is melted. If you need to, place the bowl in the microwave in 30 second increments to help melt the chocolate.
Whisk in the melted butter and oil. Mixture may look curdled at this point and that's okay! Add eggs, yolks, and vanilla extract, and continue to whisk until smooth and homogenous.
Whisk in sugar until fully incorporated.
In a small bowl, whisk together the gluten-free flour blend, xanthan gum (if needed), and salt.
Stir the flour mixture into wet ingredients and mix with a rubber spatula until combined.
Fold in the bittersweet or semi-sweet chocolate pieces.
Scrape batter into prepared pan and bake until toothpick inserted halfway between edge and center comes out with just a few moist crumbs attached, 30 to 35 minutes. Transfer pan to a wire rack and cool 1 1/2 hours.
When cool, cut and serve! The foil sling makes it easy to pull them out and place on cutting board for easy cutting. These cut very nicely with a plastic bladed cutter.
If you use a glass baking dish, cool the brownies 10 minutes, then remove them promptly from the pan so they don't overbake in the hot pan.
Store leftovers at room temperature.
Notes
*If using a gluten-free flour blend that already includes xanthan or guar gum, then omit the xanthan called for in the recipe. (gfJules includes xanthan, Cup4Cup includes xanthan, King Arthur includes xanthan, Pamela's includes guar, Gluten-free Mama doesn't use any gums so you add the gum separately as called for in recipe.)
*Dairy-free adaptation: Use non-dairy alternative for butter, and use a non-dairy chocolate.
Recommended Products
As an Amazon Associate and member of other affiliate programs, I earn from qualifying purchases.
As always, be sure to double-check your ingredients for gluten. Feel free to try this with your preferred gluten-free flour blend, but I only guarantee a delicious, non-gritty result if you use one of the flours I recommend!
If you're looking for more gluten-free brownie recipes, head over to my gluten-free brownies Pinterest board!
Recipe originally published Dec. 2012, updated June 2015.
Pin this gluten-free brownie recipe to your gluten-free desserts Pinterest board:

Old photos from 2012 – this was one of the first recipes ever posted to my website: