When the craving hits for cheesecake, you can make this delicious gluten-free cheesecake and top it with berries or your other favorite toppings! This gluten-free graham cracker crust cheesecake will become your go-to recipe! Follow all the tips for success!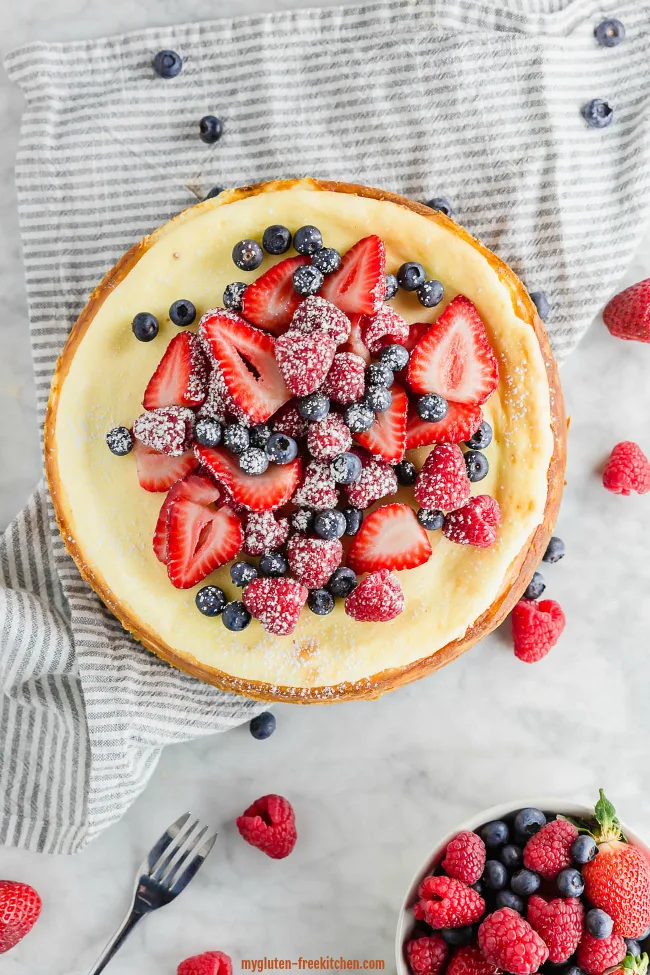 Today I'm sharing the best gluten-free cheesecake recipe made by my friend. It's everything you could ever want in a cheesecake! You know I try to bring you the best recipes, and sometimes in order to do that, I reach out to my friends for their recipes.
Why? Well, because I'm a super picky eater and there's some things I just don't love – cheesecake being one of them!
Since I've never loved cheesecake, I knew I could never develop, test, and retest cheesecake over and over to get it right for sharing with all of you, so instead I went to my friend Megan, of the gluten-free blog A Dash of Megnut, for her best gluten-free cheesecake recipe to share!
Gluten-free cheesecake has been one of the most requested recipes from readers of My Gluten-free Kitchen! I love hearing your requests, and I so wanted to make this happen! I mean, it's not like you can go on a date night or out with the girls to get a slice of gluten-free cheesecake at Cheesecake Factory, so you have to make it at home!
Isn't it gorgeous? I'm loving the fresh berries on top and the sprinkle of powdered sugar to make it pretty! Those choices for topping are so easy too!
Is cheesecake usually gluten-free? NO!
What makes this cheesecake gluten-free? Gluten-free graham crackers! This cheesecake has a yummy gluten-free graham cracker crust.
To make this gluten-free cheesecake crust, you just add gluten-free graham crackers to a food processor and process until finely ground.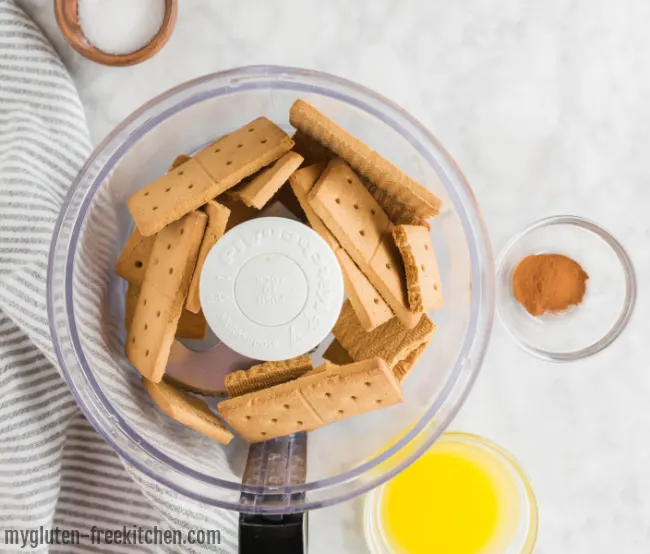 Pour the graham cracker crumbs into a medium sized bowl and whisk together with sugar, cinnamon and salt.
Then pour melted butter over the top and mix until the crust mixture resembles wet sand.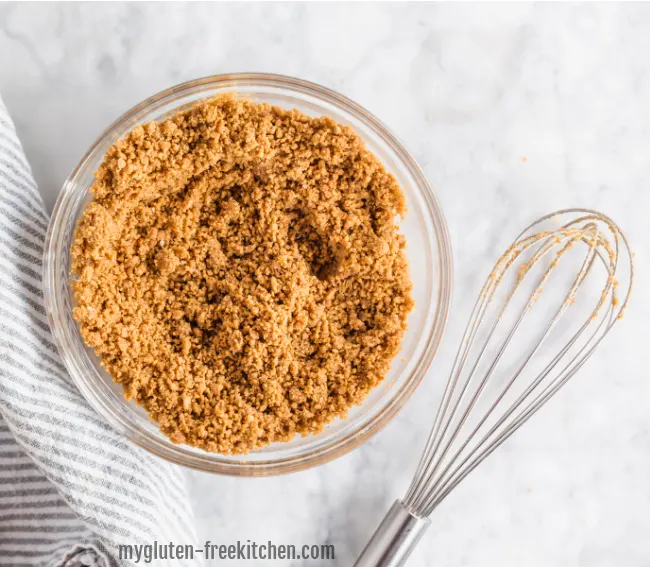 After that just press this into your spring form pan.
I like to only press my graham cracker crust only into the bottom of the springform pan, but if you would also like the gluten-free cheesecake crust to come up the sides of the cheesecake then you can double the graham cracker crust recipe.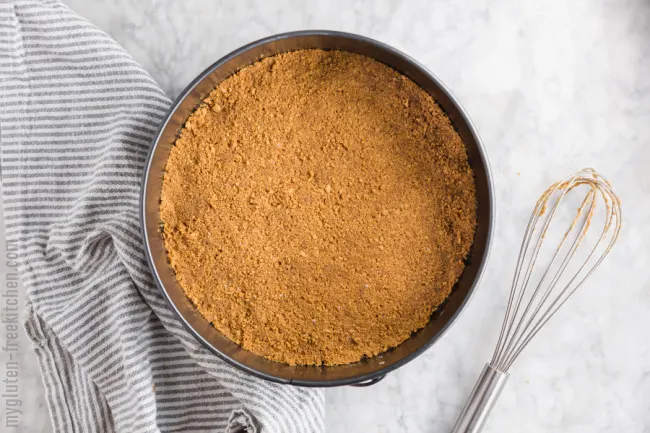 The gluten-free graham cracker crust gets baked for 10-12 minutes and then cooled before you start on making the rest of the cheesecake.
Now let's talk about everything you need for this recipe: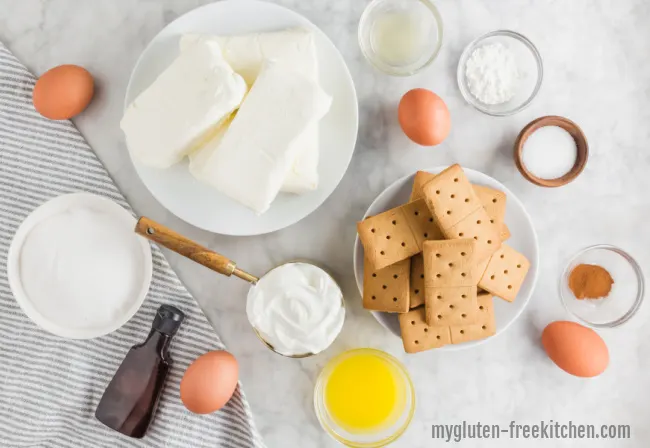 Notes on ingredients for this gluten-free cheesecake:
Cornstarch helps prevent the eggs from over-coagulating and is a great addition for cheesecakes made without a water bath. There's only one tablespoon of cornstarch in this recipe but it really does make a big difference and helps prevent cracking. Don't skip this!
Cream Cheese: It's best to use softened cream cheese. Use the full-fat kind too!
Eggs: Use room temperature eggs. I do not recommend using an egg substitutes.
Lemon juice – I just use a bit of RealLemon that I keep in my fridge for cooking/baking.
Graham crackers: You can use any brand of gluten-free graham crackers that you would like that you can find easily near you or order online.
Kinnikinnick S'moreables Graham style gluten-free crackers were used in this recipe.
You can also make homemade gluten-free graham crackers using this gfJules graham cracker mix.
While making cheesecake takes some time, at least there aren't a bunch of complicated ingredients to fuss with!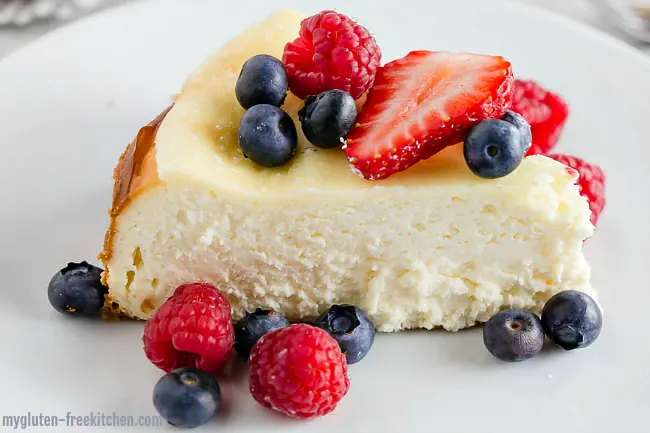 You may notice that we didn't use a water bath for this cheesecake. If you're wondering what a water bath is and does for a cheesecake, it is essentially a pan filled with water with the springform pan in the center. It helps keep the cheesecake moist and prevents cracking.
I tend to not use a water bath when I bake my gluten-free cheesecakes and instead use a few other precautions to bake a perfectly smooth cheesecake.
Here are a few reasons why cheesecake may crack:
Too much air was incorporated too into the cheesecake batter. While it is important to thoroughly mix the ingredients, once the eggs are added try to mix until just incorporated to ensure that too much air isn't added to the batter.
The cheesecake was baked too long and it overcooked. The cheesecake is done when the edges are set and a 2 to 3-inch circle in the center is still wobbly. Once the cheesecake is fully cooled, the center of the cheesecake will become firm.
Drastic temperature changes during baking or cooling. Make sure the oven is completely heated before putting the cheesecake in, and don't continually open the oven door to check on the cheesecake for this reason as well. You want to keep an even temperature for baking. Also once you remove from oven, allow to cool at room temperature – don't place it somewhere cold like the refrigerator.
Of course, if you do end up with some cracks, that's okay! The cheesecake will still taste delicious!
You can top your simple gluten-free cheesecake with dollops of whipped cream, fresh berries, or even a chocolate sauce to cover any cracks. No one will ever know the difference!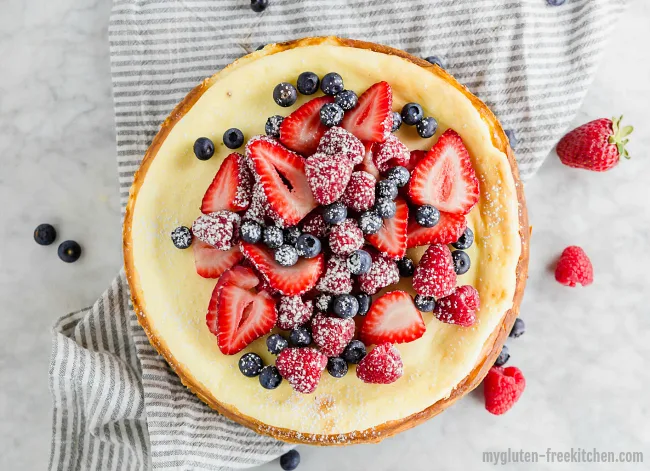 Extra tips for making this gluten-free cheesecake with graham cracker crust:
Always butter the bottom and sides of the springform pan to easily remove the cheesecake from the pan.
Don't try to remove the cheesecake from the pan until after it has chilled in the refrigerator.
Always chill your cheesecake for at least 4 hours, preferably overnight. That's when the magic happens and the cheesecake becomes smooth, silky and creamy. Cheesecake is one of those desserts that require advance preparation for that very reason.
If you follow the full recipe below with the tips I've included here in this post, you'll find yourself enjoying the best gluten-free cheesecake!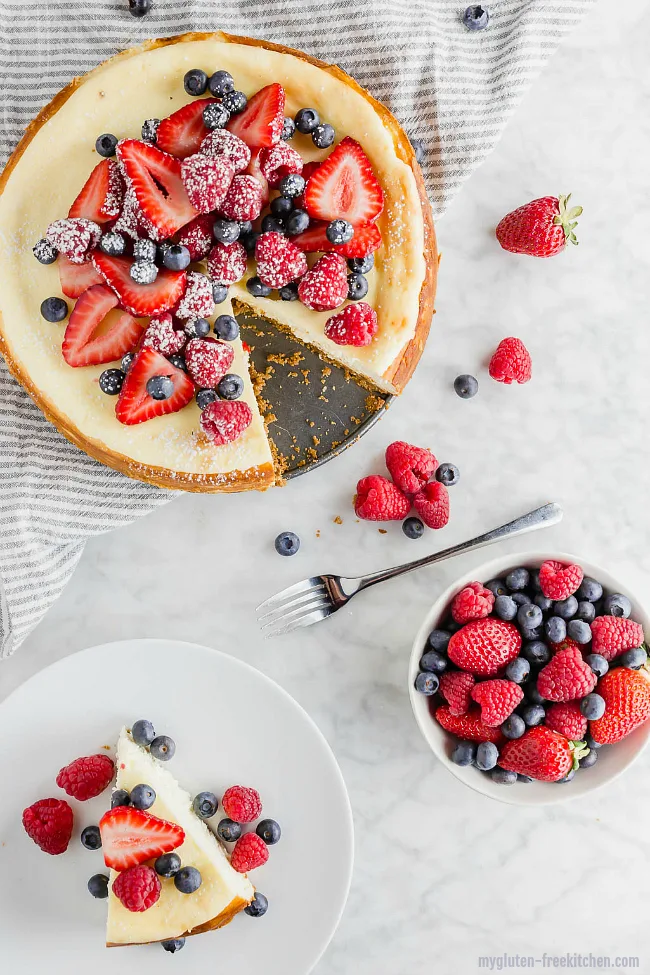 Gluten-free Cheesecake Topping Ideas:
As pictured above, you can top the gluten-free cheesecake with fresh berries and powdered sugar. Just wash and cut up fresh strawberries and sprinkle on top with other fresh berries – whatever is ripe and fresh in your area. Then just sprinkle powdered sugar over the top right before serving. You can use a shaker like this or a strainer/sieve that you have on hand.
This would be amazing topped with my berry sauce recipe using whatever berries you have on hand, and serve with additional fresh berries.
If you want to go the chocolate route, make my hot fudge sauce.
Have you ever had cheesecake topped with caramel and nuts? Make my gluten-free caramel sauce or purchase gluten-free caramel sauce at the store, and top with chopped almonds or pecans. If you have time, roast the nuts first too! Over the top good!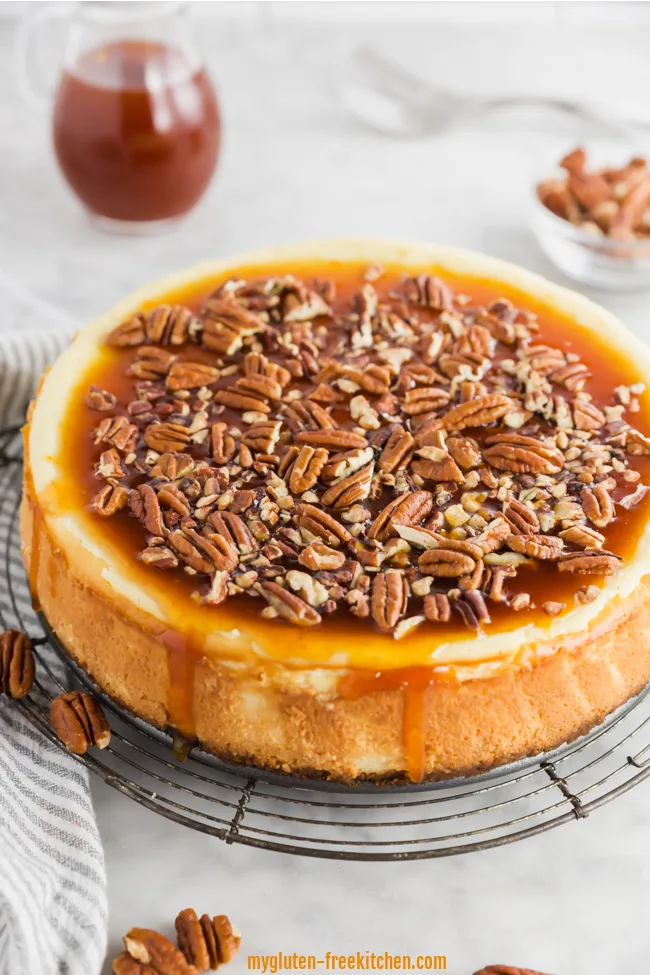 For this caramel pecan version, I topped it with 1/3 cup of caramel sauce and about 1/2 cup chopped pecans.
Do you have other favorite topping ideas for gluten-free cheesecake? Let me know!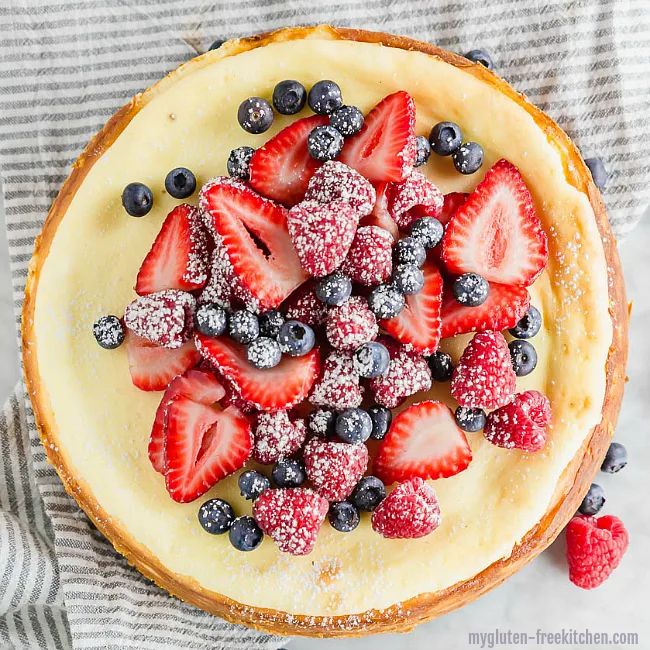 On a cheesecake kick and want to try some other gluten-free cheesecake recipes? These gluten-free pecan pie cheesecakes are so cute done in this small size that would be perfect for parties!
If you're making treats for someone following a low carb or keto diet, you'll want to try this low carb cheesecake recipe. These gluten-free caramel apple cheesecake bars look so yummy too!
Thanks again to Megan for sharing her best gluten-free cheesecake recipe with us! Be sure to go check out her blog, especially her gluten-free raspberry crumb bars! I also can't wait to try her gluten-free strawberry cobbler recipe!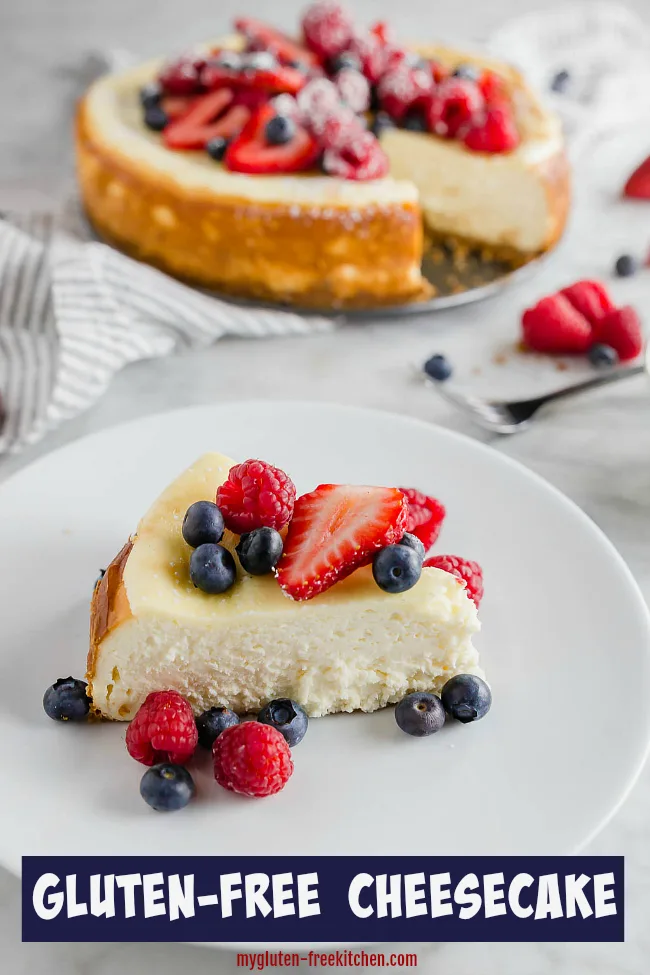 If you make these and love them, please come back and give this recipe a 5 star rating in the recipe card!
Feel free to comment with tips or to share any successful substitutions you made.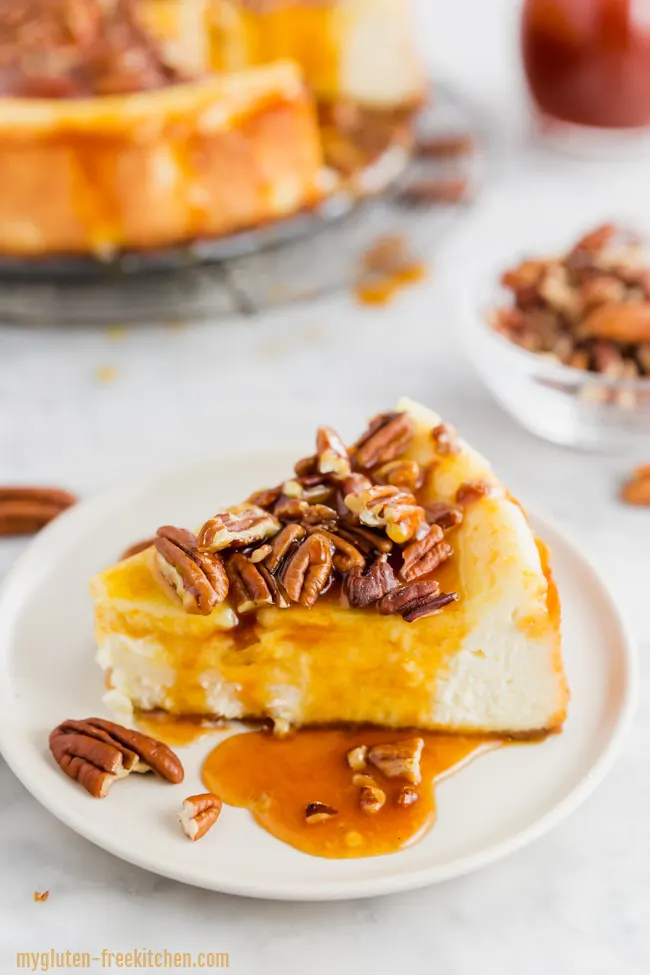 Best Gluten-free Cheesecake Recipe:
Yield: 12 slices
Gluten-free Cheesecake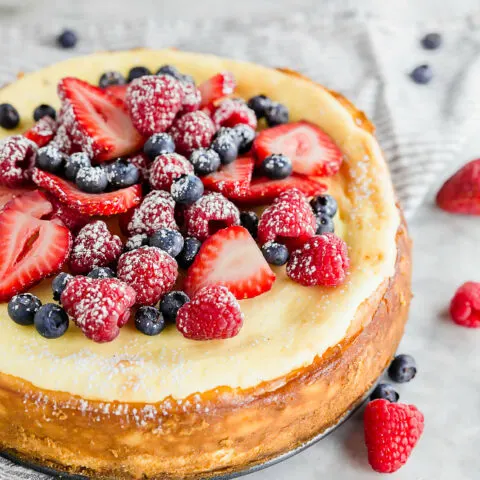 This gluten-free cheesecake recipe yields a creamy, classic cheesecake that you can top how you want! Berries, caramel, or chocolate, whatever you prefer!
Cook Time
1 hour
12 minutes
Total Time
2 hours
57 minutes
Ingredients
Crust:
1 3/4 cups gluten-free graham cracker crumbs (from an 8 oz box)
1 Tablespoon sugar
1/2 teaspoon cinnamon
pinch of kosher salt
4 Tablespoons melted butter
Filling:
4 packages (8 oz. each) cream cheese, softened
1 cup sugar
4 eggs (room temperature)
1 cup sour cream
2 teaspoons lemon juice
1 Tablespoon cornstarch
1 teaspoon vanilla
Instructions
°Preheat oven to 350°F. Butter the bottom and sides of a 9-inch springform pan. Set aside.
Add gluten-free graham crackers to a food processor and process until finely ground. Pour graham cracker crumbs into a medium sized bowl and whisk together with sugar, cinnamon and salt. Then pour melted butter over the top and mix until the crust mixture resembles wet sand.
Press the graham cracker mixture into the bottom of the springform pan.
Bake at 350°F for 10-12 minutes, until the crust is lightly browned and fragrant. Remove from the oven and cool for at least 10 minutes while preparing the filling. (Keep the oven on!)
To make the filling, combine softened cream cheese and sugar in a large mixing bowl. Beat on high for 1-2 minutes, until light and creamy. Add the eggs, one at a time, scraping down the bowl in between each addition. Then, add the sour cream, lemon juice, cornstarch and vanilla and mix only until combined and smooth.
Pour the cheesecake filling over the crust and smooth with a spatula. Place cheesecake in the preheated oven and immediately lower the oven temperature to 300°F. Bake for 55 minutes to an hour, until the edges of the cheesecake are set (the center will still be a bit wobbly). Turn off the oven and let the cheesecake sit in the oven for another hour. Remove the cheesecake from the oven and carefully loosen the edges of the cheesecake from the sides
of the pan with a knife, but leave the cheesecake in the pan. Let the cheesecake come to room temperature.
Cover the cheesecake and refrigerator for at least 4 hours, preferably overnight. Remove the cheesecake from the springform pan and top with fresh berries and powdered sugar or other favorite toppings before serving.
Notes
Please see blog post for tips about preventing cracking and tips for best success.
For the caramel version of this, I topped it with 1/3 cup of caramel sauce and 1/2 cup chopped pecans.
Recommended Products
As an Amazon Associate and member of other affiliate programs, I earn from qualifying purchases.
Pin this gf cheesecake to your gluten-free desserts board on Pinterest: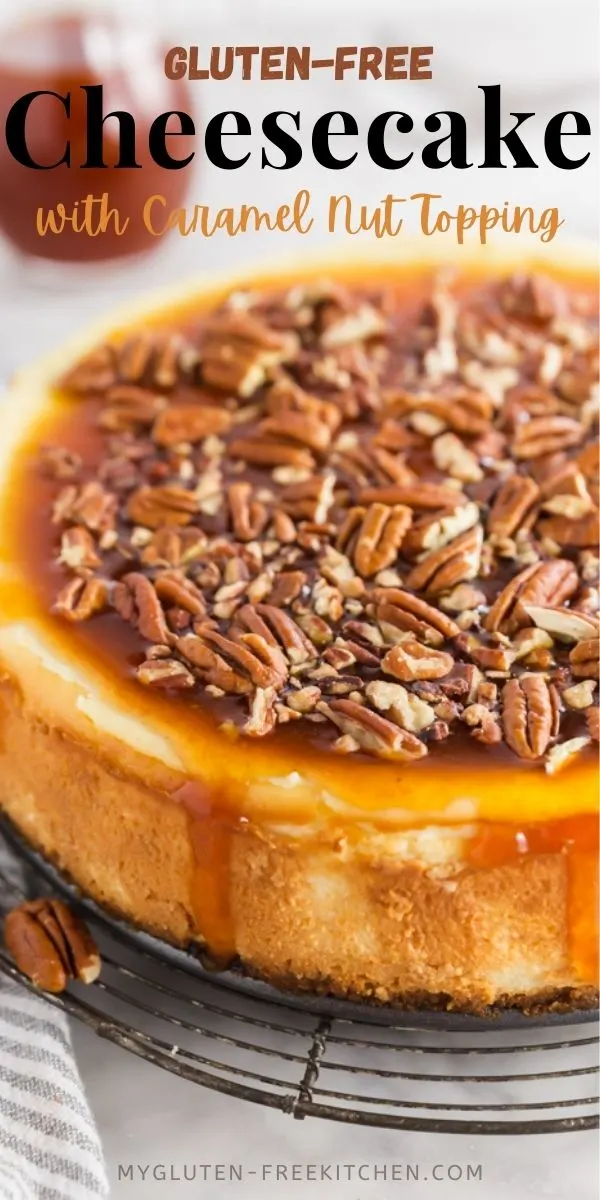 I hope you and your loved ones enjoy this easy gluten-free cheesecake recipe too!
Please come back and rate and review this after you've made it!
Happy Baking!