Perfect for football parties and weekend snacking, this pizza dip is my kids' favorite appetizer! Gooey and cheesy, this easy pizza dip tastes just like pepperoni pizza!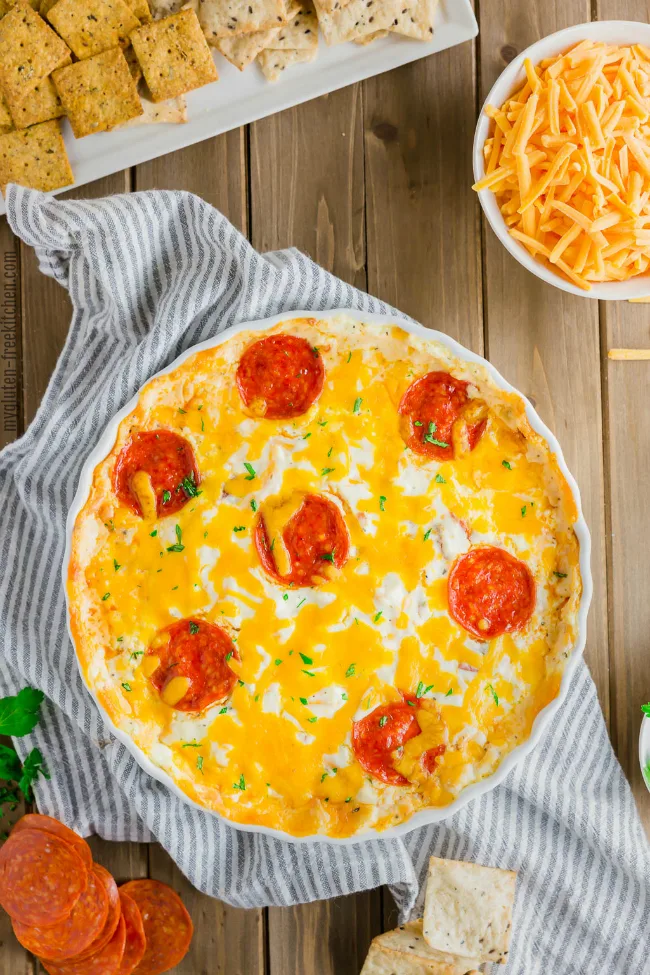 I have very few dip recipes in my recipe binder and have been wanting to add more. Many of them are naturally gluten-free, or take just a few tweaks to make them gluten-free dips. My usual go to is this cheesy bean dip.
On weeks like this, when we're watching a lot of sports on TV, we get the munchies! I wanted to make something new, so I set out to make a cheesy dip and decided to put a pizza spin on it.
The result: a hot cheesy dip that tastes just like pepperoni pizza!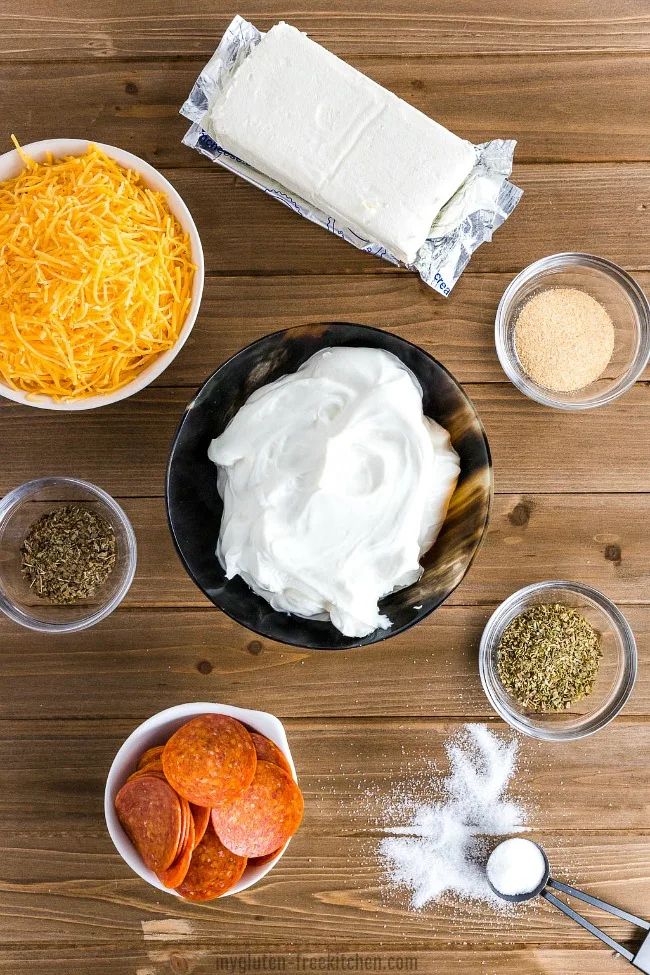 Ingredients for this Pizza Dip recipe:
Cream Cheese – you'll use a whole 8 ounce block of cream cheese. Opt for the regular version, not a lighter one.
Sour Cream – I opt for a natural sour cream with no odd ingredients – usually buying Daisy.
Shredded Cheddar Cheese – I save myself time by buying pre-shredded cheese.
Garlic powder or onion powder – you pick which one you prefer or have on hand.
basil – this is dried basil that you buy on the spice aisle.
Pepperoni slices – You can also use mini pepperoni or turkey pepperoni slices.
I served mine with an assortment of gluten-free crackers. You could also serve with toasted gluten-free baguette slices or tortilla chips. These grain-free twisty flax sticks would be so good with it!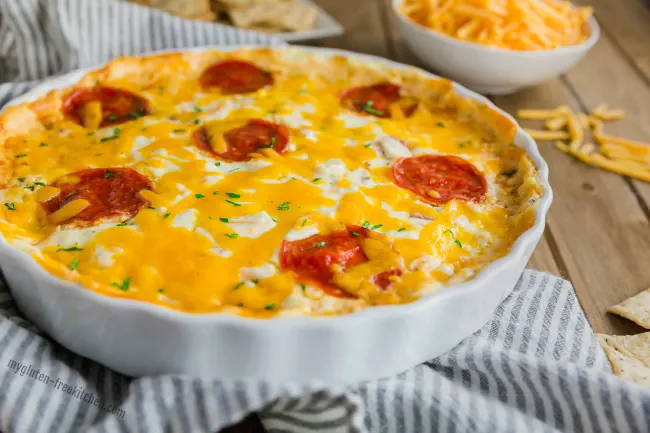 I hope you can make this hot pizza dip soon! It is perfect for serving at your tailgate parties or living room parties while you watch playoffs!
You can easily double the recipe to feed a crowd too! This would be a hit for teen and tween sleepovers too!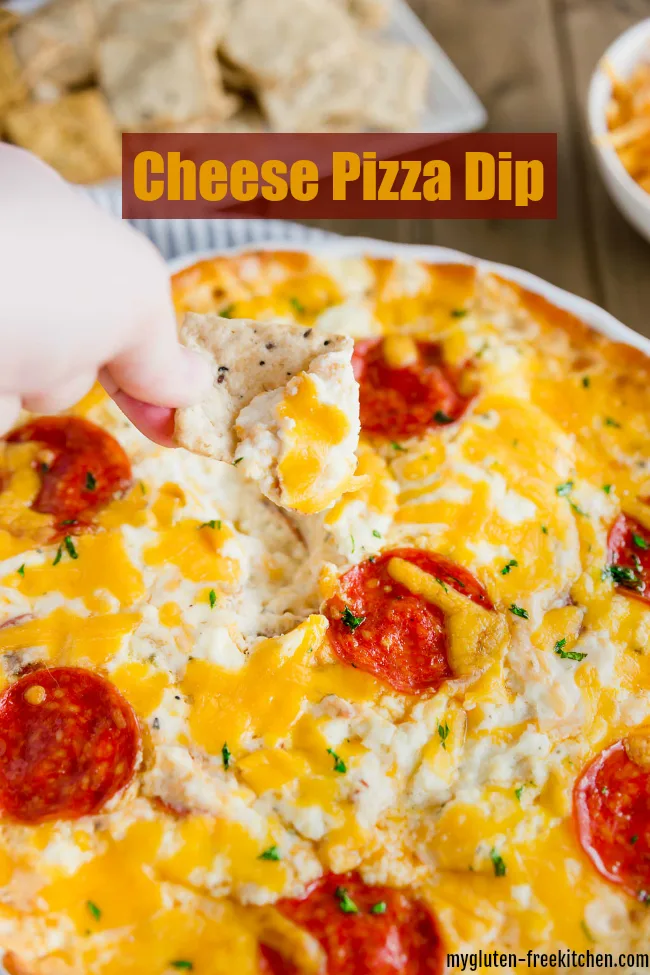 Another favorite recipe to make while we watch ball games is this spinach artichoke dip recipe. Definitely check it out if you miss ordering that at restaurants. These mini beef taco cups would be a hit with my crew too!
Pizza Dip Recipe:
Yield: 8-10 servings
Pepperoni Pizza Dip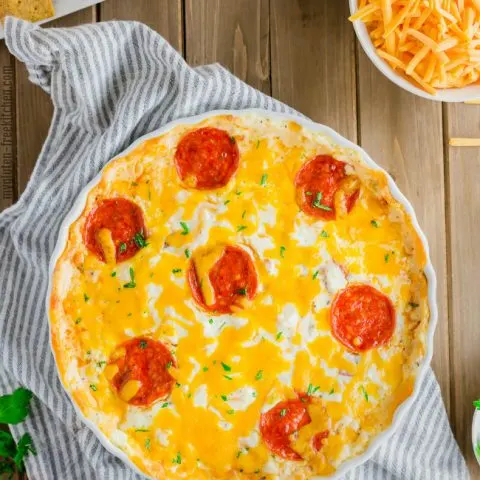 This warm, cheesy pizza dip is perfect for munching while watching those playoff games! You can easily double the recipe to feed a crowd too!

Prep Time 10 minutes

Cook Time 30 minutes

Total Time 40 minutes
Ingredients
8 ounces cream cheese, softened to room temperature
2 cups sour cream
1 1/2 cups shredded cheddar cheese (reserve some for sprinkling on top)
1/2 tsp. garlic powder or onion powder
1/2 tsp. dried basil
1/2 tsp. oregano
1/4 tsp. salt
3 oz. pepperoni slices (*verify gluten-free)
Instructions
Preheat oven to 400°.
In a mixing bowl, beat together cream cheese and sour cream until well mixed (not smooth, will have pea-sized pieces of cream cheese).
Add seasonings and stir.
Add almost all of the cheddar cheese, reserving a small amount for sprinkling on top later.
Stir together until well mixed.
Set aside 6-7 slices of pepperoni for the topping. Cut the remaining pepperoni slices in fourths and stir into cheese mixture..
Scoop mixture into an ungreased casserole dish (8x8 or 9x9 pan, pie plate, or 1 qt. baking dish) and spread with a spatula until smooth.
Place reserved whole pepperoni slices on top.
Bake at 400° for 25 minutes. Remove from oven, sprinkle with reserved cheddar cheese and bake for additional 4-5 minutes, or until bubbling and hot.
Serve with gluten-free crackers and/or chips.
Notes
If you double this recipe to feed a larger group, use a 9x13 or large casserole dish.


Pin this to your gluten-free appetizers board on Pinterest: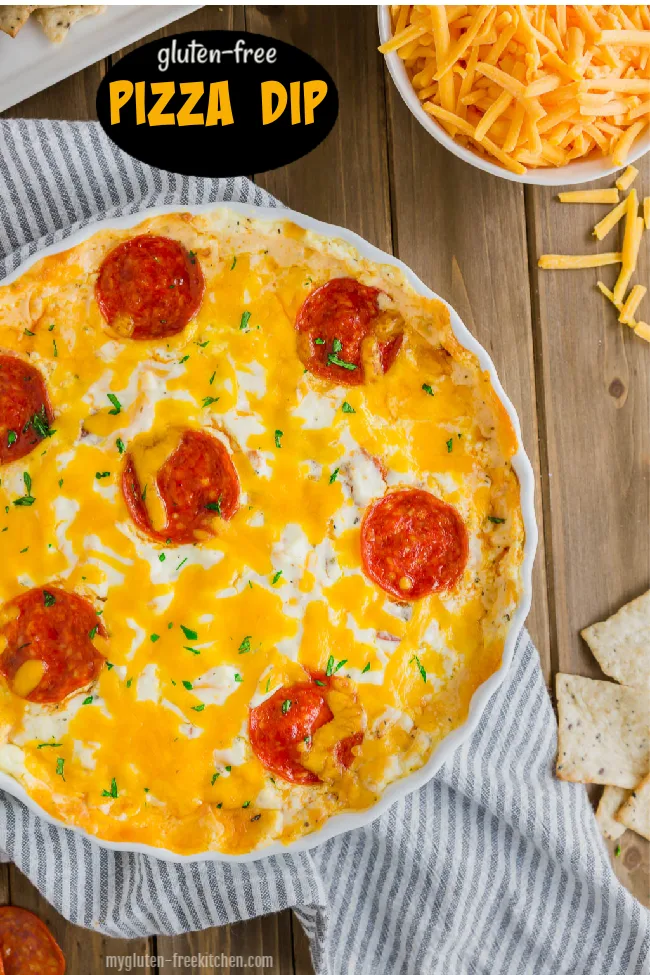 I hope you and your family or guests enjoy snacking on this as much as mine did!