This naturally gluten-free berry sauce is delicious over pound cake, ice cream, waffles or pancakes, or as a filling in crepes. Some people like to make strawberry sauce, some like raspberry sauce, I like them together for this berry sauce!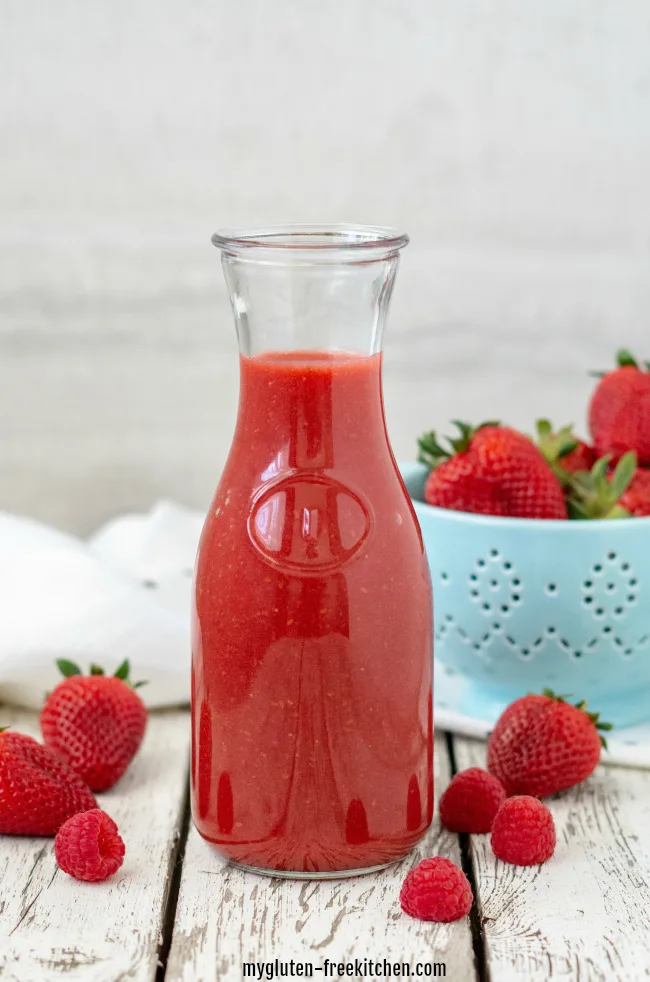 Fresh summer berries are a favorite around here. This berry sauce recipe allows you to combine your favorite berries to make a thick, fresh & flavorful sauce that will have you licking the spoon it's so good! I almost always make it for us to have over slices of my gluten-free pound cake. We also enjoy it later in the week over gluten-free buttermilk pancakes. So good!
You can also add a bit of this berry sauce to a vanilla milkshake before blending for great berry flavor! The sauce is versatile and keeps up to a week in the fridge.
While you can make this with only one kind of berry, I like the blend of flavors from multiple berries the best.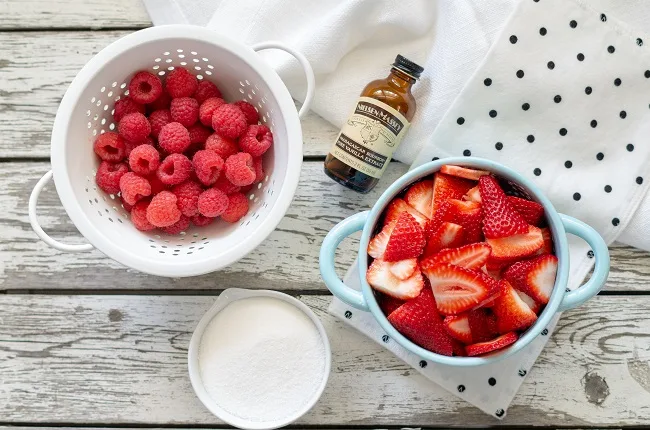 In the peak of strawberry season, when I can get big, juicy California strawberries at Costco, I make this with 3 cups fresh strawberries + 1 cup fresh or frozen raspberries. That's what's pictured above, along with the sugar and pure vanilla extract needed for making this sauce. Yes, it's that easy – just those 4 ingredients!
Later in the summer, when we are harvesting bowl-fulls of raspberries and blackberries from our garden, I swap the ratio to use 3 cups of berries, and only a cup of strawberries. So feel free to use whatever ratio of berries you prefer, as long as your total amount of berries is 4 cups.
This recipe makes 2 cups of sauce, which is plenty for enjoying over all of the slices of gluten-free pound cake with whipped cream!
Other gluten-free strawberry recipes:
Gluten-free Strawberry Rhubarb Crisp
Gluten-free Strawberry Rhubarb Hand Pies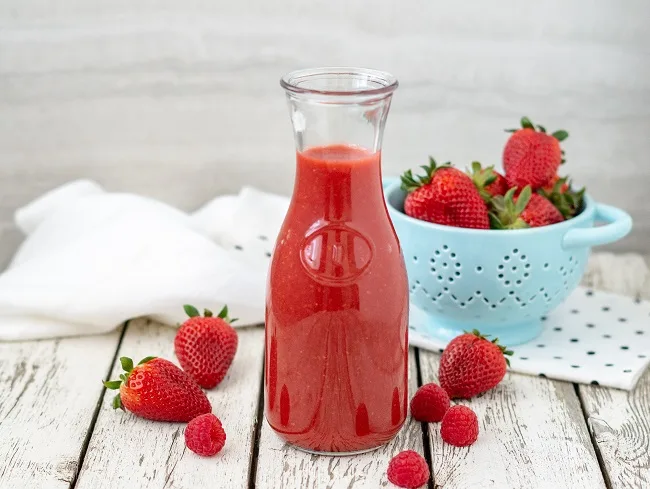 I hope you and your family enjoy this berry sauce as much as my family does!
Gluten-free Berry Sauce Recipe:
Yield: 2 cups
Berry Sauce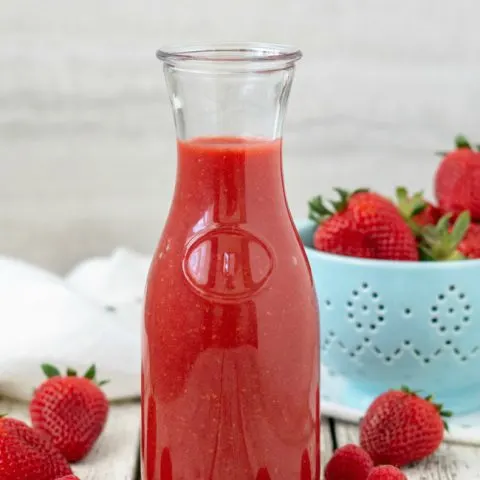 This naturally gluten-free berry sauce is delicious over pound cake, ice cream, waffles or pancakes, or as a filling in crepes.
Ingredients
4 cups total fresh or frozen unsweetened sliced strawberries and/or raspberries, marionberries or blackberries
2/3 cup sugar
2 tsp. vanilla
Instructions
In a medium saucepan, combine the berries, sugar, and vanilla.
Cook over medium heat, mashing fruit and stirring occasionally, until sauce thickens, about 10 minutes. Remove from heat.
Now pour all of the sauce into a blender and puree/blend until smooth, about 10-15 seconds.
Store in refrigerator until ready to serve (unless you want to serve it warm).
Notes
While this sauce is cooking, I usually slice up an additional 2-3 cups of strawberries and put in fridge until ready to serve. When serving with pound cake, I will usually add some of the sliced berries and then pour the topping over all.
The color of this sauce will obviously vary depending on the berries you choose. If made with all strawberries, it's a more orange red. Since we grow raspberries, I often make this with half raspberries and half strawberries or some other ratio of those two berries.
Recommended Products
As an Amazon Associate and member of other affiliate programs, I earn from qualifying purchases.
Pin this to your gluten-free recipes board on Pinterest: