Gluten-free chicken stir fry makes a great weeknight dinner, since it's so quick to prepare. Leftovers are great for a gluten-free lunch too! I think you'll love this easy gluten-free stir fry!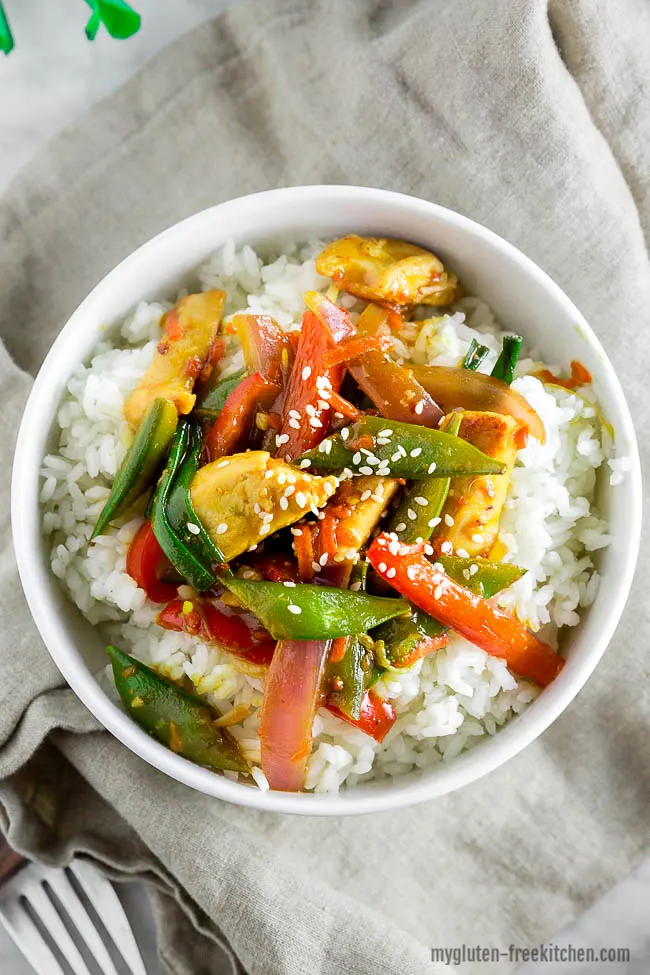 One of the best parts about making stir fry is that you can use pretty much whatever vegetables you have on hand. Great for cleaning out the refrigerator!
While I included broccoli, red pepper, onion, snap peas, carrots and bean sprouts in this healthy stir fry, you can omit any that your family doesn't prefer and replace with more of the ones they do prefer, or substitute with others they like better.
Even with chopping up the vegetables and cubing the chicken, you'll still be able to get this on the table in an hour, making it a quick weeknight gluten-free dinner option.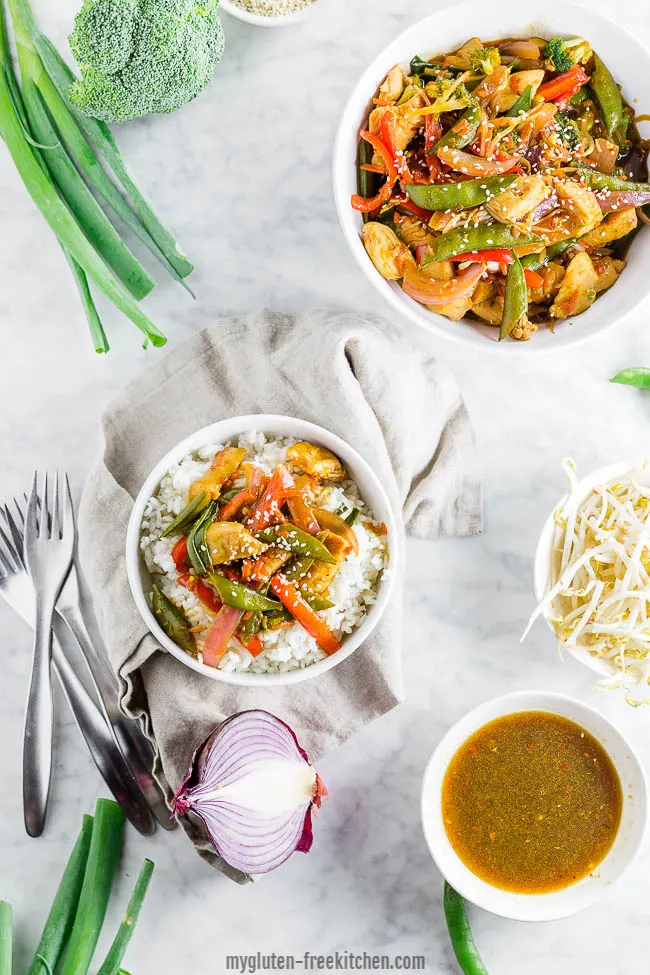 Notes on ingredients for this gluten-free chicken stir fry recipe:
Chicken: Chicken thighs or chicken breasts can be used. Some people really prefer the dark meat of chicken thighs as they can have more flavor and stay really moist. But I haven't had any issues using chicken breasts.
Sesame Oil: This is the sesame oil I used. I keep it on hand since I use it in my gluten-free sesame noodles recipe too.
Soy Sauce: Traditional soy sauce is made with wheat. In place of soy sauce, we're using Tamari sauce, which is gluten-free. I just really like the San-J kind and I can find it at my local Fred Meyer store. You can also buy from Amazon here.
Chicken Broth: Chicken broth is used in the sauce. Make sure yours is clearly labeled gluten-free. I prefer to use Pacific Organic Chicken Broth which I can find at my local Winco and Fred Meyer stores.
Ginger:

If you don't have fresh ginger to mince, use ground ginger (from the spice aisle) but only use 1/4 teaspoon of ground ginger.

Crushed Red Pepper: This adds a lot of flavor but also some heat. At our house, I usually just place the shaker of this on the table so those that want to can add it themselves. This is the crushed red pepper I use.
Tips for How to Make Gluten-free Stir Fry:
Try to cut your chicken to as similar sized pieces as you can. Want them to be strips? Go ahead and make them all similar sized strips. If you want them to be bite-sized pieces, be sure to do them all bite size.
When making stir fry, you want your vegetables to have a slight crunch to them and not be soggy. I recommend that you cut up thicker or heartier vegetables like carrots and celery into smaller pieces so that everything will cook evenly.
Add in the quick cooking vegetables like bean sprouts and scallions towards the end so they won't get too soft.
Be sure to use a large skillet, so you can stir things around easily and everything can cook evenly.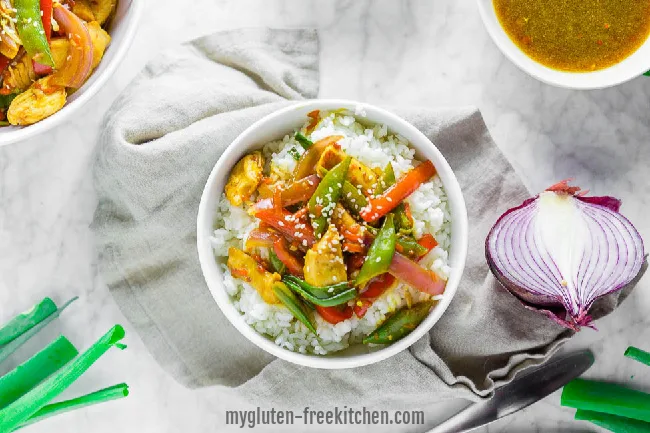 Gluten-free stir fry sauce:
To make the gluten-free stir fry sauce, you simply whisk together these sauce ingredients in a small bowl: gluten-free chicken broth, gluten-free tamari sauce, white vinegar, cornstarch, honey, sesame oil, minced garlic, red pepper flakes and ginger.
I served this gluten-free chicken stir fry over white rice. You could also serve over rice pasta or quinoa, or you can avoid any grains.
Looking for more easy gluten-free recipes for mealtimes? Check out this round-up of easy gluten-free meals.

If you like this recipe I think you'll like this beef teriyaki recipe too. And don't forget to try my gluten-free chicken lo mein recipe too!
Gluten-free Stir Fry Recipe:
Yield: 4-6 servings
Gluten-free Chicken Stir Fry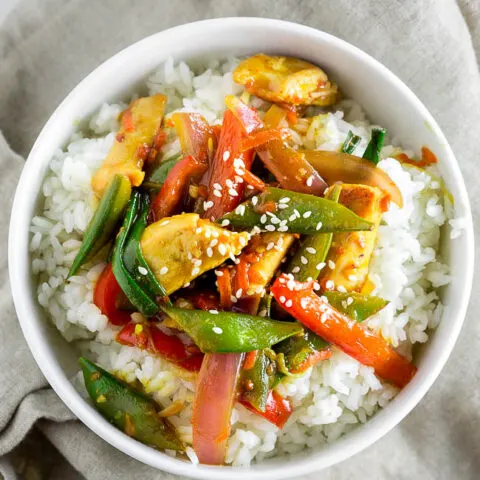 This gluten-free stir fry is an easy weeknight dinner. It's dairy-free too. We like it served over rice for a full meal.

Prep Time 10 minutes

Cook Time 25 minutes

Total Time 35 minutes
Ingredients
2 Tbsp. canola oil
1 lb. boneless, skinless chicken thighs or chicken breasts, cut into 1" pieces
1/2 tsp. salt
1/2 tsp. ground black pepper
1 cup chopped broccoli (1 head)
1 cup thinly sliced bell pepper
1/2 red onion, cut into wedges
1/2 cup snap peas
1/2 cup carrots, julienned or shredded
1 cup mung bean sprouts
3 scallions, cut into 2 inch pieces
1 tsp. sesame seeds
Stir-Fry Sauce
1/2 cup gluten-free chicken broth
1/4 cup gluten-free soy sauce (Tamari)
1 Tbsp. fresh ginger, minced (or 1/4 tsp. ground ginger)
1 Tbsp. white distilled vinegar
1 Tbsp. cornstarch
1 Tbsp. honey
2 cloves garlic, minced
2 tsp. sesame oil
1/4 tsp. red pepper flakes
Instructions
Preheat a large skillet over medium heat. Add 1 tablespoon of the canola oil or other neutral flavored oil to the skillet.
Season the chicken with salt and pepper on all sides.
Add chicken to the skillet and cook 3-4 minutes on each side, until chicken is browned and cooked through.
Remove chicken from pan to a plate and set aside.
Add the other tablespoon of oil to the pan. Then add broccoli, red onion, and red bell pepper. Cook for 3-4 minutes, until vegetables begin to get tender.
Stir in the snap peas, carrots, mung bean sprouts and scallions and cook an additional 2-3 minutes.
While the vegetables are cooking, make the sauce. Combine the sauce ingredients in a bowl. Whisk until no clumps of cornstarch remain.
Add the chicken back to the pan with the vegetables and pour the sauce over the chicken and vegetables.
Cook an additional 2-3 minutes, until the sauce thickens.
Sprinkle with sesame seeds before serving.
Serve over white rice for a complete meal. Also can be served with rice noodles or quinoa if preferred.
Notes
If you don't have fresh ginger to mince, use ground ginger (from the spice aisle) but only use 1/4 teaspoon of ground ginger.

Feel free to omit any vegetables that your family doesn't prefer. You can replace with ones your family likes better, or double any that are already in this.
Recommended Products
As an Amazon Associate and member of other affiliate programs, I earn from qualifying purchases.

Pin this dairy-free gluten-free stir fry to your gluten-free dinner board on Pinterest: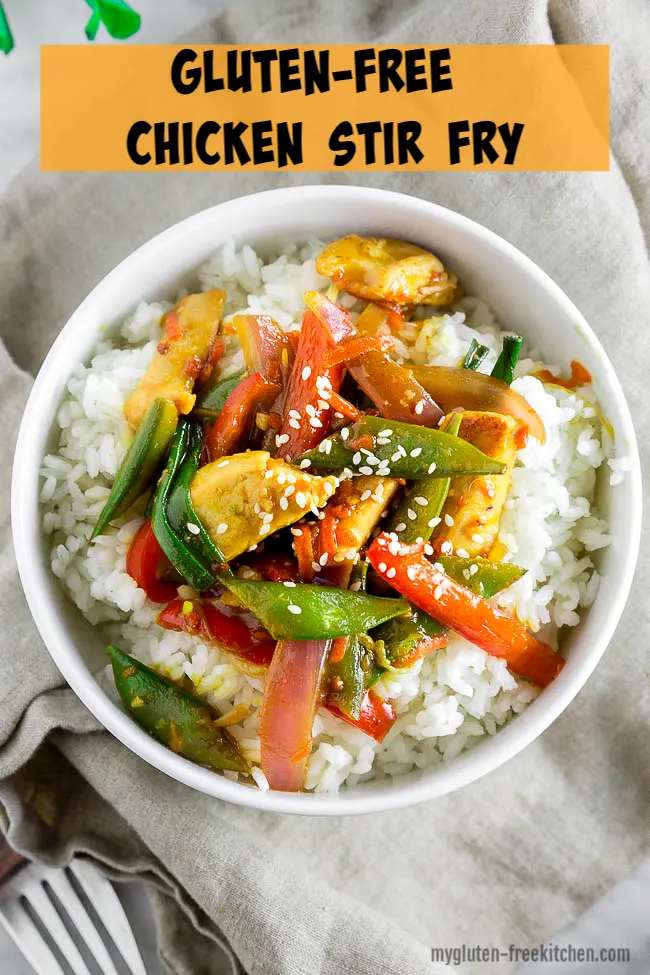 I hope you and your family enjoy this gf stir fry!