Make your mornings a little sweeter and more special by making these easy gluten-free chocolate chip waffles! Whether you make these gluten-free waffles as heart shapes or a traditional round or square shape, they're delicious!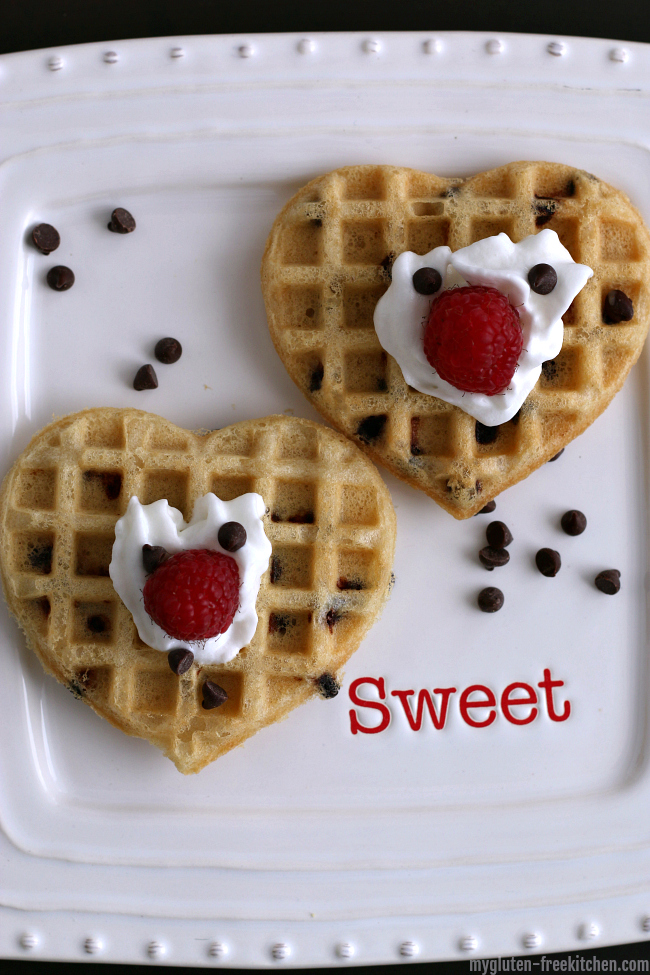 Thanks to Enjoy Life for sponsoring this post as part of our year-long collaboration to bring you tasty gluten-free recipes!
Do you make special treats for your family for Valentine's? Since I have two boys, they're really not into Mom doing a lot for Valentine's day. But they like when I leave out a little silly card, some candy, and make a heart-shaped treat. Sometimes I make their favorite gluten-free peanut butter banana muffins in heart shapes. Sometimes I make these gluten-free chocolate heart-shaped cakes. These are perfect for a gluten-free Valentine's breakfast or anytime!
This year, I'm making these heart-shaped gluten-free chocolate chip waffles for them again since they were declared the best gluten-free waffles ever!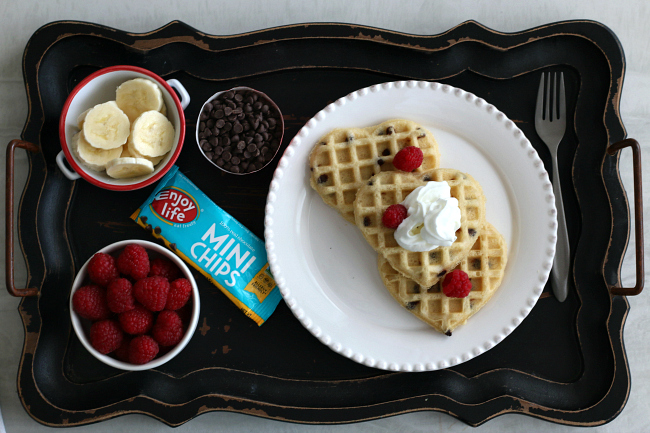 I could have just made heart-shaped gluten-free waffles, but I add chocolate to pretty much anything I can so of course I had to here! I wanted the waffles themselves to be dairy-free, and also for the chocolate to be small amounts, so of course I reached for my go-to Enjoy Life semi-sweet mini chips.
I find Enjoy Life semi-sweet chocolate mini chips at my local stores like Walmart and Fred Meyer. You can buy Enjoy Life semi-sweet mini chips directly from Enjoy Life's store here, or from Amazon here.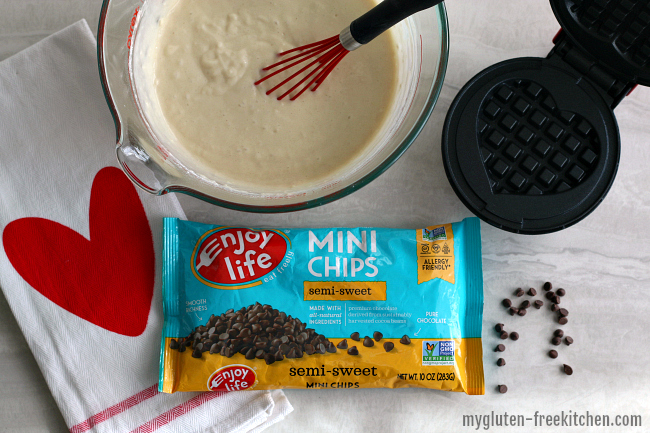 Notes on ingredients and substitutions for these gluten-free chocolate chip waffles:
Gluten-free flour: Any quality gluten-free flour blend should work well here. Avoid any that have bean flours or coconut flour in them. If your flour blend contains xanthan or guar gum, omit the xanthan gum listed in the recipe as it is not needed. I used King Arthur Measure for Measure gluten-free flour in these, which contains xanthan.
Dairy-free Milk: Use your favorite dairy-free milk. I've tested these with flax milk and with almond milk. I've used plain and vanilla – either is fine. Sweetened or unsweetened is fine too. If you can have dairy, you are welcome to use dairy milk.
Oil: I recommend using a neutral tasting oil like corn, canola, vegetable, or light tasting olive oil.
Baking powder: Yes it really does call for 4 teaspoons of baking powder. The baking powder is needed to make the waffles rise and be fluffy. I use this baking powder that is labeled gluten-free as well as being aluminum free. Baking soda is not the same thing; please don't substitute it here.
Chocolate Chips: I recommend using Enjoy Life semi-sweet chocolate mini chips. They're certified gluten-free and free of the top 14 allergens.
Whipped topping: Completely optional but enjoyed by all. I'm loving the new dairy-free whipped topping options, including spray bottles of whipped topping that are made with coconut or almond. So good on these! If you want a low carb option, try this keto whipped cream recipe.
Now I put out bananas, raspberries, whipped cream and chocolate syrup for my family to top their waffles with. My husband just went for the fruit for his. My oldest son had everything on his. And my youngest son, who definitely got my sweet tooth, added a huge pile of whipped cream and drowned his in chocolate syrup. 🙂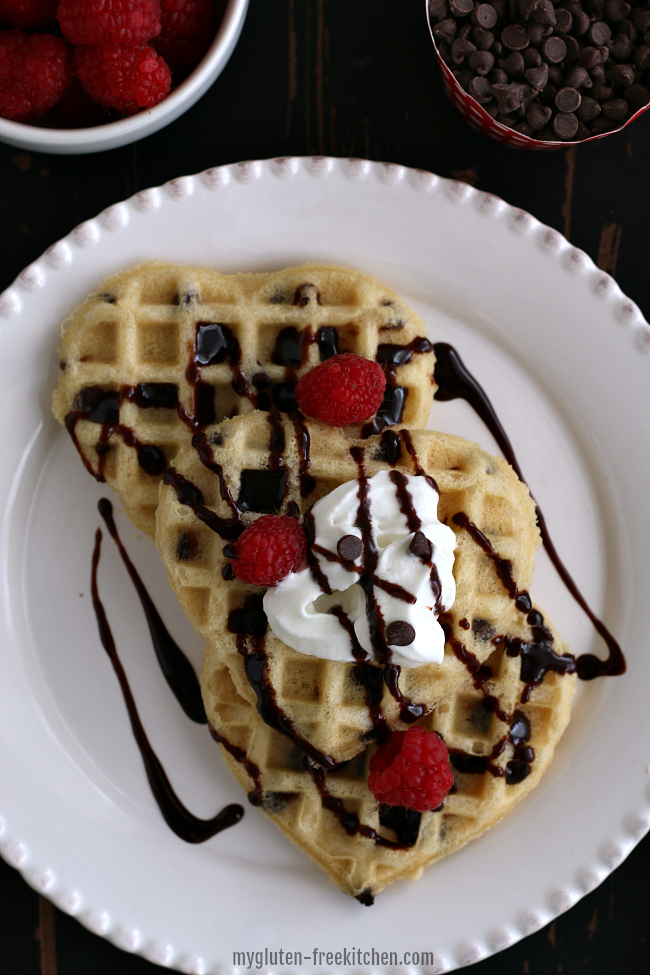 We also topped ours with chocolate syrup. I've found some dairy-free ones available at the stores, but you can actually make your own. If I'd had any of this homemade chocolate sauce from my friend Chrystal, I would have used that! It's on my must make list and it uses the same mini chips that I've used in these waffles!
I hope you'll enjoy these sweet gluten-free chocolate chip waffles as much as my family did! I'll be making these again and again – though not always heart shaped! I know my kids will eat them up gladly, no matter what shape I make!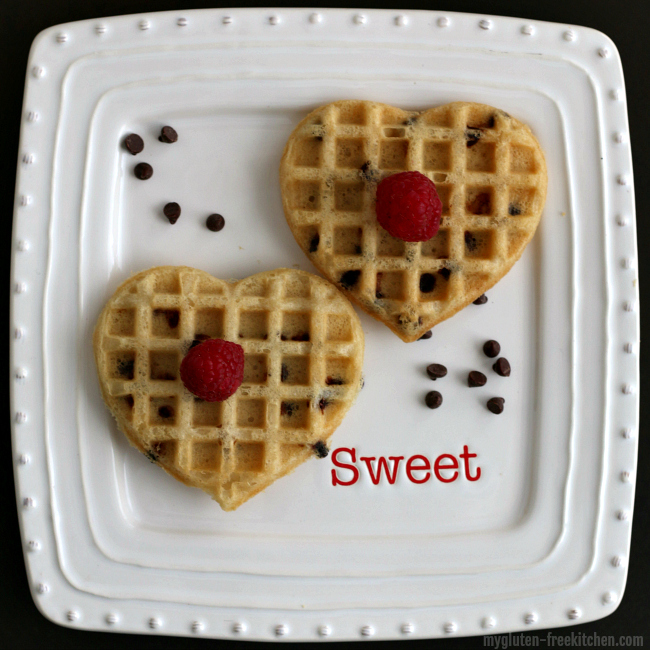 Looking for more gluten-free breakfast ideas? Be sure to check out my gluten-free chocolate frosted donut recipe too. Also, I have a Pinterest board full of gluten-free breakfast ideas!
Gluten-free Chocolate Chip Waffles Recipe:
Yield: 24 waffles
Gluten-free Chocolate Chip Waffles Recipe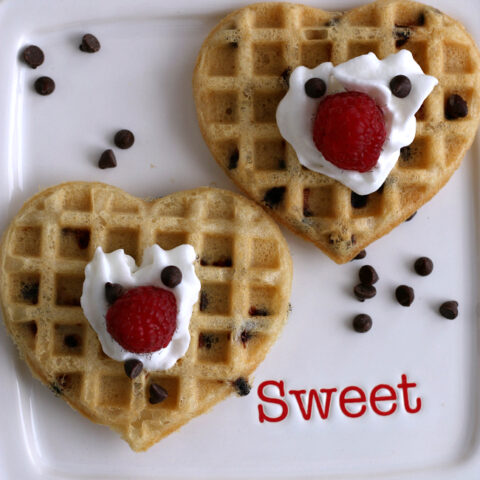 Gluten-free chocolate chip waffles make any breakfast special!

Prep Time 8 minutes

Cook Time 10 minutes

Total Time 18 minutes
Ingredients
2 large eggs
1 3/4 cups dairy-free milk
1/2 cup oil
2 cups gluten-free flour blend
3/4 tsp. xanthan gum* (see note)
1 Tbsp. sugar
4 tsp. baking powder
1/4 tsp. salt
1/3 cup semi-sweet mini chocolate chips
Instructions
In a large bowl, beat the eggs well with a whisk.
Add dairy-free milk and oil and whisk until combined.
Add gluten-free flour blend, xanthan gum (if needed), sugar, baking powder, and salt. Whisk about 2 minutes until well mixed. Batter will still have small lumps.
Use a spatula to stir in the 1/3 cup semi-sweet mini chocolate chips. If you'd like more, feel free to add more!
Set batter aside to rest.
Spray surfaces of waffle iron with cooking spray and allow to heat up. Once ready, scoop out 2 Tbsp. batter per 4" waffle. This might vary depending on the size of your waffle iron. For my heart shaped waffles, this was the correct amount. For square waffles on my larger iron, this was also the correct amount for each 4" square.
Once waffle iron indicates they are done cooking, remove carefully to your serving tray and serve.
Enjoy with fresh fruit like bananas, raspberries, blueberries, or strawberries. Add dairy-free whipped topping and dairy-free chocolate syrup if desired.
Notes
*If your flour blend has xanthan gum or guar gum already, then omit the xanthan gum called for in the recipe.

See blog post for specific product recommendations.
Recommended Products
As an Amazon Associate and member of other affiliate programs, I earn from qualifying purchases.

Pin these gluten-free waffles to your gluten-free breakfast board on Pinterest: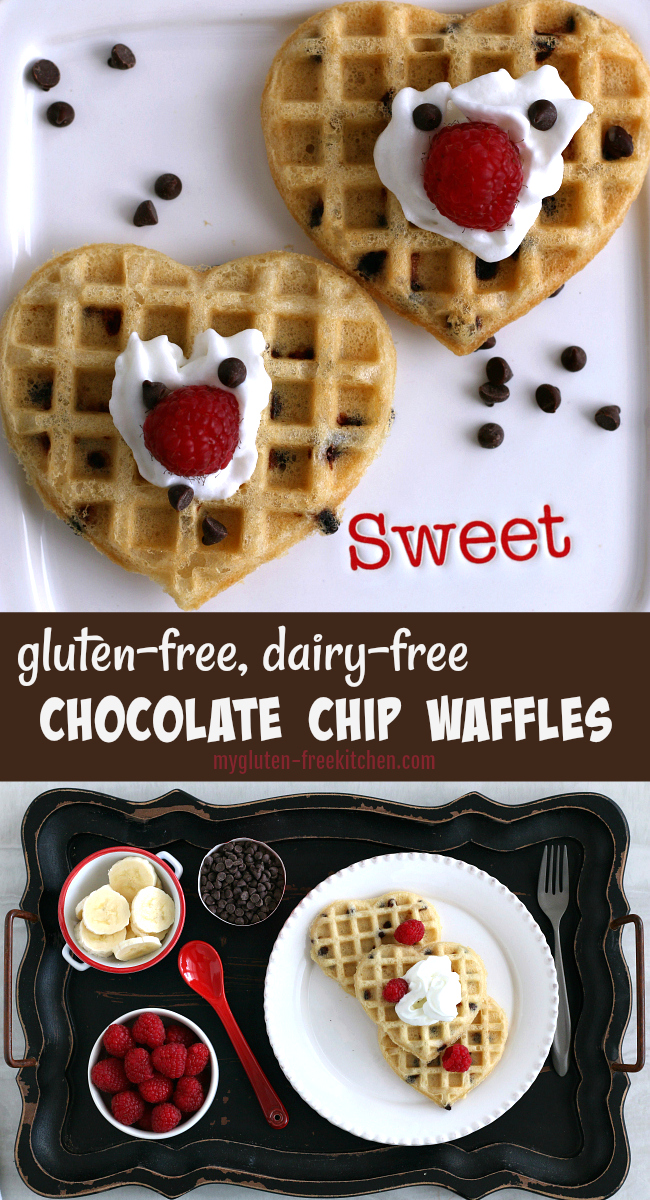 I hope you and your family enjoy these gluten-free waffles with chocolate chips as much as my family did!
This sponsored post was created through my partnership with Enjoy Life Foods. As always, all opinions are my own. Collaborating with brands I love allows me to keep bringing you new and varied recipes! Thanks for your support!
[…] 4″ Gluten Free Waffles from My Gluten-Free Kitchen […]
Wednesday 31st of March 2021
This has become my go to gf waffle recipe! I have made these at least a dozen times in the past 6 months. Delicious and very well received! Thanks for sharing!
Saturday 3rd of April 2021
That's so great to hear, Amy! Thanks for letting me know. So glad your family enjoys these!
Monday 12th of August 2019
These turned out perfect by far the BEST recipe! You have no idea how MANY waffle recipes I've gone through... Ugh... They would turn out chewy, gummy and sometimes rawish texture despite best efforts insane tricks and ingredients. Turns out all it took was 4 little scoops of baking powder and oil to make the world of difference. Gluten free change has been rough. I've got most things down. My wonderful husband just perfected chocolate cake meanwhile I've been struggling making the basics work like waffles! We haven't figured out bread yet but damn it we will! Thanks so much for posting this. Deepest gratitude from hubby and I!
Sunday 10th of February 2019
Made these last night and they turned out perfectly! Non-gf husband thought they were great as well. Since they're the perfect size to fit into our toaster, i like to make a batch and freeze them for later, when breakfast needs a little something extra. :)
Friday 8th of February 2019
These gluten-free chocolate chip waffles are super cute. I can't wait to make them for my girls.