If you miss ordering soft plain donuts slathered with chocolate frosting, you'll love these gluten-free chocolate frosted donuts! They're soft like a donut should be, without the hassle of frying! This easy gluten-free chocolate frosted doughnut recipe makes just 6 donuts, so you and your family can enjoy them all right away quickly! This recipe is sponsored by Enjoy Life as part of my ongoing partnership with them.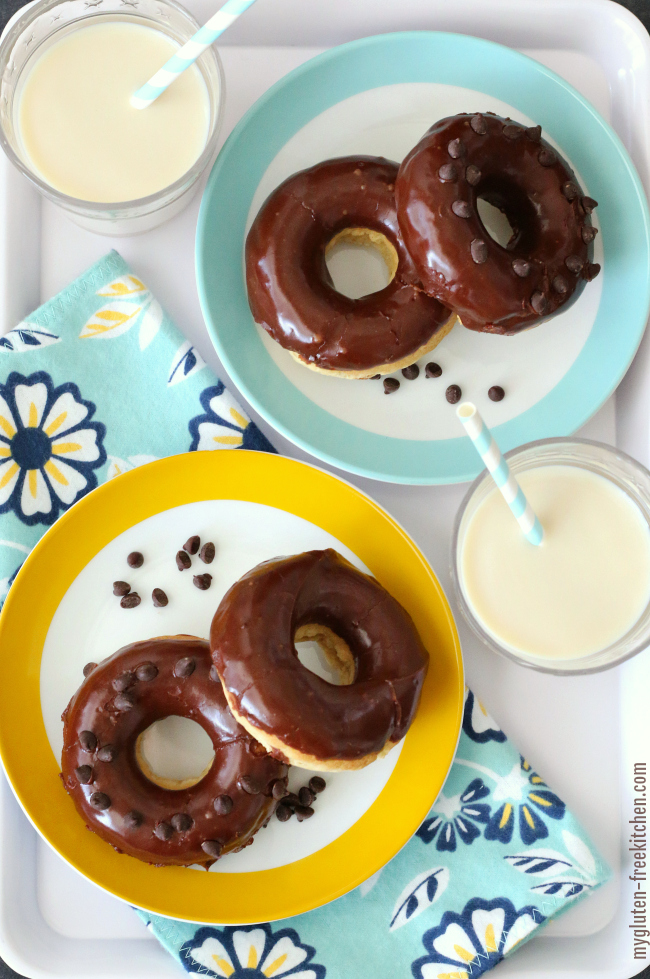 Growing up, my family went to get donuts often. While I often went for the maple bars and glazed twists, the plain ones with chocolate frosting always caught my eye too and I picked them. My favorite donut shop had a whole shelf full of chocolate donuts. Some were covered with sprinkles, some with chopped peanuts, and some with chocolate chips. I decided to copy that mini chocolate chip idea for these homemade donuts!
I've adapted this recipe from my popular gluten-free maple donut recipe. Those were so good and were already dairy-free too, that I decided they'd make the perfect base for these chocolate frosted donuts.
What's unique about these donuts is that they're soft like a yeast donut but they're actually baked. These aren't anything like other baked donuts I've tried – they aren't cakey at all.
Now my gluten-free cinnamon sugar donuts are definitely a cake donut, and delicious, but that's definitely a different texture than these. If you don't normally like baked donuts, give these a try anyway. I think you'll be pleasantly surprised!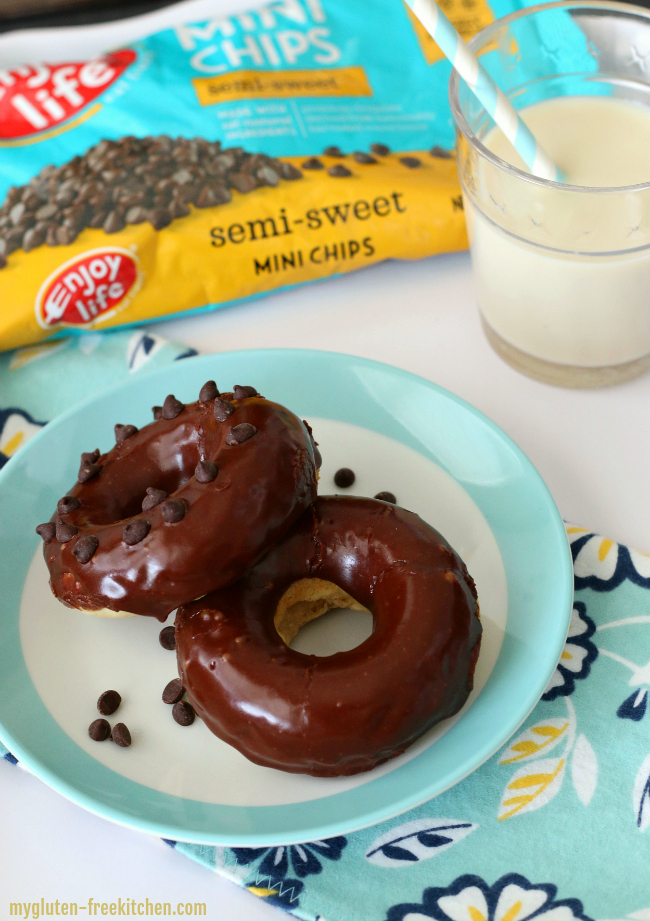 Notes on ingredients for gluten-free chocolate frosted donuts:
Yogurt: Since I wanted to make these dairy-free, I used a dairy-free yogurt alternative. There are several on the market, so choose your favorite one that fits with your allergies, that is 5-5.3 ounces. I've been so happy to see so many of my local stores carrying more dairy-free yogurt alternatives! I prefer using a vanilla one, and the recipe has been developed based on that vanilla flavor and sweetness from the yogurt. If you use a plain yogurt, you'll need to add some vanilla extract and a bit of sugar to the recipe. If you don't need these to be dairy-free, feel free to use regular vanilla yogurt!
Chocolate: Since I wanted these to be dairy-free, I needed the frosting to be dairy-free too. So I used Enjoy Life Semi-Sweet Mini Chocolate Chips for the frosting and for topping the donuts. Enjoy life chocolate is certified gluten-free, and is free of the top 8 allergens including dairy, making them perfect for these gluten-free, dairy-free donuts! I can find these at my local co-op, Whole Foods, Fred Meyer, and Albertsons stores. You can see the store locator here or you can also buy online direct from Enjoy Life or buy from Amazon here. Look for their new teal colored packaging as pictured in the photo above!
Non-dairy butter alternative: you'll need this in the frosting. I've tried a number of options from organic shortening to coconut oil to Melt dairy-free sticks and they've worked fine so just whichever one works best with your allergens and intolerances.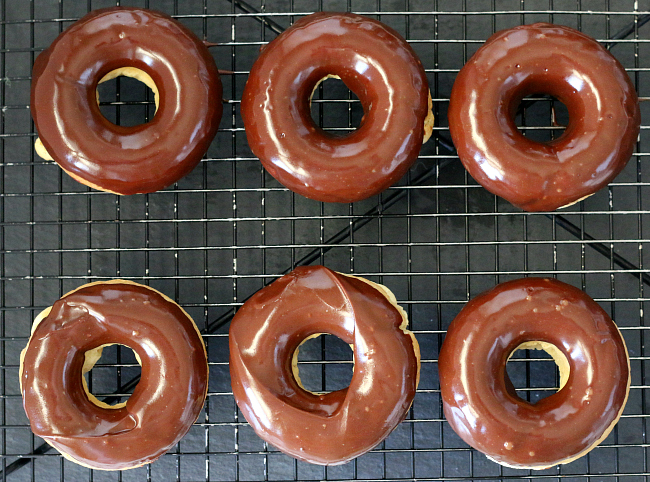 These chocolate frosted donuts were so good plain. But my kids were most excited about eating the ones that I topped with additional Enjoy Life semi-sweet mini chips! So I definitely recommend doing that for the kiddos! And for you, because who doesn't need more chocolate in their life? 🙂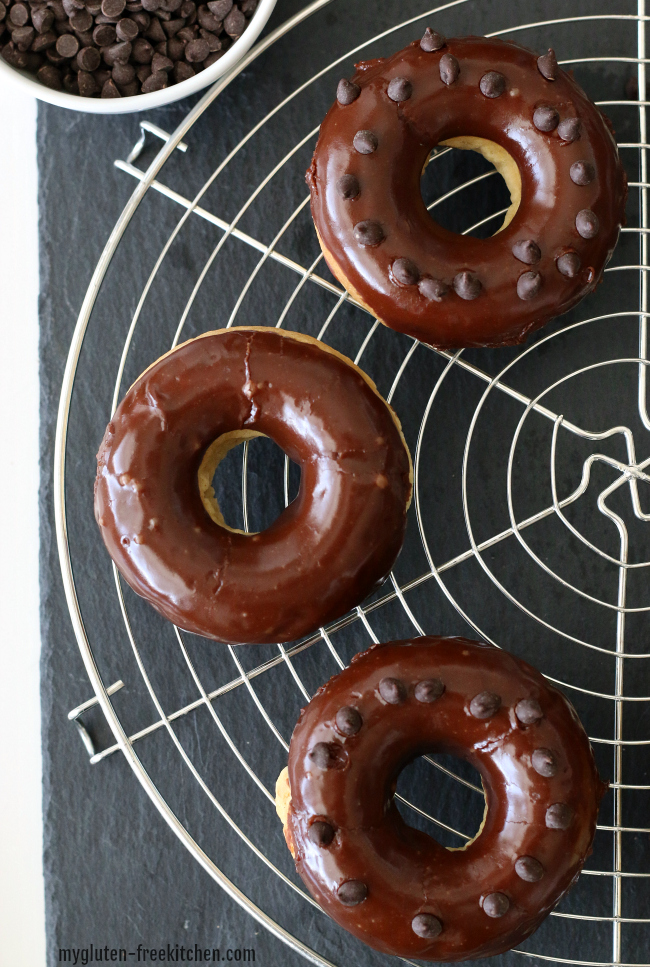 These would also be fun with colored sprinkles on top!
What flavor of donuts do you miss? Let me know and I'll try to work on it for you next!
This donut recipe adapted from one I found years ago on Cooking with a Kid, a website that is no longer online. Frosting recipe is slightly adapted from Better Homes and Gardens New Cook Book tenth edition.
Recipe for Gluten-free Chocolate Frosted Donuts:
Yield: 6 donuts
Gluten-free Chocolate Frosted Donuts (dairy-free)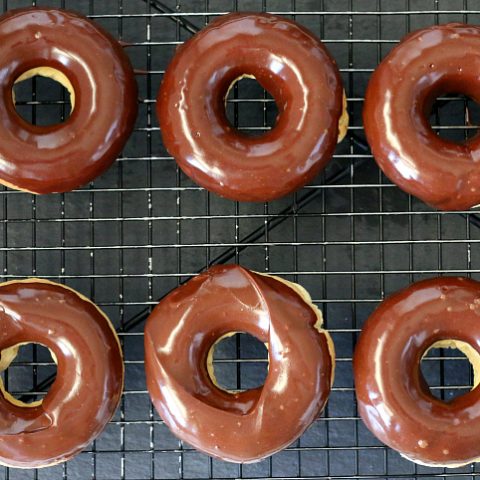 This easy gluten-free chocolate frosted donut recipe makes just 6 donuts, so you and your family can enjoy them all right away quickly! They're soft like a donut should be, without the hassle of frying!
Ingredients
Donuts:
1 cup good quality all-purpose gluten-free flour blend*
1/2 tsp. xanthan gum**
3/4 tsp. baking powder
3/4 tsp. baking soda
pinch of salt
1 large egg
5-5.3 ounces vanilla non-dairy yogurt alternative
1 Tbsp. mild flavored oil like corn, canola or vegetable
2 tsp. lemon juice
2 1/2 Tbsp. pure maple syrup
Frosting:
mounded 1/3 cup Enjoy Life semi-sweet mini chocolate chips
1 1/2 Tbsp. non-dairy butter alternative
3/4 cup powdered sugar
1 Tbsp. hot water plus additional as needed
additional Enjoy Life semi-sweet mini chips to sprinkle on frosted donuts if desired
Instructions
Donuts:
Preheat oven to 400°. Lightly spray six doughnut cavities of your donut pan with nonstick cooking spray and set aside.
In a large bowl, whisk together the gluten-free all-purpose flour blend, xanthan gum*, baking powder, baking soda, and salt.
In a medium sized bowl, whisk together the egg, yogurt, oil, lemon juice, and maple syrup.
Pour the wet ingredients onto the dry ingredients and gently stir with a spatula or wooden spoon until just combined.
For ease, scoop the batter into a disposable decorating bag or a gallon Ziploc bag. Just snip off the corner of the bag and squeeze the batter out into the 6 cavities of your donut pan. They will be very full.
Bake for 11-12 minutes or until bottoms are golden brown and tops are a bit browned.
Let cool in the pan for 1-2 minutes, then flip over onto a cooling rack to cool completely before icing them.
Frosting:
In a small saucepan onver low heat, melt the chocolate chips and non-dairy butter alternative. Whisk until smooth.
Remove from heat.
Whisk in powdered sugar and hot water.
If frosting is too thick for coating the donuts easily by dipping, you can add additional hot water in one teaspoon increments until it reaches the perfect consistency.
Dip each cooled donut into the frosting, then place on a rack to dry. If frosting is too thin and is really running off the donuts, whisk in additional powdered sugar to get to the perfect consistency.
These are best eaten the same day they are made, which should be easy since recipe makes 6!
Notes
*A good quality all-purpose gluten-free flour blend does not contain bean flours. This recipe has been successfully made with gfJules all-purpose flour with great results.
**If your gluten-free flour blend contains xanthan or guar gum already, then omit the additional xanthan gum called for in this recipe.
I've tested this with an almond milk based non-dairy yogurt alternative and a soy based one. Use 5.0 to 5.3 ounces of your favorite non-dairy yogurt alternative that works with your allergens/intolerances.
For the non-dairy butter alternative in the frosting, I've tried it with Melt Buttery Sticks, coconut oil, and vegetable shortening. All of those have worked fine.
This sponsored post was created through my partnership with Enjoy Life Foods. As always, all opinions are my own. Collaborating with brands I love allows me to keep bringing you new and varied recipes! Thanks for your support!
Pin this to your gluten-free donuts board!

If you make these gluten-free donuts with chocolate icing and love them, please come back and give this recipe a 5 star rating in the recipe card! Feel free to comment with tips or to share any successful substitutions you made.
Tuesday 31st of August 2021
Have you made the donuts chocolate before? How much cocoa powder would you use and how much more liquid would you add?
Friday 24th of April 2020
Amazing ? Too bad we can't post a picture of how they turned out! The family loved them!!
Friday 21st of February 2020
[…] Gluten Free Chocolate Frosted Donuts (gluten free, dairy free, soy free, nut free) – My Gluten Free Kitchen […]
Monday 11th of November 2019
Sunday 3rd of February 2019
I can't have maple syrup, so would Lyle's Golden Syrup be a proper substitute? Thank you--donuts are my number one craving since being diagnosed with several food allergies, including eggs, wheat, and nuts. I can't wait to try these!