When you're ready for a delicate lemon treat, make these gluten-free iced lemon cookies. The icing has fresh lemon juice and packs so much flavor! These yummy gluten-free lemon cookies don't have any dairy in them either!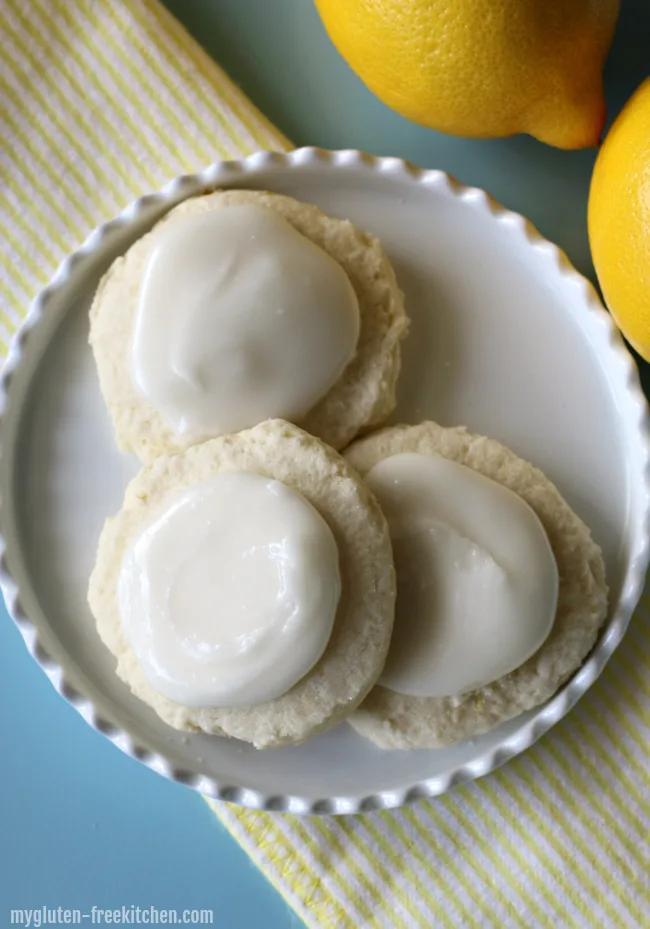 Some of the ladies at my church recently organized a progressive dinner. While I've heard of progressive dinners for years, this was my first time to participate in one. It was super fun!
I was asked to be one of the houses that hosted dessert, which is a great fit for me of course!
I figured after eating appetizers at one house, and a full meal at another house, by the time everyone got to my house for dessert, they probably wouldn't want a big or rich dessert. So I chose to make several small desserts to serve with the tea, coffee, and hot cocoa.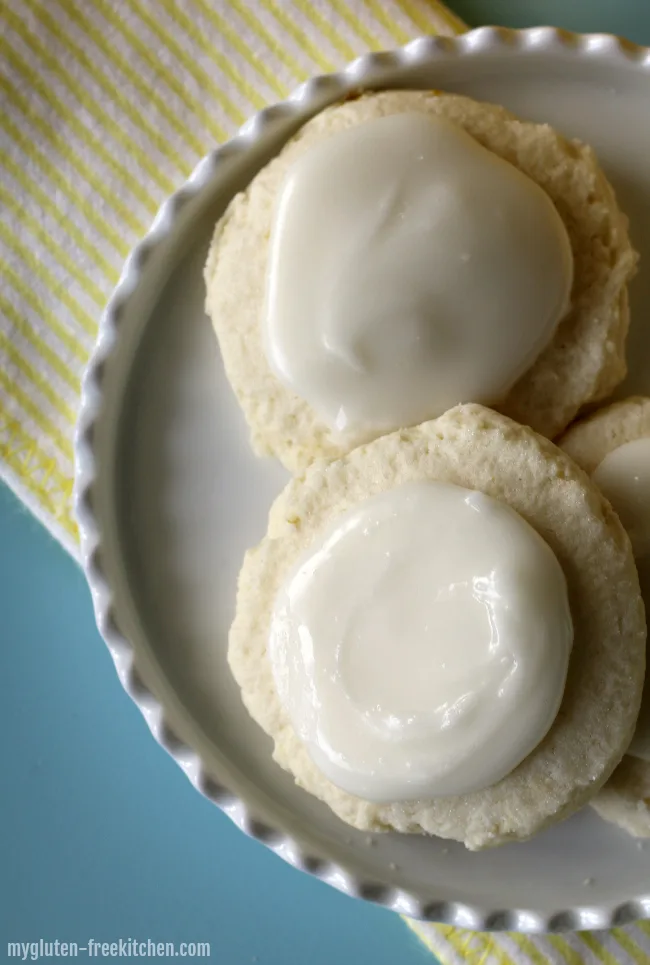 There's a growing number of ladies in my church that eat gluten-free and dairy-free for various health reasons, so they actually asked each dessert host to provide one dessert that was both gluten-free and dairy-free. That wasn't too hard for me! These light and delicate gluten-free lemon cookies were my choice for a gluten-free and dairy-free dessert.
My other dessert could have dairy, so I also made my gluten-free Peanut Butter Dream bars, but without the Christmas colored M&M's. I cut these really small so ladies could feel like they could have one of each dessert if they wanted.
I also want to be totally honest with you. I made two other desserts for this that epically failed. They were so bad that one went to the garbage and the other was set aside as family only because they were so overcooked and dry. I hope that encourages you that we ALL have those days in the kitchen where we make mistakes!
Thankfully these gluten-free dairy-free lemon cookies were a hit! Some requested I share them here, so here they are!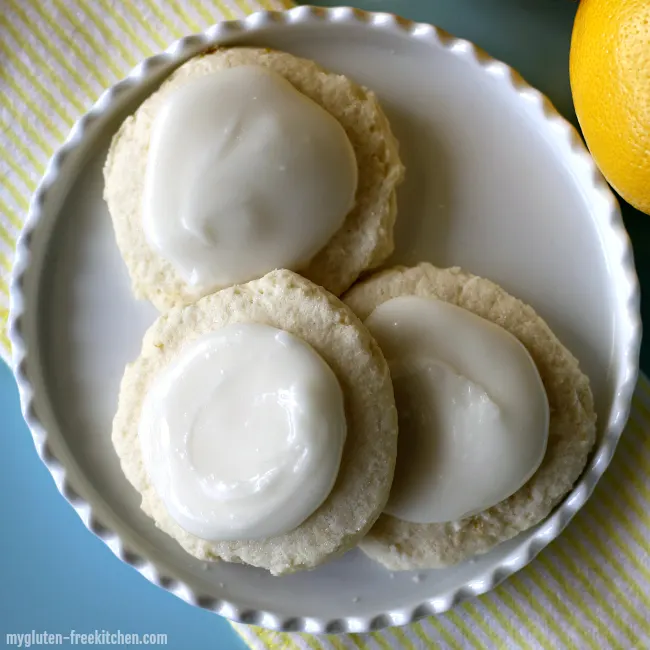 Notes on ingredients and substitutions for these gluten-free lemon cookies:
Gluten-free flour blend: These should work well with your favorite high quality gluten-free all-purpose flour blend. I used one of my go-to blends, gfJules flour, with great results. gfJules flour has xanthan gum already in it, but if your blend doesn't, you'll need to add some as noted in the recipe. You can buy it direct from gfJules site here, or buy from Amazon here.
Lemons: You'll need two small/medium lemons for this recipe in order to have enough zest. You'll have leftover lemon juice though, so you can set that aside for another use, or add it to your glass of ice water!
To make these dairy-free, I chose to use Melt Buttery Sticks. This company is local to me (Boise, Idaho) and I've really been loving using their products recently. I thought the buttery sticks worked really well here in these cookies. You can also use coconut oil, organic shortening, or other non-dairy butter alternatives. If you can have butter, then go ahead and use unsalted butter in these cookies. I've had them with butter too!
The lemon flavor in these comes from using both fresh lemon juice and the lemon zest in the cookies. The lemon glaze or lemon icing is made with a combo of lemon juice and powdered sugar.
Where I live, it's often cheaper for me to buy a whole bag of lemons at Trader Joe's or Costco than just buying 2-3 individual lemons. So I thought I'd share some other gluten-free recipes you can make with lemons too! I have a whole round-up on my site of gluten-free recipes for baking with lemon.
My gluten-free lemon brownies are always a huge hit wherever I take them, and if you can have dairy, you've got to make them! My gluten-free lemon cupcakes are a go-to recipe during the summer, when I can use fresh raspberries or blackberries in the frosting.
I've had my eye on these gluten-free lemon squares from my friend Karen, and hope to make them soon! And I'm dying to make these gluten-free lemon pudding cakes from my friend Jeanine!
If you can't have dairy, another lemony, dairy-free option is this gluten-free dairy-free lemon coconut cake. These paleo lemon bars are free of gluten, grains, dairy, and more and look delicious. Another on my want to make soon list is this gluten-free lemon roll from my friend Jules, it includes dairy-free instructions too.
So many yummy lemon recipes, so little time!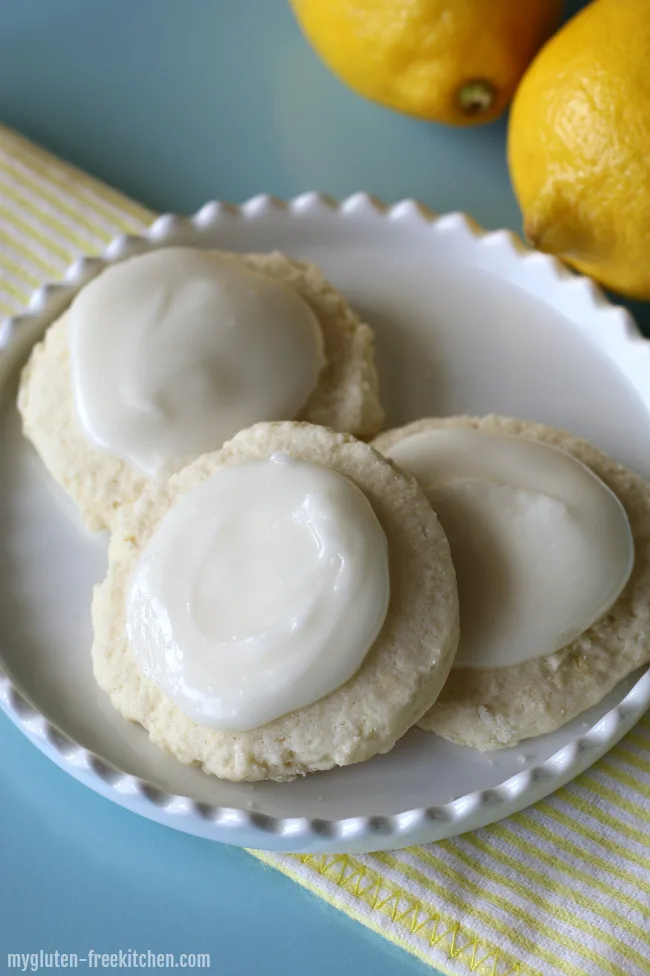 Recipe adapted from Glazed Lemon Cookies from Two Peas & Their Pod.
Gluten-free Lemon Cookies Recipe:
Yield: 5 dozen cookies
Gluten-free Iced Lemon Cookies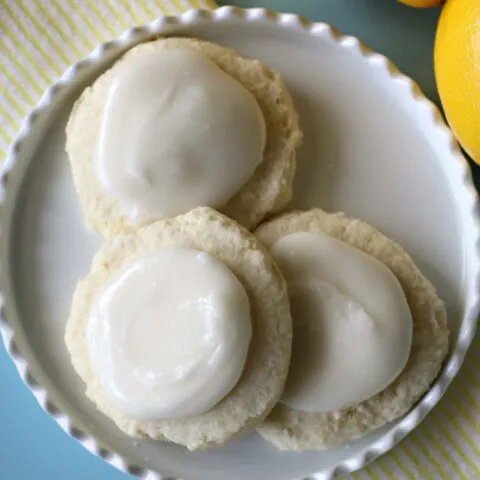 When you're ready for a delicate lemon treat, make these gluten-free lemon cookies with a lemon glaze. The icing has fresh lemon juice and packs so much flavor!

Prep Time 15 minutes

Cook Time 11 minutes

Total Time 26 minutes
Ingredients
Cookies:
2 1/2 cups good all-purpose gluten-free flour blend
3/4 tsp. xanthan gum (*see note)
1/2 tsp. baking powder
1/2 tsp. salt
3/4 cup sugar
1 1/2 Tbsp. lemon zest
1 cup Melt Buttery Sticks (or other non-dairy butter alternative) room temperature
1 large egg
1 tsp. pure vanilla extract
1 tsp. fresh lemon juice
Icing:
2 cups powdered sugar
3 Tbsp fresh lemon juice
Instructions
Preheat oven to 350°. Line baking sheets with parchment paper and set aside.
In a small bowl, add gluten-free all-purpose flour blend, xanthan gum (if flour blend doesn't have xanthan or guar gum), baking powder, and salt. Whisk together. Set aside.
In the bowl of your mixer, mix sugar and lemon zest for about 30 seconds on low-medium speed.
Add butter alternative and beat on medium for 3 minutes until light and fluffy.
Beat in egg, pure vanilla extract, and 1 teaspoon lemon juice. Beat on medium speed for 1 minute. Mixture will look curdled, then mostly smooth out.
Add half of flour mixture and mix on low until just mixed in. Add remaining flour and mix on low until just mixed in. Remove from mixer and use a spatula to hand stir mixture, making sure to scrape sides and bottom so that everything is mixed in.
Using a small cookie scoop, scoop dough into rounded balls and place about 2 inches apart on parchment paper lined cookie sheets.
Dip the bottom of a glass into sugar, then use that to flatten each cookie ball to be 2" in diameter. (Please note that I didn't specify this sugar in the recipe above - I didn't want to confuse anyone. Just pour about 1/4 cup sugar in a bowl to use for the dipping. The goal isn't to coat the cookies with sugar. The sugar just keeps the glass from sticking and is preferred over using oil or flour.)
Bake at 350° for 11 minutes. Because this makes 5 dozen cookies, you'll be doing batches of these. Place the mixing bowl of dough in the fridge in between batches.
After removing from oven, slide parchment paper with cookies onto cooling rack and let cool completely before adding icing.
To make the lemon icing: in a medium bowl, whisk together powdered sugar and lemon juice. I used a teaspoon to scoop some icing into center of cookie, then used the back of the spoon to help spread the icing into a nice circle. If the icing is too runny and won't stay on the cookie, then you can let the icing sit a while and it will firm up, or you can add a bit more powdered sugar and whisk to reach desired consistency. If icing is too thick, you can add more fresh lemon juice, 1/2 teaspoon at a time to reach desired consistency.
Set cookies aside until icing has set. Then serve and enjoy!
Notes
*If the gluten-free flour blend you use already has xanthan gum or guar gum in it, then omit the xanthan gum called for in this recipe.

I recommend buying two small or medium lemons in order to have enough lemon zest for this recipe.

See blog post for ingredient information and substitutions.
Recommended Products
As an Amazon Associate and member of other affiliate programs, I earn from qualifying purchases.

Pin these gluten-free lemon sugar cookies to your cookies board on Pinterest!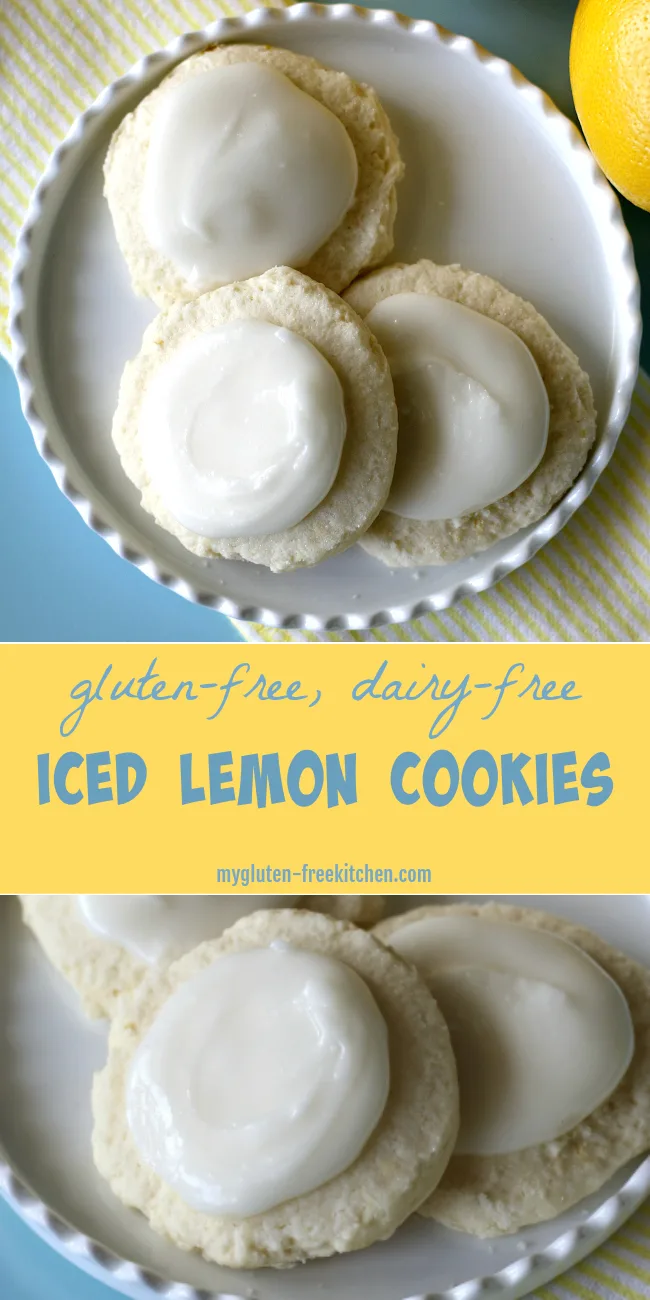 I hope you and your family and friends enjoy these gf lemon cookies as much as we did!
Please come back and leave a rating and comment with any successful substitutions you made.