Most cowboy cookies recipes are full of nuts and sometimes peanuts, making them not a good choice for school treats. These gluten-free cowboy cookies are free of nuts, dairy, peanuts, and of course wheat and gluten, making them a more allergy-friendly option to send with your child to school! Thanks to Enjoy Life for sponsoring today's post!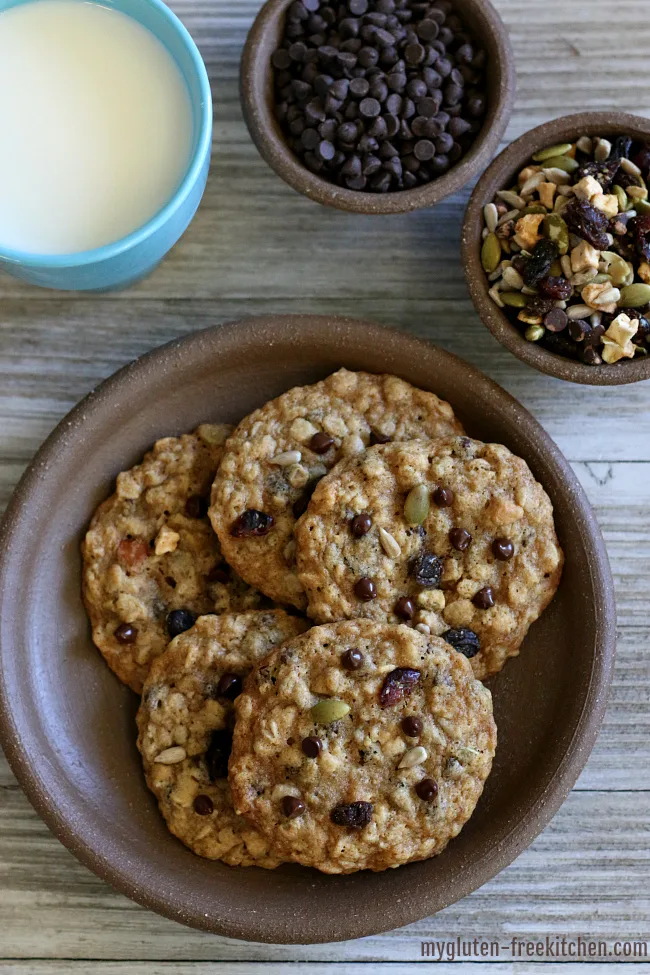 Whether you're looking for a school-safe lunchbox treat or a cookie for after school snacking, I've got a yummy gluten-free cookie for you today!
I'm seeing from my Facebook feed that a lot of parents are getting notes requesting their kids not bring items in their snacks or lunches that include nuts, peanuts, and sometimes milk. I know that can feel overwhelming – wondering what allergy-friendly and gluten-free classroom treats you can send! So today I have a cookie that is free of many of the most common allergens that I see schools asking parents to avoid: nuts, peanuts, gluten, and dairy.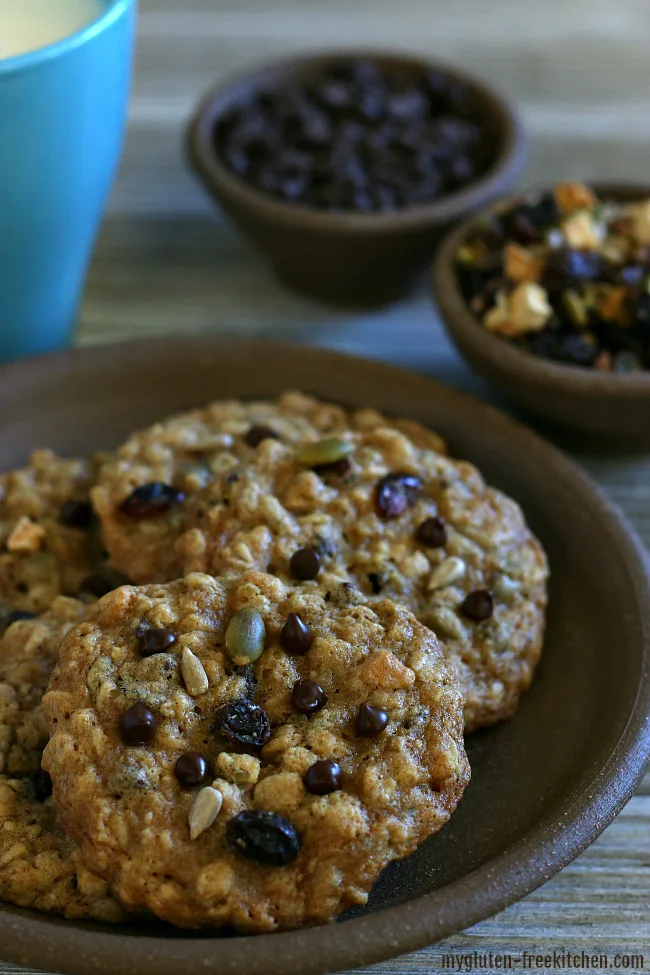 A while back, I was happily munching on some of this Mountain Mambo Seed & Fruit Mix. It's a sweet and salty seed & fruit mix that has pumpkin seeds, raisins, dried cranberries, sunflower seeds, and mini chocolate chips.
While I was munching on it, I got the idea to use it in place of all the usual add-ins in cowboy cookies. Now everyone makes cowboy cookies a little different, but the usual common ingredients are wheat flour, oats, coconut, pecans or walnuts, raisins, butter, milk chocolate chips, and sometimes peanuts or peanut butter.
Delicious, but full of a lot of common allergens! I wanted to make these cowboys cookies gluten-free. Then, besides making these gluten-free, I decided I'd make them free of nuts, peanuts, and dairy.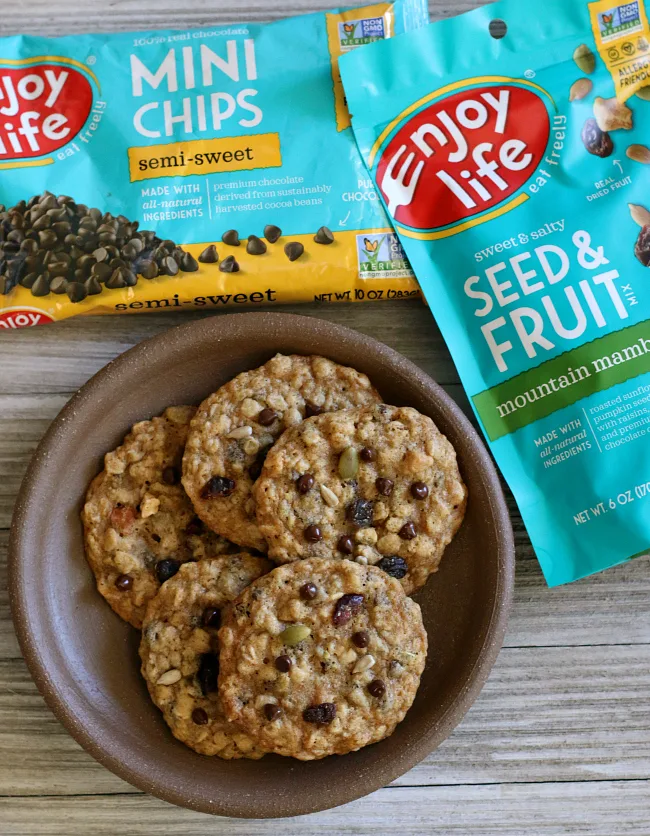 Using the Mountain Mambo Seed & Fruit Mix worked really well. I chose it because it already had dairy-free mini chocolate chips, sunflower seeds and pumpkin seeds which mimic the nuts in the recipe, and some dried fruit I could use in place of the usual coconut in the recipe.
Because I think one can never have too much chocolate, I also added some more of the Enjoy Life semi-sweet chocolate mini chips too! Some in the dough, and some reserved for sprinkling on the finished cookies right when they come out of the oven!
Here's a look at before baking, after baking, and after sprinkling with additional chocolate chips: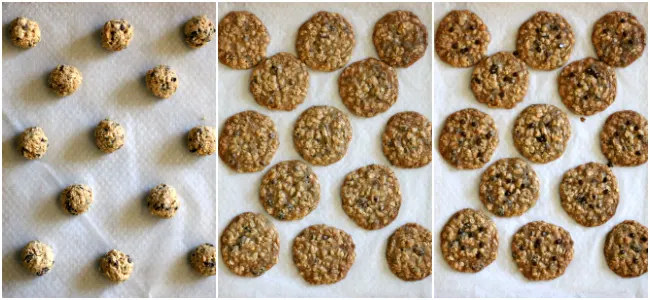 Now on these, for pretty pictures, I sprinkled the just baked cookies with a bit more of the Mountain Mambo snack mix. But I'm doubting that you'll want to take the time to do that. However, I do recommend sprinkling the just baked cookies with additional semi-sweet mini chips before they have a chance to cool. Then your cookies will look yummy like these: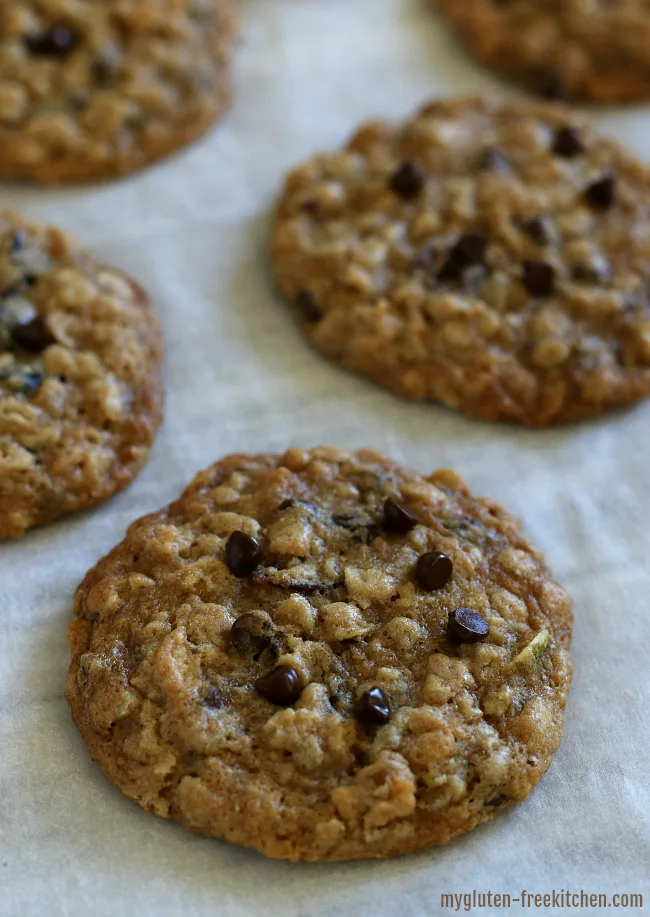 Notes on Ingredients for these gluten-free nut-free Cowboy Cookies:
Gluten-free flour: Use a high quality gluten-free flour blend that doesn't include bean flours. If your flour blend has xanthan or guar gum already in it, omit the xanthan called for in the recipe. I usually use gfJules, or King Arthur Measure for Measure blend.
Butter alternative: Use your favorite non-dairy butter alternative that works with your specific allergens. I prefer the stick-based butter alternatives like Melt or Earth Balance, or using coconut oil.
Eggs: I have not tried this with an egg-free alternative. Please feel free to try with your usual baking substitution for eggs and then please do let me know what you used and how it worked!
Trail mix: I used Mountain Mambo mix but you could also use Beach Bash. You can buy these directly from Enjoy Life or from Amazon or use the store locator to find which local stores carry it. Both are free-from gluten and 14 common allergens: wheat, peanuts, tree nuts, dairy, casein, soy, egg, sesame, sulfites, lupin, mustard, fish, shellfish, and crustaceans.
Chocolate Chips: I used Enjoy Life semi-sweet chocolate mini chips and they worked perfectly. I can find these at most of my local grocery stores. Use the store locator to see which of your stores carry them. If you love dark chocolate, I really think the dark chocolate morsels would be good in these as well – you can order them directly or from Amazon.
My boys are in middle school and high school now, so they both usually pack their own lunches! But once in a while I'll surprise them and make their lunches for them. This past week, I made this lunch for my high school freshman son. He's a big fan of salads, so I made him a simple salad with his favorite dressing in it's own little container he could squeeze on.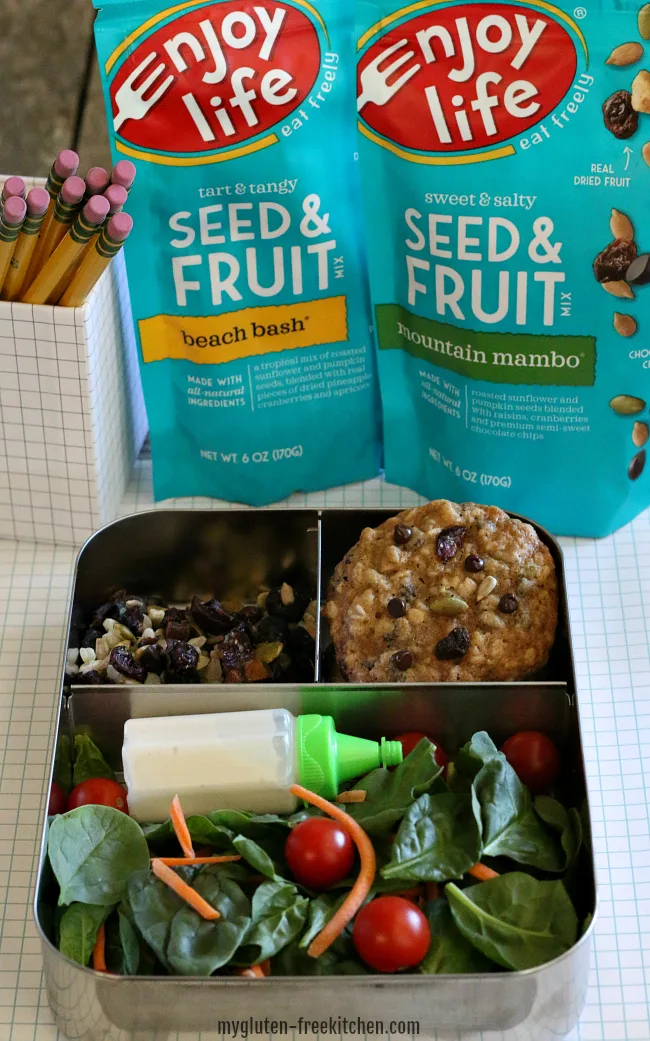 I included Beach Bash for snacking on or adding as a topping to his salad. It makes a great snack and salad topping as it doesn't have chocolate chips like the Mountain Mambo does. The Beach Bash seed & fruit mix is a tart and tangy blend that includes roasted pumpkin seeds, sunflower seeds, and dried pineapple, cranberries and apricots. And then these cookies were his dessert. Dessert I feel pretty good about since it's hearty and packed with some good ingredients!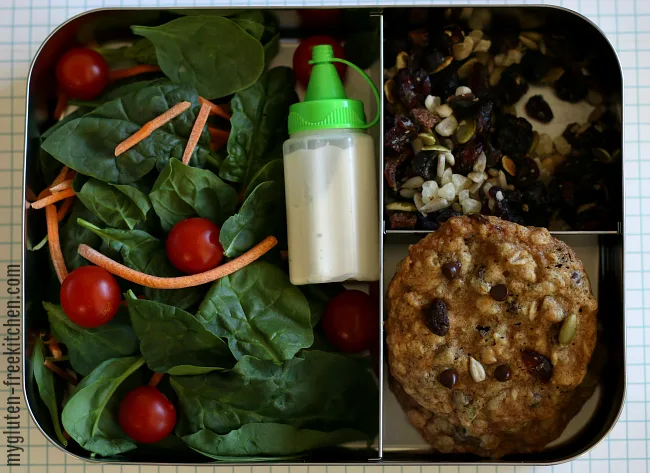 I hope you'll try these soon!! Oh, and if you have more Mountain Mambo Seed & Fruit Mix, be sure to make these gluten-free vegan bliss bars with it! YUM! Looking for another cookie recipe that's free of all of the top allergens? Try my gluten-free banana oatmeal chocolate chip cookies!
Gluten-free Cowboy Cookies Recipe:
Yield: 3 dozen
Gluten-free Nut-Free Cowboy Cookies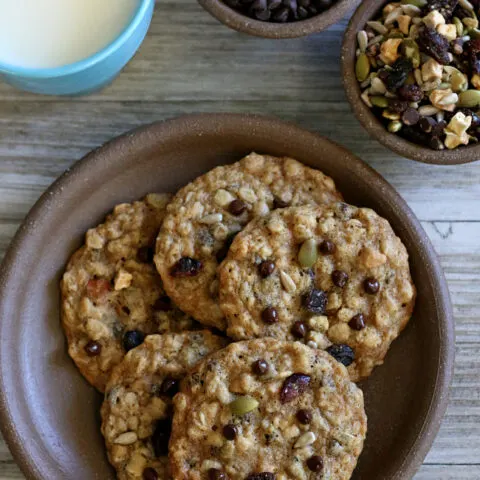 These gluten-free cowboy cookies are free of nuts, dairy, peanuts, and of course wheat and gluten, making them a more allergy-friendly option to send with your child to school!
Ingredients
1 1/2 cups good-quality gluten-free flour blend
3/4 tsp. xanthan gum (*see note)
1 tsp. baking soda
1/2 tsp. baking powder
1/2 tsp. salt
2 cups certified gluten-free old fashioned oats
1 3/4 cups packed brown sugar
1 cup (16 Tbsp.) dairy-free butter alternative, room temp
2 large eggs
1 Tbsp. water
2 tsp. pure vanilla extract
6 oz. Enjoy Life Mountain Mambo Seed & Fruit Mix
1 cup Enjoy Life semisweet chocolate mini chips
Instructions
Preheat oven to 3500. Line cookie sheets with parchment paper or silicone baking mats.
In a large bowl, whisk together gluten-free flour, xanthan gum, baking soda, baking powder, and salt. Stir in the gluten-free old-fashioned oats. Set bowl aside.
In the bowl of your electric mixer, beat together the brown sugar and the butter alternative. Cream together for 1 minute.
Add the eggs, one at a time, and beat until mixed in. Add the water and vanilla extract and beat until mixed in.
With the mixer on low speed, add the flour mixture in three batches, mixing just until combined.
Stir in the 6 oz. of Mountain Mambo Seed & Fruit Mix and 1/2 cup of the semi-sweet chocolate mini chips. *Note that you'll be adding 1/2 cup of the mini chocolate chips to the dough and saving the other half for sprinkling on the cookies as they come out of the oven.
Use a medium cookie scoop (#40 scoop = 1.5 Tbsp dough) to scoop dough, roll into a ball with your hands, an place on the parchment paper lined cookie sheet. I did 12 per large cookie sheet.
Bake at 3500 for 12-13 minutes or until edges are lightly browned. Remove from oven to a cooling rack to cool. I usually bake one sheet of cookies at a time. If you want to do two sheets at once, be sure to rotate the sheets both front to back and top to bottom partway through the cooking time.
Notes
*If your gluten-free flour blend already has xanthan gum or guar gum in it, then omit the xanthan gum called for in this recipe.
Recommended Products
As an Amazon Associate and member of other affiliate programs, I earn from qualifying purchases.
Recipe adapted from Cowboy Cookies from Baking for Friends cookbook.
This sponsored post was created through my partnership with Enjoy Life Foods. As always, all opinions are my own. Collaborating with brands I love allows me to keep bringing you new and varied recipes! Thanks for your support!
Pin this to your Gluten-free Desserts Pinterest board!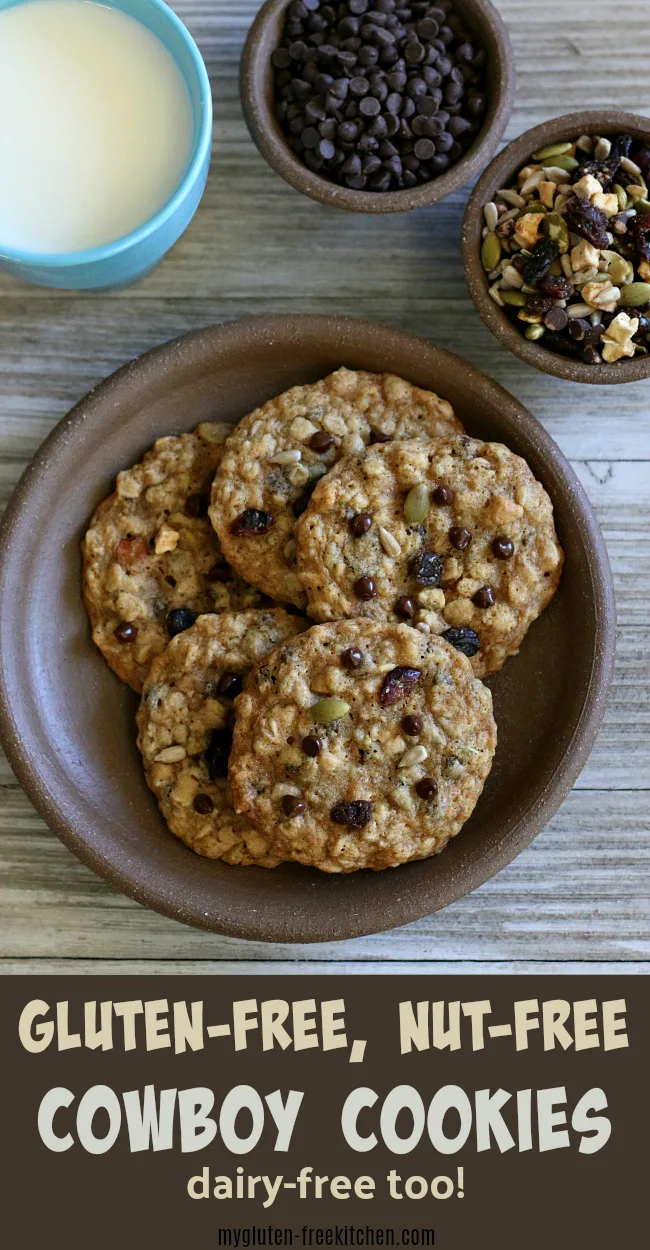 I hope you and your family and friends enjoy these gf cowboys cookies as much as mine!