Looking for an easy to make gluten-free lunch idea? These gluten-free pizza waffles are fun, easy to make, and are dairy-free and free of the top 8 allergens too! Thanks to Enjoy Life Foods for sponsoring this recipe so I can bring you this fun lunch idea!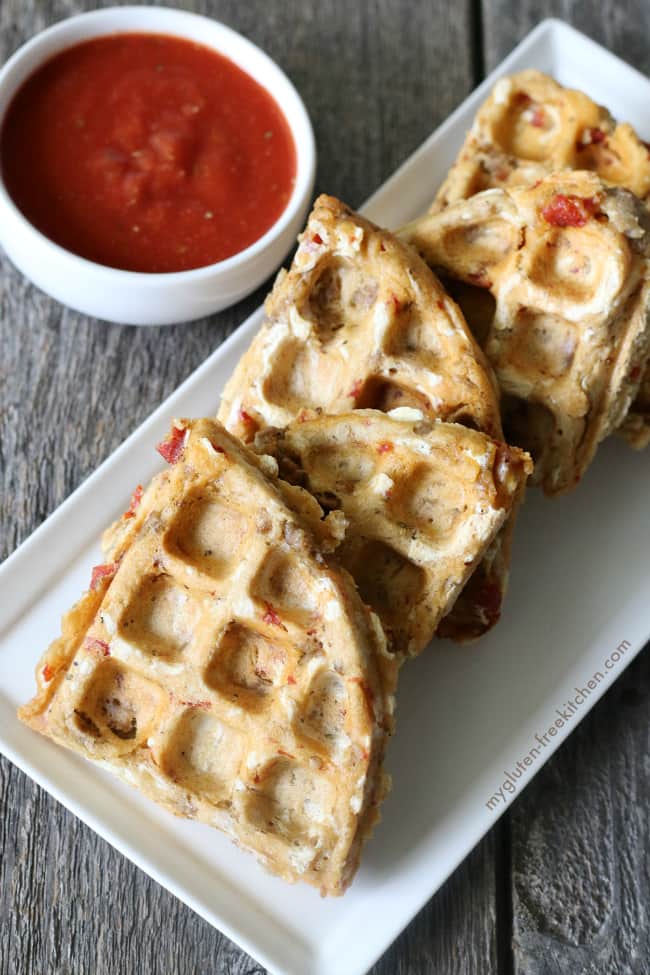 These pizza waffles were so easy and fun to make! This idea came to me while trying to go to sleep one night (hello, insomnia!) and I quickly entered it in my phone so I wouldn't forget it! I'm glad I did! These gluten-free pizza waffles make a fun lunch, snack or dinner.
Since I made several test batches of these, there were leftovers for the next two days. My hubby and boys all said they were great as leftovers in lunches, with or without warming them up and with or without having the pizza sauce to dip them in. Knowing that, we'll be making these again and again to vary the typical school and work lunches.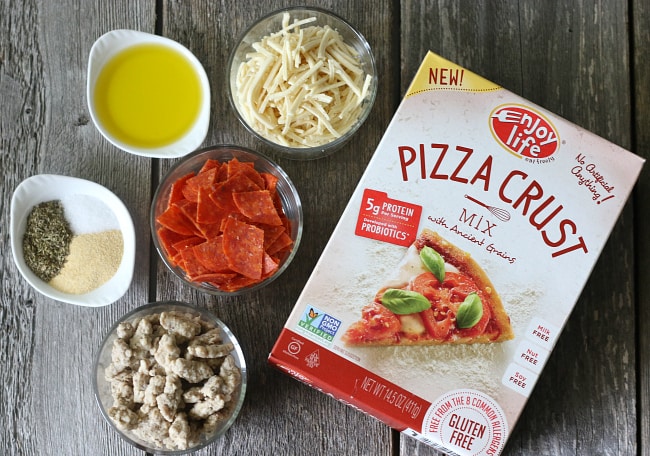 Notes on ingredients for these pizza waffles:
Pizza crust mix – I used Enjoy Life Pizza Crust Mix. It's certified gluten-free and free of the top 8 allergens, just like this whole recipe is! You can use the Enjoy Life store locator to find this mix at a store near you, buy from Enjoy Life online, or buy at Amazon here. I've also tested this with Pamela's gluten-free pizza crust mix, following my recipe directions below, and it worked well too.
Cheese – I've made these with non-dairy cheese (Daiya shreds and Violife) with great success. I've also made batches with real shredded mozzarella cheese so if you can have dairy, use that! Both were really good and my family couldn't tell which ones had dairy and which didn't!
Meat – My family loves pepperoni and sausage on their pizza, so those are what I chose for in these. You could use any of your favorite meats in these. The latest time I made these I used mini pepperoni which saved me from having to cut the large slices up.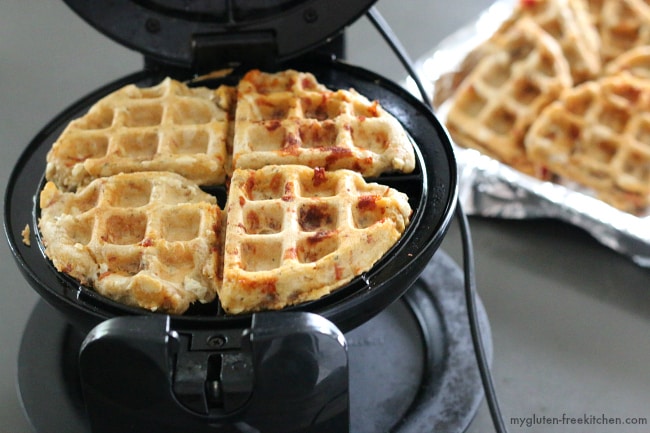 These were easy to make in my waffle iron. The amount of batter you'll use will depend on the size, depth, and shape of your waffle iron, so you'll need to experiment with the first waffle a bit.
For mine, I put 1/4 cup of batter on each of the four triangle wedges of mine, so 1 cup for a whole waffle. A whole batch, using a whole box of pizza mix, made 4 full waffles or 16 wedges, plenty for my family for lunch.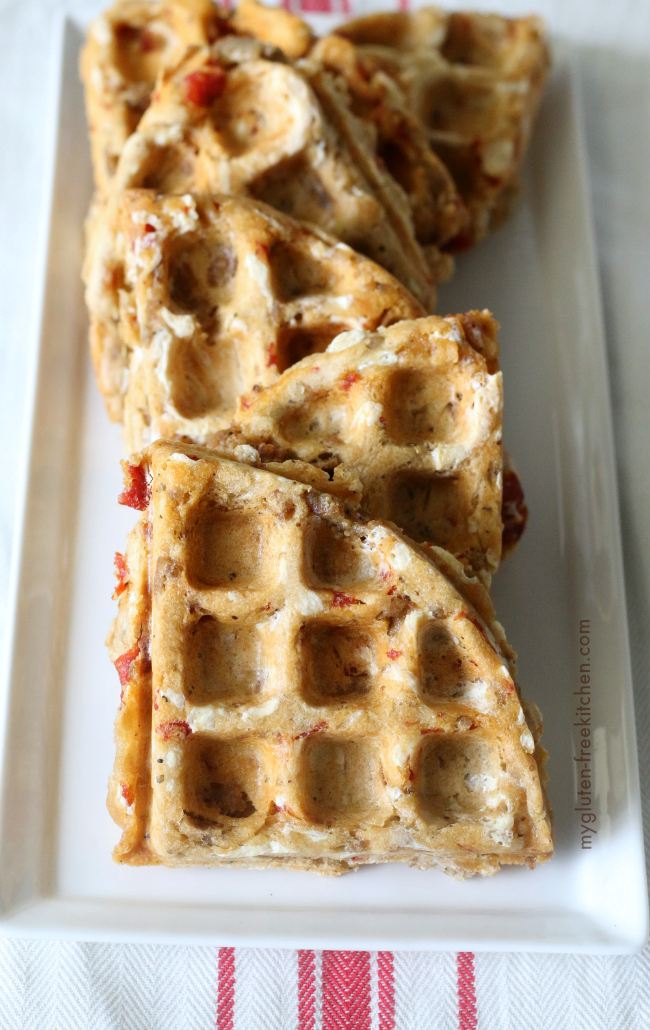 Everyone loved dipping these in pizza sauce. You could use a purchased sauce or make your own. I made a super simple one using a small can of tomato sauce that I just whisked some Italian seasoning and garlic powder into.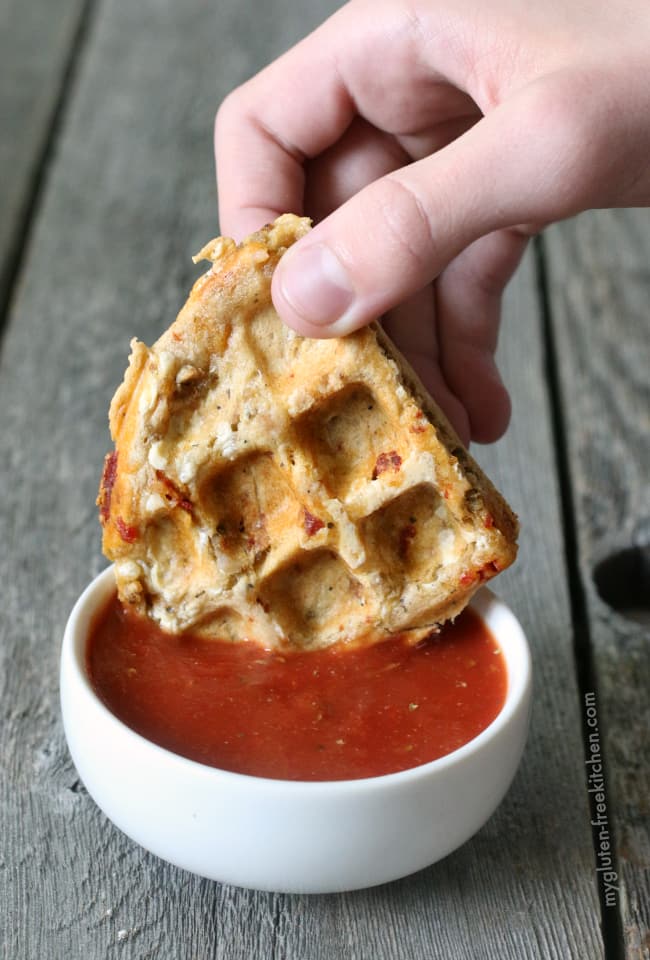 Thanks to Enjoy Life for partnering with me to share this recipe. I wholeheartedly love this company and their commitment to providing safe foods for celiacs. All of their products are certified gluten-free. They're very active in the celiac community and you'll find them at all of the gluten-free expos and fairs throughout the country.
Hope you all enjoy this recipe! If your family loves pizza everything too, make sure to make them this pepperoni pizza dip too!
Gluten-free Pizza Waffles Recipe:
Yield: 16 waffle wedges
Gluten-free Pizza Waffles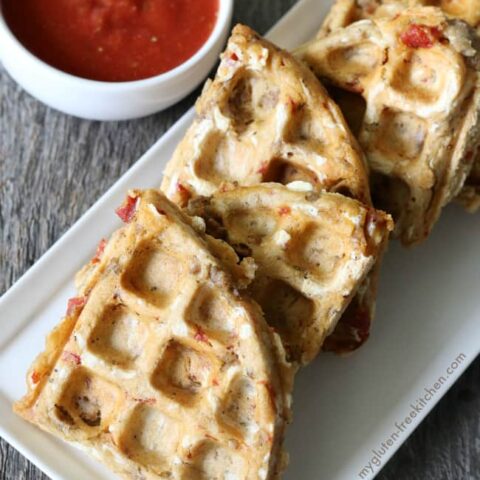 My family couldn't tell the difference between the ones I used dairy-free cheese shreds in and the ones I used real mozzarella in, so use whichever fits with your dietary needs.
Cooking time and number of servings will vary depending on your waffle maker. This recipe yielded 4 full waffles, or 16 little waffle triangles, plenty for my family of 4.
Prep Time 5 minutes
Cook Time 10 minutes
Additional Time 15 minutes
Total Time 30 minutes
Ingredients
1 box Enjoy Life Pizza Crust Mix (see note)
1 1/2 Tbsp. olive oil
1 3/4 cup warm water (100-105)
1 tsp. garlic powder
3/4 tsp. Italian seasoning
1/2 tsp. salt
1 1/2 cups non-dairy shredded cheese or real mozzarella cheese
3/4 cup pepperoni (slices quartered)
3/4 cup Italian sausage crumbles
Pizza sauce for dipping
Instructions
In the bowl of your stand mixer, mix together pizza crust mix, olive oil, water, garlic powder, Italian seasoning, and salt on low until mixed together well, then continue mixing on low for one more minute.
Add cheese or non-dairy cheese and meat and mix on low just until mixed.
Scoop dough onto preheated, lightly oiled waffle iron. Amount will vary based on size, depth, and shape of your waffle maker. For mine, I used 1/4 cup batter on each 1/4 section of the waffle iron. So one cup dough total per batch, spread out well. Check when indicator lets you know waffles are done. I checked and then cooked for one more cycle. Your's may vary, so keep an eye on it so your pizza waffles don't burn but are cooked thoroughly. Remove from waffle iron.
Serve with pizza sauce or spaghetti sauce for dipping.
Homemade quick pizza sauce: Take 1 small can tomato sauce and stir in some garlic powder and Italian seasoning mixed in until it tastes like you'd like it to!
Notes
If you can't find or use the Enjoy Life Pizza Crust Mix, I've also made these successfully using Pamela's Pizza Crust Mix, following my recipe not the box instructions.
Recommended Products
As an Amazon Associate and member of other affiliate programs, I earn from qualifying purchases.
Pin this to your gluten-free meals board on Pinterest: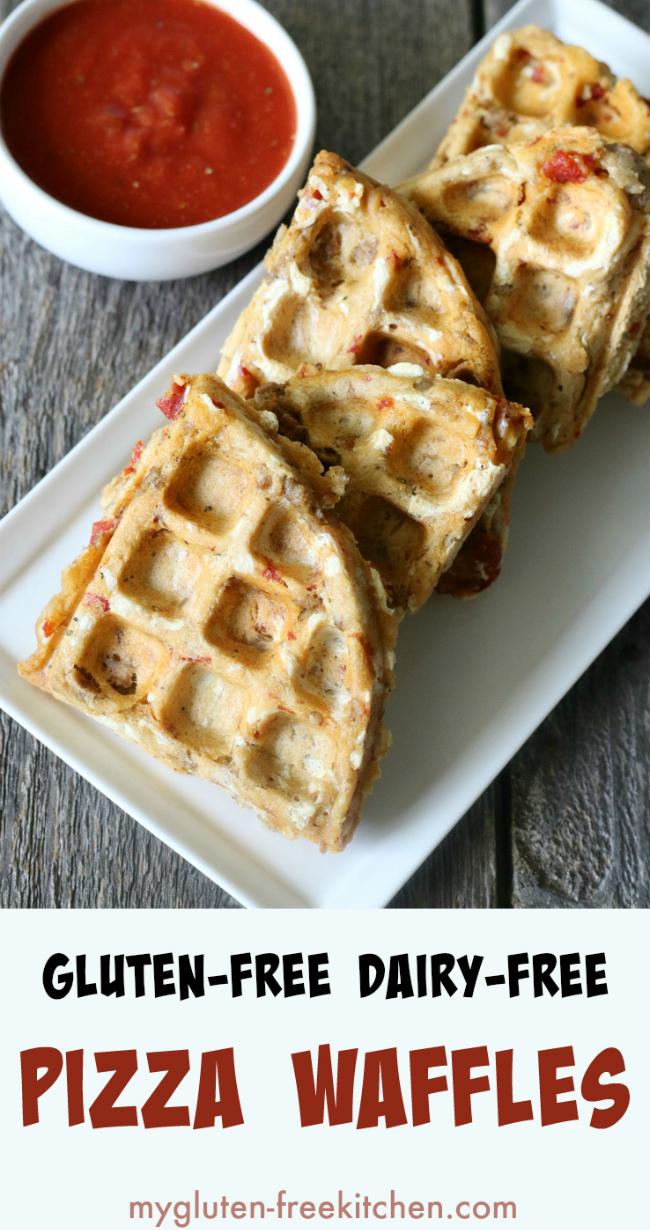 This sponsored post was created through my partnership with Enjoy Life Foods. As always, all opinions are my own. Collaborating with brands I love allows me to keep bringing you new and varied recipes! Thanks for your support!
[…] Pizza Waffles (Pizza Crust Mix) […]
Monday 17th of February 2020
I tried this with Chebe GF pizza crust mix but it isn't working for me. The dough is super thick. I'm going to try on a larger waffle iron. I wonder if I need to change the liquid amount for this different dough?
Wednesday 19th of February 2020
Let me know how these ended up working out. It sounds like that blend might require more water to make it a spreadable consistency.
Friday 12th of April 2019
Finally tried this! Loved the texture and it was extremely filling. My pepperoni broke up while mixing so I added extra pepperoni by lining the bottom of my waffle iron with it. It was definitely better with the dipping sauce too.
I also tried stuffing the inside of a ball of dough with cheese but I couldn't tell after it was cooked. The only downside to this recipe was the time it takes to make them with one small waffle iron.
I think I need some regular waffles now!
Sunday 14th of April 2019
Sounds like you need a big waffle iron!!
Sunday 16th of September 2018
I ended up using Bob's RedMill GF crust mix because I had it on hand, but these were great! I also made some DF garlic butter for dipping with the Miyokos Coconut Butter and crushed garlic. Everyone was a fan!
Monday 17th of September 2018
I'm so glad to know that Bob's Red Mill pizza crust mix worked well for this also! I also LOVE that you made a dairy-free garlic butter for dipping! Genius! I'm so going to try that!
I was pleasantly surprised by how delicious this turned out! And my kids loved them! This is definitely a new favorite in our house! Thank you for sharing!