I'm crazy about this new recipe for gluten-free sesame noodles with vegetables. While I found great organic produce to use in it, I can't wait until our summer garden supplies me with the fresh veggies I need for making it too! This light and healthy sesame noodle recipe is meatless too!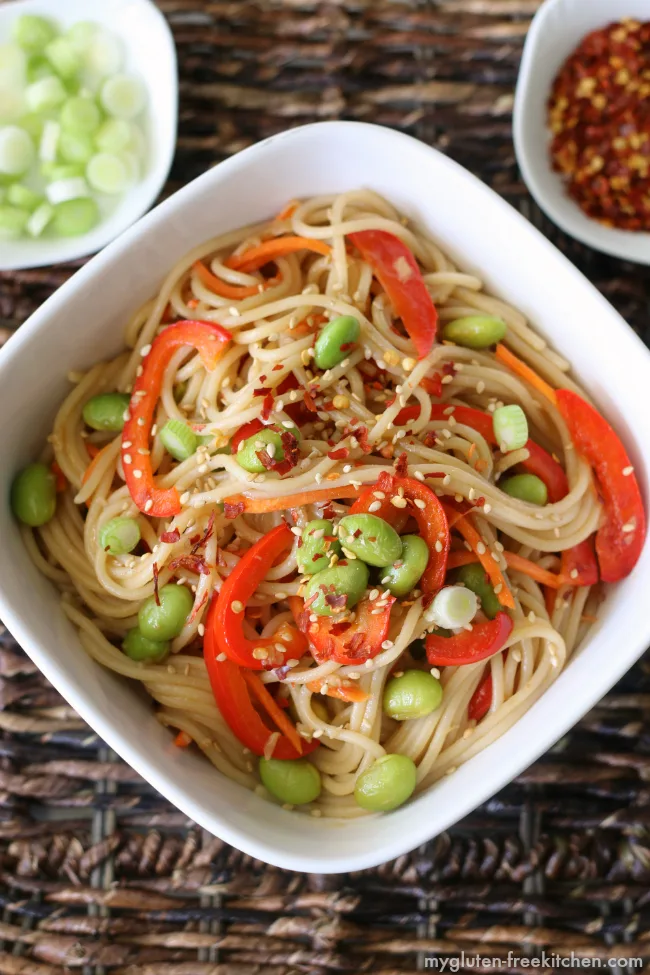 While I made this gluten-free sesame noodles recipe to be an easy meatless meal, I'm actually most excited about this as a make ahead lunch idea! I struggle with eating healthy gluten-free lunches, sometimes even with eating lunch at all. I'm prone to just snacking throughout the day.
But as I enjoyed this for lunch today, I thought it was the perfect dish that I could make on Sunday or Monday, package up, and enjoy for lunch the next 3 days! While that's my plan, I'm pretty sure I'm going to be fighting off my family for who gets the lunch containers of this! I might have to make a double batch every Sunday for the week ahead.
It's healthy and just filling enough without feeling heavy. The edamame provides a good source of protein, so it's easy for this to be a meatless meal. However, if you'd like, you could surely add some meat or tofu to this as well.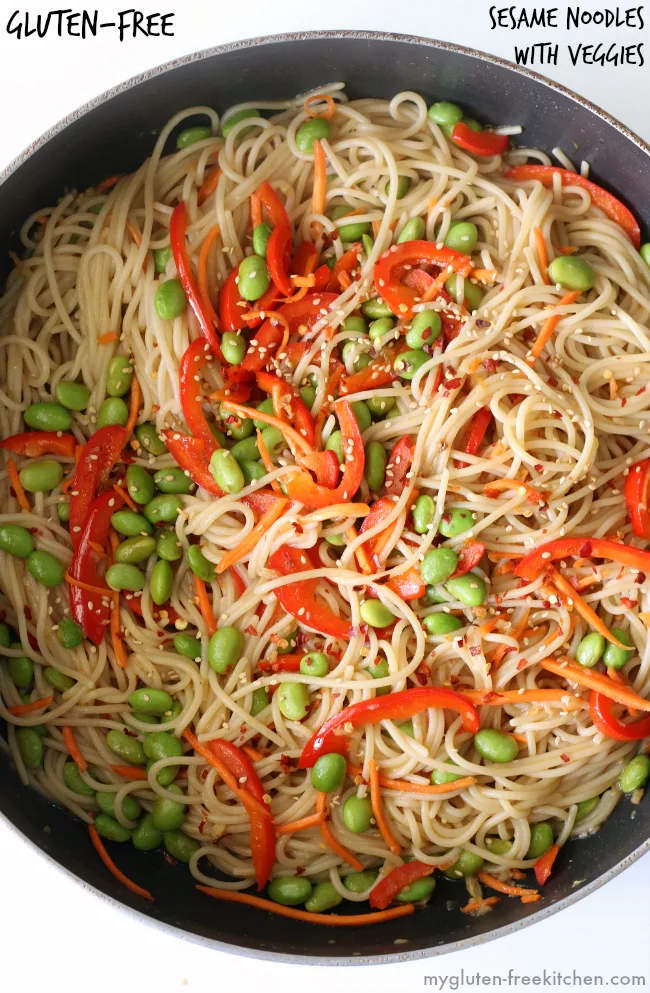 This was a different sort of recipe for me to develop. I actually started with the ingredients first, then came up with the recipe! I was browsing ingredients and toasted sesame seeds and sesame oil caught my eye, and then when I saw gluten-free spaghetti noodles, I thought making some sort of sesame noodles would be fun! I figured adding some coconut aminos (similar to soy sauce) would add some great flavor.
I decided to do a spin on my gluten-free chicken lo mein recipe, with a little different flavor profile and also making it a meatless meal.
I did some googling and found out that sesame noodles are actually a popular take-out meal – I had no idea! Since I'd already sketched out what I was going to create, I looked for further inspiration from the popular take out meal. I noticed it included chili oil or chili paste, and some included peanut butter. Since I already have a gluten-free peanut butter noodle recipe, I didn't want to go that direction, but the idea of adding some chili paste was a good one! I added the chili paste cart along with the other items and got to work on this later.
Here's what I ended up using for my vegan sesame noodles recipe: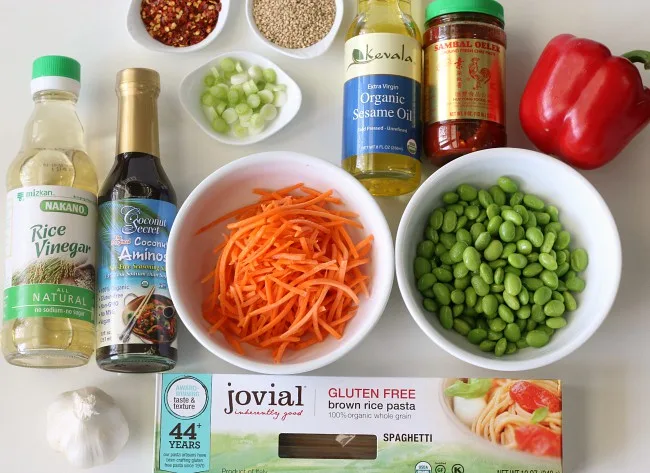 Notes on ingredients for this sesame noodles recipe:
Sesame oil – I used this organic sesame oil. I loved the flavor of it! Some recipes have you dilute the sesame oil with vegetable or canola oil, but I really liked using all sesame oil for mine.
Coconut aminos – I'd first tried Coconut Secret coconut aminos last fall at the food allergy bloggers conference and was impressed at how much it tastes like soy sauce. Gluten-free tamari sauce would also work as a substitute.
Rice Vinegar – Rice vinegar is gluten-free! Actually all vinegars other than malt vinegar are. Feel free to swap with apple cider vinegar if that's what you have on hand.
Chili paste – Just a little chili paste adds a lot of flavor and heat! We liked it with just 1/2 teaspoon in my recipe, but you might like to go up to 1 teaspoon if you really love the flavor and heat.
Gluten-free noodles. I chose Jovial gluten-free rice spaghetti. It's one of my favorite brands of gluten-free pasta. It worked perfectly in this dish.
Sesame seeds – I liked these organic toasted sesame seeds way better than any I've tried before! I sprinkled these on before serving, but you could also stir in more of them when you add the pasta.
Red Pepper – Crushed Red Pepper was perfect for shaking on as a topping to add a bit more crunch and flavor.
Edamame – The first time I made this I used frozen edamame in the shell. After I microwaved them a few minutes, I had to remove them all from the shells. The second time I made this, I learned my lesson and bought frozen edamame that is already removed from the shell! Much easier! If yours is frozen, microwave just until it isn't frozen anymore before using in recipe.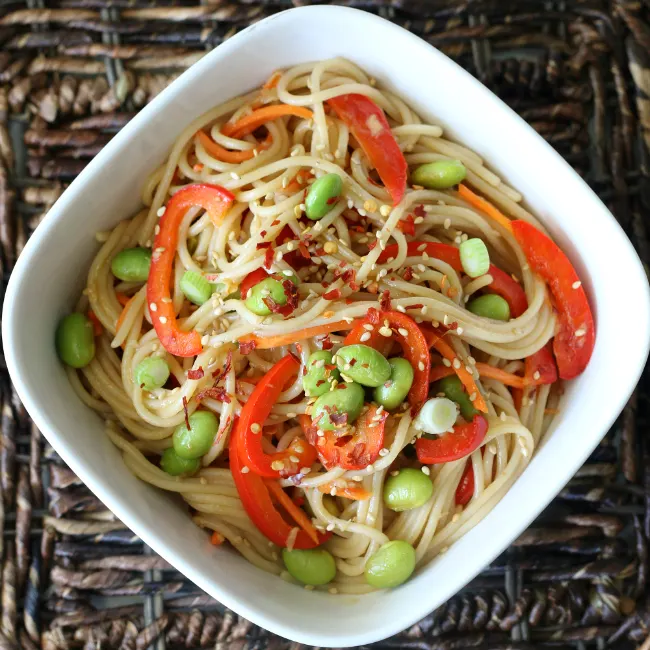 This easy sesame noodles recipe is vegan and vegetarian, making it suitable for those diets or just for your Meatless Monday dinner if you do that. Another good gluten-free vegan recipe is this vegan Tikka Masala recipe. This ratatouille looks like a great meal choice for meatless dinner too!
Gluten-free Sesame Noodles Recipe:
Yield: 4 servings
Gluten-free Sesame Noodles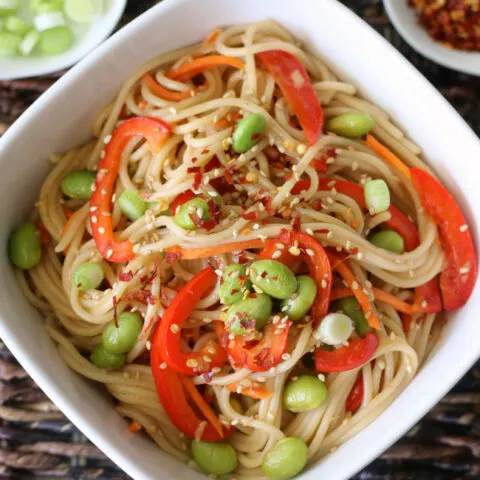 Great choice for a meatless dinner or to make ahead for gluten-free lunches, I think you'll enjoy these gluten-free sesame noodles. If you've got garden fresh veggies, go ahead and add them! Ready in under 30 minutes!
Ingredients
12 oz. Jovial gluten-free brown rice spaghetti
1 cup shelled edamame (room temp)
3/4 cup shredded carrots
3/4 cup thinly sliced red bell pepper strips
3 Tbsp. sesame oil
2 Tbsp. minced fresh garlic (about 8 large cloves)
1/3 cup coconut aminos
1 1/2 Tbsp. rice vinegar
1 tsp. chili paste
2-4 Tbsp. toasted sesame seeds, as preferred
crushed red pepper flakes, as much as preferred
sliced green onions, as much as preferred
Instructions
Start heating 3 quarts of water to boiling.
While water comes to a boil, prepare all of your vegetables - mince the garlic, slice the red pepper and green onions, remove the edamame from shells, shred the carrots if you didn't buy pre-shredded ones. Set aside all veggies until ready to use.
Add gluten-free spaghetti noodles to boiling water and set timer for 11 minutes like package suggests. (If using a different brand of pasta, follow the directions on the box.)
In a large skillet or Dutch Oven, add sesame oil and minced garlic. Cook over medium low heat until garlic is fragrant and just barely begins to brown.
Add coconut aminos, rice vinegar, and chili paste and stir together with skillet safe spoon.
Add edamame, shredded carrots, and sliced red peppers to the skillet and stir together. Cook over medium heat for 3 minutes to meld flavors and warm the veggies. Turn off heat.
Drain the gluten-free spaghetti noodles then add to skillet. Stir together until noodles are coated with sauce and veggies mixed throughout.
Sprinkle with toasted sesame seeds, red pepper flakes and green onions if desired.
Serve with more sesame seeds, red pepper flakes, and green onions on the side for everyone to add to taste.
We enjoyed this dish warm as well as eating the cold leftovers in a packed lunch.
Notes
I used Jovial gluten-free spaghetti noodles. Feel free to use a different gluten-free spaghetti and follow cooking directions on the package.
You can use gluten-free Tamari sauce instead of coconut aminos.

Pin this to your gluten-free meals board on Pinterest: