A unique, crunchy and sweet fruit salad, this naturally gluten-free apple grape salad is a favorite side dish at my house! Family and guests always go back for seconds of this apple salad.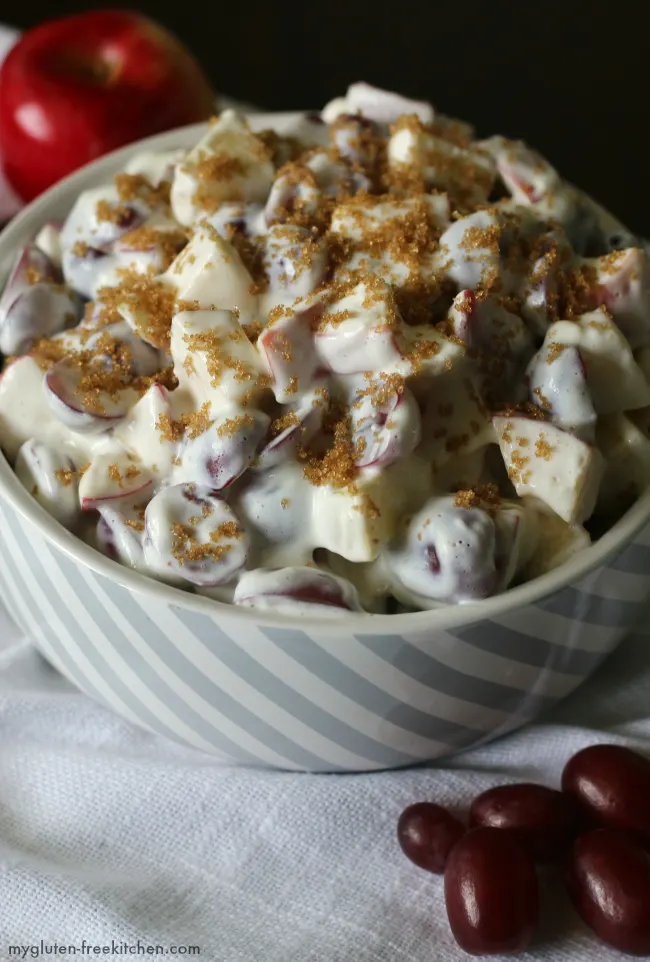 This apple grape salad is a long time family favorite side dish recipe. I adapted this from an old Quick Cooking magazine recipe back in the 1990s and have been making it since! I tend to make it more in the fall and winter, when the summer berries that I use for fruit salads are gone, and apples are plentiful and delicious!
My kids have always loved this fruit salad. When they were younger, I would peel the apples for this, since their little teeth had a hard time with the apple peels. Now though, I leave the peels on and just cut into chunks.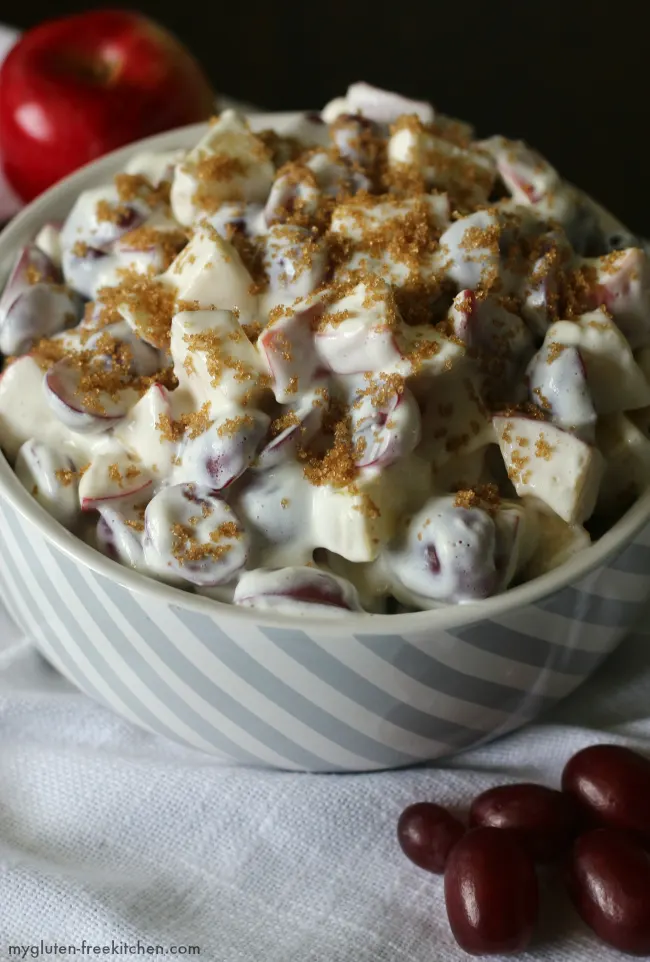 Notes on ingredients and substitutions for this Apple Grape Salad:
Apples: Since this is an overall sweet fruit salad, you'll want to use a good tart apple here. Pink Lady, Braeburn, and Granny Smiths are all favorite choices for me. You can peel these if that works better for your young eaters!
Grapes: Of course, you'll want to use seedless grapes. I always use red grapes, but you could totally use green ones, or even use a mix of both!
Cream Cheese: I often opt for the lower fat option of using Neufchatel instead of cream cheese, so feel free to use either!
Brown Sugar: Feel free to use any, but I chose to use a coarse organic brown sugar because I like how it looks and tastes! I used Wholesome Sweeteners Organic Light Brown Sugar. It's available at Amazon.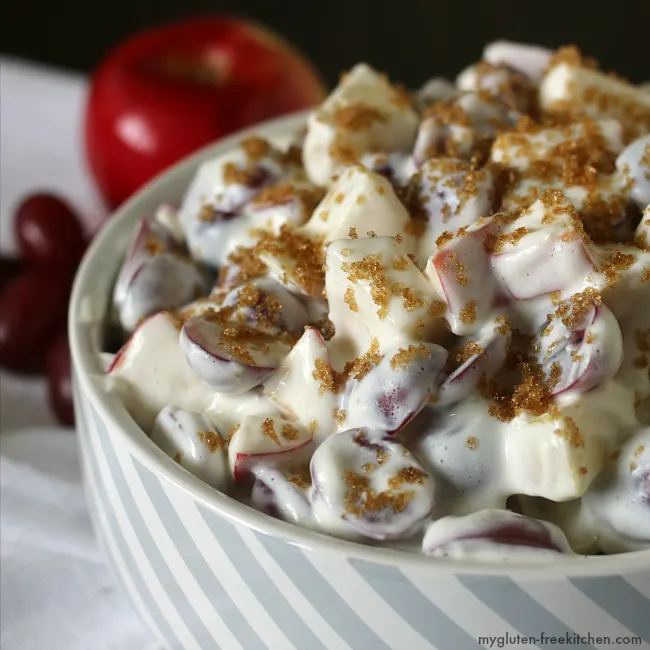 What do you serve this apple grape salad with?
We have it with just about every grilled dish or savory meat recipe. When I make my easy Crock-Pot gluten-free French Dip sandwiches, this apple grape salad makes an easy side that allows me to still keep the oven off! While I grill my favorite gluten-free grilled salmon recipe, I can whip this fruit salad up in the kitchen.
Have more apples to use up? Try some of these other gluten-free apple recipes that are a favorite in my home: gluten-free apple muffins, gluten-free apple crisp, and gluten-free caramel apple crisp jars, and gluten-free apple pear tart! I'd be hard pressed to pick a favorite out of all of those! Oh, almost forgot to include my gluten-free apple cake. I'm actually making that next week to bring to a party! And if you're looking for an apple recipe that's suitable for those avoiding the top 8 allergens, make sure to check out my gluten-free apple nachos recipe.
I hope you'll try this! Let me know if you do!
Apple Grape Salad Recipe:
Yield: 8 servings
Apple Grape Salad (Gluten-free)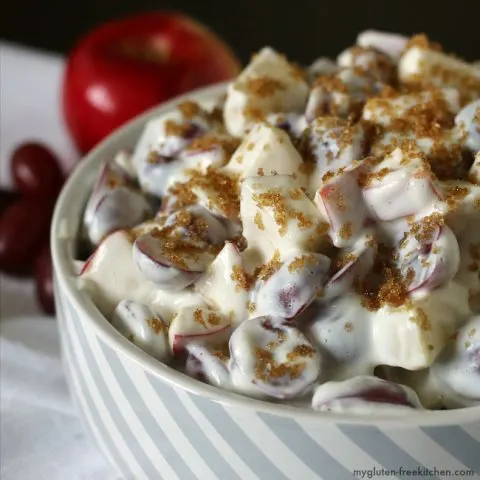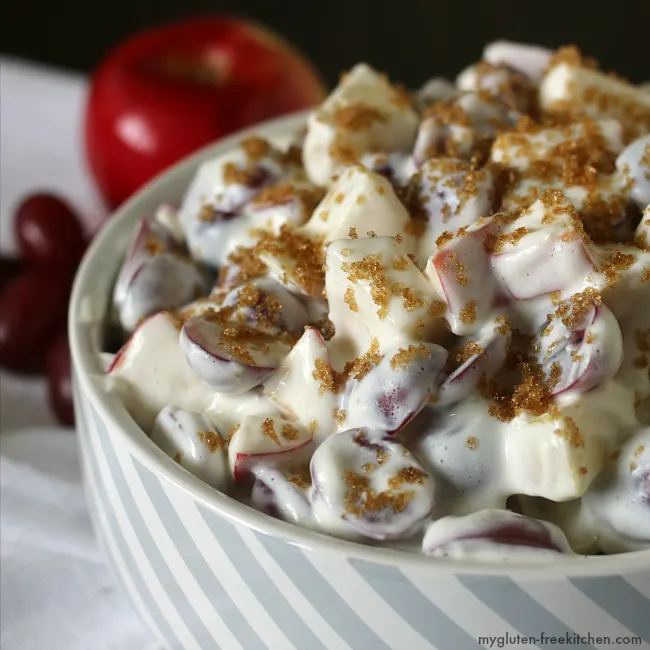 A unique, crunchy and sweet fruit salad, this naturally gluten-free apple grape salad is a favorite side dish at my house! Family and guests always go back for seconds.
Ingredients
4 tart apples (recommend Pink Lady, Braeburn or Granny Smith)
1 lb. seedless red or green grapes
1 cup sour cream
4 oz. cream cheese (softened)
1/4 cup sugar
1/2 tsp. pure vanilla extract
1/4 c. light brown sugar (for topping only)
Instructions
Wash grapes and remove stems. Cut each grape in half lengthwise.
Wash and cut up the apples into bite sized chunks. I leave the peels on, but when my kids were younger, I did peel the apples first. Feel free to do either way!
In a medium size bowl, beat the sour cream, cream cheese, sugar, and vanilla extract with beaters.
Stir the grapes and apple chunks into mixture, until well coated.
Transfer to serving bowl. If not serving immediately, cover and put in refrigerator.
When ready to serve, sprinkle 1/4 cup brown sugar over apple grape salad. Enjoy!
Notes
I often use light sour cream and light cream cheese and this still turns out really good so feel free to do the same!
You can double this recipe if you want to feed a larger group!
Pin this to your gluten-free Side Dishes board on Pinterest: