As a celiac, getting stuck at an airport without safe food and other necessities might be a nightmare! Today I'm sharing my tips for being prepared with a well-packed gluten-free carry-on bag.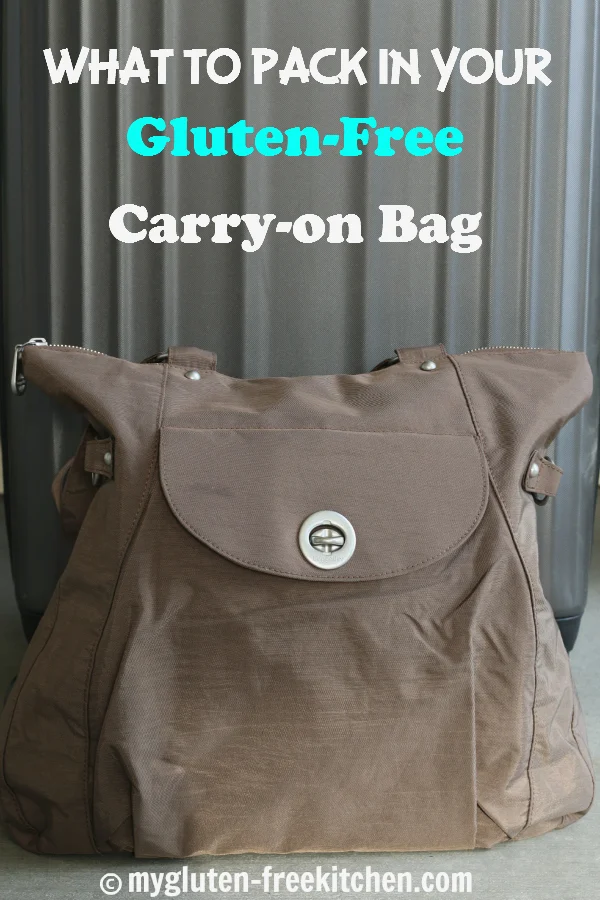 As we enter into spring and summer travel season, I thought it might be helpful to share what I pack in my gluten-free carry-on bag. I travel several times a year with my family and several times a year to blogging or celiac conferences and expos. I'm definitely getting better at making sure I've got all the essentials packed but without making my bag too heavy to carry. I consider this part of the learning curve as you are on your gluten-free journey.
This is the bag that I'll keep with me at all times. It is in lieu of a purse so I make sure it has all my essentials, but it is a great size to put under the seat in front of me on the airplane. In addition to this carry-on bag, I usually pack a small suitcase which I will either bring on the plane to put in the overhead storage or I'll check the luggage. My carry-on bag is from Bagellini. While I've had mine a few years, they're always making new bags that are great for travel.
As a celiac, you just never know when you are going to be able to find a truly safe meal while traveling, so I think it is very important to bring your own high-protein, filling food with you when you travel. While airport gift shops are carrying more gluten-free snacks, it is usually carbs or sweets only – nothing filling. Most all of the packages of nuts and dried fruit include the warning that they are manufactured on shared equipment with wheat, so I avoid those.
So what do I pack in my carry-on bag? Check out my photo of most of the items and read my list below: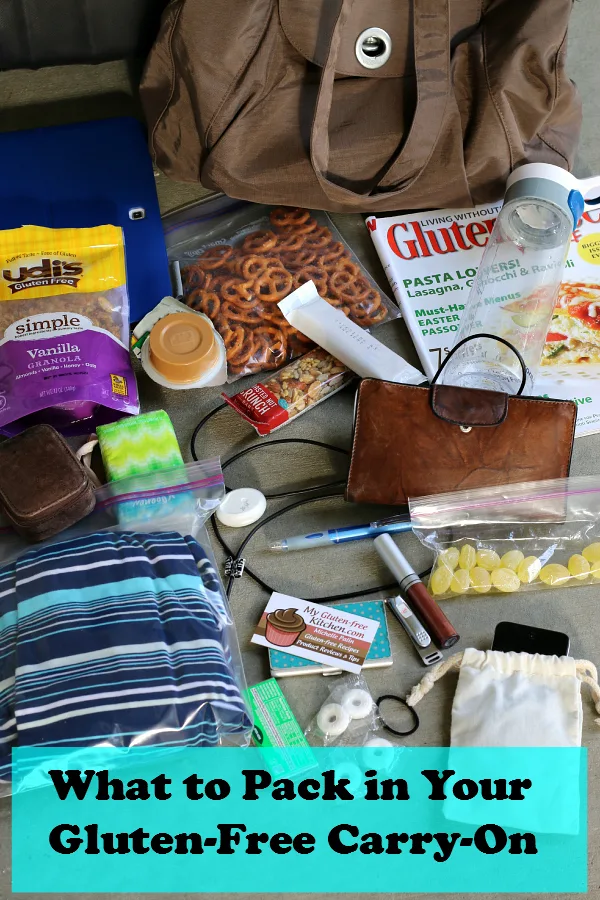 Here are my gluten-free carry-on bag essentials:
A tablet, e-reader, etc. for reading books, playing games, or jotting notes while on the plane. While waiting in the airport, I use this to connect to the airport's free wifi and catch up on answering emails, viewing Google Maps for where I'm traveling to, and scouting out the Find Me Gluten Free website for safe places I can eat when I arrive at my destination.
Empty water bottle – you can fill at a water fountain after you pass security and again on the airplane when the steward/stewardesses are passing out drinks. I use this over and over once I reach my destination as well, whether it be a business conference or a family trip.
Magazine – I like bringing along the latest gluten-free magazine to look through during take-off and landing. My favorites are Gluten-free and More and Gluten-free Living.
Gluten-free granola – I love bringing gluten-free granola because you can munch on it plain or add it to a yogurt you buy at the airport. Bonus: if you get stranded overnight, and of course can't find anything safe at the hotel restaurant buffet, you can grab a bowl, spoon, and milk and enjoy a good breakfast! Sometimes I bring my homemade gluten-free granola in a large Ziploc bag or you can get store-bought certified gluten-free granola.
Peanut Butter/Almond Butter/Sunbutter (mini-tubs or squeezable packets) and gluten-free pretzels – Peanut butter, nut butter, or Sunbutter is a good source of protein and the pretzels make a tasty dipper! I like to buy gluten-free pretzels and have found the pretzel shaped ones hold up better for dipping than the sticks do! If you like celery sticks or apple slices, bring a baggy of those to dip in the peanut butter too! Peanut Butter and pretzels is my main "meal" at the airport – I bring enough to have this twice. Sunbutter makes squeezable pouches that work well for those of you with peanut allergies. You can also bring sandwich bags full of your favorite fruits or veggies to dip in the peanut butter – apple slices, celery slices and carrot sticks are especially good and hold up well.
Gluten-free Granola Bars and Nut Bars – There are many brands and varieties of gluten-free granola bars or nut bars – I prefer to avoid the ones with chocolate so they don't get messy while traveling.
Homemade Snack Mix – I forgot to include this in the photo, but I always make up a sandwich baggie full of cashews, almonds and dried fruit to snack on. I buy all of my nuts from a certified gluten-free source (nuts.com) that doesn't manufacture on shared equipment with wheat. A nut-free alternative is this Spring Snack Mix.
Wallet – you don't want to forget that!
Cord for charging your phone and your tablet. I like to bring one charging cord that can plug into both a wall and a car. This way I can charge at the airport during layovers, and also once I get my rental car, I just grab the same charger to charge my phone in the car!
Power booster – I love the Anker PowerCore chargers. They'll charge my phone multiple times!
Kleenex packet
Medicine holder – This brown little rectangle is a pill holder – great for your over the counter medicines for headaches, motion sickness, etc and vitamins. I found it at my local Fred Meyer by the purses and wallets, but here's a similar pill holder on Amazon. Prescription medicines I bring in their prescription bottles.
Change of clothes in Ziploc bag – Especially essential if you are checking your luggage and not carrying it on! I pick something lightweight and easy – in this case a simple sundress and undergarments. The Ziploc bag keeps the clothes clean, and then you can put your dirty clothes in it when you change. In a pinch, the Ziploc bag can also be used if you or the person next to you gets airsick!
Floss, Gum, Breath Mints – You never know who you are going to be sitting by on the plane!
Business Cards/Holder – Again, you never know who you might meet, so you'll want these handy for networking.
Pen – Even though I do most everything electronically, I still find it handy to have a real pen in my bag.
Lip Gloss – My lips get so dry when I travel. I like to bring along my gluten-free lip glosses from Red Apple Lipstick or their Rallye Balm.
Nail Clippers – I always seem to break a nail while traveling!
Candy – I find that sucking on candy helps with my ears popping and keeps me from getting nauseous during flight. My choice candy is lemon drops!
iPod and earbuds – Great for listening to podcasts, music, or audiobooks during travel.
Antibacterial wipes – I forgot this item in my photo, but I usually bring a few antibacterial wet wipes. I don't bring the liquid hand sanitizer because I don't want to have to remove it from my bag to get through security since it is a liquid.
Hopefully this list gives you some ideas to help you with your next trip. I'd love to hear what else you pack to help you travel gluten-free!