My 8 year-old and I bring you this fun after-school snack idea of a peanut butter and honey tortilla roll-up that's gluten-free and dairy-free! These peanut butter tortilla roll ups are quick and easy – great for lunch or after school!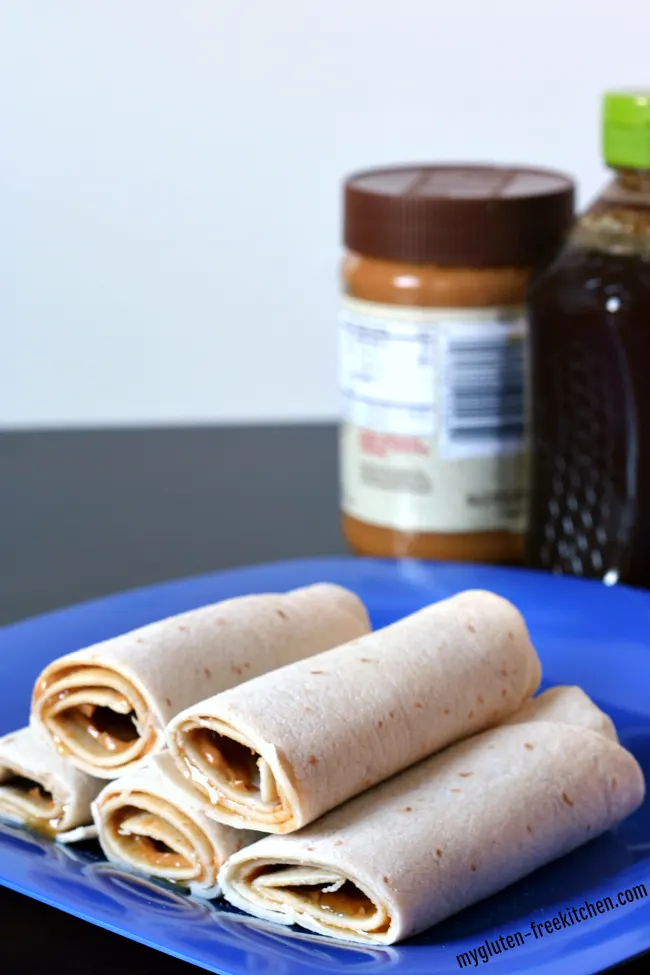 My boys LOVE when I invite one of them into the kitchen to cook or bake together. I feel guilty that I don't do it enough and am trying to have them in the kitchen with me more often. I know they are learning skills that will help them their whole lives while we create fun memories together!
For my sanity, I usually have them take turns working with me in the kitchen. They really enjoy the one-on-one time too!
I asked my son Micah what he wanted to cook together this past weekend, and he excitedly announced that he wanted to make Peanut Butter Roll-Ups! I've always made these for him, so he was really excited to learn how to make them himself. Even much younger kids can make these. It's easy for them to smear a tortilla with peanut butter and drizzle honey on it!
Since we had to switch to eating gluten-free, one problem I've had when making these roll-ups is that the tortillas always crack. I just couldn't find a good gluten-free tortilla that didn't crack while rolling.
We finally found a couple brands of gluten-free tortillas that don't crack while rolling: Udi's gluten-free tortillas and Mission gluten-free flour tortillas. I'm happy to say that we didn't have a single crack – even with an 8 year-old doing all the rolling!
Making these gluten-free roll ups is super simple as there are only 3 ingredients! Here's how: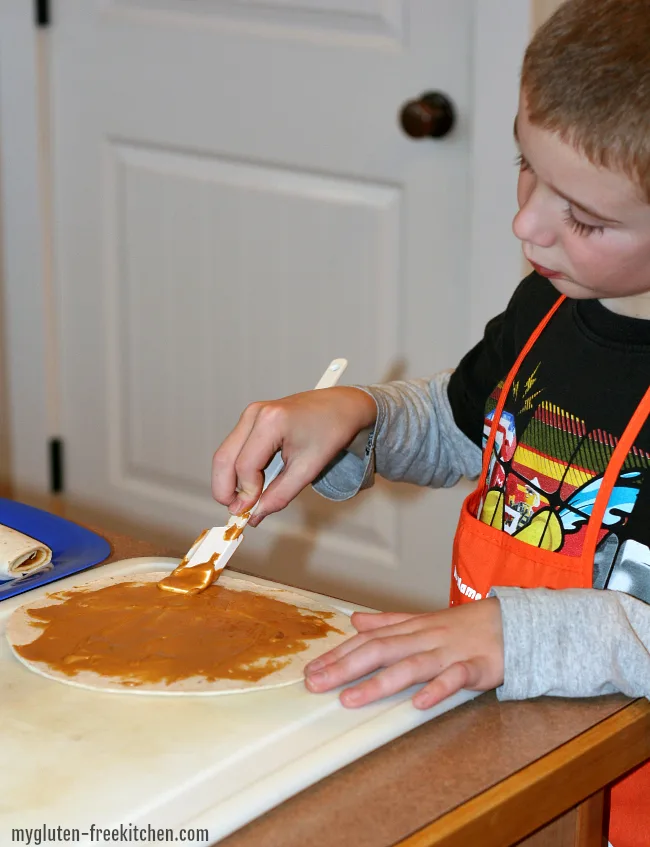 How to make Peanut butter Tortilla Roll-ups:
Warm a gluten-free flour tortilla in a dry pan on the stove.
Next spread a layer of peanut butter on it. We used creamy, but you could use crunchy too! Just be sure to leave about an inch of bare tortilla all the way around so that you don't have all of your peanut butter come oozing out!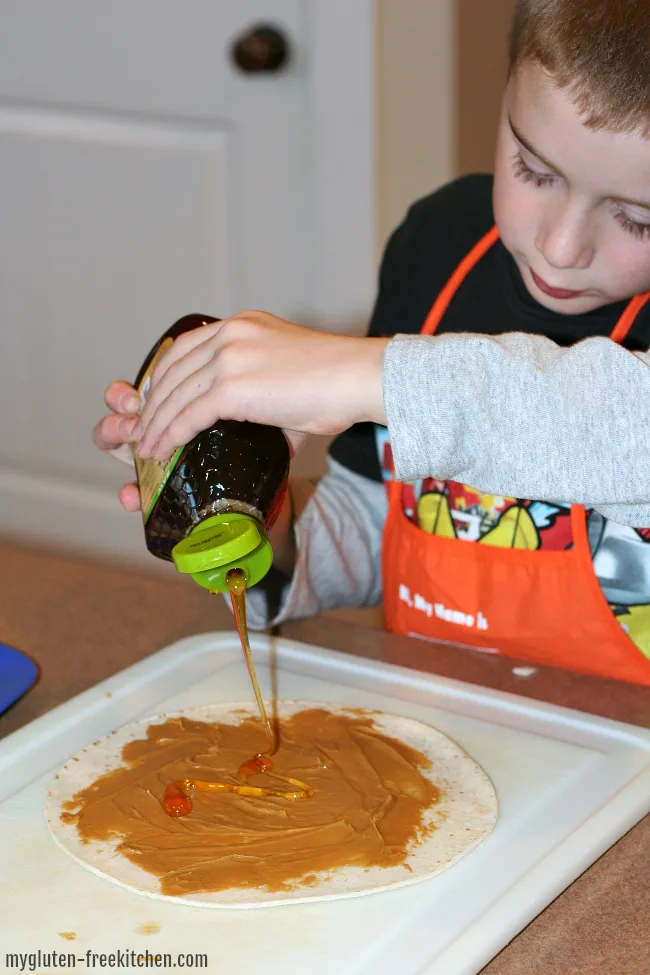 Then squeeze a drizzle of honey. If it comes out a little thick, like it did in the photo above, then just use a spatula or butter knife to spread it around a bit.
Start at one edge and roll the tortilla up.
Then we used a pizza cutter to cut them in half to make it a more hand-friendly food!
Repeat for as many as you want to make!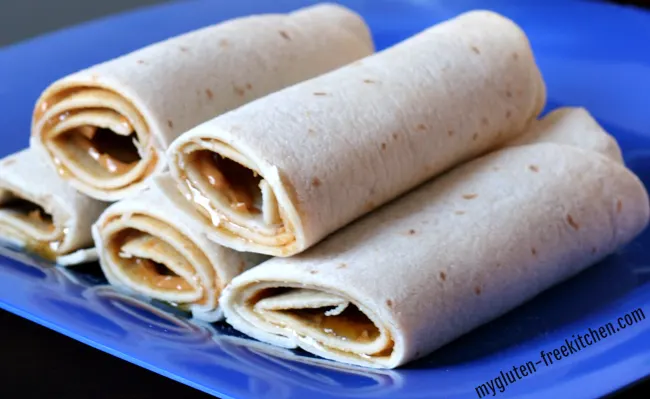 Notes on ingredients for these peanut butter tortillas:
Tortillas: The gluten-free tortillas that I usually use for this are Mission gluten-free flour tortillas (at all my local stores on the tortilla aisle) and Udi's gluten-free flour tortillas (harder to find, would be in freezer section of your store).
Peanut Butter: My kids and I prefer creamy peanut butter. I usually use Jif Natural Peanut Butter. Feel free to use your favorite creamy or crunchy peanut butter. Make sure it's not a runny variety or you'll have a big mess!
Honey: Use your favorite honey for this!
Other variations of this gluten-free roll up idea: substitute jam for the honey, or add a banana with the peanut butter and honey.
My son was so so proud of these! He enjoyed eating one right away, but I made him wait on the rest until I was done with photos. He was out playing with his friends from the neighborhood then ran in and asked if I was done and he could take them out to share! He was just beaming as he handed them out to all of his friends, telling him how good they were and that he'd made them! This peanut butter tortilla snack was definitely a hit with all the neighborhood boys too!
Another favorite recipe that uses gluten-free tortillas is gluten-free bacon ranch quesadillas. They're another good gluten-free lunch option! And when you have one tortilla left, make these gluten-free tortilla strips for soup! For dessert, make my friend Amanda's gluten-free Mexican Dessert Torte recipe – it looks amazing!
Gluten-free Peanut Butter Tortilla Recipe:
Yield: 1
Peanut Butter Tortilla Roll-up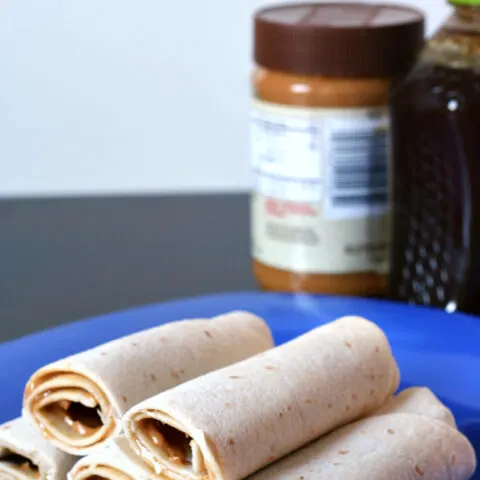 If your kids love peanut butter and honey sandwiches, they'll love these gluten-free peanut butter and honey roll-ups too!
I've listed ingredients for making just one roll-up so you can multiply by however many you are wanting to make!
Additional Time
3 minutes
Ingredients
1 plain gluten-free flour tortilla
2-3 Tablespoons creamy or crunchy peanut butter
1-2 teaspoons pure honey
Instructions
In an ungreased skillet, over medium heat, warm each side of the gluten-free flour tortilla for about 15-20 seconds, or until just warm but not crispy.
Carefully remove warm tortilla onto cutting board.
Use a spatula to spread peanut butter over one side of tortilla, leaving 1" space around outer edge.
Drizzle honey over the peanut butter.
Starting at one side, gently roll tortilla up.
Use a pizza cutter, knife, or kitchen scissors to cut in half. Enjoy! These taste great served warm or at room temperature later! They are definitely messier when eaten while still warm!
Notes
I used Udi's Gluten-free Flour Tortillas for these. If your store carries them, they are likely in the freezer section.
I have also used Mission gluten-free flour tortillas for these. They work well also!
Recommended Products
As an Amazon Associate and member of other affiliate programs, I earn from qualifying purchases.
Pin this to your gluten-free lunch ideas board on Pinterest: