A family favorite for years, these gluten-free monster cookies are chewy cookies that are chock full of peanut butter, gluten-free oats, chocolate and M&M's. This easy, flourless oatmeal peanut butter cookie recipe is one that I love to whip up to have on hand for after school treats!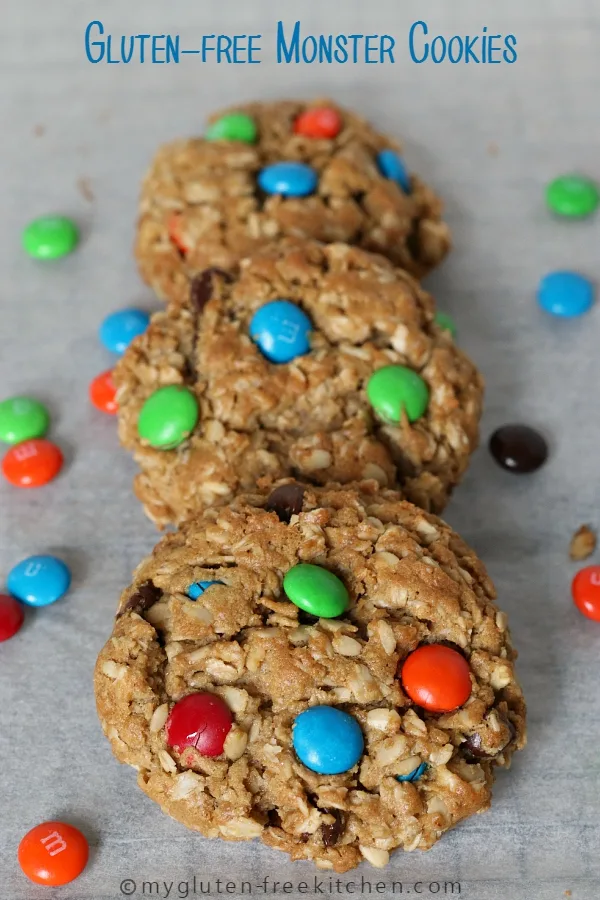 Gluten-free monster cookies are a staple at our house. I made these cookies for many years before needing to go gluten-free, and they were one of the easiest recipes to switch to gluten-free since they don't have any flour in them. Just use gluten-free oats and verify that all other ingredients are gluten-free like they should be, and these are easy as can be! Flourless cookies like these and my flourless chocolate cookies are great options for making when you don't have any gluten-free flour blends on hand.
Why are these called Monster Cookies? Honestly, I have no idea why these have always been called Monster Cookies instead of just gluten-free M&M cookies. Maybe the person that coined that term was making each cookie really huge too? I make mine approximately palm-sized, but you could go bigger or smaller, just adjust baking time a bit!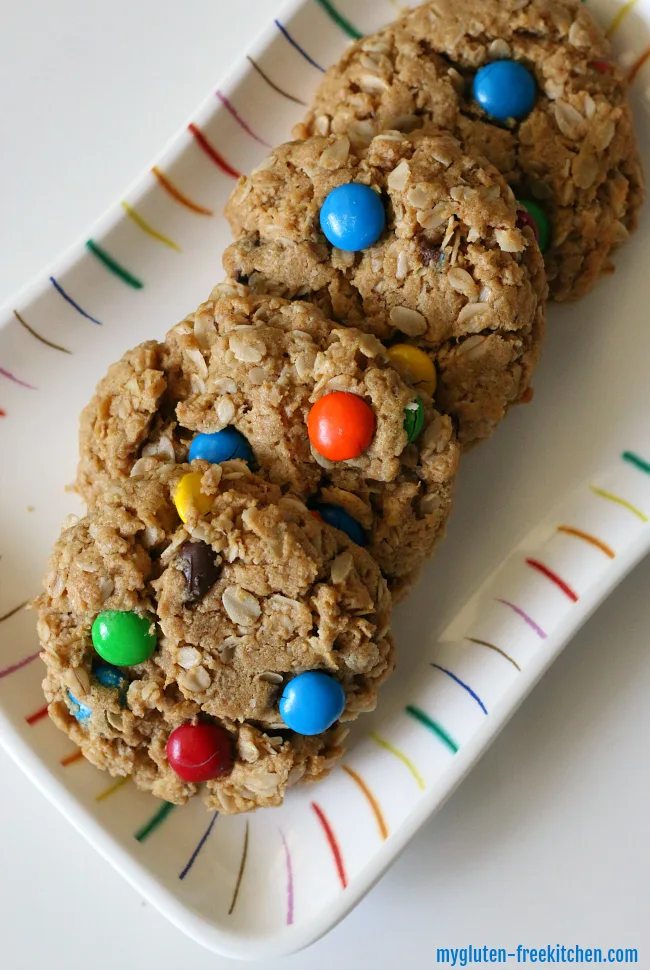 With whole grain gluten-free oats, and protein from the peanut butter, I feel good about having these for a snack.
I even had a friend bring these to me when I was nursing my baby, recommending them as a great snack to keep my energy and blood sugar up between meals. Seriously, it doesn't get much better than a friend bringing you delicious flourless oatmeal peanut butter cookies and encouraging you to eat them for your health!
I've brought them to new moms, playdates, and just last week, to our small group from church. Kids and adults all love these!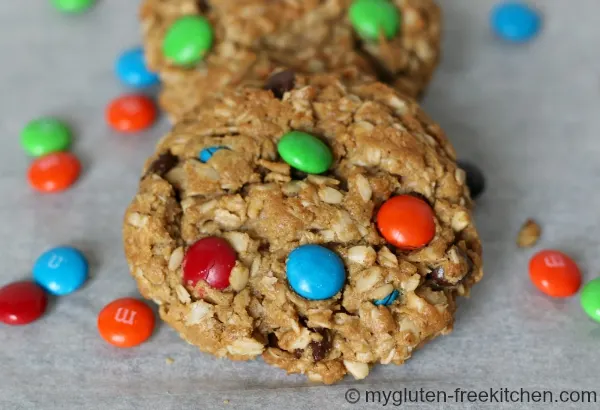 Notes on Ingredients and substitutions for Gluten-free Monster Cookies

:
Butter: If you need dairy-free, you can use Earth Balance buttery sticks, Melt buttery sticks, or I think coconut oil would work just fine, though I haven't tested that yet since I'm all about the real butter!
Peanut Butter: I've made these with regular Jif or Skippy creamy peanut butter, Jif Natural peanut butter, Skippy Natural peanut butter or Trader Joe's brand natural peanut butter – all with great results. While I prefer creamy peanut butter, you can also make these with crunchy peanut butter if you want more crunch! If you need to avoid peanut butter, you can a nut butter or SunButter.
Oats: For the oats, I recommend certified gluten-free oats that are grown using a purity protocol. I use and recommend Bakery on Main gluten-free rolled oats or Bakery on Main gluten-free quick oats. The quick oats are definitely finer, while the rolled oats give a heartier texture. You pick! I've tested both with great results. I buy mine from Amazon and have linked to them there.
Chocolate Chips: Be sure you are using a brand that isn't manufactured on shared equipment with wheat. I love Guittard brand semi-sweet morsels which I buy at Winco, and for dairy-free I use Enjoy Life semi-sweet mini chips or mega chunks, which I buy at Amazon.
I only use plain milk chocolate brand name M&Ms which I've previously confirmed are free of gluten ingredients and are not made on shared equipment with wheat. Update, just tried with the dark chocolate M&Ms and they're so good! Always check the ingredients label! If you are wanting to use a generic or another flavor/variety, you'll need to investigate their safety.
I'm not aware of a dairy-free equivalent for M&M's that is not made on shared equipment, so if you need to be dairy-free, I would just skip the M&Ms and use double the chocolate chips.
The recipe makes 3 dozen cookies, so you have plenty to share!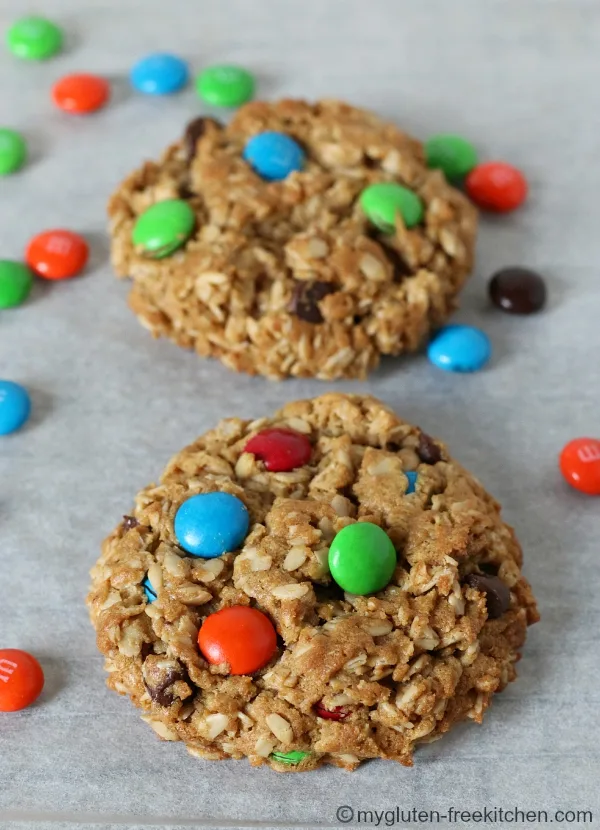 It's fun to switch these up for the holidays by using holiday colored plain M&M's too! I've used all red and pink for Valentine's day, or all green and red for Christmas.
For patriotic holidays, I use red, white and blue M&M's. I brought them to our 4th of July potluck last year like this: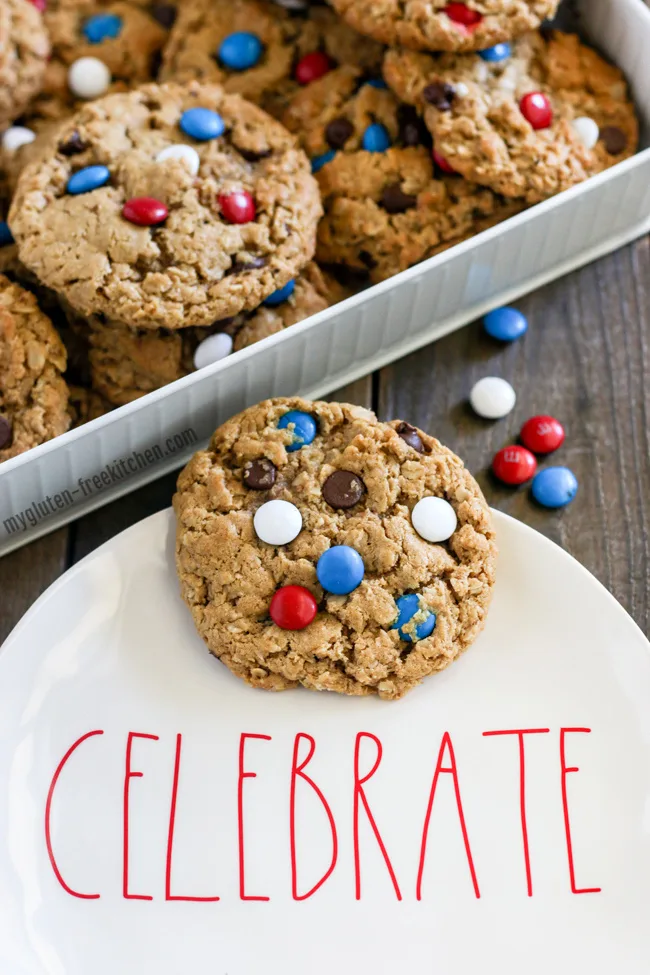 I've even been known to use all the orange and blue ones to make these for a Boise State Football party! BOISE!
Looking for more cookie recipes that use peanut butter? Check out my gluten-free double peanut butter cookies – they're so soft and yummy! If you're looking for a flourless option like these, then you might like these flourless, sugar-free gluten-free peanut butter cookies. If you'd like a vegan option, try these vegan peanut butter chocolate chunk cookies. So many yummy options!
If you've got a favorite cookie that I haven't shared a recipe for yet, be sure to let me know! Also check out my Pinterest board full of gluten-free cookies!
If you make these and love them, please come back and give this recipe a 5 star rating in the recipe card! Feel free to comment with tips or to share any successful substitutions you made.
Gluten-free Monster Cookies recipe:
Yield: 36 cookies
Gluten-free Monster Cookies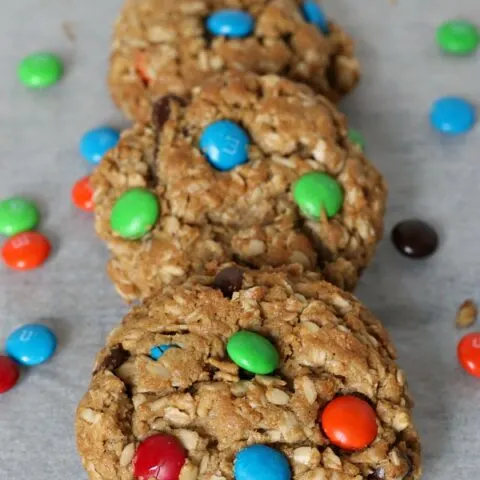 A family favorite for years, these gluten-free monster cookies are chewy cookies that are chock full of peanut butter, gluten-free oats, chocolate and M&M's. This easy, flourless oatmeal peanut butter cookie recipe is one that I love to whip up to have on hand for after school treats!

Prep Time 7 minutes

Cook Time 12 minutes

Total Time 19 minutes
Ingredients
1/2 cup softened butter, margarine or coconut oil
1 cup packed brown sugar
1 cup sugar
1 1/2 cups peanut butter (I prefer using creamy, but you can use crunchy)
3 large eggs
2 tsp. baking soda
1 tsp. pure vanilla extract
4 1/2 cups gluten-free rolled oats or instant oats
1 cup semi-sweet chocolate chips
1 cup plain M&M's
Instructions
Preheat oven to 350°. Line cookie sheets with parchment paper.
In the bowl of your electric mixer, cream together butter, sugars, peanut butter and eggs until light.
Add baking soda, vanilla extract, and gluten-free oats and mix on low speed until well mixed.
Stir in chocolate chips and plain M&M's.
Use a large cookie scoop to scoop rounded balls of dough and place on lined cookie sheets, leaving space between them for them to spread. I only do 12 per cookie sheet, less if using a smaller sized sheet. I usually flatten them a bit.
Bake at 350° for 12-15 minutes or until they don't look gooey in the center. These are better slightly under-cooked than overcooked. I recommend baking a test cookie to see how many minutes it will take for your oven.
Remove from oven and leave on the cookie sheet for a couple of minutes before moving cookies to wire racks to cool.
Notes
Please see blog post for recommended brands and substitution suggestions.

You are welcome to make these smaller or larger than the size I use. Your baking time will vary depending on size - typically a minute or two shorter baking time for smaller cookies, and about 1-2 minutes longer for larger cookies.

Pin this to your gluten-free cookies board on Pinterest: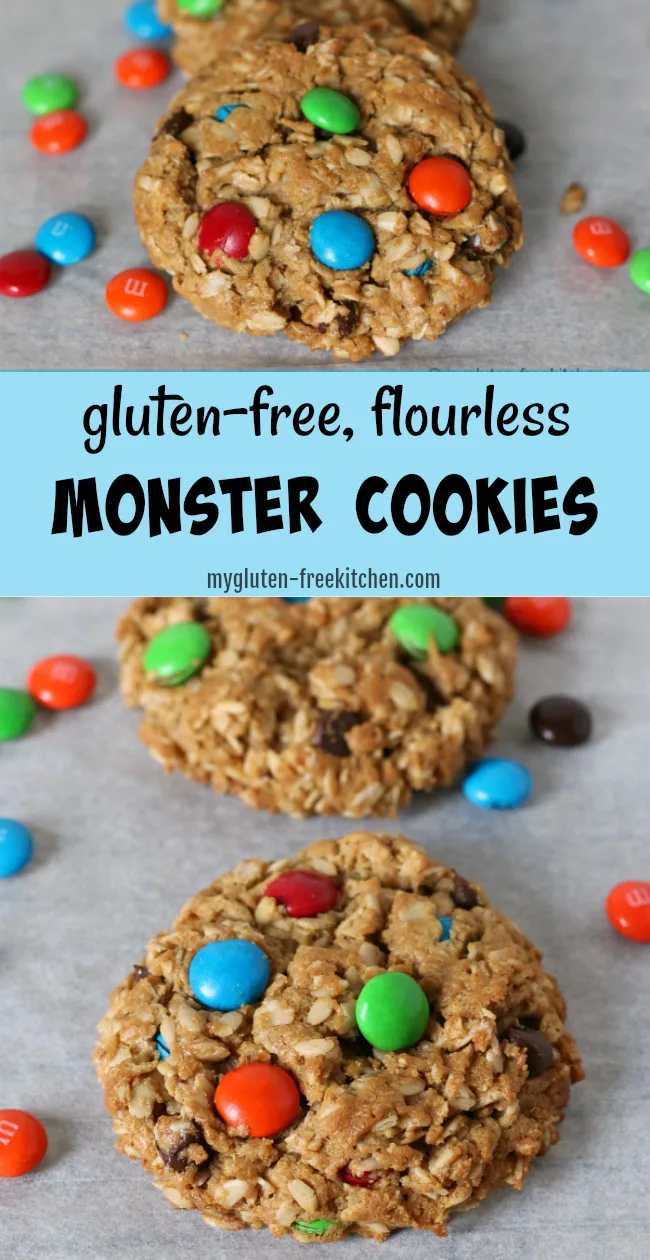 I hope you love these cookies as much as my family does!