These super soft, very peanut buttery cookies are nothing like the dry, crunchy ones you've probably had before. So many friends have said that these are the best gluten-free peanut butter cookies. My gluten-eating friends say they're the best peanut butter cookies they've ever had period!

Warm from the oven, I can't imagine a better peanut butter treat than these gluten-free peanut butter cookies. While I love peanut butter, I was never a big fan of peanut butter cookies until I made this recipe the first time. With a few tweaks to the recipe, these went from really good to perfect, and from gluten-filled to gluten-free!
I've been making these for years and every person that has tried them has wanted seconds… and thirds! They are just that good! The secret is that these have a double dose of peanut butter with the addition of peanut butter chips. I know that doesn't exactly result in the most healthy peanut butter cookies, but I'd rather have the BEST gluten-free peanut butter cookies!
These aren't dry. These aren't crunchy. These don't have the criss-cross pattern. Basically, they're not the peanut butter cookies you've had before. But I think once you try them, you'll love them!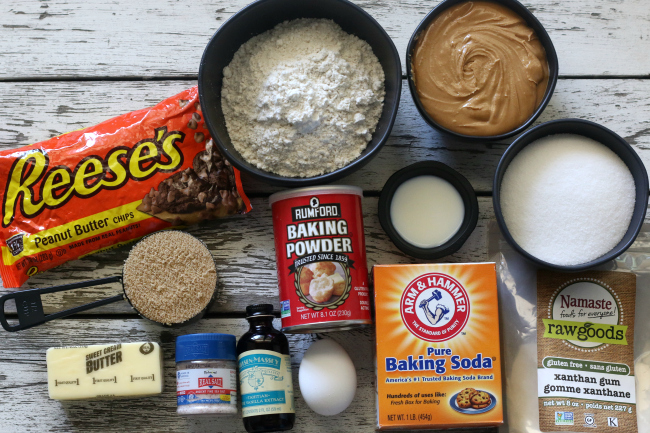 Notes on Ingredients for these Gluten-free Peanut Butter Cookies

:
Peanut Butter: Creamy Jif Natural peanut butter is my go-to for these cookies, but have also made with regular Jif, Skippy Natural, and Trader Joe's peanut butter. The recipe assumes you are using a peanut butter with some salt in it, thus the small amount of salt called for in the recipe. If you are using a natural peanut butter that has no salt added, I would bump up the amount of salt called for in the recipe to 1/2 teaspoon.
Baking Chips: The addition of the Reese's Peanut Butter Baking Chips adds an extra dose of peanut butter flavor. Reese's Peanut Butter Baking Chips are clearly labeled gluten-free on the package. If you want to use another brand, you'll want to check on that with the manufacturer.
Gluten-free Flour: As always, I only recommend baking with a good quality all-purpose gluten-free flour blend. All flour blends are not created equal! I recommend avoiding flour blends that contain any bean flours or that are primarily rice flour, as you'll get a more gritty result. This recipe, like pretty much all of my recipes, has been tested with successful results with gfJules gluten-free flour and King Arthur Measure for Measure and Authentic Foods Multi-Blend and Gluten Free Mama's Almond Flour Blend and I recommend any of those. Other flour blends that I've been testing some (but not this recipe yet) with good results are Cup4Cup and Pamela's.
Xanthan gum: If the gluten-free flour blend you use already has xanthan gum or guar gum in it, then omit the xanthan gum called for in this recipe.
Dairy: There is dairy in three parts of this recipe: the butter (which you could replace with butter alternative), milk (which you can replace with a dairy-free milk) and the Reese's baking chips (which have milk in them – so you'd need to omit these to make these dairy-free).
Is peanut butter gluten-free?
Yes, peanut butter usually is gluten-free. Some varieties though will make versions with mix-ins like pretzels or cookies, so I always recommend checking labels and contacting the manufacturer so you can verify cross-contact risks.
I like to use Jif Natural Creamy Peanut butter which is also verified gluten-free on their website. While I use the creamy version, you can definitely use chunky peanut butter if you want to have more crunchy gluten-free pb cookies.
You can definitely omit the peanut butter chips if you don't want them or don't have them on hand. You'll still end up with a really good peanut butter cookie. You can also swap the peanut butter chips for chocolate chips instead to make gluten-free peanut butter chocolate chip cookies.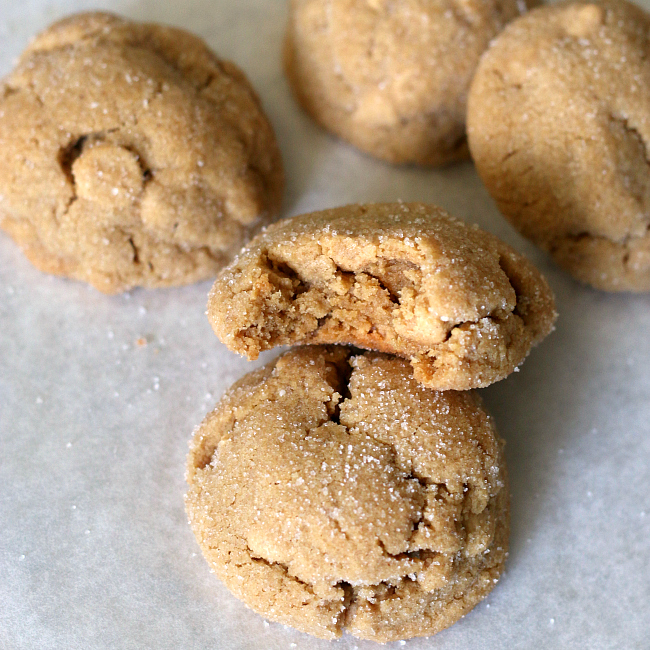 How to make Gluten-free Peanut Butter Cookies:
These cookies are made like most cookies where you'l combine the dry ingredients in one bowl that you set aside.
In your mixer, you'll beat the peanut butter and butter together. Then add in the sugars and mix well.
Next you'll add eggs, milk, and vanilla extract and mix.
Next the dry ingredients mixture gets added and mixed in just until you can't see any more flour.
Finally, you'll stir in the peanut butter baking chips.
Where these cookies are different is that next you'll scoop dough balls (I use a medium cookie scoop) and roll those in sugar.
Place each dough ball on the parchment paper on the cookie sheet. Do not push down on them.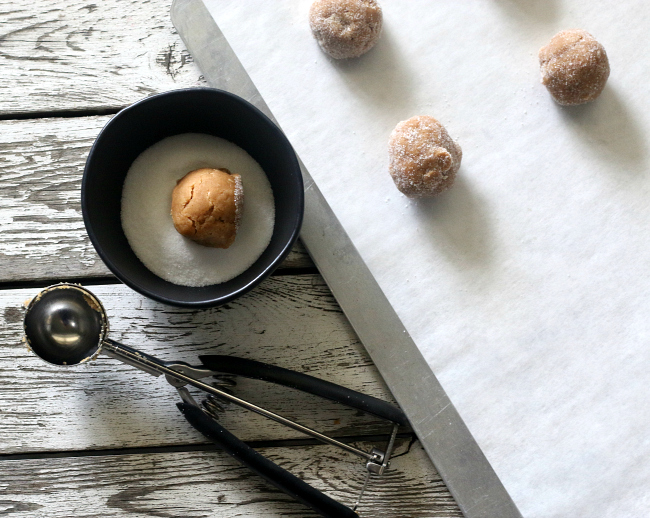 The only tricky part about these cookies is knowing when they're done. I recommend paying close attention to the recommended time of 12-13 minutes and bake just until they aren't shiny or wet anymore. The edges won't get browned and you don't want to bake until they are firm or you've over-baked them.
You're probably going to think they're underbaked but once they cool, you'll see they're perfect! If you have time, I recommend baking a couple test cookies first, instead of a whole batch, so you can get a better idea!
Let them cool and enjoy! I like to eat them after they've cooled about 10 minutes, so they don't fall apart. One of my kids loves to dunk these in milk.
If you are crazy about gluten-free peanut butter treats, you might also consider some other delicious peanut butter goodies I've posted: gluten-free Buckeye Brownies, gluten-free Peanut Butter Brownies, and gluten-free Peanut Butter Banana Chocolate Chip Muffins. All will satisfy any peanut butter craving you might have!
Fun story: When my son heard my hubby and I discussing the props used in the photo below (that I took a few years ago), he informed me that he "likes the burplap!" I'll never be able to say the word burlap without thinking of that again!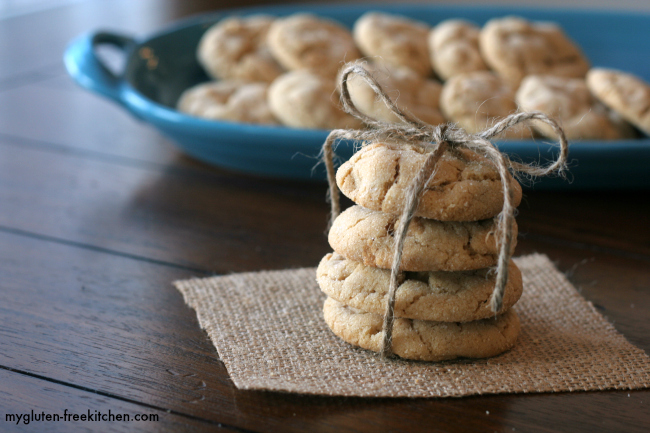 I adapted this recipe from one that I found in The Magnolia Bakery Cookbook: Old-Fashioned Recipes From New York's Sweetest Bakery
.
I think your whole family and your friends will love these cookies! I've even entered them into our county fair and won ribbons for them multiple years! I also have a friend's teenage daughter that has used regular flour to make them to win a blue ribbon in the youth division at the county fair!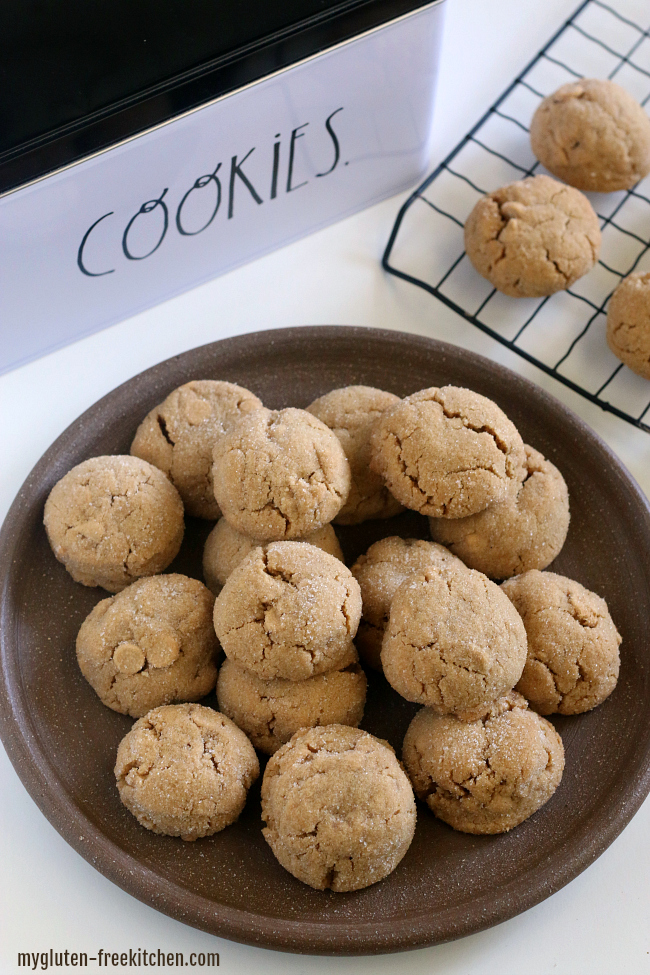 If you make these and love them, please come back and give this gf peanut butter cookie recipe a 5 star rating in the recipe card! Feel free to comment with tips or to share any successful substitutions you made.
Gluten-free Peanut Butter Cookie Recipe:
Yield: 32 cookies
Soft Gluten-free Peanut Butter Cookies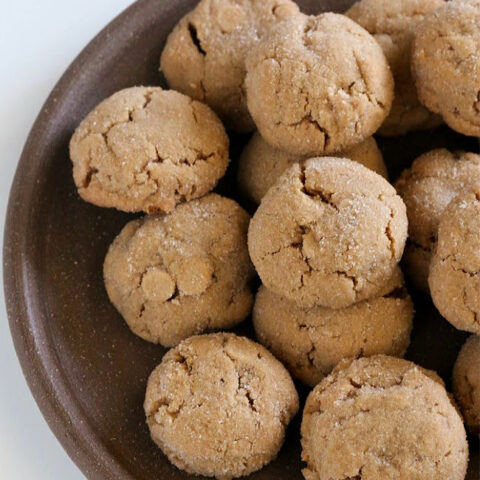 These soft, gluten-free peanut butter cookies are nothing like the dry, crunchy ones you've probably had before.

This dough will stay nice and moist in an air-tight container in your fridge for a couple of days, if you'd like to make ahead. I enjoy baking a dozen each day so we can all enjoy them warm from the oven each day!

Prep Time 20 minutes

Cook Time 13 minutes

Total Time 33 minutes
Ingredients
1 1/4 cup good gluten-free all-purpose flour *
1/2 tsp. xanthan gum (*see note)
3/4 tsp. baking soda
1/2 tsp. baking powder
1/4 tsp. salt
1/2 cup unsalted butter, softened (1 stick), margarine, or organic vegetable shortening
1 cup peanut butter at room temp (smooth or chunky)
3/4 cup sugar
1/2 cup firmly packed light brown sugar
1 large egg
1 Tbsp. milk or dairy-free milk alternative
1 tsp. pure vanilla extract
1 cup Reese's peanut butter baking chips
Additional 3 Tbsp. sugar for rolling dough
Instructions
Preheat oven to 350°. Line cookie sheets with parchment paper or silicone baking mats.
In a large bowl, whisk together the flour, xanthan gum, baking soda, baking powder and salt. Set aside.
In a bowl of your mixer, beat the butter and the peanut butter for 1 minute on medium-high speed until creamy.
Add the sugars and beat 1 minute.
Add the egg, milk and vanilla extract and mix well.
Add the flour mixture and mix on low speed until all flour is mixed in.
Stir in the peanut butter baking chips.
Place the 3 Tbsp. sugar in a small bowl. Use a medium cookie scoop (#40) to make balls of dough that weigh 1 1/8 oz. or 30 grams. Roll dough balls in sugar, then place onto the parchment or silicone lined cookie sheets.
Bake for 12-13 minutes. Cookies won't look wet or gooey on outside when done. Do not overbake. Cookies may appear to be underdone, but they are not. Remember, these are a soft cookie, don't bake until firm!
Cool the cookies on the sheet for a minute, then remove to cool completely.
Makes about 32-36 cookies, depending on how much of the yummy dough you eat.
Notes
*I've tested this with gfJules flour, Gluten Free Mama's Almond flour blend, and King Arthur Measure for Measure Blend and recommend any of those or other good quality gluten-free flour blends.
*If using a gluten-free flour blend that already includes xanthan or guar gum, then omit the xanthan called for in this recipe.

As always, be sure to double-check all of your ingredients to ensure they are gluten-free. Recipe adapted from Magnolia Bakery Cookbook.
Recommended Products
As an Amazon Associate and member of other affiliate programs, I earn from qualifying purchases.

Recipe originally published in my first year of this website, in March 2013! I still make these cookies regularly for my family, so I decided to update this blog post with new photos and hopefully helpful tips in May 2020.
Pin this to your gluten-free cookies board on Pinterest: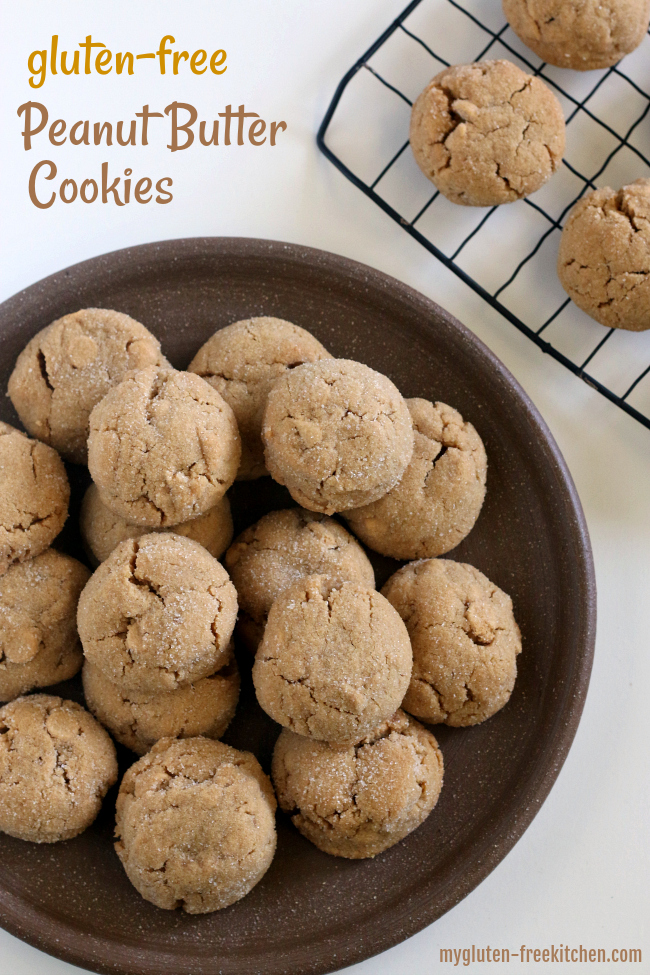 Or this one: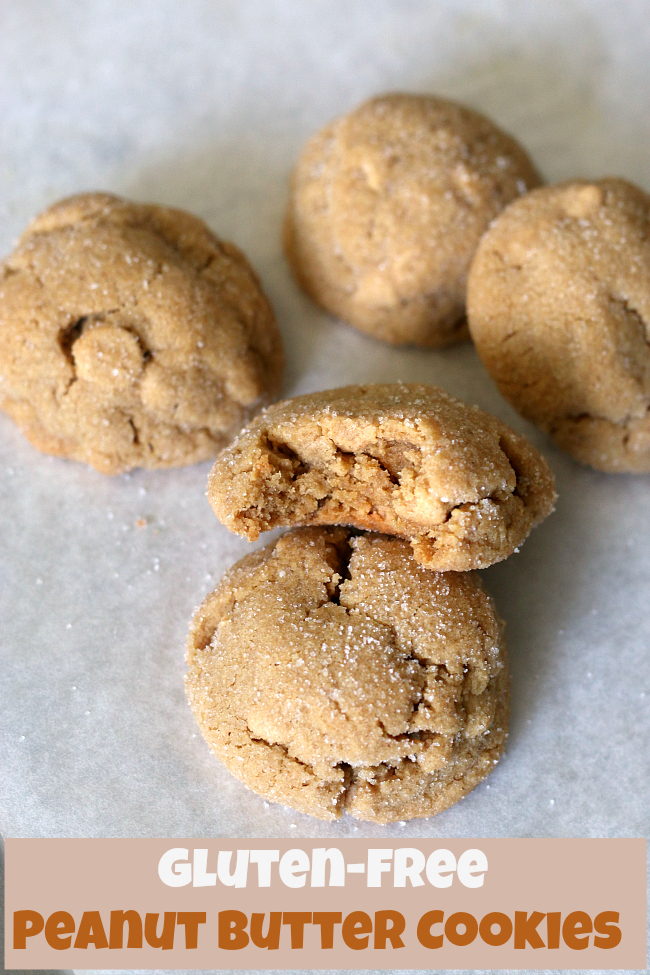 I hope you and your family enjoy these gf peanut butter cookies as much as my family does!