Occasionally, I will share a favorite item from my gluten-free kitchen: a book, cookbook, gluten-free food or kitchen gadget or a roundup of favorite things from around the web. Hopefully you'll find some new favorites to add to your gluten-free kitchen! While this post contains affiliate links, all Favorites posts reflect my own opinion and are not sponsored by any individual or company.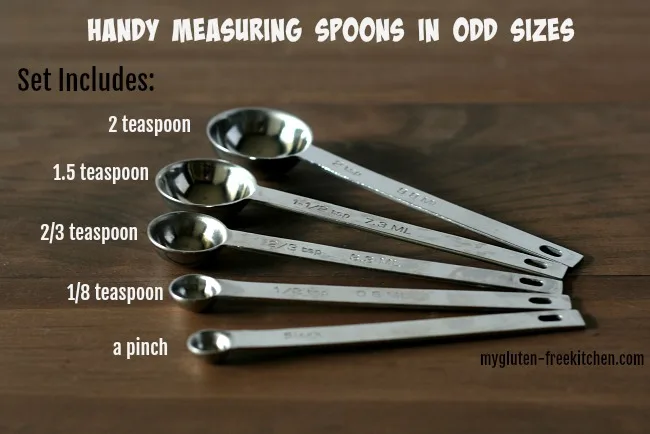 Today I wanted to share with you some little things that make my life easier in the kitchen! I found this set of odd-size measuring spoons several years ago in the King Arthur Flour catalog. They sell so many handy kitchen gadgets as well as a great line of gluten-free ingredients and mixes.
In this set of measuring spoons, you will find a Pinch, 1/8 teaspoon, 2/3 teaspoon, 1 1/2 teaspoons, and 2 teaspoons. I use the 2 teaspoons one every week when making my gluten-free bread machine bread, to measure out the yeast and the sugar. It just saves a little time over using a 1 teaspoon measure twice!
I also find the 1 1/2 teaspoons one very useful in many recipes I have like in my gluten-free chocolate chip cookies where I use 1 1/2 teaspoons of pure vanilla extract.
These spoons are stainless steel, and come linked together with a little chain in case you like to keep yours chained together. They are dishwasher safe as well!
If you'd like to get a set for your kitchen you can purchase here on Amazon. While this is definitely not a "need" item, it is sure something handy to have with your baking supplies. They are such a good deal too! These are also a fun item to include in a gift basket or stocking for someone you know that likes to bake!