The dessert my husband would say is his favorite, and definitely the one he requests for his birthday every year, is this gluten-free pistachio pudding dessert recipe. This layered pudding dessert takes some time but isn't difficult at all.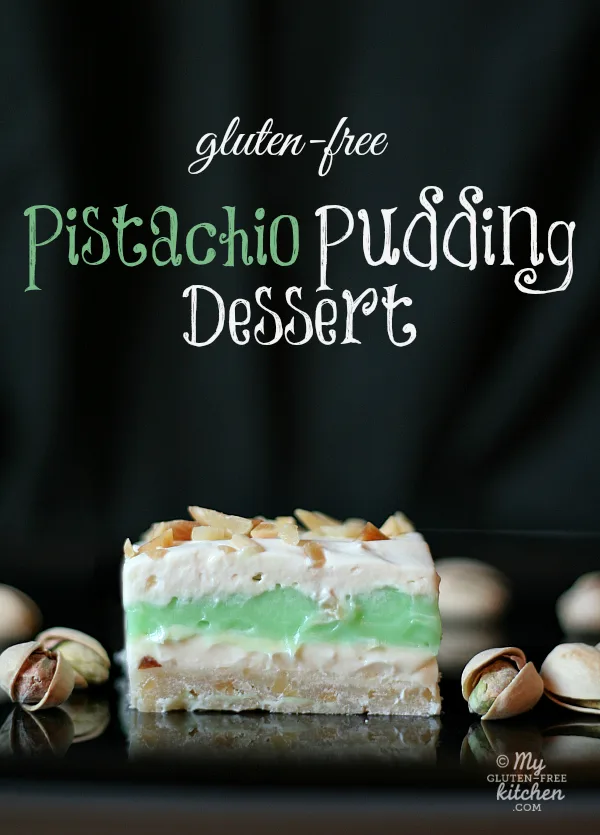 One of the hardest recipes for me to convert to gluten-free, besides chocolate chip cookies, was this family favorite dessert called Pistachio Pudding Dessert.
Recreating it gluten-free is just not as simple as substituting the all-purpose flour for some all-purpose gluten-free flour. I tried many times, with many flour blends, and failed every time. The crust was always too wet, even after baking, and would just slide right out of the pan.
Finally this year I succeeded in making a gluten-free Pistachio Pudding Dessert, much to my hubby's delight.
Soon after my husband and I started dating, on a visit home to see his family in the town neighboring our college town, I was introduced to this dessert. I'll admit, I totally turned my nose up at it. Pistachio Pudding just did NOT sound good to me! His mom always made it with walnuts, which I can't stand the taste of, so I always passed on this dessert.
When we got married, my sweet mother-in-law gave me a recipe book and included this family recipe written out beautifully on a recipe card. Even though I didn't like eating it myself, I definitely wanted to be able to make my hubby his favorite dessert for his birthday.
Over time I started subbing almonds in for the walnuts, and not only did my husband like it, so did I. Now I too look forward to eating this dessert and our boys do as well.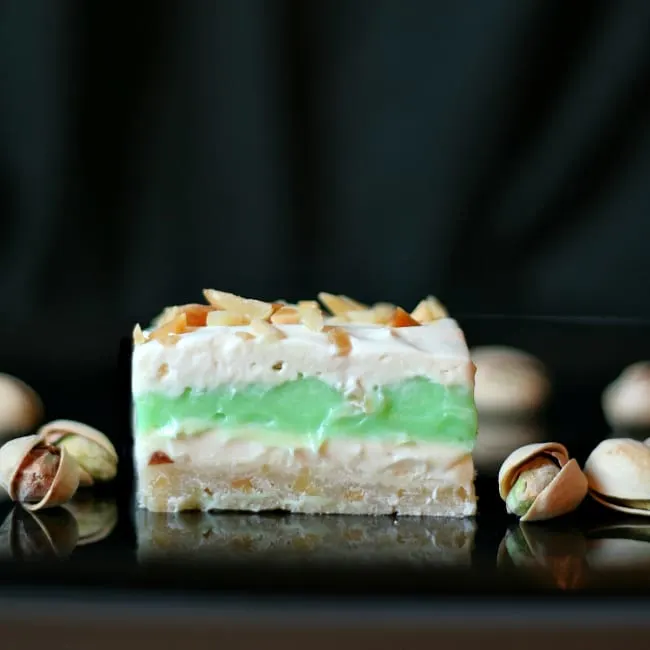 I finally had success re-making this recipe gluten-free when I got the idea to involve a pie crust mix in the recipe for the crust. Since this is not a totally from scratch recipe anyway, I didn't want the crust to be complicated.
This recipe is supposed to be easy, and made with some convenient products like Jell-o pudding and Cool Whip, so I kept with that theme of convenience with the crust.
I buy and use Gluten Free Mama's Pie Crust Mix (pack of 6 from Amazon) or you can buy one or two bags at a time directly from Gluten Free Mama.
I use 1/2 of a bag of pie crust mix to make this recipe, with the addition of almonds and other ingredients listed below. You can save the other half of the bag of pie crust mix for another time, or you can make up another batch of the crust for this recipe with the other half of the bag. You can then roll the dough into a ball, wrap with Saran Wrap, place in a freezer bag and freeze so you'll have it already made for the next time you want to make this dessert.
If you can't purchase this pie crust mix, I suggest trying another gluten-free pie crust mix, or make up your own from-scratch gluten-free pie crust and add a half cup of almonds to it.
Another crust alternative that I would recommend is to follow the crust recipe for my gluten-free apple tart.
Here's a look at the crust as I make it in the food processor and then I use a gloved hand to press it into my pan: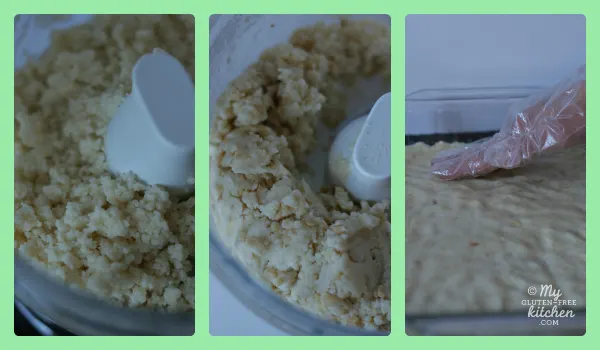 You can also use other flavors of gluten-free instant pudding in this recipe. I have a friend that makes a similar version with lemon pudding and another that makes it with chocolate fudge pudding, both would be amazing with the almonds as well.
This is a fantastic make-ahead pistachio dessert that is perfect for birthday or holiday gatherings or church potlucks! Let me know if you have a chance to make this, and what pudding you used in yours!
If you like layered desserts, be sure to try my gluten-free brownie trifle next!
Pistachio Pudding Dessert Recipe:
Yield: 15-24
Gluten-free Pistachio Pudding Dessert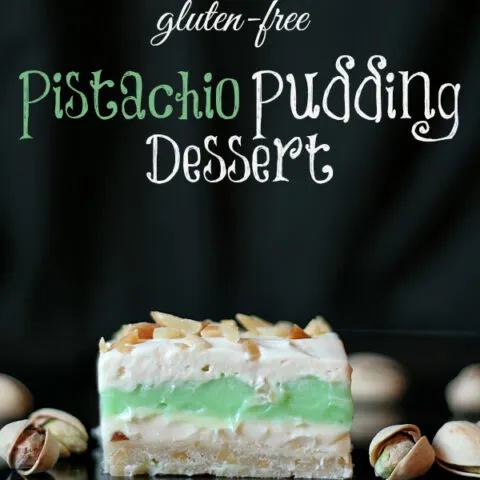 This cool, layered dessert is enjoyed year-round at our house and at potlucks. You can choose a different flavor of Jell-o pudding for a completely different result! You are also welcome to whip up your own whipped topping from heavy cream instead of using Cool Whip. I often do that!
Total Time
3 hours
45 minutes
Ingredients
Crust:
1/2 package of Gluten Free Mama's pie crust mix
1/2 cup (1 stick) of butter, dairy-free margarine, or Spectrum shortening
1/2 egg white
6-8 Tbsp. water
1/2 cup roasted chopped almonds or walnuts
First Layer:
8 oz. cream cheese (I use Neufchâtel)
1 cup powdered sugar
1/2 of 8 oz. carton of Cool Whip
Second Layer:
3 cups milk (or non-dairy alternative like almond milk)
2 pkgs. Jell-o instant pistachio pudding
1/2 tsp almond extract
Third Layer:
1/2 of 8 oz. carton of Cool Whip
1/4-1/2 cup roasted chopped almonds or walnuts
Instructions
Preheat oven to 350°.
Crust:
In the bowl of a food processor, add 1/2 of the Gluten Free Mama's pie crust mix, the butter (or shortening), 1/2 of an egg white, and 4 Tbsp. of water. Pulse in food processor until mealy (see photo 1 below).
Add 2 more tablespoons of water and 1/2 cup roasted, chopped almonds. Pulse until starts to form a more solid dough that squishes together easily. You an add up to an additional 2 more tablespoons as needed until you get to the right consistency. (see photo 2 below)
Wearing a plastic glove sprayed lightly with cooking spray, (or just using some Saran Wrap), pat out the dough into an ungreased 9x13" pan.
Bake in a 350° oven for 15-17 minutes. Set on cooling rack to cool for about an hour before adding next layer.
First Layer:
In a small bowl, use a stand mixer or hand mixer to blend together the cream cheese, powdered sugar, and 1/2 of the carton of Cool Whip.
Spread in an even layer over the cooled crust. Place in refrigerator to chill while you prepare next layer.
Second Layer:
In a medium/large bowl, whisk together the milk, pistachio pudding mix and almond extract until smooth. I whisk for about 2 minutes.
Gently spread in an even layer over the first layer.
Third Layer:
Gently spread the remaining Cool Whip over the top of the previous layers.
Sprinkle with an additional 1/4-1/2 cup chopped roasted almonds.
Cover pan with a lid or Saran Wrap and place in refrigerator to chill at least 2 hours before serving. This desserts holds up very well in the refrigerator for several days, so it is great to make this the day before serving.
Serve chilled and enjoy!
Notes
As always, verify all of your ingredients are gluten-free.
Recommended Products
As an Amazon Associate and member of other affiliate programs, I earn from qualifying purchases.