When bags of Reese's peanut butter cups are on sale, I like to pick some up to make these gluten-free Reese's brownies. If you love chocolate and peanut butter together, you'll love these gluten-free peanut butter cup brownies!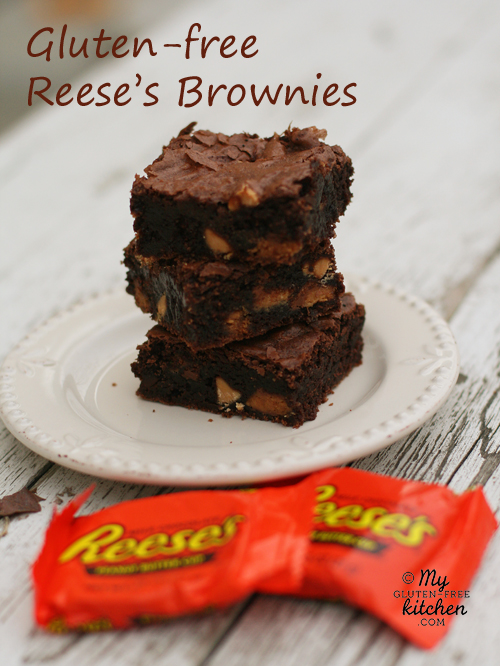 When thinking about the recipes to share with you during Chocolate Month at My Gluten-free Kitchen, I knew I had to include these delicious brownies. It is no secret that I love the combination of peanut butter and chocolate. I probably have 20-30 recipes that use this combination of yummy ingredients. Eventually they'll all make their way onto the blog as I'm sure a lot of my readers love this combo as well.
I made these yummy Reese's Brownies back in my gluten days, and was so glad to find out I could easily adapt them to be gluten-free.
Are Reese's peanut butter cups gluten-free?
According to the Hershey's gluten-free list, all Reese's peanut butter cups are gluten-free EXCEPT the seasonal shapes. So don't pick up those cute heart-shaped, egg-shaped, tree-shaped, etc. peanut butter cups. Stick with the regular ones!
The Reese's peanut butter baking chips are also on the gluten-free list! Yay!
Each bite of these chewy gluten-free brownies is full of fudgy chocolate and peanut butter flavor. The peanut butter baking chips amp up the peanut butter flavor in these, but if you don't have them, you could use more peanut butter cups or use some milk or semi-sweet chocolate chips instead.
Also, don't use just any kind of gluten-free all-purpose flour, they are not all equal. I highly recommend gfJules and Gluten Free Mama's all-purpose flour blends.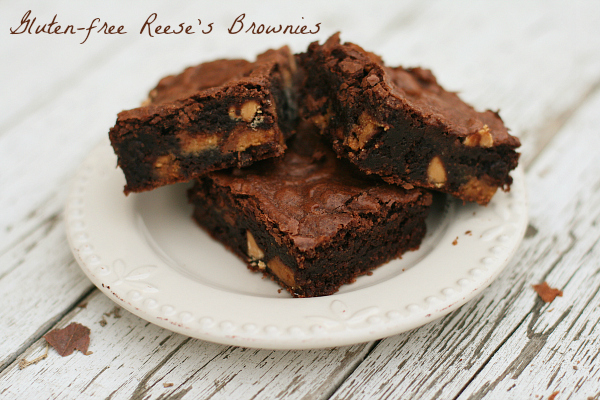 Gluten-free Peanut Butter Cup Brownies:
Yield: 18 brownies
Gluten-free Reese's Brownies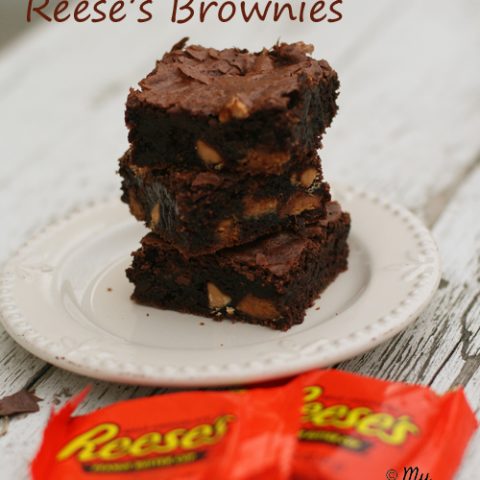 If you love Reese's, you'll love these gluten-free peanut butter cup brownies!
Prep Time 10 minutes
Cook Time 35 minutes
Additional Time 30 minutes
Total Time 1 hour 15 minutes
Ingredients
1 cup butter, melted (2 sticks)
3 cups sugar
1 Tbsp. pure vanilla extract
4 eggs
1 1/2 cups gluten-free all-purpose flour*
3/4 tsp. xanthan gum
1 cup cocoa powder
1 tsp. salt
1 1/2 cups chopped peanut butter cups
1/2 cup Reese's peanut butter baking chips
Instructions
Preheat oven to 350°. Lightly grease a 9x13 baking dish. I prefer using a glass one.
In a mixing bowl, combine the melted butter, sugar, and vanilla. Beat in the eggs, one at a time, mixing well after eat, until thoroughly blended.
In a separate bowl, whisk together the flour, xanthan gum, cocoa powder, and salt. Gradually stir the flour mixture into the butter mixture in the mixing bowl until blended. Stir in the chopped peanut butter cups and the Reese's peanut butter chips. Spread the batter evenly into the prepared baking dish.
Bake in a preheated oven at 350° for about 35-40 minutes, or until a toothpick inserted near the center comes out clean or with crumbs only, no batter.
Remove from oven, and cool pan on a wire rack before cutting.
Notes
If using a gluten-free flour that has xanthan gum already in it, then omit the xanthan gum listed in this recipe.
I recommend gfJules and Gluten Free Mama's all-purpose flour blends for best results.
Thursday 21st of November 2019
This is my third recipe in a row from your page and I can't say enough with how happy I am. My husband is GF and I simply love cooking and each one I've tried has come out perfectly. Today I told I wanted to bake after getting home from work and he suggested brownies, and I found this and he's also a big fan of Reese's cups! I can't wait to try another one of your recipes soon! We all love the brownies and this was actually my first time using Cocoa powder!
Thursday 30th of April 2015
I live in Melbourne, Australi. Is "all purpose" flour SR or "plain". Can I substitute with ordinary 'crunchy' peanut butter? We don't have the one you suggested. Thanks
Monday 10th of March 2014
Wow.. These look amazing. I am new to the gluten-free world and this blog has so much good information. I cannot wait to try these.. Cheers! Ice
Thursday 13th of February 2014
If I was to cut back on the coco powder some would I have to put extra anything on it? Say I cut to 1/2 cup coco powder would I need to add more....flour.
Thursday 13th of February 2014
Mykel, I'm not sure why you would want to cut the amount of cocoa. If you just don't have enough baking cocoa on hand, I'd suggest cutting the entire recipe in half and baking it in an 8x8" pan instead. If you are wanting to make this less chocolatey (heaven forbid!), then I would think you could safely cut it back to 3/4 cup without much effect on overall texture. I can't guarantee though since I haven't tried that!
Wednesday 20th of February 2013
my GF coworker would love these so much! I'm sending her the recipe. I love the reese's inside and the peanut butter chips. :) Can you really go wrong with peanut butter and chocolate?
Thursday 21st of March 2013
Sally, I missed this reply somehow, so I just saw it tonight. Sorry for the lack of response. I appreciate your comment and you sending the recipe to your coworker! You rock!