A restaurant favorite, spinach artichoke dip is a delicious appetizer or party dip, but is usually off limits for us celiacs, because restaurants don't serve anything gluten-free to dip in it! So today I'm bringing you my newest recipe for not only this easy spinach artichoke dip, but also ideas for several delicious gluten-free dippers. This spinach and artichoke dip is completely made on the stove-top too!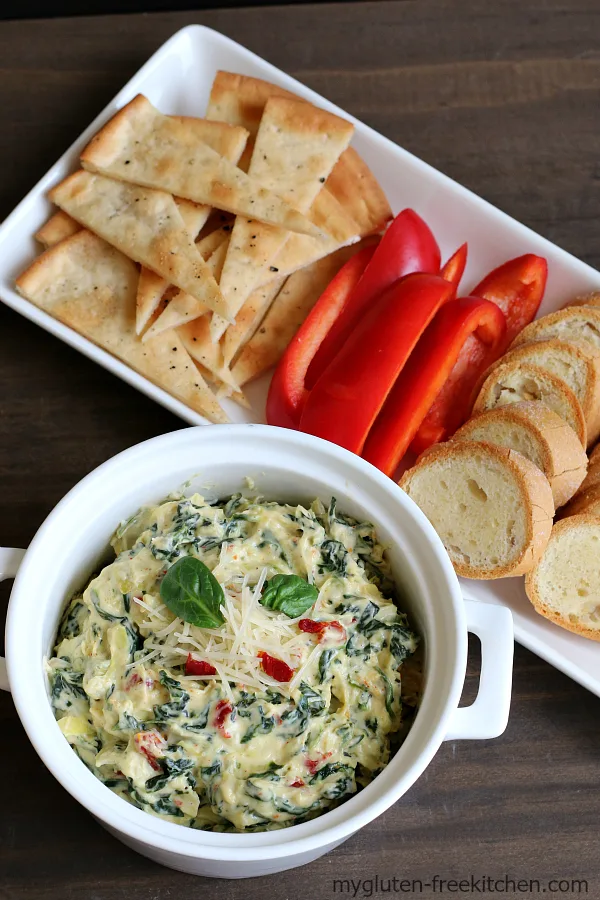 Inspiration for this gluten-free spinach artichoke dip came from one that my friend Lisa brought to a party at our house a few years ago. The artichoke spinach dip that she brought was delicious, and had a different twist than all the other ones I'd tried before. She had added sun-dried tomatoes to hers, and it was a delicious addition!
Unfortunately, later she couldn't remember what artichoke spinach dip recipe she had used as a base, so I've spent a few years now trying different ones to find one that I loved.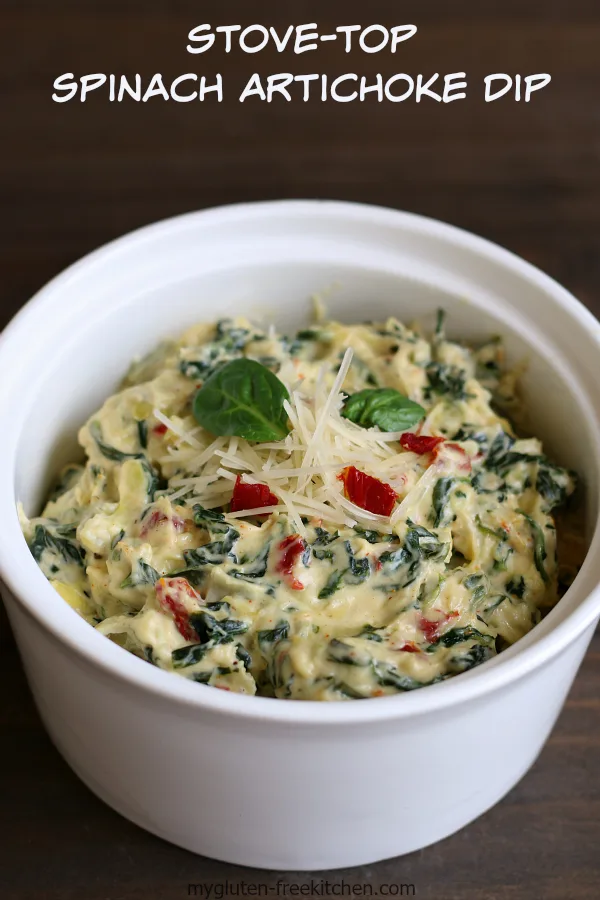 I have an aversion to mayonnaise, so it was my hope to create a great dip without mayo. I'm so glad I was able to make this spinach artichoke dip no mayo!
I finally found these Spinach and Artichoke Dip Parmesan Cups from Diethood. I would love to try the Parmesan Cups like she did – they look amazing! I used her recipe as my base and then made changes like additional garlic (we love garlic here!), adding the sun-dried tomatoes, using frozen artichokes instead of canned ones, and some different seasonings.
Result: Perfection! I've already made this twice in just the past week, with my husband, oldest son, and I polishing it off ourselves!
I wanted to provide an assortment of gluten-free options for dipping into the spinach artichoke dip. As the dip cooked on the stovetop, I baked garlic baguette slices and gluten-free pizza crust wedges to use for dipping. Thanks to my partnership with Udi's, I had some loaves of their gluten-free french baguettes in my freezer that I could pull out and experiment with.
I sliced the baguettes diagonally in about 3/8″ slices. After brushing the slices with garlic butter, they browned quickly in a hot oven, and came out perfectly crusty and held together well for dipping.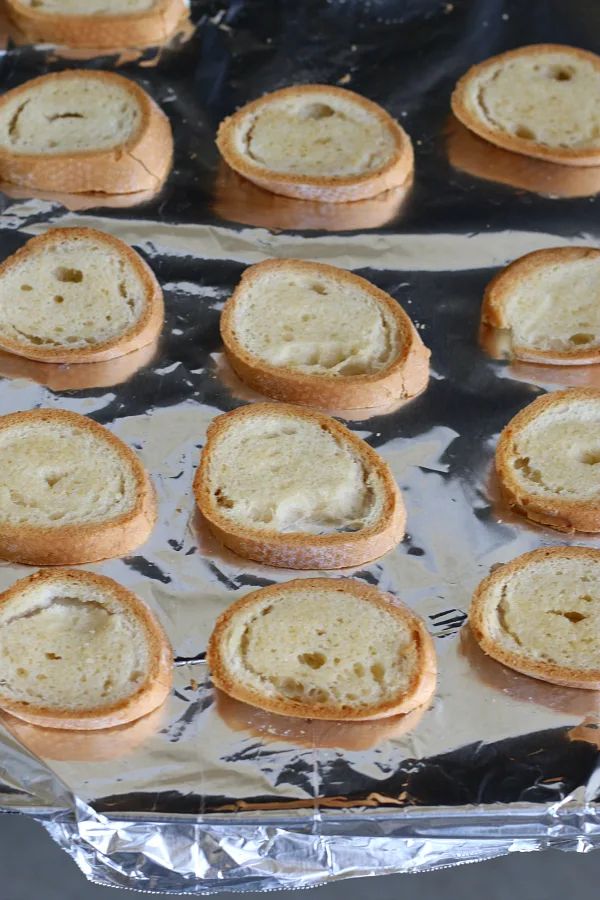 To brighten things up and add a healthy addition, I included thick slices of bell peppers – red and yellow this time, but you could use any. I'm not a huge bell pepper fan, but my hubby is and he enjoyed having them with this dip.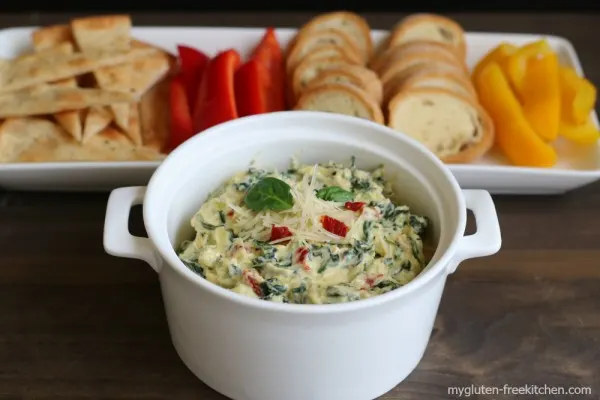 Rice crackers, nut crackers, or homemade Parmesan crisps are all other great gluten-free options for enjoying the dip as well. Let me know what you decide to have with yours!
Some of my other favorite gluten-free dip recipes include my gluten-free bean dip, this Instant Pot rice and beans dip, and of course, good old classic guacamole. I love that this slow cooker corn dip cooks in the slow cooker! So many yummy options for a whole table of gluten-free dips for your next party!
Easy Spinach Artichoke Dip Recipe:
Yield: 12 servings
Easy Gluten-free Spinach Artichoke Dip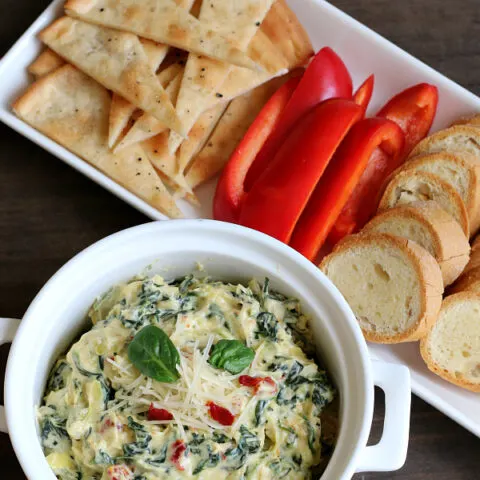 This easy spinach artichoke dip is made on the stovetop. Make the gluten-free garlic baguette slices to serve with it, as well as gluten-free crackers and sliced bell peppers.
Ingredients
Spinach Artichoke Dip:
2 Tbsp. olive oil
3 cloves garlic, minced
6 oz. bag of fresh spinach leaves, roughly chopped (yields 4 cups)
6 oz. frozen artichoke hearts, thawed or partially thawed, chopped
1 package (8 oz.) cream cheese, softened
2 Tbsp. diced sun-dried tomatoes
1/2 tsp. freshly ground pepper
1/4 tsp. sea salt
1/8 tsp. smoked paprika (optional)
1 cup shredded Parmesan cheese
Garlic Baguette Slices:
2 loaves Udi's French Baguettes (1 package)
5 Tbsp. salted butter, melted
1 tsp. garlic powder
Instructions
Spinach Artichoke Dip:
Prepare your ingredients. Remove tough or long stems from the 6 ounces of fresh spinach, then roughly chop, place in a bowl, and set aside.
Chop the 6 ounces of thawed or partially thawed artichoke hearts and set aside. Note that this is half of a bag of frozen artichoke hearts. Save the other half for the next time you make this dip!
Dice a few slices of sun-dried tomatoes, until you have 2 tablespoons of diced sun-dried tomatoes. Set aside.
In a large saucepan or Dutch Oven, heat 2 tablespoons olive oil over medium heat. Add minced garlic and cook 1 minute.
Add chopped fresh spinach and cook until wilted, about 2-3 minutes.
Stir in chopped artichoke hearts and continue cooking over medium heat.
Stir in softened cream cheese and stir with spatula.
After cream cheese has melted, add seasonings (pepper, salt, paprika) and stir just until mixed.
Stir in Parmesan cheese and sun-dried tomatoes.
Continue to cook over medium heat until hot. Turn to very low heat to keep warm while you finish preparing the dippers.
Garlic Baguette Slices:
Line a baking sheet with aluminum foil. This is optional, but makes for easy clean-up!
Using a sharp bread knife and cutting board, diagonally slice the baguettes into slices about 3/8" in thickness.
In a small bowl, stir together melted butter and garlic powder. Use a pastry brush to brush garlic butter onto each baguette slice.
Place each baguette slice, butter side up on an aluminum foil lined baking sheet. Bake in 400° oven for 6-7 minutes. Remove from baking sheet and add to serving plate.
Notes
I used Udi's frozen baguettes, that I thawed for a couple hours before slicing.
Recommended Products
As an Amazon Associate and member of other affiliate programs, I earn from qualifying purchases.
Pin this stovetop spinach artichoke dip to your gluten-free appetizers board on Pinterest: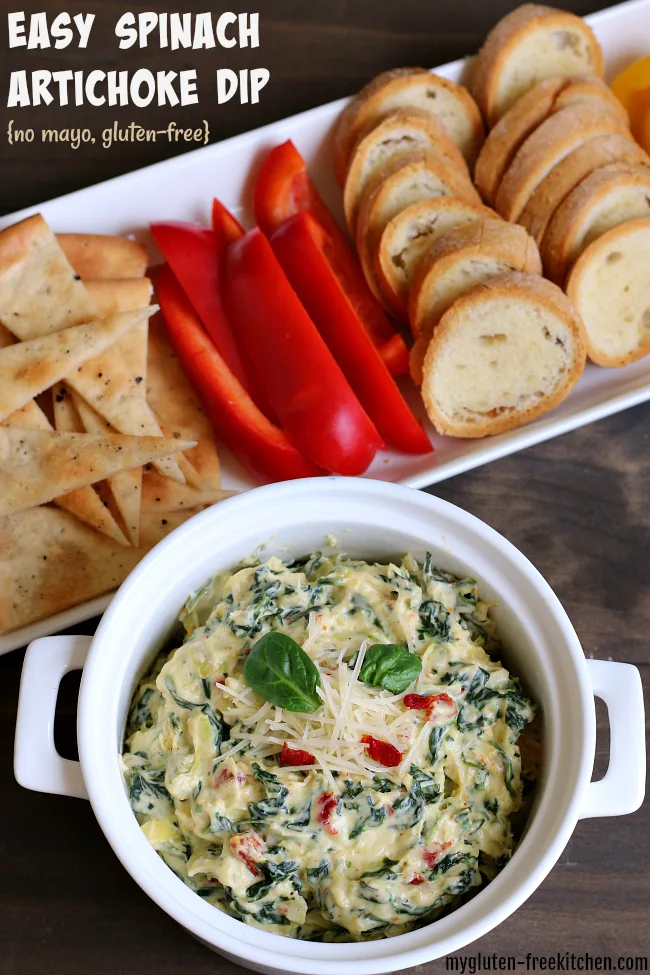 This sponsored recipe post was created through my partnership with Udi's. As always, all opinions are my own. Collaborating with brands I love allows me to keep bringing you new and varied recipes! Thanks for your support!